Hyundai Motor demonstrates light commercial vehicle application for hydrogen fuel cell technology
H350 Fuel Cell Concept takes under four minutes to 'refuel'
Zero-emissions powertrain has no impact on load space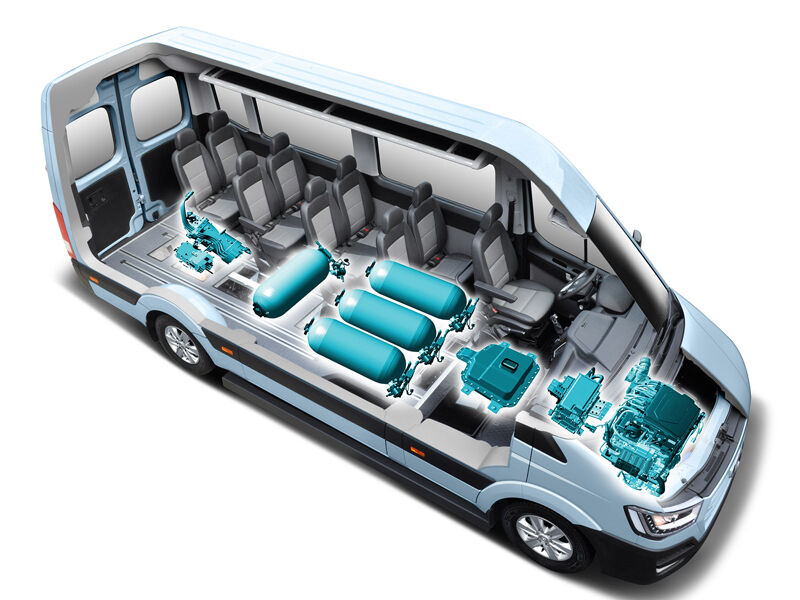 Hyundai Motor unveiled its H350 Fuel Cell Concept at the 2016 IAA Commercial Vehicle Show in Hanover yesterday. The powertrain study shows the potential for the company's advanced hydrogen fuel cell technology in the light commercial vehicle (LCV) segment.

Providing a glimpse into the future of the LCV, Hyundai Motor's H350 Fuel Cell Concept shows the suitability of the company's pioneering Fuel Cell powertrain for commercial application.

Unlike a conventional electric vehicle, which requires a number of hours to recharge, the 175-litre hydrogen tank can be filled in under four minutes – similar to the time it takes to refill a tank of gasoline or diesel in a vehicle with a traditional internal combustion engine. The H350 Fuel Cell Concept has a total range of 422km, and emits only water.

The powertrain is intelligently packaged in such a way that its installation has no impact on the H350's load area. Depending on wheelbase, the H350 provides 10.5m³ or 12.9m³ space – sufficient to accommodate five standard European pallets – or room for a 14-seat passenger compartment.

The Fuel Cell driveline enables almost silent operation of the vehicle contributing also to a reduction in noise pollution what makes it especially suitable for night deliveries in urban areas. The H350 Fuel Cell concept would be suitable not only for door to door and urban missions, but also to extended mileage missions thanks to the improved autonomy.

With the Fuel Cell powertrain capable of producing up to 100kW and 300Nm the H350 Fuel Cell Concept is able to reach speeds of up to 150kph – similar performance to LCVs powered by an equivalent internal combustion engine. Propelled by a near-silent electric motor, it also produces significantly less noise than conventional vehicles.

The H350 Fuel Cell's powertrain is formed of a hydrogen tank, fuel cell stack, high-voltage battery pack, inverter, and electric motor. The 700-bar high-pressure hydrogen tanks, located under the floor of the vehicle between the two axles, store 7.05kg of compressed hydrogen, which is then broken down into protons and electrons in the fuel cell stack. The electricity produced by the fuel stack is then stored in a compact 24kW lithium-polymer battery pack, with the inverter converting the energy to an alternating current to power the 100kW electric motor.

World leader in hydrogen fuel cell technology
Hyundai Motor is a world-leader in the development of hydrogen fuel cell technology, opening the world's first mass production facility for Fuel Cell vehicles in February 2013. The company's Fuel Cell powertrain represents a truly viable form of propulsion for everyday vehicles, from passenger cars to LCVs, and is the product of Hyundai's commitment to sustainable transport.

The Hyundai ix35 Fuel Cell is the world's first mass-produced and commercial available Fuel Cell vehicle, and is available to order from Hyundai's dealer network. There are currently 50 units of ix35 Fuel Cell in use for members of the public in Munich, Germany. Hyundai's Fuel Cell powertrain was demonstrated successfully during the 2006 FIFA World Cup in Germany, with the company's Fuel Cell city bus used as an official vehicle throughout the tournament.