Governments going electric Q&A: Peter Bowker, Transport for NSW.
Transport for NSW is charged with looking at the big picture for the future of transport in the state, yet its own fleet transition has been a strategic starting point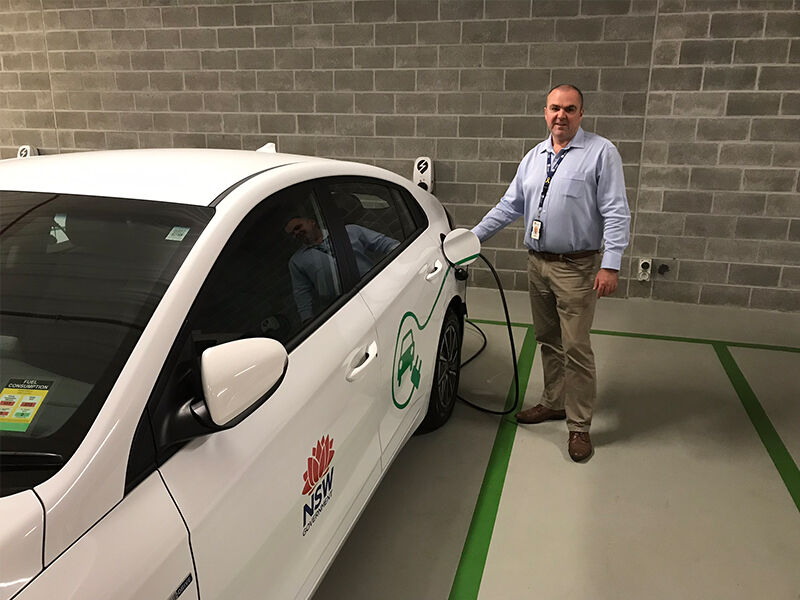 Peter Bowker, Manager Fleet Services using one of Transport for NSW's 19 charging stations at their new Macquarie Park office
Leading the development of the ever-evolving NSW transport system, Transport for NSW (TfNSW) is keeping a close eye on the future as it works towards modernising mobility for the community and businesses across the state.
With one of Sydney's largest fleets, TfNSW knows its own vehicles are a good place to start. Recent announcements from the agency have seen the government ramp up its own light vehicle fleet EV target, commit to electrify part of its bus fleet and invest in recharging infrastructure. Together, these initiatives are seen as stepping stones to the wider growth of EVs across NSW.
Peter Bowker, Manager Fleet Services at TfNSW is at the centre of the push towards electric. We sat down to speak to him about how TfNSW is translating the government's EV policy targets into real fleet outcomes.
Peter, TfNSW is moving quickly to expand its EV fleet – how have you accelerated your efforts and what policies and programs are you guided by?
TfNSW is committed to the NSW Electric and Hybrid Vehicle Plan - Future Transport 2056 to reach net zero emissions by 2050.
The initial fleet target for our government was to introduce a minimum of 10% of passenger vehicles to be low emission vehicles by 2021 and we are pleased to have overachieved on this target.
TfNSW is now looking to reach 70% of its passenger vehicles to be low emission vehicles and 20% of these to be battery electric or hydrogen by 2023.
We first included battery electric vehicles in our fleet in 2019 and they have been well accepted by staff. We targeted our shared pool to introduce the vehicles as this would engage multiple drivers to experience EV driving. Like all new things, change is challenging but if people repeat their experience it will become the new normal.
We have also set ourselves a target for charging infrastructure and TfNSW is looking to have a minimum of 100 charging stations in place by 2023.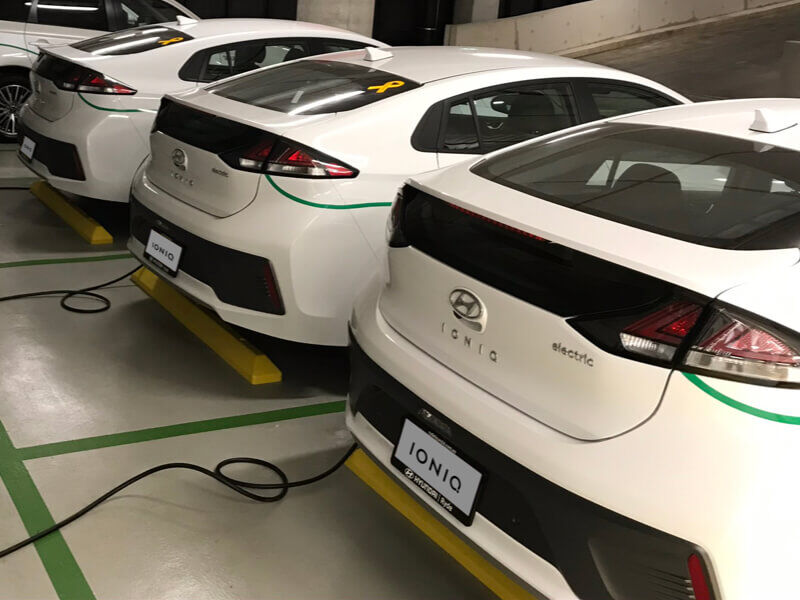 Transport for NSW's EV fleet charging at their Macquarie Park office
What is the current size and composition of your fleet and how do you expect this to change in future?
TfNSW has over 2,600 fleet vehicles with the majority of these light commercial utilities.
The high number of light commercial vehicles has limited our ability to replace current vehicles with battery electric vehicles. We have however requested business units to revisit the business case for a vehicle and question if they must have this type of vehicle or if a passenger vehicle could also be fit for purpose as a means to encourage greater EV uptake.
TfNSW has a number of building projects underway and each of these have charging infrastructure built into the plans. Our new office at Macquarie Park has 19 charging stations in the basement and we have already placed a number of PHEV and BEV vehicles at that location ready for staff to use when they move in.
TfNSW has a number of building projects underway and each of these have charging infrastructure built into the plans. Our new office at Macquarie Park has 19 charging stations in the basement and we have already placed a number of PHEV and BEV vehicles at that location ready for staff to use when they move in.
What were your priorities when selecting an EV for your fleet and how do you assess models on the market?
The NSW Government manages a list of approved vehicles and TfNSW sits on the panel to work through which vehicles are selected for this list.
All vehicles selected undergo scrutiny in regard to safety technologies, fit for purpose, costs and environmental performance. At TfNSW we prioritise the safety of our people and the public therefore this is one feature that is not negotiable.
With limited EV options available in Australia at this stage and based on whole of life costing we have focused on two battery electric models and one plug in hybrid to date.
What have been some of your biggest challenge in introducing EVs and their charging infrastructure so far?
By far the biggest challenge is installing the infrastructure. Once the infrastructure is installed, we can introduce the vehicles.
Challenges include available power at premises, costs to install infrastructure and approvals from landlords and reassurance for insurance purposes. Whilst there is charging infrastructure at many sites throughout NSW, the ease of use with different suppliers challenges drivers
It's very different to turning up to any number of petrol bowsers that all look and work the same. At this stage there is no ability in fleet to be able to hold a corporate subscription with multiple EV infrastructure suppliers to tap into the data to run our fleet reports that we are aware of.
In fleet we are consistently asked to report on our vehicles and without the ability to capture data from multiple suppliers makes this a concern.
It's great to see however that Australia has adopted a uniform plug type for all new vehicles. In the past different plug types for vehicles has confused drivers and makes the charging process more difficult than it should be with the need to carry cables or adapters.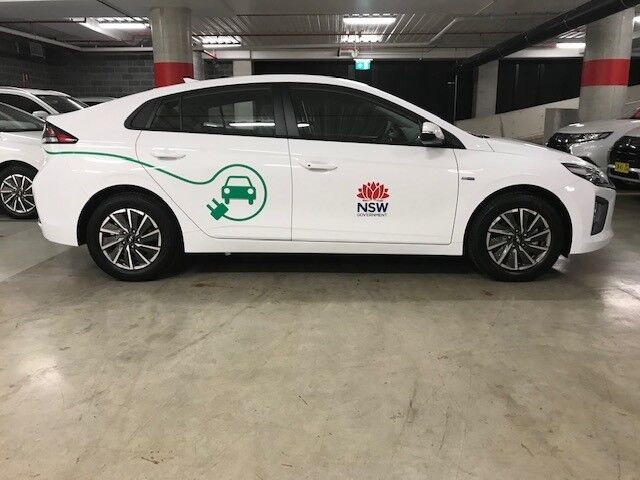 Transport for NSW's EV fleet includes the Hyundai IONIQ
What's next on the horizon for TfSW in zero emissions transport?
TfNSW will continue to roll out our charging infrastructure and look to convert as many internal combustion engines to electric vehicles where fit for purpose.
We have many projects underway for clean transport, from zero emission buses to changing the way we understand transport and look at mobility instead of car ownership. The future transport model will include car share and automated vehicles, the latter was in operation at Olympic Park however has been temporarily suspended due to COVID-19.
Finally, as part of the NSW Government fleet strategy, there is also a social conscience element and the sale of our vehicles into the used car market will allow families who may not be able to afford an EV be able to acquire one. This is a fundamental reason why we need to further our commitment to electric vehicles.
What are your thoughts on the future of transport? Do you think we will see a range of electric technologies available?
Electric vehicles are here and now and won't be going away. It's not a new technology with battery electric vehicles first introduced in the 1800's.
At this stage, I don't believe all vehicles will be electric or hydrogen for some time, but we can all play a part and make our emissions as low as possible
Personally, I have a soft spot for boats. There is not one boat that will cover every aspect of boating from sailing, cruising, fishing or up rivers and dams. This could be where motor vehicles are headed and we will acquire a vehicle for what it's intended to be used for.
Most families have two vehicles and there is no reason why the second vehicle couldn't be an EV. The second vehicle is usually used for travelling to the train station or dropping children off at school or doing the groceries. These are all short trips and perfect for an EV.
There is a lot of potential to occur in future mobility and it will be exciting to be part of the change.