Governments going electric Q&A: Warren Mashford, City of Canterbury Bankstown.
With one of the biggest EV fleets in Australia, City of Canterbury Bankstown and its fleet manager Warren Mashford are banking on an electric future.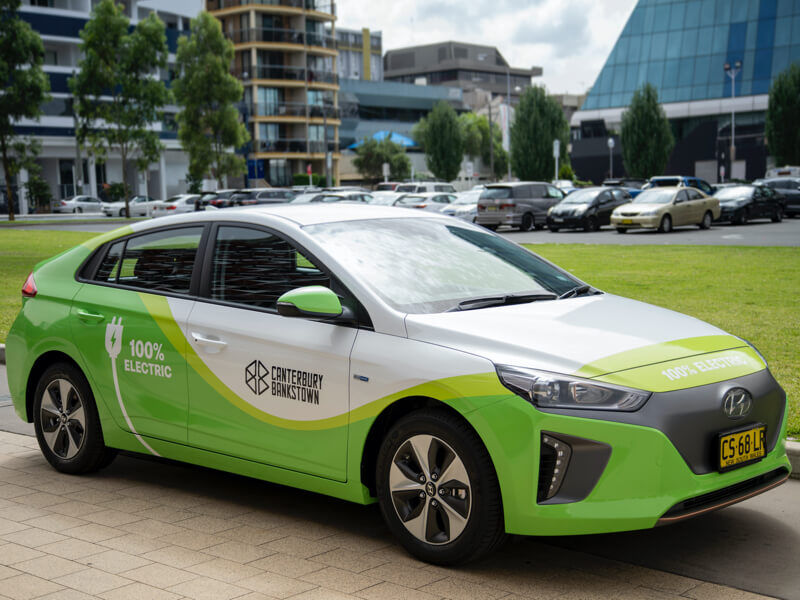 A Hyundai IONIQ, one of the City of Canterbury Bankstown's 16 EVs.
Located in the city of Sydney, south-west of the CBD, the City of Canterbury Bankstown is home to exotic foods, unique shops and diverse cultures. Now, with a push to go green across the municipality, the City can proudly claim its home to one of the largest EV fleets in Australia too.
Priding itself on being an innovative and sustainable council, Canterbury Bankstown has always been at the forefront of embracing new technologies. That's why when the opportunity to electrify their vehicle fleet became a real option, the choice to go zero emissions was an easy one.
Warren Mashford, the City of Canterbury Bankstown's fleet manager has been the overseer of the council's successful EV transition. We sat down with Warren as he stepped us through their journey to date and what's next on the horizon, including venturing into EV rubbish trucks.
Warren, undergoing a fleet transition of this scale is not without its challenges. What have been some of the hurdles you've encountered and how have you overcome them?
Like any change initiative, our City's introduction of EVs needed to be robustly planned and managed.
Preparing for and managing staff acceptance was vital in ensuring a successful transition. Fortunately, as a forward-thinking sustainable organisation, staff have always been enthusiastic towards EVs.
Our executive leadership team and elected representatives embraced the program, although some staff had some concerns around vehicle performance, range and the likelihood of breakdowns.
By developing a fit for purpose plan on seemingly minor but crucial details such as the size, power, comfort, safety and battery life of the vehicles, we were able to instil a sense of confidence and strong buy in across the organisation.
In addition to our strong emphasis on change management and communication with stakeholders, we arranged demonstration vehicles, provided training for drivers and held workshops so people would be comfortable and confident in using our EV fleet.
We also knew the role of EVs was far greater than just transitioning to cleaner transport. Making sure our EVs served a purpose and were suited to specific tasks encouraged more users. For example, we converted some hatchbacks into a panel van by removing seats. This meant they could be used as a commercial vehicle for our surveyors and their equipment.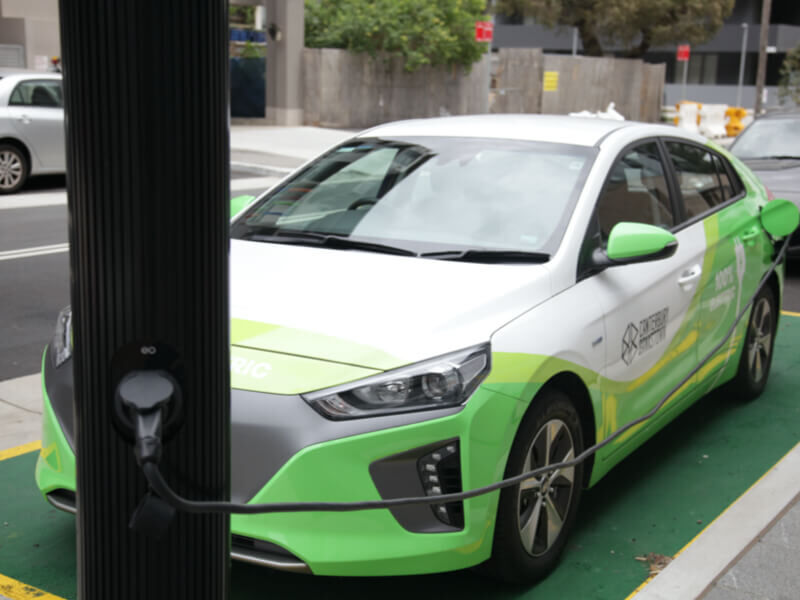 A City of Canterbury Bankstown EV charging at one of their public charging stations.
What does Canterbury Bankstown's vehicle fleet look like today and how do you expect this to change in the future?
We have a total of 345 vehicles in our light vehicle fleet, which includes 16 electric vehicles and 30 hybrids, which have a very good take up with leaseback drivers.
We hope this points towards a full transition towards fully electric vehicles by 2025.
Currently the City has three EV charging station locations, two of which are available to the public.
What features did you prioritise for your EV fleet and how did you assess the models on the market?
Our top priority in selecting a model for our EV fleet was to ensure the car firstly had the maximum 5 star ANCAP rating as safety is one of our organisation's five core vision and values.
The selected model also needed to be sized so people would enjoy the experience of driving and using it.
Last but not least, the EV model needed to have a good battery life and be easy to charge.
What has been your biggest challenge to date in integrating EVs and their infrastructure into your fleet?
Integrating the use of EVs into our fleet presented very few challenges.
There were some little concerns among a small number of staff members, but this was not a big challenge and our educational programs and trials were simple, fast and very effective solutions to addressing their concerns, such as being stranded on a freeway with a flat battery.
Again, we created simple trials and educational test drives. These were myth busters and helped people become more fully aware of the high quality and technological capabilities of our chosen EV models.
By giving people a better understanding of why we decided to transition to an EV fleet, and how these vehicles work, staff have gained confidence and joy in using the cars. We've seen this time and time again when our booking system shows us the EVs are completely booked out for days on end.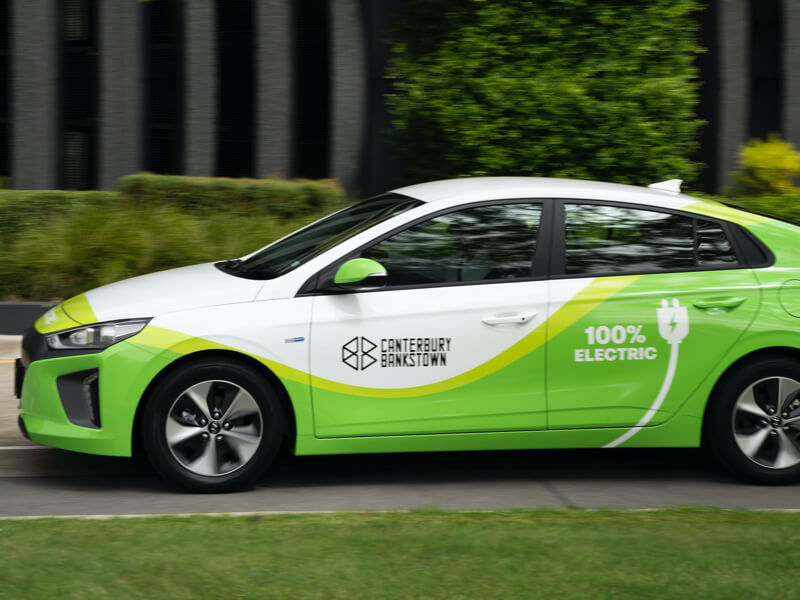 A City of Canterbury Bankstown EV on the road driving through the municipality.
What's the next chapter for Canterbury Bankstown's sustainability push, both vehicles and more broadly?
Our organisation is guided by a 10-year plan developed for our community and by our community.
As part of that, we've developed seven crucial destinations such as a Clean and Green, Moving and Integrated, and Liveable and Distinctive City, in which sustainability in transport plays a key role. Moving forward we will progress to alternatively fuelled and advanced vehicles with both battery electric and hydrogen fuel cell vehicle technology.
Also, we're not only making EVs more accessible for the community, but we're exploring how we can expand their uptake in the provision of our services.
As the biggest council in NSW, we're making it our business to turn our waste green, literally.
We've ordered a fully electric garbage truck and are reviewing the purchase of an EV street sweeper. Sustainable technologies are moving fast and in looking to the future, we hope to see more utility styled electric vehicles made available on the market.
There is currently a gap in supply for these vehicles and with a third of our light fleet consisting of utilities, adopting an electric version would be another step in the right direction for our organisation.
Finally, as an award-winning local government organisation, we want to continue leading the charge in embracing this new technology and be a part of this exciting emerging industry.