Hyundai Motorsport: WRC Wales Rally GB Report.
Hyundai Motorsport scored a podium finish in Wales Rally GB, the 12th round of the 2019 FIA World Rally Championship (WRC)
Thierry Neuville finished in second place overall with Andreas Mikkelsen in sixth and Craig Breen completing his second rally with Hyundai Motorsport in eighth place
The points secured by Neuville and Mikkelsen have helped the team to retain an eight-point lead in the manufacturers' standings on 340 points with two rounds remaining
Hyundai Motorsport has completed Wales Rally GB, the 12th round of the 2019 FIA World Rally Championship (WRC), with a podium finish as Thierry Neuville secured second place on the final day.
The Belgian, alongside co-driver Nicolas Gilsoul, ended the rally just 10.9-seconds adrift of the rally winner, to net the team's 11th individual podium of the season so far, and equaling its best result in the Welsh event.
Sunday's five stages were reduced to four with the cancellation of Great Orme (SS20) on safety grounds. That left just 33.68km of competitive stages on the schedule for crews to fulfil their objectives: two runs through Alwen (10.41km) and Brenig (6.43km).
Andreas Mikkelsen had hoped to make up ground in his incredibly close battle with Elfyn Evans during SS20, having lost a position to the Welshman on Sunday's opening stages. The Norwegian crew, however, had to settle for sixth place overall.
Craig Breen brought his Hyundai i20 Coupe WRC home in eighth after his roll on Saturday ended any hopes of a stronger result.
Hyundai Motorsport has seen its lead in the manufacturers' championship reduced to eight points with 86 up for grabs in the final two events of the season. Scoring one extra point in the Brenig Power Stage, in addition to the 18 for second place, Neuville has increased his drivers' championship tally to 199, 41 points from the leader.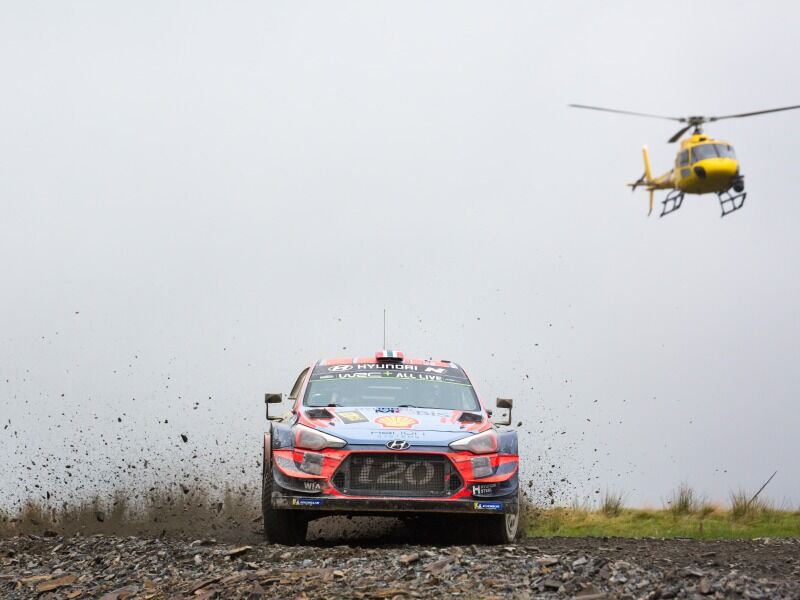 Crew Notes: Thierry Neuville/Nicolas Gilsoul (#11 Hyundai i20 Coupe WRC)
Third Wales Rally GB podium for Hyundai Motorsport after 2016 and 2017
Three stage wins over a competitive weekend for the Belgian crew

Neuville said: "We could not have given any more this weekend. From the very first stage, it was a tough fight in some tricky conditions – and incredibly close. We can be happy with our own performance but I'm disappointed about the final result. We should have finished ahead of Tänak this weekend, and we did everything we could, but we couldn't achieve it. The championship now moves onto Spain, where we know we have to outscore him to keep our own title hopes alive. Everything can happen in rallying, so we never give up."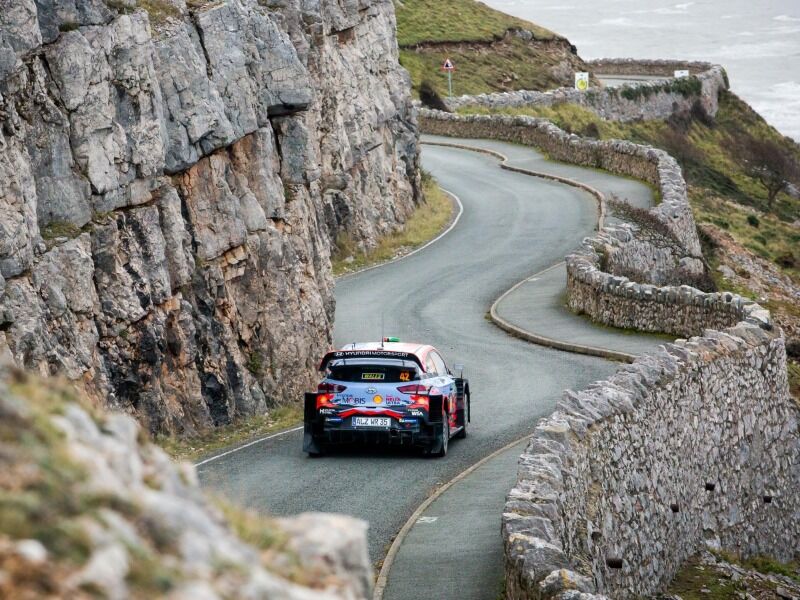 Crew Notes: Andreas Mikkelsen/Anders Jæger-Amland (#89 Hyundai i20 Coupe WRC)
Sixth place finish for the Norwegians after tricky final stages
Strong performance on Saturday included stage win in SS15

Mikkelsen said: "Overall, the important thing is that we have taken some points away for the manufacturers' championship. Looking back at the rally as a whole, we lost a bit too much time on Friday. Things improved and we had a good Saturday, especially in the afternoon with a stage win. Our aim for today was to defend fifth place from Elfyn, but unfortunately it wasn't to be. We made the wrong tyre choice. I tried to fight back in SS21 but made a mistake at a junction and from there it was too risky to try and make up the lost time. Sixth place might not score as many points as we would have liked, but at this stage of the season they are all extremely valuable."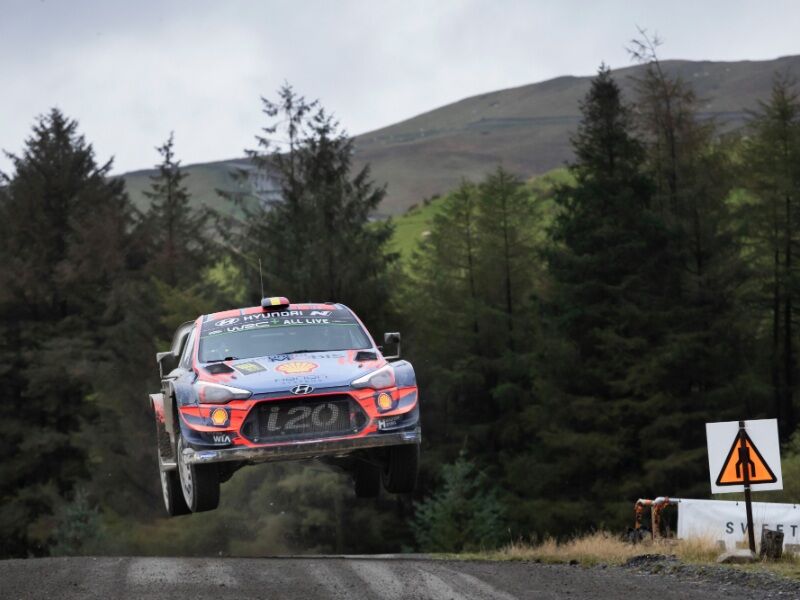 Crew Notes: Craig Breen/Paul Nagle (#42 Hyundai i20 Coupe WRC)
Fighting in the top-five early in the weekend
Saturday roll put the Irish crew out of contention

Breen said: "I would like to extend my thanks to the team for getting our car fixed and ready for today's final stages after yesterday's crash. I had been getting into my stride in the Hyundai i20 Coupe WRC so it's been good to end the rally in a trouble-free manner, and to be back on it. Saturday was really disappointing; without that mistake I think we could have been fighting at the front this weekend. It has been a pleasure to be part of this rally with the Hyundai Motorsport team, with a fantastic car and on the incredible Wales Rally GB stages. We might wonder what could have been possible results-wise, but whatever has happened it's certainly given me a lot of motivation."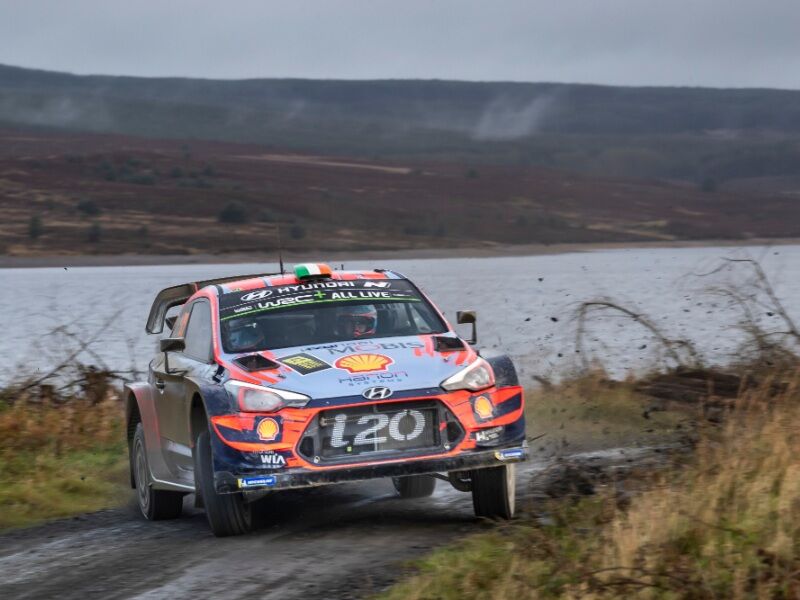 Team Director Andrea Adamo: "We complete Wales Rally GB with another podium and still leading the manufacturers' championship. This is the positive on which we will focus. Thanks, especially, to Thierry and Nicolas who drove an amazing rally from start to finish. Andreas and Anders brought home some points that help keep us in the lead, albeit by a smaller margin. Sadly, Craig and Paul's crash compromised their rally. I can't say we are happy with the overall result but being top of the standings will give us more commitment, if any more were needed,to be stronger in the final rallies. "
Next Rally
The penultimate round of the 2019 FIA World Rally Championship takes place October 25-27 on the mixed surfaces of Rally de España
Round 13 of the 14-event season will see crews move from gravel stages on Friday onto tarmac for the remained of the event.
Final Overall Classification - Wales Rally GB

2019 FIA World Rally Championship for Manufacturers' Standings (after round 12)

2019 FIA World Rally Championship for Drivers' Standings (after round 12)