Hyundai looks to continue TCR Australia winning streak at Winton Motor Raceway.
Hyundai driver Bailey Sweeny continues to lead the TCR Australia Driver's Championship heading into round three at Winton Motor Raceway
Josh Buchan dominated round two at Phillip Island with pole position and two race wins for the new-generation Hyundai i30 Sedan N TCR
Based on his success in the presence round, Buchan is now the highest placed Australian driver in the TCR World Rankings (29th position)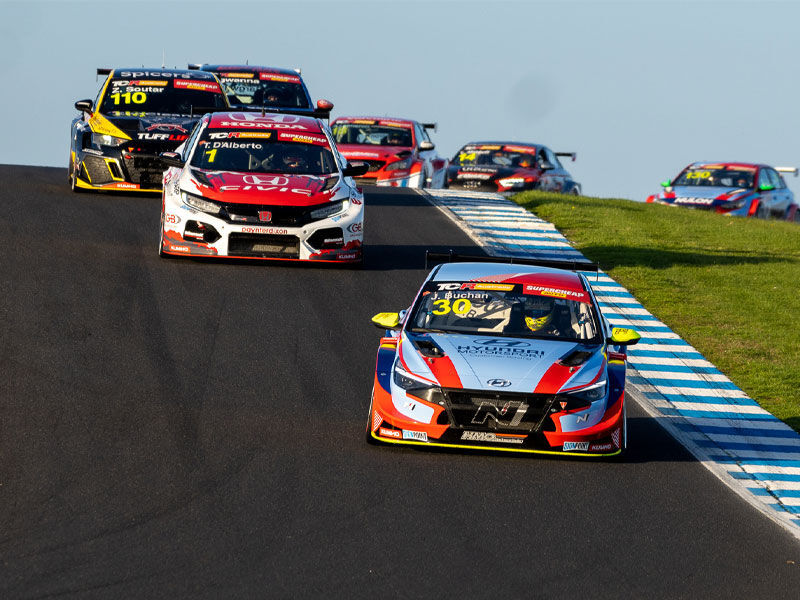 Hyundai is hoping to maintain its winning ways in the TCR Australia Championship as the third round of the series will be held at Winton Motor Raceway in rural Victoria this weekend.
HMO Customer Racing has won all four of the non-reverse grid races so far this year, with Bailey Sweeny scoring a double victory in the opening round at Symmons Plains in Tasmania and Josh Buchan taking the breakthrough first pole position and two race wins for the new-generation Hyundai i30 Sedan N TCR at Phillip Island last month.
As a result, Sweeny extended his lead in the 2023 TCR Australia Championship while Buchan climbed to fourth on the drivers' standings and is now the highest placed Australian driver in the TCR World Rankings in 29th position.
"It was a great confidence boost for the whole team with the first race wins for the Hyundai i30 Sedan N TCR at Phillip Island," said Buchan.
"I think back to when I first started racing in TCR and I managed to take my first win in the fourth round, and we were jumping for joy. Now, even though we've accelerated that process by winning with the new car at only its third round, we still have our feet on the ground and immediately set our focus forward to ensuring we maintain that position as we head to Winton this weekend.
"That's a sign that our expectations are greater this year."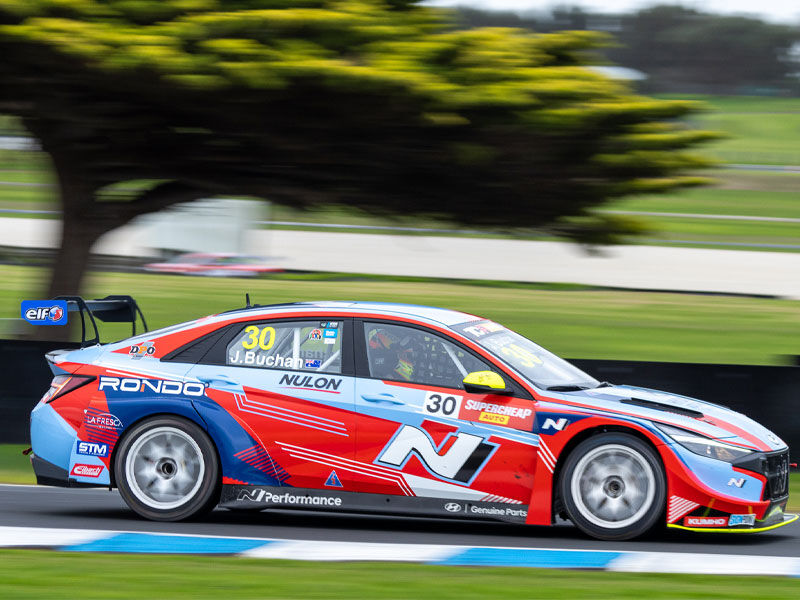 The tight and twisty nature of the 3.0km Winton Motor Raceway, located near Benalla in central Victoria, presents a totally different set of demands on the cars and drivers compared to the fast and flowing Phillip Island circuit.
Buchan isn't underestimating the challenge ahead of him either, as he will be carrying 40kg of success ballast as a result of qualifying on pole position at Phillip Island.
"Qualifying will be extremely important for us this weekend, but I'm confident we will have a good race car," he added.
Despite never have raced at Winton before, Sweeny believes he can maintain his front-running form and defend his championship lead this weekend, knowing that his Hyundai i30 N TCR has race-winning pedigree at the circuit.
HMO Customer Racing scored pole position and two race victories with Will Brown in the only previous TCR Australia Championship event to be held at Winton, in 2019.
HMO Customer Racing will have two 30 minute practice sessions on Friday to fine tune the cars ahead of qualifying on Saturday before three races over the remainder of the weekend.
Fans can catch all the action from Winton and the Motorsport Australia Shannons Speed Series live and on-demand via Stan Sport.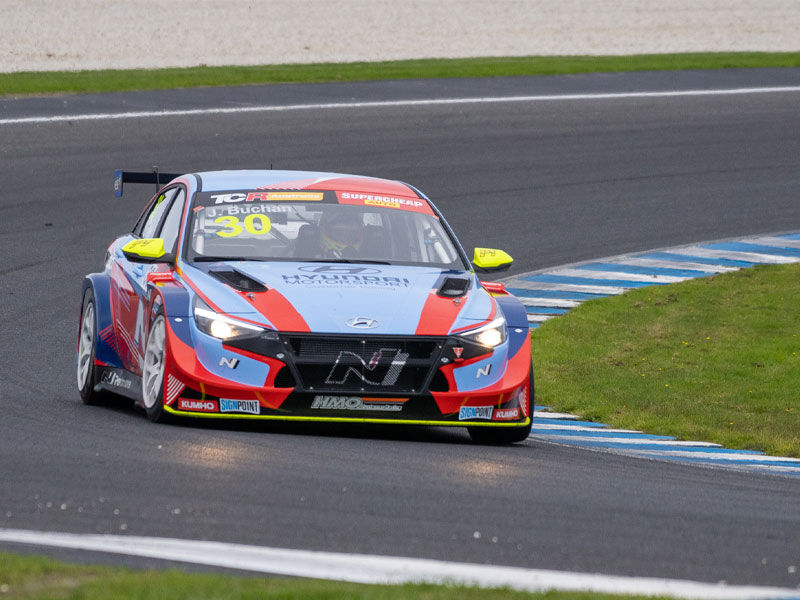 What the drivers said:
Car 30: i30 Sedan N TCR - Josh Buchan
"Even though I've never raced in TCR at Winton, it is a track we are no stranger to as it was the circuit where we first tested the Hyundai i30 Sedan N TCR, and I have driven plenty of laps around the place.
"It's certainly not the most ideal track to be carrying the maximum weight penalty, as it is very narrow and technical. For us, that places a huge emphasis on qualifying and - wherever we end up - I'm sure I'll need to get the elbows out to either attack or defend. In saying that, I'm confident we have a great race car, and we have to consolidate our position with a clean weekend.
"I'm not carried away with the championship positions just yet. I know some of my rivals will have a point to prove this weekend, but I'll be happy to stay out of trouble and play in the slips if there's chaos around me."
Car 130: i30 N TCR - Bailey Sweeny
"I've never actually raced at Winton before, but I've done plenty of laps around there so I'm looking forward to getting stuck into it this weekend. It's a great track where you have to be really aggressive, and where thousandths of a second can make a massive difference in qualifying. It's going to be really tight in qualifying; a bit like Symmons Plains, which we won.
"I know the car and the team have the speed to win, as they did with Will Brown in 2019, so I'm confident we have the package to be competitive. The only variable will be the weather, which places an unknown element of jeopardy. I'm obviously hoping it is dry. But I'm 100 percent prepared to get the elbows out and defend my position at the top of the championship standings."
| | | |
| --- | --- | --- |
| |   Josh Buchan   |   Bailey Sweeny   |
|   Born   |   22/01/1995 (28)   |   07/02/2003 (20)   |
|   Car   |   Hyundai i30 Sedan N TCR   |   Hyundai i30 N TCR   |
|   Number   |   30   |   130   |
|   TCR Season competed   |   2021 & 2022   |   2022   |
|   TCR Poles   |   2   |   0   |
|   TCR Podiums   |   11   |   7   |
|   TCR Wins   |   5   |   4   |
|   TCR World Ranking   |   29   |   39   |
| | | | |
| --- | --- | --- | --- |
|   Position   |   Name   |   Car   |   Points   |
|   1   |   Bailey Sweeny   |   Hyundai i30 N TCR   |   252   |
|   2   |   Jordan Cox   |   Peugeot 308 TCR   |   230   |
|   3   |   Aaron Cameron   |   Peugeot 308 TCR   |   229  |
|   4   |   Josh Buchan   |   Hyundai i30 Sedan N TCR   |   224   |
|   5   |   Michael Clemente   |   Audi RS3 LMS   |   214   |
|   6   |   Ben Bargwanna   |   Peugeot 308 TCR   |   198   |
|   7   |   Lachlan Minneef   |   Audi RS3 LMS   |   196   |
|   8   |   Kody Garland   |   Peugeot 308 TCR   |   186   |
|   9   |   Tony D'Alberto   |   Honda Civic Type R   |   171   |
|   10   |   Tom Oliphant   |   Lynk & Co. 03   |   164   |
| | |
| --- | --- |
|   Track Facts   | |
|   Location   |   Benalla, Victoria   |
|   Length   |   3.000 km   |
|   TCR Pole Record   |   1:24.0981 sec, Will Brown (i30 N TCR) - 2019   |
|   TCR Lap Record   |   1:24.3720 sec, Will Brown (i30 N TCR) - 2019   |
| | | |
| --- | --- | --- |
|   Friday May 12   |   Saturday May 13   |   Sunday May 14   |
|   Practice 1: 12:10pm   |   Qualifying: 11:35am   |   Race 2: 11:30am   |
|   Practice 2: 3:25pm   |   Race 1: 4:15pm   |   Race 3: 4:15pm   |