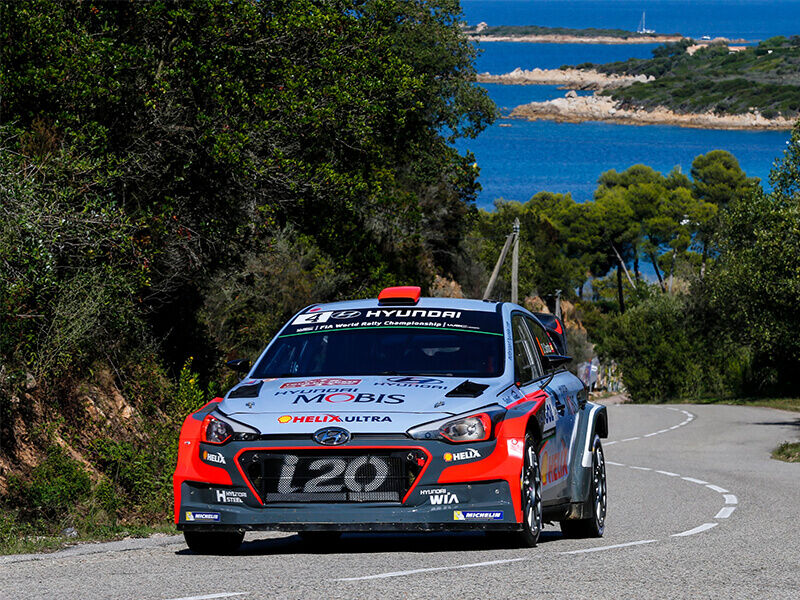 Fresh from securing its first podium finish of the season at Rally Mexico, Hyundai Motorsport is ready to take to the tarmac at this weekend's Tour de Corse (6-9 April), the fourth round of the 2017 FIA World Rally Championship (WRC).


The Hyundai i20 Coupe WRC has already proven to be a strong and versatile challenger in this competitive WRC season. The team has amassed 20 stage wins and 16 Power Stage points in the opening three rounds – across all driver crews.

Corsica will offer Hyundai Motorsport an opportunity to build on its recent podium at a venue where the team finished second just six months ago. The Hyundai Shell Mobis World Rally Team trio of Hayden Paddon/John Kennard, Thierry Neuville/Nicolas Gilsoul and Dani Sordo/Marc Martí will all be aiming to repeat that feat – and hopefully go one better in this year's event.

Long and winding roads
Tour de Corse is famed for its many tricky twists and turns, which have contributed to its nickname, 'Rally of 10,000 Corners'. Providing some of the most stunning scenery on the calendar, the rally takes place against a variety of backdrops, ranging from jaw-dropping cliff edges, to crystal blue seas and picturesque villages.

This will be only the third iteration of the event since its reinstatement to the WRC calendar in 2015. The itinerary itself will have a familiar feel, although several stages have been shortened to reduce the competitive distance from 390.92km to 316.80km.

The crews have been working hard to make the shift from Mexican gravel to Corsican tarmac. They have all had the chance to test on Corsica this week over a total of five days. Paddon competed in Rallye Sanremo in the New Generation i20 R5 last weekend in a bid to prepare himself fully for a return to tarmac.

Team Principal Michel Nandan said: "We can't be completely satisfied with the results from the first three rallies of the season, but we have definitely shown promise. We hope our podium in Mexico will unlock the full potential from the Hyundai i20 Coupe WRC and our crews as we turn our attention to Corsica. This year's WRC is incredibly close with three different manufacturers winning in the opening rounds. I hope it's our turn now! Corsica will present its own tough challenges, of course, so we have to keep focused on the job in hand and remain confident in our own abilities."

Crew Notes: Paddon/Kennard (#4 Hyundai i20 Coupe WRC)
After a challenging start to their 2017 WRC campaign, the Kiwi partnership of Hayden Paddon and John Kennard will be targeting a good result in Corsica. As part of his preparation for the event, Paddon will also be taking part in Rallye Sanremo, which he hopes will give him a competitive edge.

Paddon said: "I am determined that Corsica will be the real start of my 2017 season. I feel confident in myself and I've been working hard to prepare for the first WRC tarmac event of the year. Taking part in Rallye Sanremo will give me the chance to adjust to the driving and pace notes on that surface. Corsica is a difficult event, the toughest tarmac rally on the calendar in my opinion, but I am really looking forward to it. We are ready to put a good performance."

Crew Notes: Neuville/Gilsoul (#5 Hyundai i20 Coupe WRC)
Belgians Neuville and Gilsoul claimed second at last year's Tour de Corse and have rally-winning form on the island. Having scored their first podium of 2017 in Mexico, they will be hoping to return to the front as the WRC moves back onto tarmac.

Neuville commented: "Tour de Corse is a famous and historic rally. It's also an event that Nicolas and I have won back in 2011 – when it was part of the IRC - so we remember what it is like to go there and perform. I thought we did well there last year especially, finishing second. The stages were just lovely, so we are looking forward to getting back there. Mexico was a really important result for us after the competitive but frustrating first rounds of the season. We want to build on that podium – and Corsica is a great place to do just that."

Crew Notes: Sordo/Martí (#6 Hyundai i20 Coupe WRC)
Spaniards Sordo and Martí are the highest placed Hyundai Motorsport crew in the standings after a solid start to their 2017 season. Stage wins in each round mean they can head onto Corsica's tarmac terrain in confident mood. Sordo also claimed a victory at the event in 2012, when it was an IRC round, so he will be hoping to bring some of that form to this weekend's rally.

Sordo said: "Corsica is our first experience of a proper tarmac rally this season, so I am excited to have the chance to show what both we and the car are capable of. The setting of the rally is one of the most spectacular on the calendar, with the route taking us through the mountains and the forests- it really is a great event to take part in. Our performances so far this year have been pretty consistent, but now is the time to step up our game – and bring ourselves even closer to the front."

Tour de Corse 2017 at a glance
Taking place over ten stages and a competitive distance of 316.80km, Tour de Corse will serve as the first all-tarmac event of the 2017 WRC season. The service park remains at Bastia Airport in the northeast.

Stamina will be key for the drivers on Friday. There will be no midday service, instead just two tyre fitting zones in Porticcio. Saturday sees only four stages run but it will represent the greatest distance covered on any of the three days, with both loops totalling 131.96km.

The final leg on Sunday features the longest stage of the entire rally. SS9 runs between Antisanti and Poggio di Nazza and covers a whopping 53.78km. There will be no respite for the crews ahead of the rally-concluding Porto-Vecchio – Palombaggia Power Stage.