Hyundai Motorsport WRC Round 3.
Hyundai Motorsport is gearing up for the third round of the 2020 FIA World Rally Championship (WRC), Rally México, which will take place 12-15 March
The team will field a three-crew line-up of Thierry Neuville/Nicolas Gilsoul, Ott Tänak/Martin Järveoja and Dani Sordo/Carlos del Barrio
In the first full gravel event of the season, Hyundai Motorsport aims to improve on its current second place in the manufacturers' standings with a fight for victory in Mexico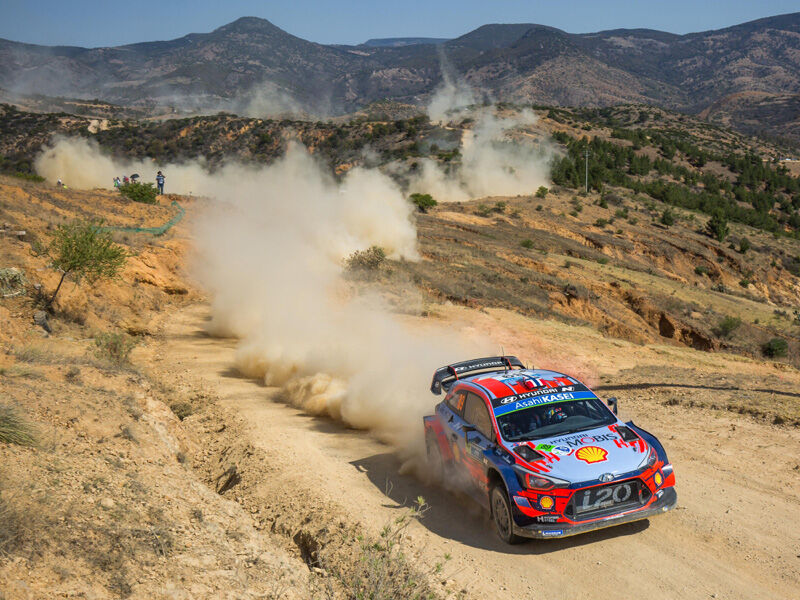 Hyundai Motorsport is ready to tackle the first true gravel event of the 2020 FIA World Rally Championship (WRC), as Rally México plays host to the third round of the season.
The opening winter rounds will seem a distant memory as hot temperatures, high altitudes and challenging gravel stages greet crews over a four-day itinerary. From short street stages in Guanajuato including the WRC's shortest-ever test in León (0.73km), to more gruelling stages like El Chocolate (31.45km), Guanajuatito (24.96km) and Otates (33.61km), every aspect of car and crew will be put through a rigorous workout in Mexico.
Three Hyundai i20 Coupe WRC crews will contest the popular Mexican rally: Thierry Neuville/Nicolas Gilsoul, Ott Tänak/Martin Järveoja and Dani Sordo/Carlos del Barrio. With testing prohibited outside of Europe, all three pairs have put the car through its paces on gravel in Spain to prepare for the rally. Tänak and Sordo also contested Rally Serras de Fafe e Felgueiras last week as a warm-up for Mexico.
After just two rounds, this year's WRC championship has already become hotly contested with five different crews featuring on the podium. Victory for Neuville in Monte-Carlo and second place for Tänak in Sweden sees Hyundai Motorsport hold second place in the manufacturers' table on 63 points, ten adrift of the leaders. Neuville, meanwhile, lies second in the drivers' classification but equal on points with leader Elfyn Evans.
Team Principal Andrea Adamo said: "We can't say that we have been completely satisfied with the performance of our Hyundai i20 Coupe WRC in the opening rounds of the season, even with the victory in Monte and second place in Sweden. We are working hard to make sure we have the most competitive package at every rally. Mexico will offer a completely different challenge, one that will put different pressures on our car and crews. We know that road order will have some influence with gravel conditions benefitting those, like Dani, who will be later to start on the first day. However, we have to focus on getting the best out of ourselves regardless of things that are out of our control. Maximising our performance in these early rallies of the season is important as it sets out our ambition for the rest of the championship."
Crew Notes: Thierry Neuville/Nicolas Gilsoul (#11 Hyundai i20 Coupe WRC)
Second in the drivers' championship on 42 points, equal with Elfyn Evans
Two Mexico podiums for Hyundai Motorsport in 2014 and 2017
Neuville said: "Rally México is the first 'summer' event with hotter temperatures than we faced in Monte and Sweden, as well as high altitude and some demanding long stages. They are tough conditions, especially as one of the first cars on the road. I have great memories of Mexico, including our first podium with Hyundai Motorsport, and my first-ever WRC top-three finish the year before. It has always been one of the rallies I wanted to win; I was never quite able to achieve it, but it would be nice to change that this year."
Crew Notes: Ott Tänak/Martin Järveoja (#8 Hyundai i20 Coupe WRC)
Second place in Sweden secured crew's first podium with Hyundai Motorsport
Mexico will be their first proper gravel event in the Hyundai i20 Coupe WRC
Tänak said: "I was pleased to get my first podium with Hyundai Motorsport in Sweden, but Mexico will be very different – it's a unique challenge. The heat and altitude make it a very specific event on the calendar. On the fan side, too, it's amazing; we have a lot of people spectating and going crazy which makes it very special and emotional for us as drivers. There's nowhere better than Mexico to come and get some sunny weather after the winter. Physically, it can be tough. At altitude we don't have as much oxygen, so our driving style needs to be smooth and flowing, while the engine power is reduced, so we have to be efficient."
Crew Notes: Dani Sordo/Carlos del Barrio (#6 Hyundai i20 Coupe WRC)
First WRC event of the season for the Spanish crew
Strong history in Mexico, including second place podium finish in 2018
Sordo said: "I am excited to be back in the Hyundai i20 Coupe WRC at Rally México, an event I enjoy a lot and where I have always had a good performance. I have stayed close to the team in the opening events of the season, and took part in Rally Serras de Fafe last weekend, so I feel fit and ready. I really want to win in Mexico and to take another victory for the team. Our road position on the first day should be advantageous but that alone is not enough. The altitude makes it a difficult event, so we have to be prepared physically and to look after the car as well. We have a lot of support and passion from the fans, which only adds to the character of this event. I can't wait to get back behind the wheel."
WRC 2 overview
The Hyundai i20 R5 showed encouraging pace and potential in the opening winter rounds of the 2020 WRC 2 championship, Monte-Carlo and Sweden.
Hyundai Motorsport's two crews, Ole Christian Veiby/Jonas Andersson and Nikolay Gryazin/Yaroslav Fedorov, have had highs and lows as they have acclimatised to their new machinery, working with RedGrey Team. The contrasting Mexican terrain will give them a new opportunity to shine.
Veiby said: "Mexico is a new rally for me. I have only done the recce in 2017 and 2018, so I am excited to have this opportunity to compete. From what I have seen before, some stages are fast, some are slow, but all are tricky! You can't go wide because you don't know what awaits you roadside; you have to watch out for big rocks being dragged back out onto the road. The altitude is going to be a challenge. Jonas has already warned me that it will zap the power out of the engine. The thinner air will also affect the body, so it will be important to stay hydrated. We had a good day of testing on gravel, and it looks promising. We want to build on the good result we had in Sweden. For Mexico, victory is the target."
Gryazin said: "I am really excited to take part in Rally México; it will be a completely new event for me, and an entirely new experience. The two main characteristics of the rally are the altitude and heat. We will have to adapt to the reduced power output from the engine, to keep a good line and work with the car to maximise our speed on the road. This is also the first time I will experience a long overseas flight; I will have some time ahead of the rally to acclimatise but I am looking forward to getting the rally started and seeing what we can achieve in the Hyundai i20 R5."
Team Principal Andrea Adamo said: "We expect our two WRC 2 crews to make a step forward in performance in Mexico, even if it will be new experience for them. The performance of the i20 R5, developed by our Customer Racing department, has been competitive so we are encouraged to see how this will transfer onto the hotter, gravel conditions we will have in Mexico. There's no question it is a challenging event, but that's what the WRC is all about, and why we are here."
Weekend at a glance:
Rally México is made up of 24 special stages across a competitive distance of 324.85km
Thursday opens with a ceremonial start and two street stages in León before the first full day of action on Friday, which includes the famous El Chocolate test – 31.45km of exhilarating WRC roads up into the mountains
Saturday moves to the north and east of León with the familiar Guanajuatito (24.96km) and revised routes through Alfaro (16.99km) and Derramadero (21.78km)
The final morning includes Otates (33.61km), the longest stage of the rally, and concludes with the spectacular El Brinco (9.64km) and its iconic jump