Hyundai Motorsport preview WRC round 4: Rally Estonia.
Hyundai Motorsport returns to competitive FIA World Rally Championship (WRC) action for the first time in six months as Rally Estonia hosts round four of the revised 2020 season
Thierry Neuville/Nicolas Gilsoul, Ott Tänak/Martin Järveoja and Craig Breen/Paul Nagle will return to the cockpit of the Hyundai i20 Coupe WRC in a brand-new event for the series
Hyundai Motorsport has competed in a number of regional events in recent weeks as the team aims to resume its WRC campaign with a competitive Estonian showing
The FIA World Rally Championship (WRC) returns to action this week following an enforced six-month pause with a brand-new event, Rally Estonia, joining a revised 2020 calendar.
Hyundai Motorsport will field a three-car entry into the rally - round four of the season - with Thierry Neuville/Nicolas Gilsoul, Ott Tänak/Martin Järveoja and Craig Breen/Paul Nagle competing in the Hyundai i20 Coupe WRC.
The team is eager to resume its championship defense following mixed fortunes in the opening three rounds earlier in the year. Victory in Monte-Carlo was followed by consecutive podiums in Sweden and Mexico before the global pandemic put a stop to international motorsport.
Heading to Estonia, which will represent familiar territory for local crew Tänak and Järveoja, the team holds second place in the manufacturers' standings on 89 points. Two consecutive second places for the crew, in their first season with Hyundai Motorsport, sees Tänak hold fifth place in the drivers' classification. Monte-Carlo winner Neuville, meanwhile, lies in third place but the Belgian is ready to mount a fightback on Estonian gravel stages, which he last contested in 2012.
Breen will compete in his second WRC event of the season, having joined the team at Rally Sweden back in February. The Irishman is well acquainted with the Estonian roads from four previous events in the country.
First held in 2010, Rally Estonia has become popular in recent years with local fans and for teams looking to prepare for WRC's Rally Finland. Its position as a WRC event in 2020 will offer crews a high-speed gravel challenge to kick-start the second part of the interrupted season.
Said to be the biggest motorsport event in the Baltics, Rally Estonia will mark the fastest rally on the calendar in lieu of Finland. Smooth and technical gravel roads feature plenty of jumps and crests to keep crews alert and will demand exact precision from pace notes. The most iconic of these is Otepää's (9.60km) Alaküla jump.
The rally will be intensive, held over a shortened three-day itinerary. After a ceremonial start and the Tartu stage (1.28km) on Friday, Saturday will see crews cover over half of the rally's distance with ten stages on the itinerary. The event comes to a close with a compact schedule on Sunday with three stages each run twice, culminating in the traditional Power Stage.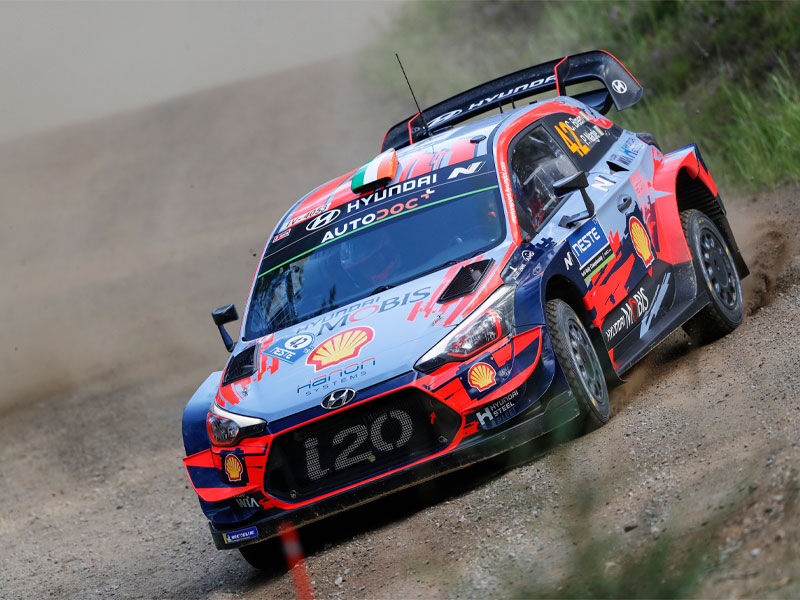 All three Hyundai Motorsport crews have tested in Finland and Estonia recently, including an outing at the Lōuna-Eesti Rally for Tänak and Neuville.
Team Principal Andrea Adamo said:
"It's quite a special moment to come back to WRC events after so much time away. It is clear the situation is different from where we left things in Mexico. I hope that things will stay in a reasonable way for everyone and we will all be able to enjoy the fight that I'm sure we are going to see at Rally Estonia. Like others, we have worked during this period to try to catch-up and improve the things we were missing before. We have to enjoy and make the most of the rallies between now and the end of the season and see what happens."
Crew Notes: Thierry Neuville/Nicolas Gilsoul (#11 Hyundai i20 Coupe WRC).
Belgians competed in 2012 edition of Rally Estonia
Neuville lies third in drivers' standings after opening three events
Neuville said:
"With the restart of the season, I think we all have hopes for a good result. After such a long break we want to come back and immediately deliver a strong performance. Rally Estonia is a new event and I did compete there back in 2012 but obviously the roads have changed a lot. It will be a challenging rally but with Ott and Martin as our teammates, I'm hoping we're going to get a little advantage over the other teams."
Crew Notes: Ott Tänak/Martin Järveoja (#8 Hyundai i20 Coupe WRC)
Estonians looking for a third podium this season and first victory for Hyundai Motorsport
Home heroes have dominated previous two editions of Rally Estonia
Tänak said:
"Of course it's nice to be back in the championship again. Having the first event back in Estonia is special for us. It's a big thing for Estonia to run a WRC event. I really hope we have a home advantage and it's most important we really use it. The target is very easy; we don't know how long the season will be but for sure we have to take the maximum from every event now. It will be a short sprint so there is no way to hold back anymore."
Crew Notes: Craig Breen/Paul Nagle (#42 Hyundai i20 Coupe WRC)
Irish crew return to Hyundai i20 Coupe WRC for second event in 2020
Previous Estonia experience will help the pair to hit the ground running
Breen said:
"I'm really looking forward to Rally Estonia. It's an event where I have quite a bit of experience in comparison to other crews. This year will be my fifth time going there and I am definitely looking forward to being back in a WRC car again after this strange and long period without anything. I was fortunate enough to be back in competition soon after lockdown was lifted and already in June we were testing. This restart period has been quite busy; it's great to get back to competing and some form of normality. I think we can perform well in Estonia, as fast rallies generally seem to suit us, so we'll be aiming for some good results there."
WRC 2 overview
Rally Estonia will also see the Hyundai i20 R5 return to WRC 2 duties in the hands of Ole Christian Veiby and Nikolay Gryazin. Both drivers showed gradual improvements in performance in the opening rounds of the season, culminating in a season-best at Mexico. However, they will be hoping to demonstrate further advances in Estonia.
Veiby will continue to be co-driven by Jonas Andersson, while Gryazin will share the car with newcomer Konstantin Aleksandrov. Both crews have competed in local rallies to get acquainted with the Hyundai i20 R5, working together with RedGrey Team, so they will be raring to go by Friday's opening stage.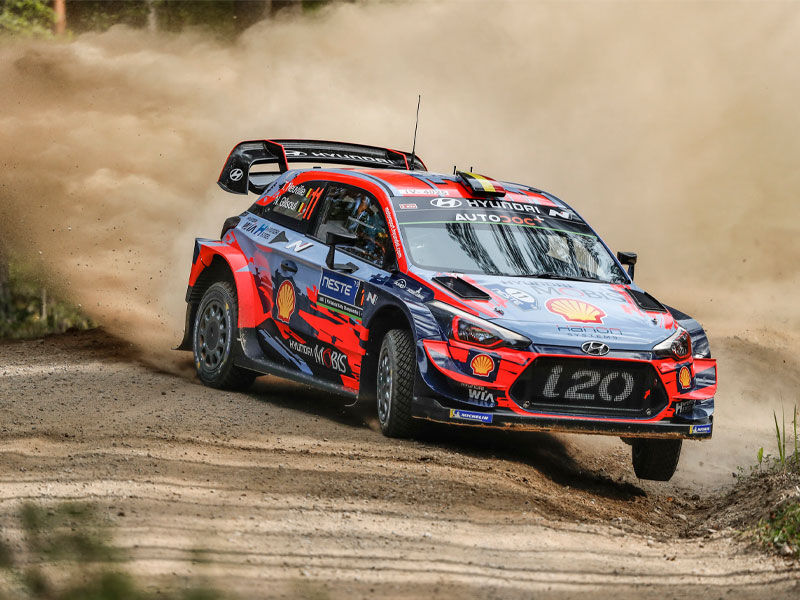 Veiby said:
"It's been really good to be able to compete at two rallies before we start this one. For the Italian rally it was good to be in competition mode again. South Estonia Rally was perfect for both competition and to get used to the feeling of speed again. We also had two good test days before the rally, so a lot of important mileage in the car. I'm really looking forward to kicking off the WRC2 campaign again with Rally Estonia; it's been a while since the last one! With the good preparations we had, we are aiming for a podium and it should be possible to fight for victory there."
Gryazin said:
"Rally Estonia is one of the most exciting rallies in the Baltic countries. The roads are fast like Finland, but the surface is sandier so we will get some awesome drifts, as well as some big jumps. It will be my second time here in an R5 car, so I am hoping to do well. My new co-driver Konstantin is doing great; he just started professional co-driving. He is brave and working hard to be precise. We took part in the recent Louna Eesti rally, which went well with RedGrey, as we worked mainly on car set-up to prepare for the WRC round. My main target is to continue my learning and to get a good result for Hyundai. I also have a fast and experienced teammate which is also very helpful."
Weekend at a Glance
The 33rd country to hold a WRC event, Rally Estonia will consist of 17 stages over a distance of 232.64km
Proceedings begin on Friday with a ceremonial start and a sprint of Tartu (1.28km) next to the Raadi service park
Saturday will see over half of the rally's competitive distance covered with five stages repeated, starting with the longest stage of the event Prangli (20.23km) followed by Kanepi (16.89km), Otepää (9.6km), Mäeküla (14.76km) and Elva (11.72km)
Sunday's schedule covers three stages Arula (6.97km), Kaagvere (15.46km) and Kambja (20.05km), each run twice with the second pass of Kambja acting as the rally's Power Stage.