Hyundai Motorsport Report WRC round 4: Rally de Portugal.
Hyundai Motorsport has picked up a podium finish in Rally de Portugal, the fourth round of the 2021 FIA World Rally Championship (WRC)
Dani Sordo and Borja Rozada completed a strong weekend in second place, but were unable to mount a fight for victory on the final day
Ott Tänak and Thierry Neuville resumed their rally on Sunday and claimed a 1-2 in the Power Stage to take important consolatory points for the championship.
Hyundai Motorsport has taken its fourth consecutive podium finish of the 2021 FIA World Rally Championship (WRC) as Dani Sordo was forced to settle for second place in Rally de Portugal.
Having closed the gap to the leader and eventual winner Elfyn Evans to just 10.7-seconds on Saturday afternoon, the Spaniard and his co-driver Borja Rozada were unable to make further in-roads during Sunday's final five stages. They finished the 20-stage rally with the first podium result of their new partnership, and Sordo's 13th top-three result for Hyundai Motorsport.
Sunday's itinerary covered five stages, including two runs through Felgueiras (9.18km) and the popular Fafe (11.18km), the latter of which was held as the Power Stage. A short run through Montim (8.75km) added to the final day's total distance of 49.47km.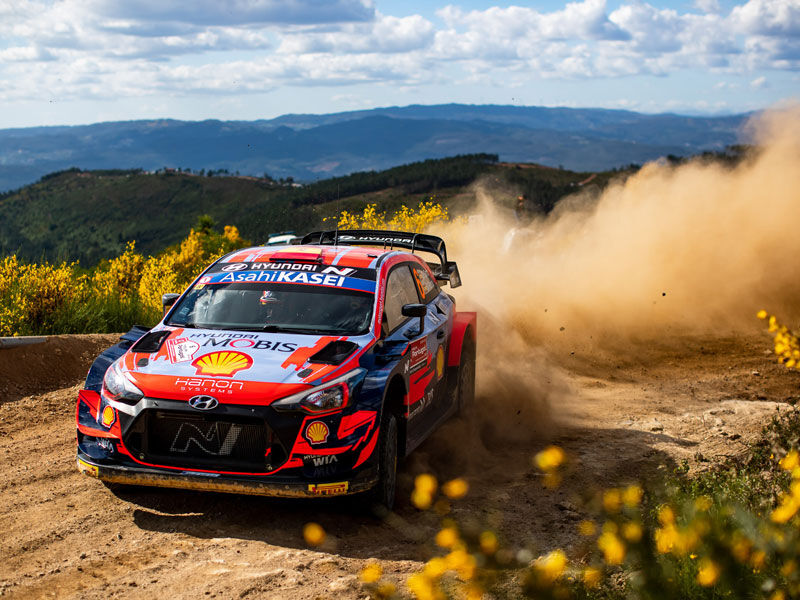 Thierry Neuville and Ott Tänak both re-joined the rally on Sunday morning following their respective retirements. Neuville and co-driver Martijn Wydaeghe initially retired on Friday's penultimate stage (SS7 Mortágua) after a misjudged pace note sent the car into the bank, causing irreparable suspension damage. The crew was then forced to stop again on Saturday with a continuation of damage sustained in that collision.
Tänak and co-driver Martin Järveoja suffered a similar fate on Saturday afternoon with rear-right suspension forcing their early withdrawal in SS14 (Amarante). The Estonians had built up a strong 22.4-second lead prior to their exit.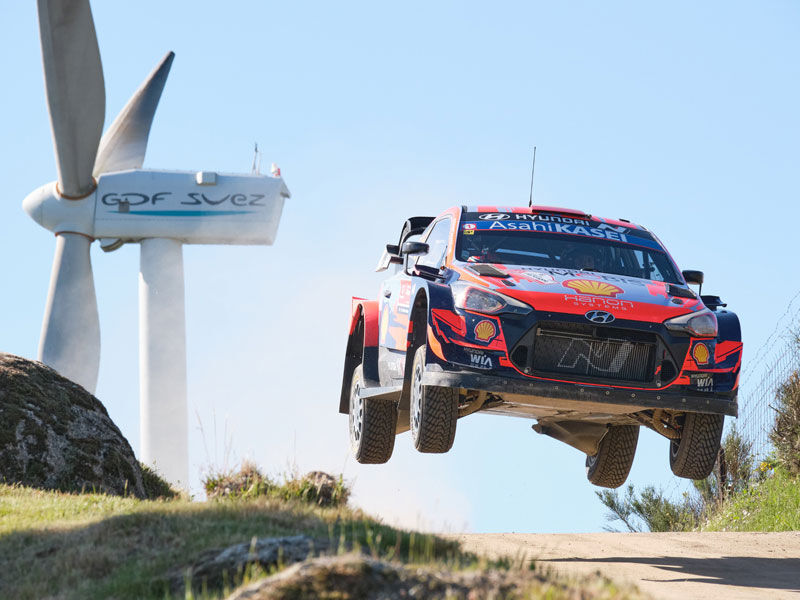 Both crews resumed action on the final day in a bid to score Power Stage points in Fafe to minimise the damage to the drivers' and manufacturers' championship. Ultimately, it was Tänak who took the honours with five extra points, ahead of Neuville in second.
The end results do not tell the full story of a rally weekend in which the Hyundai i20 Coupe WRC demonstrated impressive pace. Hyundai Motorsport scored 13 stage wins over the event across all three crews - eight for Tänak, four for Sordo and one for Neuville - including seven 1-2s. However, in world rallying outright performance is not enough, and Hyundai Motorsport will quickly regroup to bounce back at Rally Italia Sardegna, an event where it has taken four victories in the past five seasons.
Crew Notes: Dani Sordo/Borja Rozada (#6 Hyundai i20 Coupe WRC).
Spanish crew had to settle for second place, their first podium of 2021
Four stage wins over the weekend showed potential of their new partnership
Sordo said: "I am very happy to come back to take second place in Rally de Portugal. Obviously, at the same time, I am a bit disappointed that I could not catch Elfyn for the win, but he was faster today. If you're faster, then you win. To finish the rally and to take points for the manufacturers' championship is important, and I am also delighted to share the first podium with Borja in our first WRC event as a crew."
Crew Notes: Ott Tänak/Martin Järveoja (#8 Hyundai i20 Coupe WRC).
Estonians re-joined on Sunday after their retirement on Saturday's repeat loop
Fastest time in the Power Stage secured five bonus points
Tänak said: "It was a good feeling in the Power Stage to be back on the pace we showed yesterday. Since Saturday morning, we have started to find the feeling that we used to have. We are getting there. Looking at the positives, the pace is definitely improving. It's been a long, hard job by many people, who have put in a lot of effort. This was our first gravel rally for a long time, so I don't have much experience in the car; I still had to learn and understand a bit more. Hopefully now we are able to put the combination together. It's now giving me a feeling of anticipation for the rest of the season. We've been working hard, so we expect results."
Crew Notes: Thierry Neuville/Martijn Wydaeghe (#11 Hyundai i20 Coupe WRC).
Frustrating weekend for the Belgians, who had shown impressive pace on Friday
Second place in the Power Stage added four extra points for the championship
Neuville said: "After the dramas we have battled this weekend, we couldn't have done any more today. I am really disappointed for the team not to have delivered in this rally. We had the pace and the car for victory but, unfortunately, I let everybody down with a mistake that started in the recce. We were too optimistic. We had bad conditions in the recce with fog and rain, and I misjudged the corner, which brought our rally to an early end. We are always motivated to do a good result, but we just weren't able to achieve it in Portugal. We're definitely going to go for it in Sardinia."
Team Principal Andrea Adamo said: "We have brought home a second place thanks to Dani and Borja, but the start of the event had promised much more. The opportunities were there for a strong team result but for different reasons we have not been able to do what we were capable of achieving this weekend. Now, we have to stay motivated and to try and reinflate ourselves before the next event. All of my people have worked so hard in these past months, dealing with strict limitations and having to accept difficult circumstances, they deserved more from this rally. We have shown we have car performance so now we have to deliver results. We have the opportunity to do that in Sardinia soon. In the end, everything will be good; if it's not good then it's not the end."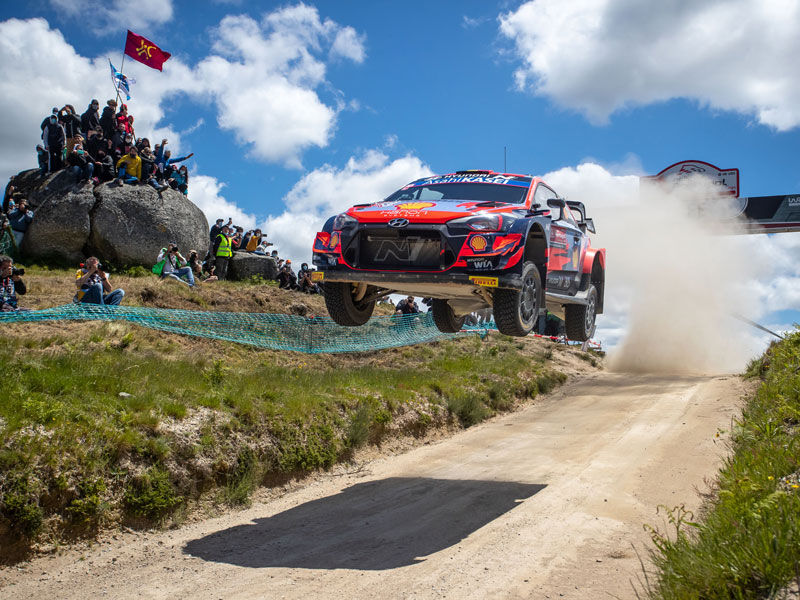 Next rally.
The next round of the 2021 FIA World Rally Championship (WRC) takes place in two weeks' time, on the gravel roads of Rally Italia Sardegna
Hyundai Motorsport has taken four wins at the Alghero based event, including victory in the past three seasons.
Final Overall Classification – Rally de Portugal.

2021 FIA World Rally Championship for Manufacturers' Standings (after round 4).

2021 FIA World Rally Championship for Drivers' Standings (after round 4).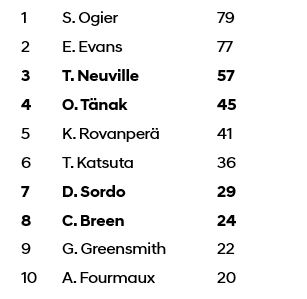 Ready to take the next step?