Hyundai Motorsport Report WRC Round 12: Rally Monza
Hyundai Motorsport has taken its 17th podium of the year with third place for Dani Sordo and Cándido Carrera in Rally Monza, the finale of the 2021 FIA World Rally Championship (WRC)
Thierry Neuville and Martijn Wydaeghe continued their determined pursuit of the podium but had to settle for fourth, with Teemu Suninen and Mikko Markkula advancing to sixth place
A 1-2-3 stage result in SS15 underscored the performance of the Hyundai i20 Coupe WRC in the car's final competitive outing ahead of WRC's new hybrid era in 2022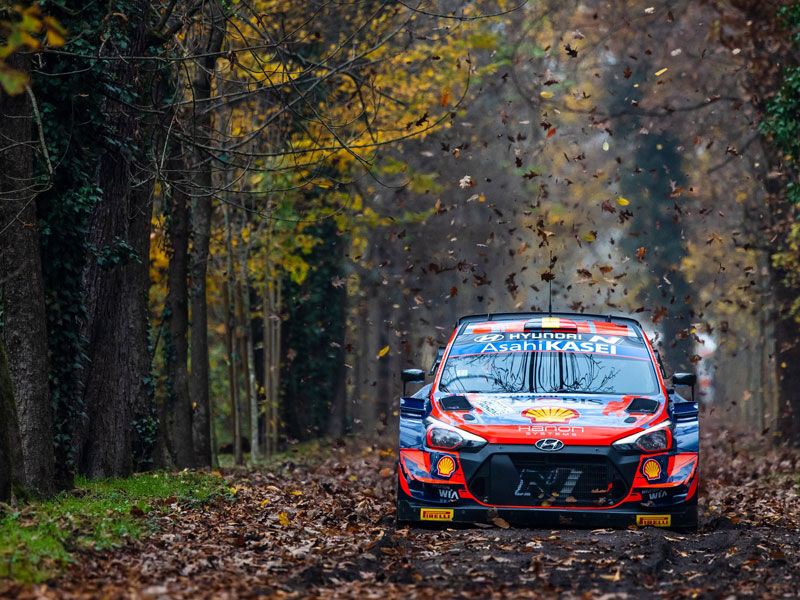 Hyundai Motorsport has brought its 2021 FIA World Rally Championship (WRC) to a conclusion with a strong final day in Rally Monza, in which Dani Sordo and Cándido Carrera secured third place, their second consecutive podium result.
A spectacular Sunday around the Autodromo di Monza saw crews return to the Grand Prix stage that was first held on Friday evening, as well as twice tackling the 14.62km Serraglio test. The Spanish crew fended off a podium challenge from their team-mates Thierry Neuville and Martijn Wydaeghe, who ended their first season working together with a fighting fourth place.
The Belgians added three more stage wins to their weekend tally – including victory in the Power Stage - with a typically resilient performance in which they extracted full performance from their Hyundai i20 Coupe WRC. It was a Hyundai Motorsport 1-2-3 in the first run through Serraglio, with Teemu Suninen and Mikko Markkula setting the third fastest time on their competitive debut with the car. The Finns completed the rally inside the top-six, gaining another position on the final day.
Sordo's third place represented his third podium of the 2021 season and the 17th of the year for the team – the most for Hyundai Motorsport in a single WRC season. Although the team relinquished the championship title it has held for the past two years, its level of outright competitiveness has arguably been its strongest to date. Attention has already turned to the 2022 championship where an entirely new challenge awaits.
Rally Monza, in addition to hosting a spectacular season finale, also marked the end of an era for the current generation of World Rally cars. The opening round of the 2022 season, set to take place in January at Rallye Monte-Carlo, will mark the debut of the all-new hybrid powered Rally1 regulations, and a new chapter for Hyundai Motorsport at the pinnacle of international rallying.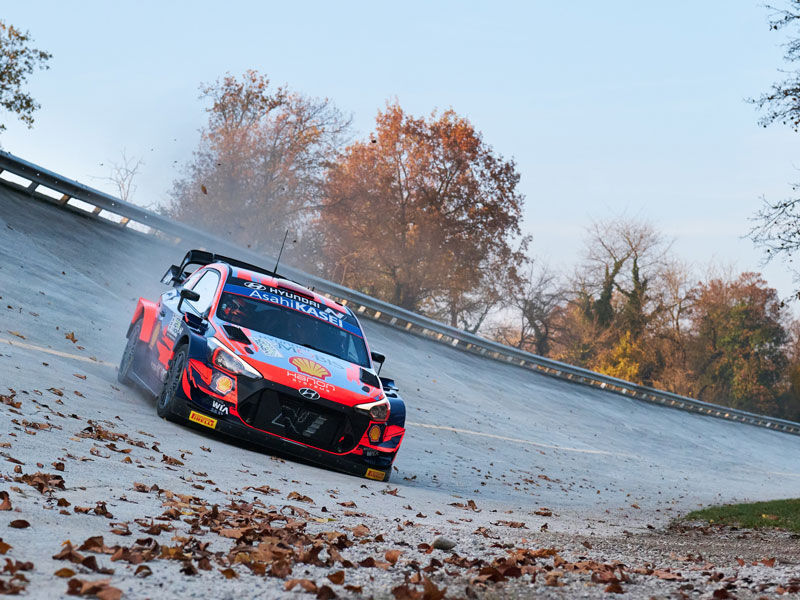 Crew Notes: Dani Sordo/Cándido Carrera (#6 Hyundai i20 Coupe WRC)
Second consecutive top-three for the Spanish crew and third of the season for Sordo
Extended the team's 2021 podium tally to 17 – the most in a single championship season
Sordo said: "I am honestly really happy to have secured a podium finish here in Monza, and to end this era of WRC cars with a top-three finish. It has been a relaxed final day for me, focused and just trying my best to avoid making any mistakes. I'd like to say thanks to the team for another year working together, with some good highlights. I hope next season with the new hybrid regulations will be even more fun."
Crew Notes: Thierry Neuville/Martijn Wydaeghe (#11 Hyundai i20 Coupe WRC)
Valiant push for the podium but ultimately finished the rally in fourth place
Belgians end the 2021 season with two victories in their debut season as a partnership
Neuville said: "My focus today has been on enjoying these final stages of the season with our Hyundai i20 Coupe WRC, the last runs in this era of the WRC. I had a nice clean morning, picking up stage wins and just trying to savour the moments. We have had some incredible years with this car, and with Hyundai Motorsport; it's been very exciting, and we've got a lot of special memories. I am now looking ahead to the new adventure in 2022 and adding more memorable moments together with the team."
Crew Notes: Teemu Suninen/Mikko Markkula (#3 Hyundai i20 Coupe WRC)
Debut WRC event with the Hyundai i20 Coupe WRC
Steady and sensible run to sixth place overall
Suninen said: "It has been a weekend in which we've been able to make steady improvements, learning all about the Hyundai i20 Coupe WRC in different conditions. It's tricky to jump into a brand-new car for this rally, but I am grateful to the team for giving me the opportunity and the time to get up to speed. We've been able to improve our pace step-by-step, and we've been fast on the clean tarmac sections, which has been a good thing. We just focused on bringing the car home, which we have achieved."
Team Principal Andrea Adamo said: "There's not much we can say more about this rally in terms of our performance. We struggled on the first day and when we were in a position to catch up on Saturday, Thierry had a small crash – as can happen when you are pushing hard to make up time. From that point, we could only focus on bringing the cars to the end and try to enjoy it as much as possible. As an event, it has been special to see so many spectators on the stages and in the service park; we've had a great atmosphere to end the season. Sadly, this has been a championship in which we should have done better, but we can only learn the lessons from our mistakes and improve for next season."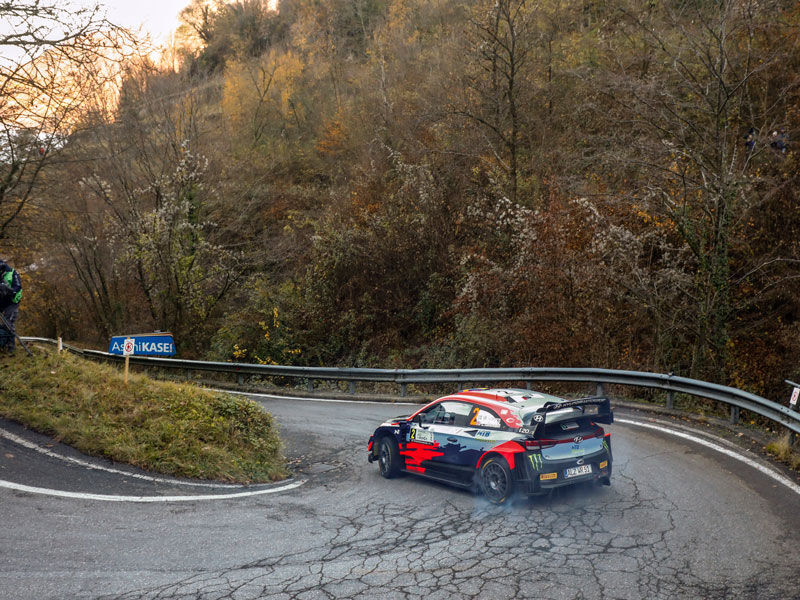 Final Overall Classification – Rally Monza
1 S. Ogier J. Ingrassia Toyota Yaris WRC 2:39:08.6
2 E. Evans S. Martin Toyota Yaris WRC +7.3
3 D. Sordo C. Carrera Hyundai i20 Coupe WRC +21.3
4 T. Neuville M. Wydaeghe Hyundai i20 Coupe WRC +32.0
5 O. Solberg E. Edmondson Hyundai i20 Coupe WRC +1:32.0
6 T. Suninen M. Markkula Hyundai i20 Coupe WRC +2:22.6
7 T. Katsuta A. Johnston Toyota Yaris WRC +2:34.5
8 G. Greensmith J. Andersson Ford Fiesta WRC +2:50.2
9 K. Rovanperä J. Halttunen Toyota Yaris WRC +4:49.6
10 A. Crugnola P. Ometto Hyundai i20 N Rally2 +9:06.9
2021 FIA World Rally Championship for Manufacturers' Standings (after round 12)
1 Toyota Gazoo Racing World Rally Team 522
2 Hyundai Shell Mobis World Rally Team 463
3 M-Sport Ford World Rally Team 202
4 Hyundai 2C Competition 62
2021 FIA World Rally Championship for Drivers' Standings (after round 12)
1 S. Ogier 230
2 E. Evans 207
3 T. Neuville 176
4 K. Rovanperä 142
5 O. Tänak 128
6 D. Sordo 81
7 T. Katsuta 78
8 C. Breen 76
9 G. Greensmith 64
10 A. Fourmaux 42
Ready to take the next step?