Hyundai Motorsport has taken a last-gasp victory in Tour de Corse, the fourth round of the 2019 FIA World Rally Championship (WRC), on a dramatic final morning
Overnight leader Thierry Neuville initially dropped back to second place but took the victory after Power Stage issues for Elfyn Evans
Dani Sordo secured fourth place to add important points as Hyundai Motorsport returned to the top of the manufacturers' standings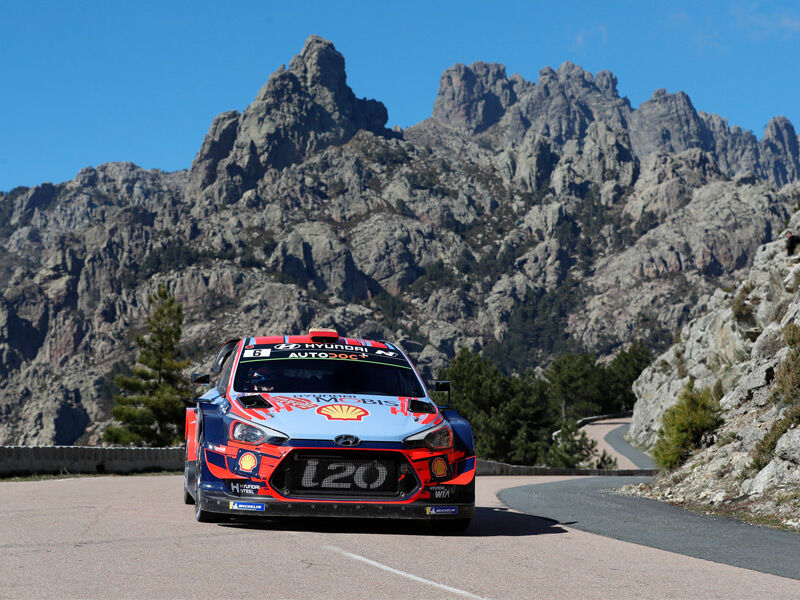 Hyundai Motorsport has emerged victorious in Tour de Corse, round four of the 2019 FIA World Rally Championship (WRC), after a dramatic Power Stage handed the win to Thierry Neuville and Nicolas Gilsoul.
Having led the rally overnight, the Belgians were initially pushed back to second place after Sunday's opening stage, Eaux de Zilia (31.85km), as Elfyn Evans built up an 11-second advantage. With all still to play for in the 19.34km Power Stage at Calvi, Neuville was on course to secure second until issues for Evans handed victory to the Hyundai Shell Mobis World Rally Team crew.
The result marks Hyundai Motorsport's 11th victory in WRC, its second Tour de Corse triumph, and the team's first win of the 2019 season.
Spaniards Dani Sordo and Carlos del Barrio finished the 14-stage event in fourth place to add valuable points to Hyundai Motorsport's manufacturers' totals. The team has moved back to the top of the standings on 114 points, 12 clear of its nearest rivals Citroën, while two extra points in the Power Stage has given Neuville a two-point lead in the drivers' table.
All three Hyundai i20 Coupe WRC crews completed the grueling Corsican tarmac event with Sébastien Loeb in eighth place, having lost two minutes of time on the rally's opening stage on Friday.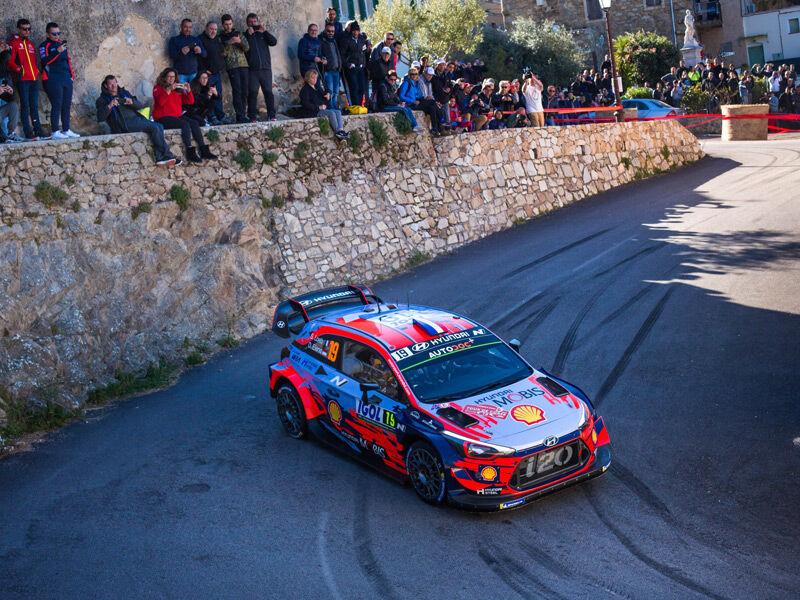 Crew Notes: Thierry Neuville/Nicolas Gilsoul (#11 Hyundai i20 Coupe WRC)
•
First victory of 2019 and the Belgians' tenth in total for Hyundai Motorsport
•
Neuville moves to the top of the drivers' championship on 82 points
Neuville said: "What an incredible rally and a fantastic result! I would like to extend my thoughts to Elfyn and Scott; I am really disappointed for them. It had been a great battle and they were undoubtedly the quicker crew this weekend. We didn't really know what had happened until we saw our mechanics at the end. I pushed hard in the Power Stage and the points we've scored this weekend are hugely important for the championship. It is testament to the hard work of everyone at Hyundai Motorsport. We may not have been the fastest in outright pace, but there has been a significant improvement in our tarmac performance and this victory is perfect thanks for all their efforts. We made a big difference on Saturday afternoon's stages to put ourselves in contention, and that enabled this result to be possible. It's never over until it's over!"
Crew Notes: Dani Sordo/Carlos del Barrio (#6 Hyundai i20 Coupe WRC)
•
Stage win on Saturday showed Spaniards' pace
•
Best result of season so far in second WRC event of 2019
Sordo said: "We came to Corsica with a target of taking a good amount of championship points for the team, and we have achieved that. We have shown some positive pace this weekend, most notably on Saturday's long stage, but we've also struggled at times. We didn't have the consistency we needed to fight for the podium but finishing fourth is not so bad. Congratulations to Thierry, Nicolas and the team for taking the victory. I am pleased to see us back on top of the manufacturers' standings. I look forward to the next rally in Argentina."
Crew Notes: Sébastien Loeb/Daniel Elena (#19 Hyundai i20 Coupe WRC)
•
Trouble-free final morning for the crew taking no risks to secure eighth
•
Time loss on Friday's first stage prevented a more assertive push
Loeb said: "A great result for the team today. Unfortunately, our own rally was effectively over after our issues in the opening stage on Friday. We lost so much time; we were on the back foot from then onwards. The motivation is not quite the same when there's nothing really to fight for. We tried instead to work on the car set-up, making adjustments that will benefit us for the future. Despite our challenges, it has still been an enjoyable rally, the Hyundai i20 Coupe WRC has been nice to drive and I've had fun on the stages. Hopefully I can do better next time."
Team Director Andrea Adamo: "We have arrived at the end of Tour de Corse in first position, but we cannot say that we have won this rally. We have inherited the victory as a result of a faster competitor's misfortune. We would have finished in second place – which itself would have been an encouraging result and thanks to the fantastic efforts of Thierry and Nicolas – but to win truly you have to be the fastest and on this occasion we were not. Taking first place is of course a very positive thing for our team. We have been pushing hard and this will definitely act as a morale boost, but we have to be clear with ourselves where we are performance-wise, and where we need to be."

Next Rally
•
WRC moves back overseas for the next round of the championship, as Rally Argentina kicks off a South American double-header
•
The popular gravel rally takes place from April 2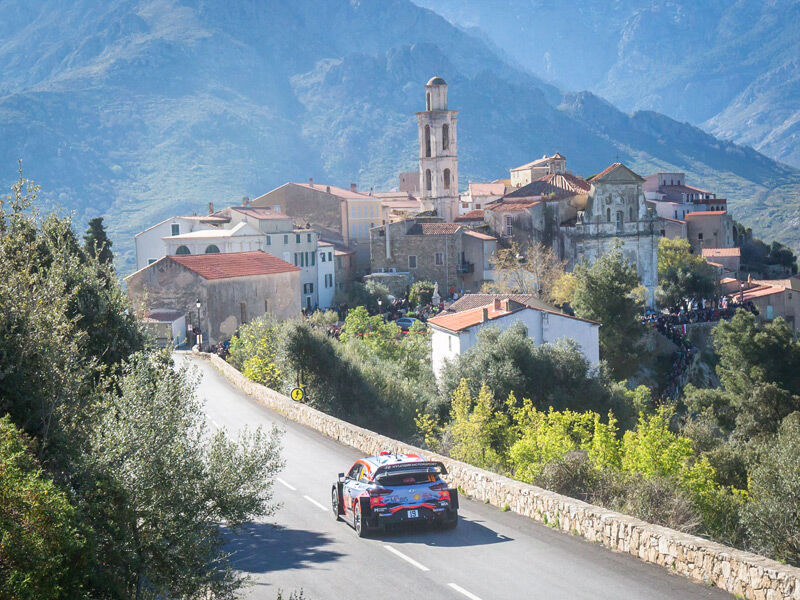 Final Overall Classification – Tour de Corse

1
T. Neuville
N. Gilsoul
Hyundai i20 Coupe WRC
3:22:59.0
2
S. Ogier
J. Ingrassia
Citroën C3 WRC
+40.3
3
E. Evans
S. Martin
Ford Fiesta WRC
+1:05.6
4
D. Sordo
C. del Barrio
Hyundai i20 Coupe WRC
+1:18.4
5
T. Suninen
M. Salminen
Ford Fiesta WRC
+1:24.6
6
O. Tänak
M. Järveoja
Toyota Yaris WRC
+1:40.0
7
E. Lappi
J. Ferm
Citroën C3 WRC
+2:09.1
8
S. Loeb
D. Elena
Hyundai i20 Coupe WRC
+3:39.2
9
K. Meeke
S. Marshall
Toyota Yaris WRC
+5:06.3
10
J.M Latvala
M. Anttila
Toyota Yaris WRC
+6:44.6
2019 FIA World Rally Championship for Drivers' Standings (after round 4)

1
T. Neuville
82
2
S. Ogier
80
3
O. Tanak
77
4
E. Evans
43
5
K. Meeke
42
6
E. Lappi
26
7
S. Loeb
22
8
D. Sordo
16
9
J.M Latvala
15
10
T. Suninen
14
11
A. Mikkelsen
12
2019 FIA World Rally Championship for Manufacturers' Standings (after round 4)

1
Hyundai Shell Mobis World Rally Team
114
2
Citroën Total World Rally Team
102
3
Toyota Gazoo Racing World Rally Team
98
4
EM-Sport Ford World Rally Team
70