Hyundai Motorsport WRC Preview: Round 2 Rally Sweden.
Hyundai Motorsport travels to Rally Sweden, the second round of the 2023 FIA World Rally Championship (WRC) season, looking to build upon its positive podium start in Monte-Carlo
Rally Sweden is the only pure snow/ice terrain event on the calendar and was the site of the Hyundai i20 N Rally1 Hybrid's first ever top-three finish in 2022
Taking on the wintry stages this weekend (February 9-12) will be Thierry Neuville/Martijn Wydaeghe, Esapekka Lappi/Janne Ferm and Craig Breen/James Fulton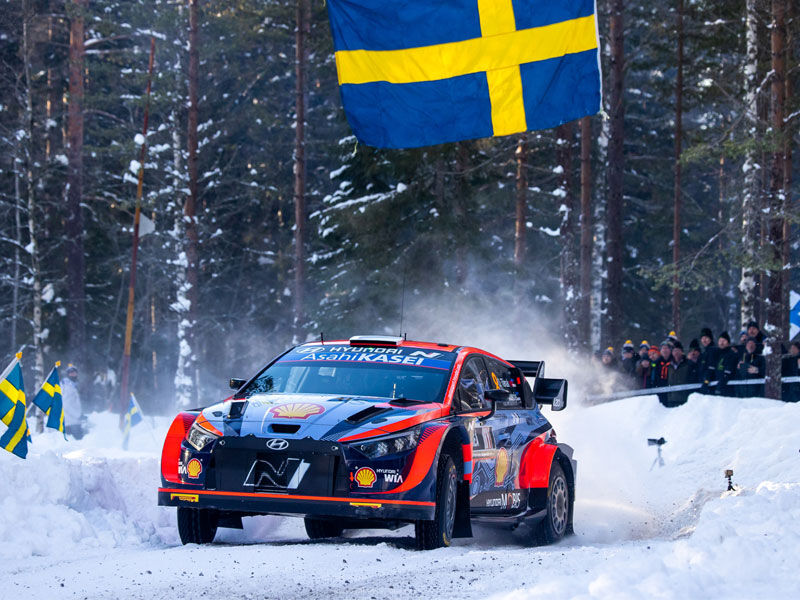 Hyundai Motorsport will journey north to Rally Sweden this week for the second round of the 2023 FIA World Rally Championship (WRC), looking to continue the momentum from a solid start to the season in Monte-Carlo.
As the only snow event on the 2023 WRC schedule, Rally Sweden offers a unique test for both man and machine. Despite the terrain, the profile of the stages makes the event one of the fastest rounds on the calendar. The studded winter tyres provide remarkably high levels of grip in the icy conditions, while large snowbanks can be utilised by the drivers to assist cornering. However this can be a risky game; when the temperature is slightly warmer, the banks can disintegrate on impact and leave cars stranded in the deep snow.
The 2022 edition of Rally Sweden was a strong outing for the Alzenau-based team; Thierry Neuville and Martijn Wydaeghe secured second place to bring home the debut podium finish for the Hyundai i20 N Rally1 Hybrid. All three crews will be aiming to show consistent pace and battle for victory in Umeå next weekend (February 9-12).
Neuville has amassed four podium finishes in Sweden, including a win in 2018. Alongside co-driver Wydaeghe, the Belgian will be hoping to deliver another strong result after securing third overall in Rallye Monte-Carlo. The opening round of the season was an important learning experience for Esapekka Lappi and Janne Ferm, as they worked on finding their footing within the team. Like Neuville and Wydaeghe, the Finns know what is required to stand on the podium in Sweden.
Craig Breen and James Fulton will helm the third Hyundai i20 N Rally1 Hybrid in Sweden. 2023 marks Breen's return to the squad after a year away. With a relatively new face in the co-driver's seat in the shape of Fulton, the Irishman will be aiming to get plenty of kilometres under his belt during his first rally behind the wheel of the Hyundai i20 N Rally1 Hybrid.
All three crews have conducted pre-event tests on the surface ahead of Sweden. Hyundai Motorsport has entered Lappi and Ferm into the SM-Ralli Kuopio (February 3-4), second round of the Finnish Rally Championship to further their preparations.
"Although we came away from the season opener in Monte-Carlo a bit frustrated by our pace, we can be relatively satisfied with the situation in the championship. Thierry and Martijn did an excellent job to get onto the podium, and Esapekka and Janne got plenty of valuable time in the car. Heading now to Sweden, our goal is to show improvement and enable our three crews to compete for the podium places. All of our drivers have had success in Sweden before, and since Monte-Carlo they have been working with the engineers and mechanics to get the setup of our Hyundai i20 N Rally1 Hybrid right for these tricky conditions. Hopefully we can find the right balance and leave the event with a strong result and a solid haul of points for the championship." - Hyundai Motorsport Team Principal Cyril Abiteboul
Crew Notes: Thierry Neuville/Martijn Wydaeghe (#11 Hyundai i20 N Rally1)
Neuville claimed victory at Rally Sweden in 2018
Belgian duo kicked off 2023 season with third place finish at Rallye Monte-Carlo
Neuville said: "The roads of Rally Sweden are very fast, so the key is to find a good line and carry as much speed as possible through the stages. We showed that we can be competitive on snow and ice last year, so it is our hope that we can be quick again in Sweden this time around. Consistency across the weekend will be vital, which is always easier when the car is comfortable to drive, meaning setup will be very important. Road position can also play a factor; if it is cold and icy, then it is best to be early in the starting order. However, if there has just been some fresh snow, then it is better to be on the stages later on. We want to be fighting for the podium positions from the start to finish, and of course we will try to beat as many of our main competitors in the championship as possible."
Crew Notes: Esapekka Lappi/Janne Ferm (#4 Hyundai i20 N Rally1)
Finns powered to podium result in Sweden last season
Pair to compete in Finnish Rally Championship round as part of preparations
Lappi said: "Rally Sweden has always felt like a second home event for me because it is very similar in profile and surface to the fast Finnish roads that I know best. I believe that we will be getting proper winter conditions this year, allowing us to have lots of fun between the big snowbanks. The second pass in Sweden is always special due to the narrow ruts that require you to quickly adapt your driving. Preparations for the rally will be important, so we must make the most of the pre-event testing and our Finnish Rally Championship experience. If we can bring everything together, we will be back on the podium again like we were last year."
Crew Notes: Craig Breen/James Fulton (#42 Hyundai i20 N Rally1)
First event of the season for Irish crew
Breen finished second at 2018 edition of Rally Sweden
Breen said: "Rally Sweden is always an event that I enjoy, and a place where I have been able to bring home some of my best results in the past. We only have one rally a year where we get to drive in true winter conditions with the studded tyres, so that makes Sweden even more special. The stages will be very straight and very fast, meaning you need to be committed to be quick. With quite a few stages taking place in the dark, it's really important to make sure the pace notes are accurate. In an ideal world, I would love to leave Sweden having stood on the podium again, but with it being my first competitive event in the Hyundai i20 N Rally1 Hybrid, this will be a challenge. Ultimately, my main goal is to enjoy the experience."
WRC2 Overview
Rally Sweden will mark the first outing of the year for Hyundai Motorsport N's two entries in the WRC2 category. The team's line-up in the class is unchanged from last season, with Teemu Suninen/Mikko Markkula and Fabrizio Zaldivar/Marcelo Der Ohannesian competing behind the wheel of the Hyundai i20 N Rally2.
The Finnish duo delivered a series of strong performances in 2022, which included an impressive victory at Rally de España. Now with plenty of experience within the Rally2 machine, the pair will be hoping to mount a WRC2 title challenge in 2023. 21-year-old Zaldivar showed promising pace alongside co-driver Der Ohannesian last season and will be targeting a positive start to his campaign in Sweden.
Suninen said: "Ever since the beginning of my career, Rally Sweden has been one of my favourite events. As it is our first time on snow in this car, testing will be very important for us. However, I hope my previous experience in wintry conditions will help me find a good feeling in the Hyundai i20 N Rally2. The stages themselves are relatively technical but with fast sections. It will be very tight, so we must be on the limit from the start to be competitive. We will also need to be brave and confident if we want to end the rally on the podium, and that is our target."
Zaldivar said: "I am very excited to be driving in snow again! Coming from a country with no snow, competing on this surface is always very special to me and I have great confidence in our Hyundai i20 N Rally2. This will be my first time in Umeå; I have no previous experience of the stages. I just hope there is enough snow to be able to enjoy the stages on both the first and second passes. Our aim for the weekend is to improve stage by stage and above all gain more confidence on this surface, which will surely allow me to obtain better times between each runs."
Hyundai Motorsport Customer Racing Manager Andrea Cisotti said: "It will be exciting to see our Rally2 cars out on the stages for the first time this year in Sweden. Teemu and Mikko showed last season that they are capable of battling at the front of the WRC2 field, which we hope they can continue next weekend. Fabrizio and Marcelo will be focused on development and improvement across the four days of the event; we know they have good pace, so a strong result is definitely within their reach. We wish both crews the best of luck for the rally."
Weekend at a Glance
Rally Sweden begins on Thursday with a shakedown and a lone evening stage, Umeå Sprint (5.16km)
The itinerary on Friday boasts two loops of three stages separated by a flexi service, followed by another pass of the Umeå Sprint stage
Saturday is the longest day of the event in terms of distance, with its seven stages totalling 126.22km
Three tests bring the event to a close on Sunday, including the 10.08km Umeå Power Stage.