Hyundai Motorsport WRC Preview: Round 6 Rally Italia Sardegna.
Hyundai Motorsport heads to Rally Italia Sardegna (June 1-4) in strong form following a double-podium result at the previous round in Portugal
Having secured seven top-three finishes so far in 2023, the team is targeting its first win of the season at an event where it has enjoyed its most success with five victories in seven years
The Hyundai i20 N Rally1 Hybrid crew line-up is unchanged from Rally de Portugal: Thierry Neuville/Martijn Wydaeghe, Esapekka Lappi/Janne Ferm and Dani Sordo/Cándido Carrera
Hyundai Motorsport is looking to build on its double podium finish in Portugal with a victory at Rally Italia Sardegna, the sixth round of the 2023 FIA World Rally Championship (WRC).
Sardinia is the venue where Hyundai Shell Mobis World Rally Team has enjoyed its most success in the past, with five wins and 12 podiums. Four of the victories are split evenly between team stalwarts Thierry Neuville and Dani Sordo. Alongside co-drivers Martijn Wydaeghe and Cándido Carrera, both drivers will be battling the sun-baked stages next weekend in the hopes of standing on the top step for a third time.
Esapekka Lappi and Janne Ferm will join their team-mates on the Mediterranean island. The Finnish crew in fine form having secured podium finishes in the two previous rounds, Croatia and Portugal.
Rally de Portugal was a positive outing for the squad, with all three crews running in provisional podium positions during the weekend. The end of a tantalising fight saw Sordo/Carrera and Lappi/Ferm claim second and third, while Neuville/Wydaeghe had to settle for fifth after their efforts were undone by technical issues.
Celebrating it's 20th edition this year, Rally Italia Sardegna has become one of the iconic events of the WRC. The gravel stages are fast and narrow, often lined with rocks and trees on either side, making them highly demanding for the crews to navigate cleanly. The surface itself is also a challenge, as the sandy top layer is swept away on the first pass, exposing rough and rutted roads below. These factors, combined with the scorching heat, creates a thoroughly gruelling test for both the car and those within it.
"To finish first, first you must finish" is an appropriate philosophy when it comes to rallying in Sardinia.
Sardinian stats
Just like Rally de Portugal and Safari Rally Kenya, Rally Italia Sardegna consists of 19 exhilarating stages. Hyundai Motorsport has secured 12 podiums at the event since its first event 2014 - including five victories - as well as 78 stage wins and 22 stage 1-2 finishes. All of these are the manufacturer's highest totals at any event it has competed at during its nine previous seasons at the pinnacle of rallying.
Thoughts from the co-driver's seat
Rally Italia Sardegna is just as challenging for the co-drivers as it is for those sat behind the wheel, as Cándido Carrera explains.
Carrera said: "Physically, it's a very tough rally with a lot of heat and rough terrain. Additionally, it's an event that usually combines different stages each year, so we have to carefully adapt and take advantage of notes from previous editions. Perhaps the most demanding aspect for me in this rally is that there are many sections where it's difficult to define the racing line, and there are many crests with tight curves right after them. Because of this, I have to stay highly focused to provide the driver with the information at the right moment. Undoubtedly, the biggest challenge will be the Monte Lerno – Sa Conchedda stage, which with its length and toughness can be decisive. Both the driver and co-driver will have to maintain a very high and consistent pace to be in a good position after the first day."
Hyundai Motorsport Team Principal Cyril Abiteboul said: "Sardinia is a very tough event, but it is also one where the team has a lot of good memories from the past ten years. Thierry and Dani both know how to win there and Esapekka has demonstrated good speed on similar surfaces in Mexico and Portugal this season. We have been pushing behind-the-scenes to ensure the reliability issues we faced in Portugal are not repeated in the future and also to enhance our performance as we know the i20 N Rally1 Hybrid has performed well but we are also aware that we are a bit behind compared to our competitors. We hope that these efforts will increase our competitiveness and allow us to finish the weekend in Sardinia with a good result."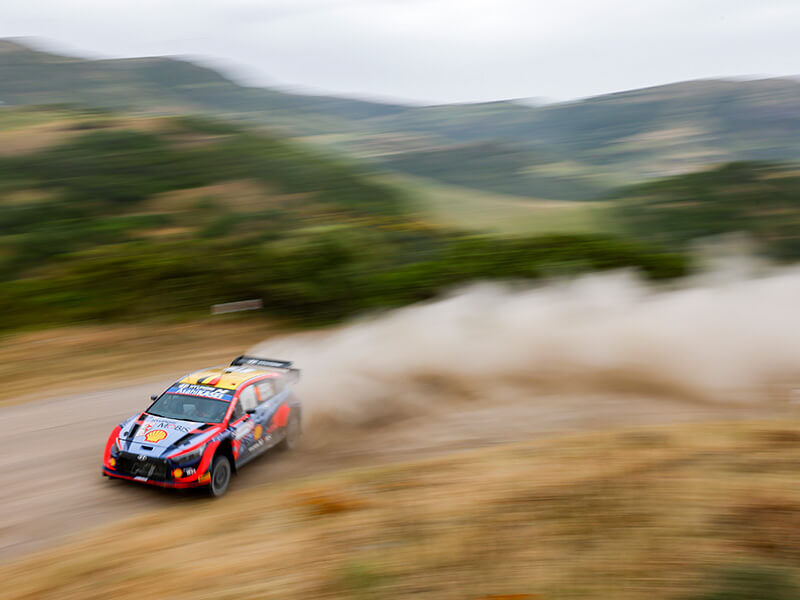 Crew Notes: Thierry Neuville/Martijn Wydaeghe (#11 Hyundai i20 N Rally1)
Belgians hoping to bounce back after issues in Portugal
Neuville has two previous wins in Sardinia
Neuville said: "Sardinia presents a lot of challenges, but the biggest are the heat and tyre wear. The stages are also difficult as the surface is rough, and they are quite narrow and technical too, so there is not much room for mistakes. Our target is to deal with the conditions as best we can and fight hard for a good result. Portugal was a tough weekend for us. I had a different set-up from Dani and Esapekka which we think is one of the reasons why I was struggling with traction and car balance. Switching my car to similar settings to those of my team-mates should be beneficial in the quest for improved performance and I'm looking forward to putting this to the test."
Crew Notes: Esapekka Lappi/Janne Ferm (#4 Hyundai i20 N Rally1)
Crew took second consecutive podium at previous round
Finns led on gravel in Mexico before day two incident
Lappi said: "Sardinia is generally quite a slow rally with very technical stages. The second pass is particularly demanding for the tyres and car as there's some bedrock and lots of loose rocks that get pulled onto the road. The usual high temperatures of around 30 degrees also add to the challenge. Personally I sweat quite easily, so as a driver I need to concentrate more on nutrition and keeping myself well hydrated. At dry gravel rallies, Friday is always very crucial in terms of making a successful weekend, so that will be the key focus for us. Our hope is that we can deliver a consistent performance, avoid the rocks that could cause punctures, and bring home a podium for the team."
Crew Notes: Dani Sordo/Cándido Carrera (#6 Hyundai i20 N Rally1)
Sordo has five Rally Italia Sardegna podiums to his name
Spanish duo claimed second place in last outing
Sordo said: "Sardinia offers a different challenge to previous gravel events this year, as the roads are narrower, more sandy and more slippery. Because of this, you cannot afford to make any mistakes. If you do so in Sardinia, you will pay. Road position can be very important at this event, as starting later in the order usually gives you a cleaner stage than those at the front. The almost 50km-long Monte Lerno stage will be a real challenge. We had one that was 37km in Portugal and even that was hard to stay fully concentrated the entire time. Our minimum goal for the weekend is to finish on the podium and hopefully we can be in a position to fight for the victory.
WRC2 Overview
Following a challenging weekend at Rally de Portugal, Hyundai Motorsport N's WRC2 entries will be back in action at Rally Italia Sardegna. The crews of Teemu Suninen/Mikko Markkula and Fabrizio Zaldivar/Marcelo Der Ohannesian will once again be behind the wheel of the Hyundai i20 N Rally2 for the duration of the event.
The Finnish duo endured a rough ride in Portugal, ultimately coming home in fifth position in the WRC2 class after a puncture and a handbrake issue at separate points during the rally. A return to the podium will be the target as Suninen and Markkula aim to get their season back on track.
Zaldivar and Marcelo Der Ohannesian suffered an early exit in Matosinhos, retiring after an incident on Saturday afternoon. A clean run across the 19 Sardinian stages and a top-ten class finish be will the goal for the Paraguayan-Italian pairing.
Teemu Suninen said: "Sardinia is normally quite a lot warmer than other events, which makes the driving tougher and it can create higher levels of wear on the car and tyres. The surface is also hard and rough which can be more demanding for the suspension setups. It was clear in Portugal that the level in WRC2 is very high this year, so we must focus on every small detail and fight on every stage. We will also try to have a good pace and stay away from problems. If we do this, I believe we can get a good result. The goal is to win the rally, but with many top drivers in the class, it will be challenging."
Fabrizio Zaldivar said: "We travel to Sardinia looking for a better result than we achieved in Portugal. It will be a difficult challenge, but I am determined to keep pushing and improving. We know there is pace in the Hyundai i20 N Rally2 on this surface, hopefully we can find a good rhythm and show the car's potential. The initial forecast shows it may not be as hot as last year, but we still expect the heat to play a part in the event. I hope we can come to the end of Rally Italia Sardegna without any incidents and having shown what we are capable of."
Weekend at a Glance
Following a shakedown in the morning, Rally Italia Sardinia officially begins on Thursday evening with the 3.23km Olbia – Cabu Abbas stage
Friday is the longest day of the event with a total distance of 138.04km, which includes two passes of the mammoth test that is Monte Lerno – Sa Conchedda (49.90km)
Saturday's itinerary consists of two loops of the four stages: Coiluna – Loelle (16.28km), Su Filigosu (19.57km), Erula – Tula (21.92km) and Tempio Pausania (9.96km)
Two passes each of Arzachena – Braniatogghiu (15.22km) and Sardegna (7.79km) bring the event to a close on Sunday.