Hyundai Motorsport WRC Preview: Round 8 - Rally Estonia.
Hyundai Motorsport makes its way to Rally Estonia (July 20-23) looking to make amends after a difficult weekend at Safari Rally Kenya
Following a challenging experience on Kenyan sands, the team is looking to get back to winning ways at the fifth gravel round of the season
Teemu Suninen/Mikko Markkula will be behind the wheel of the Hyundai i20 N Rally1 Hybrid for the first time in Estonia, competing alongside Thierry Neuville/Martijn Wydaeghe and Esapekka Lappi/Janne Ferm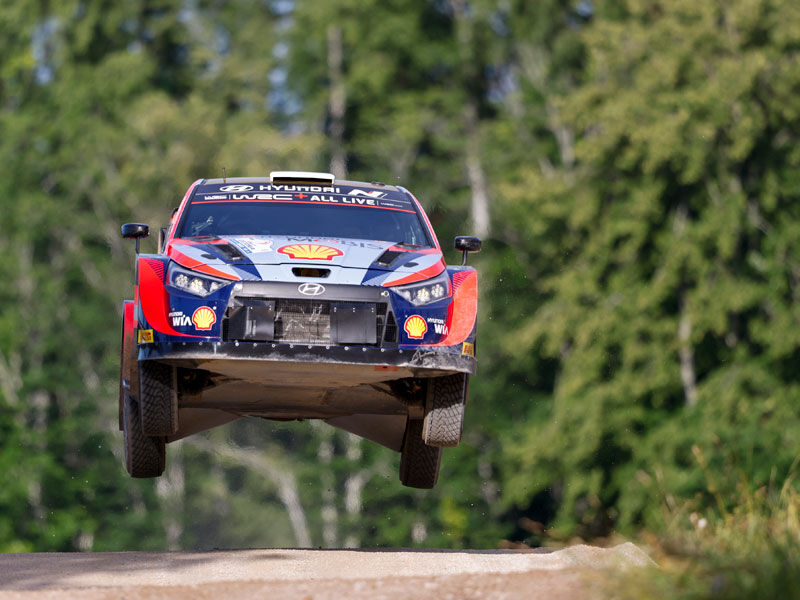 Hyundai Motorsport will be chasing redemption through the forests of Estonia this week (July 20-23) as the 2023 FIA World Rally Championship (WRC) enters its second half of the season.
With two double podiums in 2020 and 2021, followed by a third-place finish in 2022, Rally Estonia has quickly become a favourite for the Hyundai Shell Mobis World Rally Team. One of the most recent additions to the WRC calendar, the Estonian stages present a striking contrast to those of recent events; the smooth, fast roads feature hills, crests and jumps similar to Rally Finland. These sections are intertwined with technical sections on the country's narrow forest passes to make for an exciting event for both drivers and fans alike.
Belgians Thierry Neuville and Martijn Wydaeghe secured a podium here in 2021, while Finnish crew Esapekka Lappi and Janne Ferm will make their inaugural Hyundai appearance on Estonian gravel at the event. The third Hyundai i20 N Rally1 Hybrid crew will be Teemu Suninen and Mikko Markkula, who step into the car for the first time after the Finnish driver was revealed as part of the Hyundai Motorsport Driver development Programme (HMDP) in June.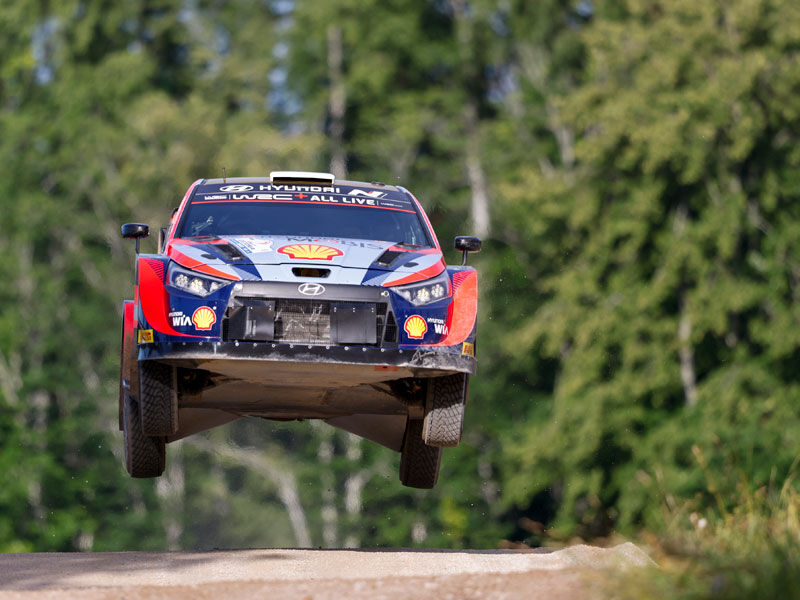 Estonian Statistics
Rally Estonia features 21 stages totalling a competitive distance of 300.42km. It has proved to be a relatively successful location for Hyundai Motorsport, scoring one win, five podiums, 22 stage wins and 10 stage 1-2s across the past three outings.
Through the co-driver's eyes
Rally Estonia proves less of a challenge for co-drivers than the previous two rounds, according to Janne Ferm. The main task is to find areas to save time on an incredibly fast and flowing rally.
Ferm said: "Rally Estonia is not a very difficult rally, especially if you come from Finland where you are used to crests and jumps. From the co-driver's point-of-view, there are long straights with a few sections that are busy, but they tend to come one corner after another. The wide roads are quite simple in places compared to Sardinia and Portugal. For us, the challenge in Estonia is finding where you can cut or go wide and that's basically what the co-drivers and drivers will do during the recce. The main differences between Estonia and other rallies are that it is very high speed and some of the jumps are man-made. The surface here is quite difficult; the sand doesn't absorb the water as much, so last year it flooded massively on the Power Stage. It's similar to our home soil, although it's a bit sandier in comparison to Finland."
"Rally Estonia has historically provided us with good results, including a win here in 2020. Thierry and Teemu both know how to get on to the podium here, and Esapekka comes to Estonia on a run of good form, despite a disappointing end to his Safari Rally Kenya. We continue to work closely as a team to develop the performance of our Hyundai i20 N Rally1 Hybrid to maximise our points haul at every rally for the rest of the season. Following the weekend we had in Kenya, we hope that Estonia will allow us to come back fighting and that we can leave the rally with podium." - Hyundai Motorsport Team Principal Cyril Abiteboul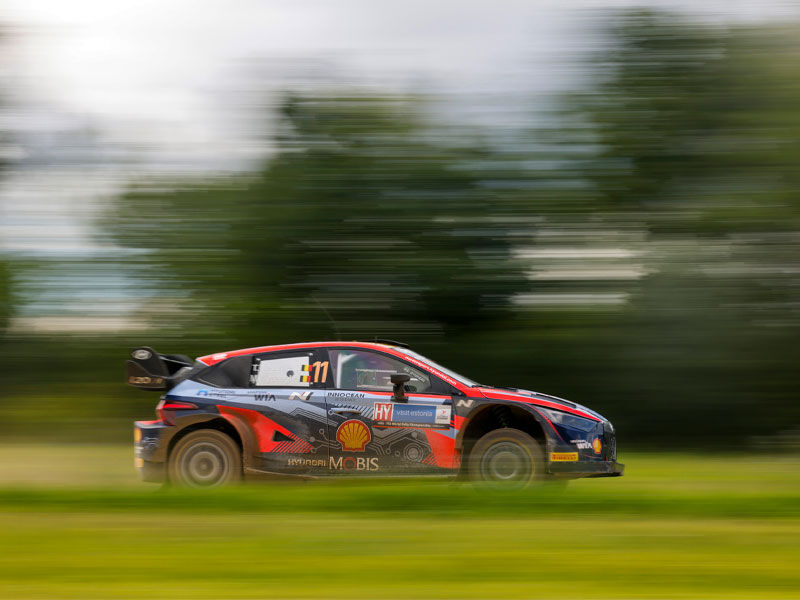 Crew Notes: Thierry Neuville/Martijn Wydaeghe (#11 Hyundai i20 N Rally1)
Belgians aim to claim another podium in Estonia
Pair looking to gain momentum for the remainder of the season
Neuville said: "Rally Estonia is a challenging event for me every year. Fast and wide roads mean the average speed is very high, so you need to really to commit to it and feel comfortable in the car. Most of the time you are running a low car, at least on the first pass. On the second pass you might have to rise the ride height because of the ruts. Generally, you need to find the balance between a stiff car to get the precision and the directivity, but also keep enough traction. It's hard to find the right balance but those are the main challenges."
Crew Notes: Esapekka Lappi/Janne Ferm (#4 Hyundai i20 N Rally1)
Consistent previous performances create promise for the 2023 running
Finns were fighting for podium in Kenya before broken prop shaft took them out of contention
Lappi said: "As everyone knows, in terms of speed this event is similar to Finland and Chile. The driving style is you are either full throttle or braking – there is no in-between. Normally in central European rallies, you need to drive a different way, but in Estonia and Finland you are full throttle and that is the biggest difference. One of the main challenges in my point of view is that road usage is not so clear; you can cut from the bushes and use the exits if there is a field. To be able to comfortably go outside of the road you have to have perfect pace notes at that speed, that is the trickiest thing to get right."
Crew Notes: Teemu Suninen/Mikko Markkula (#2 Hyundai i20 N Rally1)
Finns to make debut in the i20 N Rally1 Hybrid
Suninen has one second place finish in Estonia in WRC2
Suninen said: "I'm really excited to get in the Hyundai i20 N Rally1 Hybrid, especially when it's one of my favourite rallies. I've been dreaming of it for a long time, and I've been working hard to get back to the top class so it's great to be here. Normally Rally Estonia is one of the fastest rallies on the whole calendar and it's like a sprint, so we have to drive flat out from start to finish. The surface is normally quite soft so the grip level is really high, especially on the second loop with some big ruts. My main goal is to bring some good manufacturer points, but I also need to show good pace, and if the feeling is good, then we will push for a strong result."
WRC2 Overview
Following the relaunch of the Hyundai Driver development Programme (HMDP), Emil Lindholm/Reeta Hämäläinen will be making their Hyundai debut in the Hyundai i20 N Rally2 in WRC2 this weekend alongside regular contenders Fabrizio Zaldivar/Marcelo der Ohannesian.
The reigning WRC2 champions Lindholm and Hämäläinen are looking to defend their title as they jump into Hyundai machinery in Estonia. Their success in 2022 has been echoed so far this season with the Finns currently in fifth, and only 11 points behind fourth place. Their first podium of the season is their target for this weekend.
Zaldivar and Der Ohannesian suffered under the Sardinian sun; the crew was only able to finish 16th on the gruelling gravel tracks at an event that is quick to catch out drivers. With redemption in their sights, a top-ten finish will be their target.
Emil Lindholm said: "It's exciting to go into my first event in the Hyundai i20 N Rally2. It's a new team and a new car, and it's already feeling impressive so I'm confident going into Estonia. The roads are soft so they get rutted but, of course, they're super-fast – some unique road conditions. It reminds me of my home rally, so of course I like it. The target for the weekend is to enjoy the car, enjoy the roads and to do our best. I believe we have everything we need to achieve a podium in Estonia."
Fabrizio Zaldivar said: "I'm ready to get back into the Hyundai i20 N Rally2 and focus on going flat-out for the rest of our campaign. There is no better rally to apply this approach than Rally Estonia, which requires you to maintain a consistent rhythm. We were disappointed with our struggles in Sardinia, so we are keen to wipe our slate clean and demonstrate what we and the car are capable of doing. If everything goes to plan, we will complete the rally without any large mistakes and hopefully score a good result."
Weekend at a Glance
With a shakedown on Thursday morning, Rally Estonia will make its official start in the evening of that same day with the 3.35km Tartu Super Special Stage
Friday will be the longest day of the event with a total distance of 133.38km from the day's seven stages
Saturday's itinerary totals 102.61km and presents nine more stages for the crews to tackle
Sunday marks the shortest day of the event, with just 61.08km of stage to round off the rally
Hyundai Motorsport: Rally Estonia - Stat Attack