Hyundai Motorsport has increased its lead in the FIA World Rally Championship (WRC) manufacturers' standings with a hard-fought podium in Rally Turkey
Third place for Andreas Mikkelsen and Anders Jæger-Amland netted the Norwegians their third podium of the season and the team's tenth in total for 2019
Dani Sordo completed the rally in fifth with Thierry Neuville taking four consolatory Power Stage points after his roll on Saturday morning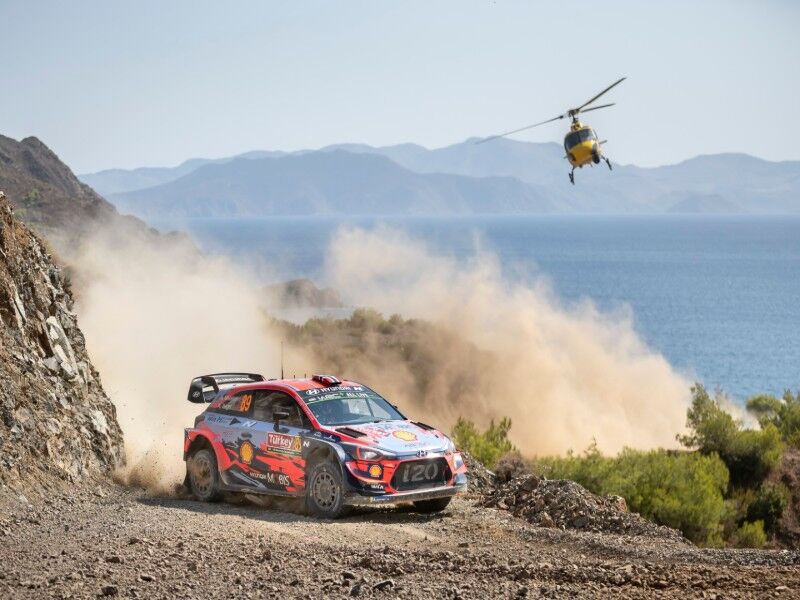 16 September 2019 - Hyundai Motorsport has claimed its tenth individual podium of the 2019 FIA World Rally Championship (WRC) season with a third-place finish in Rally Turkey. The result sees the team increase its lead in the manufacturers' standings to 19 points with three rounds of the season remaining.
Andreas Mikkelsen and Anders Jæger-Amland secured the result with a competitive performance, claiming their third stage win of the weekend on the final morning. It marks the Norwegian crew's third podium of the season in the Hyundai i20 Coupe WRC following second place in Argentina and third in Sardinia.
Sunday's itinerary covered four stages over a distance of just 38.62km: Gökçe (11.32km), Çiçekli (13.20km) and two runs through Marmaris (7.05km), the second of which acted as the rally-concluding Power Stage.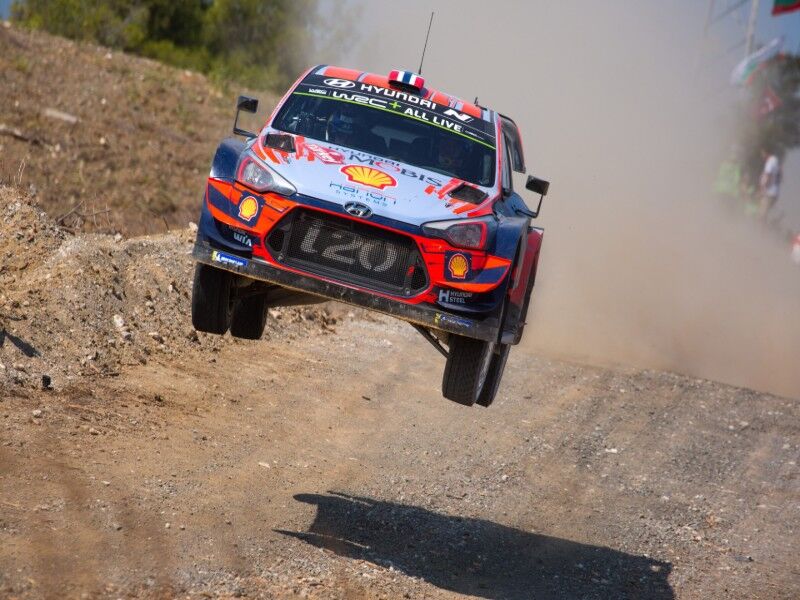 A clean final day for Dani Sordo and Carlos del Barrio saw the Spaniards confirm fifth place to add important points to Hyundai Motorsport's championship total. Thierry Neuville and Nicolas Gilsoul, meanwhile, completed the rally with second place in the Power Stage at the end of a disappointing weekend. The Belgian crew saw their hopes of a victory push ruined after a roll on Saturday morning lost them over four minutes of time.
Neuville holds third place in the drivers' classification on 180 points, 30 from the lead, with Mikkelsen moving up to fourth position with 94.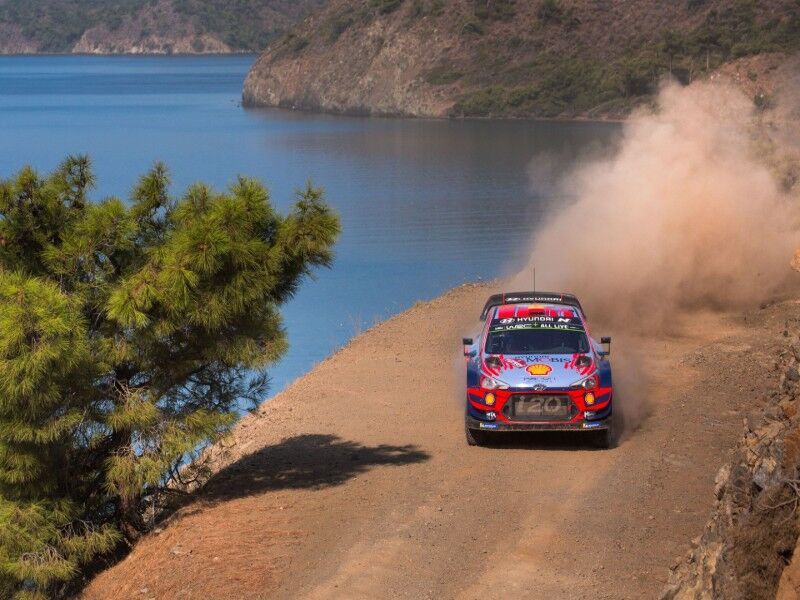 Crew Notes: Andreas Mikkelsen/Anders Jæger-Amland (#89 Hyundai i20 Coupe WRC)
Three stage wins (SS1, joint with Neuville, SS9 and SS16)
Third podium result of 2019 and fourth in total for Hyundai Motorsport
Mikkelsen said: "It has been a good rally for us and I am delighted to be back on the podium. We have concentrated on staying away from drama, keeping out of trouble and maintaining a good pace, all of which we have managed well. We were particularly strong on the first pass of each loop, but less so on the second runs, which is something we have to look at. Overall, though, we can be happy with this third place. We've taken a decent haul of points for the team, which is most important."
Crew Notes: Dani Sordo/Carlos del Barrio (#6 Hyundai i20 Coupe WRC)
Second consecutive top-five finish of the season for the Spanish crew
Ten important points added to the team's manufacturers' championship total
Sordo said: "Our target for today was to bring the car home and to secure our fifth place. With Andreas in third place, we have been able to take some important points for the manufacturers' championship, which is good news. Without our puncture on Friday morning, we would have been able to put up an even stronger fight but these roads in Turkey can be extremely rough, so to make it to the end of the weekend in fifth place is not so bad."
Crew Notes: Thierry Neuville/Nicolas Gilsoul (#11 Hyundai i20 Coupe WRC)
Early fight for Turkish victory ended with roll on Saturday morning
Crew finished second in the Power Stage, having been among the front-runners all weekend
Neuville said: "It has definitely been a disappointing and difficult weekend for us. In the dust on Saturday morning, my instincts told me to go too much to the right and we ended up in a ditch on our side. Four minutes of time loss later and we were in a very different rally. From there, our focus on was on scoring some points in the Power Stage. I gave it everything I could, and there was nothing more. That's how it is. We have three rounds of the season left, so let's move onto the next one and see what happens."
Team Director Andrea Adamo: "It is not much use to say that it has been a tough rally for us. It is definitely not the result we would have hoped for. After a difficult Friday, I just asked my people to manage the situation, to bring back the best result possible and take as many manufacturer points as we could. Thanks to everyone for understanding my requests and supporting what I asked them to do, including the three crews. The fact we've increased our lead in the championship is the only positive thing I can take away from this rally."
Next Rally
The FIA World Rally Championship (WRC) continues onto the gravel roads of Wales Rally GB in a few weeks' time
The 12th round of the season takes place from 3-6 October.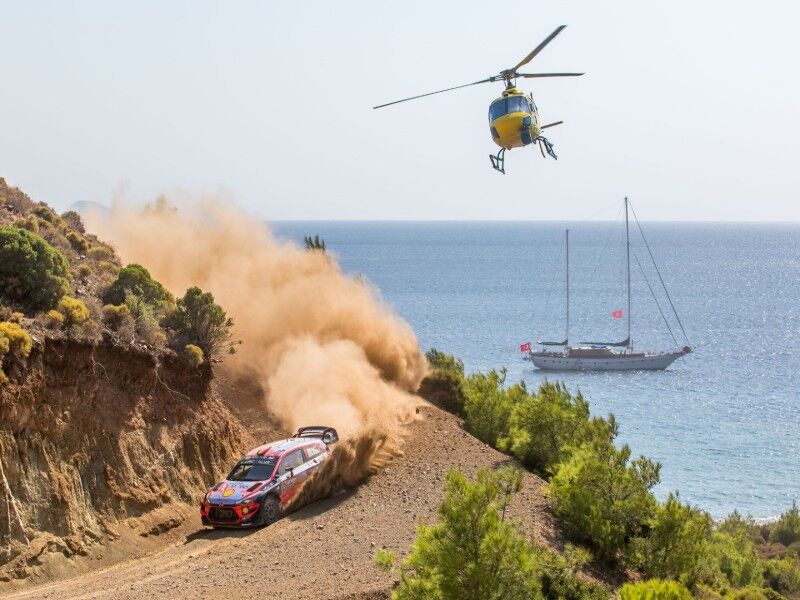 Final Overall Classification – Rally Turkey


| | | | | |
| --- | --- | --- | --- | --- |
| 1 | S. Ogier | J. Ingrassia | Citroën C3 WRC | 3:50:12.1 |
| 2 | E. Lappi | J. Ferm | Citroën C3 WRC | +34.7 |
| 3 | A. Mikkelsen | A. Jæger-Amland | Hyundai i20 Coupe WRC | +1:04.5 |
| 4 | T. Suninen | J. Lehtinen | Ford Fiesta WRC | +1:35.1 |
| 5 | D. Sordo | C. del Barrio | Hyundai i20 Coupe WRC | +2:25.9 |
| 6 | J.M Latvala | M. Anttila | Toyota Yaris WRC | +2:59.1 |
| 7 | K. Meeke | S. Marshall | Toyota Yaris WRC | +3:53.3 |
| 8 | T. Neuville | N. Gilsoul | Hyundai i20 Coupe WRC | +5:34.8 |
| 9 | P. Tidemand | O. Fløene | Ford Fiesta WRC | +7:22.9 |
| 10 | G. Greensmith | E. Edmondson | Ford Fiesta R5 | +15:18.7 |
2019 FIA World Rally Championship for Manufacturers' Standings (after round 11)
| | | |
| --- | --- | --- |
| 1 | Hyundai Shell Mobis World Rally Team | 314 |
| 2 | Toyota Gazoo Racing World Rally Team | 295 |
| 3 | Citroën Total World Rally Team | 259 |
| 4 | M-Sport Ford World Rally Team | 184 |
2019 FIA World Rally Championship for Drivers' Standings (after round 11)
| | | |
| --- | --- | --- |
| 1 | O. Tänak | 210 |
| 2 | S. Ogier | 193 |
| 3 | T. Neuville | 180 |
| 4 | A. Mikkelsen | 94 |
| 5 | K. Meeke | 86 |
| 6 | J.M Latvala | 84 |
| 7 | T. Suninen | 83 |
| 8 | E. Lappi | 80 |
| 9 | E. Evans | 78 |
| 10 | D. Sordo | 72 |
| 11 | S.Loeb | 39 |