Hyundai Motorsport WRC Report: Round 2 Rally Sweden.
Hyundai Motorsport is celebrating a fantastic double podium result in Rally Sweden after a competitive weekend for the Hyundai i20 N Rally1 Hybrid
Craig Breen and James Fulton secured their first podium together with a determined drive to second, ahead of Thierry Neuville and Martijn Wydaeghe
Esapekka Lappi and Janne Ferm, early podium contenders, took top honours in the Power Stage to ensure all three crews claimed stage wins in Sweden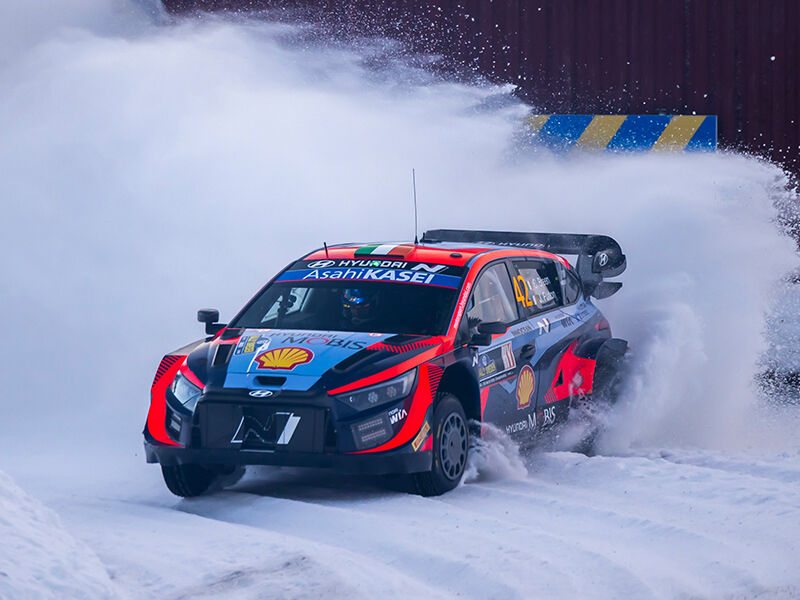 The Belgians completed a sensational rally in third place, fighting back with determination from a tough opening day on which they were one of the first crews on the road. The result marks Neuville's 50th WRC podium with Hyundai Motorsport in the team's tenth championship season.
Esapekka Lappi and Janne Ferm, who had been podium contenders earlier in the weekend, finished the event in seventh; the crew made up solid ground after losing seven minutes stuck in a snowbank on Saturday afternoon, and ended the rally with an assertive Power Stage victory.
Sunday's itinerary covered a repeat of the 26.48km Västervik stage before returning to the 10.08km Umeå Sprint that was first run in the dark on Saturday evening. All three crews were eager to complete the rally in style, having shown competitive pace throughout the event.
Neuville picked up another stage win in SS17, the second pass of the Västervik stage, leading a Hyundai 1-2 with Breen right behind. Heading into the Power Stage, the team set itself three objectives: to put Lappi in a position to fight for maximum points in the Umeå Sprint, to secure a double podium finish, and to support Neuville's driver's championship campaign by moving him up the standings.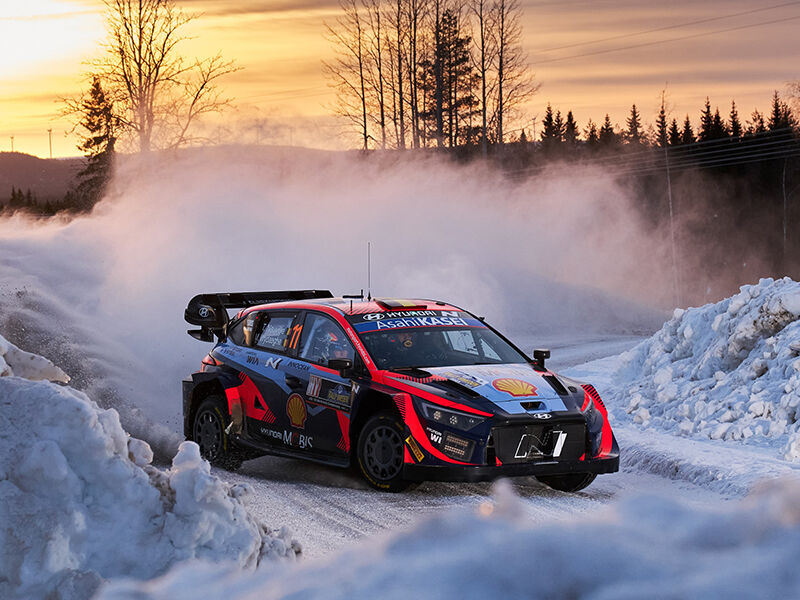 To do that, the team made a tactical decision to switch the positions of Neuville and Breen for the Power Stage, a strategy that was discussed with the crews involved. Tight margins on the classification meant that nothing was guaranteed in the final stage with Breen also needing to defend from fourth-placed Kalle Rovanperä, and Neuville requiring a clean stage to retain second.
Ultimately, the pendulum swung back into the favour of Breen who reclaimed his original position. Meanwhile, Lappi confirmed his pace with the Power Stage win, ensuring all three crews took fastest times in Rally Sweden, a total of ten between them, including three 1-2s.
Crew Notes: Craig Breen/James Fulton (#42 Hyundai i20 N Rally1 Hybrid)
Intrepid performance from the Irish crew to secure their first podium of 2023
Debut WRC podium for Fulton and fifth in total with Hyundai Motorsport for Breen
Breen said: "To be back battling at the front of the WRC has been absolutely brilliant. I've said many times this weekend that I've missed that feeling but to come back after a difficult period with a podium is unreal. It's James's first podium, as well, which is fantastic for him. We can be very proud of what we've achieved here in Sweden. Massive thanks to the team for putting their faith in us, and to James for a faultless job. I am over the moon to be back with this amazing team and car."
Crew Notes: Thierry Neuville/Martijn Wydaeghe (#11 Hyundai i20 N Rally1 Hybrid)
Second podium of the season for the Belgian crew after a stunning comeback drive
Five stage wins helped them move from seventh up to third with a stellar performance
Neuville said: "After a difficult Friday, in which we were one of the first on the road, I was not expecting this great result. Our preparations for the event were limited as I was sick for the pre-event test, so to come back to third place is incredible. It has been a strong rally for our team, with all three crews showing great performances and speed. With Craig/James taking second place and Esapekka/Janne grabbing five Power Stage points, there are excellent positives we can draw from the weekend."
Crew Notes: Esapekka Lappi/Janne Ferm (#4 Hyundai i20 N Rally1 Hybrid)
Power Stage victory capped an encouraging weekend for the Finns
Podium contenders until issues in SS13 lost them seven minutes
Lappi said: "There are many positives to take away from this weekend. We had good preparation for the rally and although the result wasn't what we wanted; the pace was there. Second place would have been possible for us this weekend, so we need to be pleased with that, especially after what happened yesterday. We targeted the fastest time in the Power Stage. I didn't think we had done enough, but in the end, we made it and gained some extra points. We need to build on this for Mexico, even if it will be an entirely different type of rally."
"This is a great way for us to finish Rally Sweden, which has been eventful to say the least. We had a tricky start on Thursday, but then built great momentum from Friday onwards. We have scored 10 stage wins out of 18 that shows our team, car and crews have been very competitive. The turning point, unfortunately, was Saturday's stage 13, where we lost the chance of a podium with EP through an incident that also slowed down Craig. We shifted EP's strategy from that point to focus on the Power Stage, and it was brilliant to see that plan unfolding today with him taking maximum points. At the same time, we had an opportunity to try and move Thierry up the standings. We supported that strategy by electing to take a penalty for Craig. It didn't work out as planned; the Gods of Speed decided otherwise and we completely respect that. We're all still smiling, including Thierry who made a fantastic comeback. He was on the back foot from the start for lots of reasons, so to be back on the podium is a great story for him. Craig has just been mega all weekend, in terms of his speed and performance, but also his attitude in understanding the team situation. Overall, a tremendous team result." -Hyundai Motorsport Team Principal Cyril Abiteboul
Next rally
The 2023 WRC season moves to Mexico for the third round of the championship and the first to take place on gravel
Rally Mexico returns to the calendar for the first time since 2020, and will again be based at León, north-west of Mexico City
| | | | | |
| --- | --- | --- | --- | --- |
| 1 |   O. Tänak   |   M. Järveoja   |   Ford Puma Rally1 Hybrid   |   2:25:54.5 |
| 2 |   C. Breen   |   J. Fulton   |   Hyundai i20 N Rally1 Hybrid   |   +18.7 |
| 3 |   T. Neuville   |   M. Wydaeghe   |   Hyundai i20 N Rally1 Hybrid   |   +20.0 |
| 4 |   K. Rovanperä   |   J. Halttunen   |   Toyota GR Yaris Rally1 Hybrid   |   +25.1 |
| 5 |   E. Evans   |   S. Martin   |   Toyota GR Yaris Rally1 Hybrid   |   +1:24.0 |
| 6 |   P. L. Loubet   |   N. Gilsoul   |   Ford Puma Rally1 Hybrid   |   +5:59.0 |
| 7 |   E. Lappi   |   J. Ferm   |   Hyundai i20 N Rally1 Hybrid   |   +7:42.4 |
| 8 |   O. Solberg   |   E. Edmondson   |   Škoda Fabia RS   |   +7:48.1 |
| 9 |   O. Veiby   |   T. Eriksen   |   Volkswagen Polo GTI   |   +8:30.4 |
| 10 |   S. Pajari   |   E. Mälkönen   |   Škoda Fabia RS   |   +9:03.2 |
| | | |
| --- | --- | --- |
| 1 |   Toyota Gazoo Racing World Rally Team   |   80 |
| 2 |   Hyundai Shell Mobis World Rally Team   |   66 |
| 3 |   M-Sport Ford World Rally Team   |   51 |
| | | |
| --- | --- | --- |
| 1 |   O. Tänak   |   41 |
| 2 |   K. Rovanperä   |   38 |
| 3 |   T. Neuville   |   32 |
| 4 |   E. Evans   |   29 |
| 5 |   S. Ogier   |   26 |
| 6 |   C. Breen   |   19 |
| 7 |   E. Lappi  |   15 |
| 8 |   T. Katsuta   |   8 |
| 9 |   P.L Loubet   |   8 |
| 10 |   D. Sordo  |   6 |