Hyundai Motorsport WRC Report: Round 4 Croatia Rally.
Hyundai Motorsport has dedicated a podium finish in Croatia Rally to its driver, colleague and friend, Craig Breen, who lost his life in testing last week
Esapekka Lappi and Janne Ferm secured their first podium as a Hyundai Motorsport crew with a steady and trouble-free performance
Early rally leaders Thierry Neuville and Martijn Wydaeghe returned after their misfortune on Saturday; the crew dug deep to take maximum Power Stage points with a spirited drive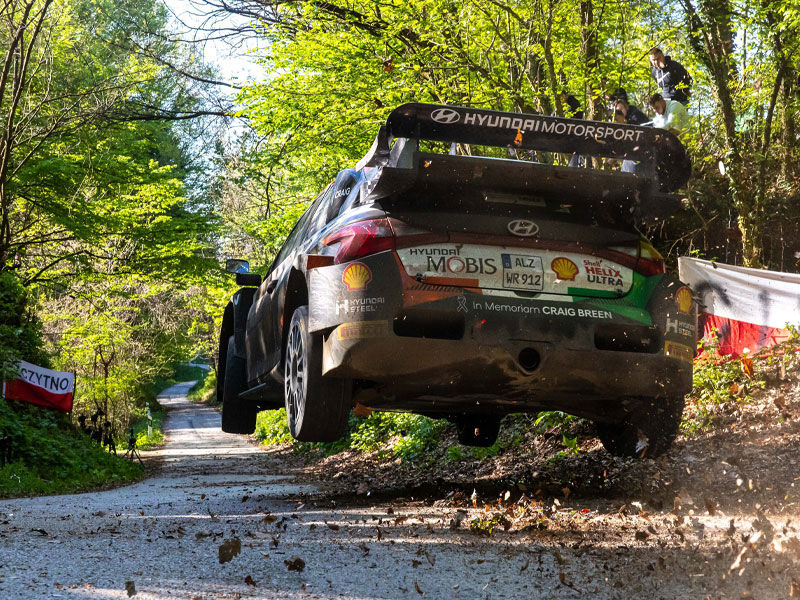 Hyundai Motorsport has taken a poignant podium finish in Croatia Rally, round four of the 2023 FIA World Rally Championship (WRC), dedicating its third-place result to the late Craig Breen.
Esapekka Lappi and Janne Ferm confirmed the result with a trouble-free but emotional final day on Croatia's tarmac roads. It represents the Finnish crew's first podium of the season and their debut for Hyundai Motorsport.
Sunday's itinerary covered a repeated loop of two stages, Trakoščan – Vrbno (SS17/SS19, 13.15km) and Zagorska Sela – Kumrovec (SS18/SS20, 14.09km), with the latter held as the rally-concluding Power Stage.
Thierry Neuville and Martijn Wydaeghe, who had led the rally from the second stage on Friday morning until a retirement during Saturday's opening loop, re-joined on Sunday in a bid to salvage something from a tough event for the team. The Belgians did precisely that, running an aggressive strategy to extract maximum performance from themselves and the car to claim all five extra points on offer with a determined drive.
Lappi and Ferm also added a point by taking the fifth fastest time in the final stage of the weekend, coming across the line with an outpouring of shared emotion. Podium celebrations were rightfully subdued, in honour and memory of Craig Breen. The winning crew held the Irish flag as the national anthem of Ireland was played, followed by a moment's silence.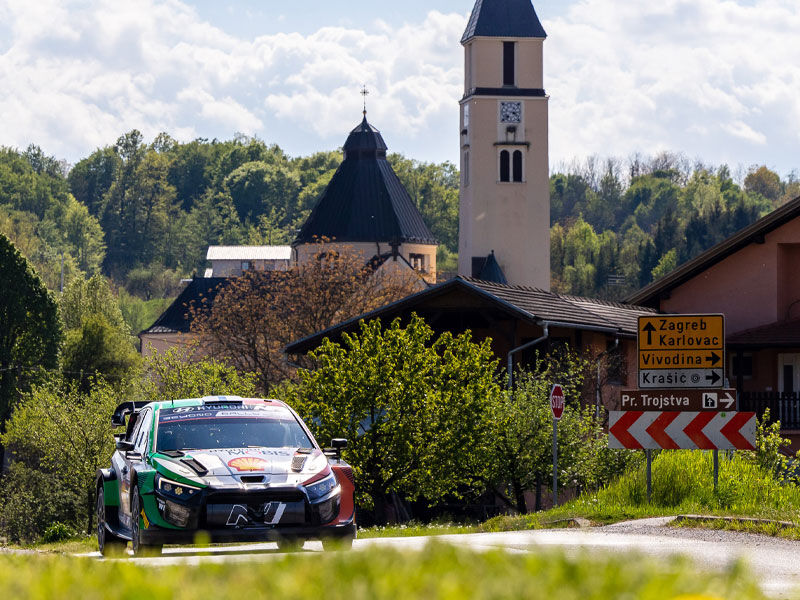 Crew Notes: Esapekka Lappi/Janne Ferm (#4 Hyundai i20 N Rally1 Hybrid)
Finns claimed their first podium for Hyundai Motorsport
Fifth place in the Power Stage added an extra point to their tally
Lappi said: "I don't know where to start. Big thanks to the team. It was not an easy decision to come here for most of us, but we appreciated the opportunity to drive again. I know it's been really tough, arguably one of the hardest weeks ever. We kept our heads together with a smart drive that enabled us to be on the podium. It's a very important result for us and for the team this week, so thank you."
Crew Notes: Thierry Neuville/Martijn Wydaeghe (#11 Hyundai i20 N Rally1 Hybrid)
Belgians had led Croatia Rally from SS2 until retiring in SS11 on Saturday morning
A mighty Power Stage performance from the crew added five extra points
Neuville said: "I don't know what to say. I am just so disappointed for the team, for us, after everything that has happened. It is a tough moment, so we really wanted the victory to make Craig proud. Unfortunately, we missed the opportunity with our retirement from the lead on Saturday. We have had to give more than 100%, and when you are on the limit you can't always avoid such mistakes. We re-joined the rally this morning determined to fight in the Power Stage. We gave absolutely everything and that was for Craig."
"This has been a difficult event for all of the rally community and we must thank everyone far and wide for their help, assistance and understanding. Looking at the sporting element of this weekend, we had to dive into this wholeheartedly from the outset of the event. This was the will of Craig's family and what he would have wanted; this is very clear. All we have done this week has been for him and in his memory. The motivation of the team, despite the circumstances, was very high, especially Thierry. Our collective disappointment was immense when his hunt for victory suddenly stopped on Saturday. It was important for us to have a car and a crew represented on the podium today, for Craig. We knew it would mark a poignant milestone in this tough and emotional journey we have been on in the past week. We have been able to achieve that with Esapekka. It's important that we put the sporting element to one side now. The sequence of events that has happened since that tragic day last Thursday has been incredibly hard on the team; we had to put our emotions on pause but now is the period of reflection. It will all come back hard, and it is important that we all find the time to deal with this in our own individual way." - Hyundai Motorsport Team Principal Cyril Abiteboul
The final word #ForCraig
Hyundai Motorsport has participated in Croatia Rally to honour Craig Breen, who tragically lost his life in pre-event testing on Thursday last week. Running two specially liveried cars depicting the Irish flag, the team has paid tribute to Craig and his passion for rallying. A selection of Craig's inspiring, heart-on-sleeve quotes have adorned the team's service area, paying tribute to man whose legacy will live on in the rallying and motorsport communities.
Hyundai Motorsport dedicates today's podium result to Craig, to his co-driver James Fulton, to his wonderful family, devoted friends, and loyal fans, all for whom this past week has been one of raw emotion, sadness, and loss, but also one full of love for a man who gave so much and leaves so much behind. Rest in peace, Craig.
"Don't let anyone ever put you down, because only you know your true potential." Craig Breen, Rally Sweden, February 2023
| | | | | |
| --- | --- | --- | --- | --- |
| 1 |   E. Evans   |   S. Martin   |   Toyota GR Yaris Rally1 Hybrid   |   2:50:54.3 |
| 2 |   O. Tänak   |   M. Järveoja   |   Ford Puma Rally1 Hybrid   |   +27.0 |
| 3 |   E. Lappi   |   J. Ferm   |   Hyundai i20 N Rally1 Hybrid   |   +58.6 |
| 4 |   K. Rovanperä   |   J. Halttunen   |   Toyota GR Yaris Rally1   |   +1:18.3 |
| 5 |   S. Ogier   |   V. Landais   |   Toyota GR Yaris Rally1 Hybrid   |   +1:28.0 |
| 6 |   T. Katsuta   |   A. Johnston   |   Toyota GR Yaris Rally1   |   +2:22.5 |
| 7 |   P. L. Loubet   |   N. Gilsoul   |   Ford Puma Rally1 Hybrid   |   +4:22.6 |
| 8 |   Y. Rossel   |   A. Dunand   |   Citroën C3 Rally2   |   +7:51.3 |
| 9 |   N. Gryazin   |   K. Aleksandrov   |   Škoda Fabia RS   |   +8:07.4 |
| 10 |   O. Solberg   |   E. Edmondson   |   Škoda Fabia RS   |   +9:16.7 |
| | | |
| --- | --- | --- |
| 1 |   Toyota Gazoo Racing World Rally Team   |   161 |
| 2 |   2 Hyundai Shell Mobis World Rally Team   |   132 |
| 3 |   M-Sport Ford World Rally Team   |   108 |
| | | |
| --- | --- | --- |
| 1 |   S. Ogier   |   69 |
| 2 |   E. Evans   |   69 |
| 3 |   K. Rovanperä   |   68 |
| 4 |   O. Tänak   |   65 |
| 5 |   T. Neuville   |   58 |
| 6 |   E. Lappi   |   31 |
| 7 |   C. Breen   |   19 |
| 8 |   T. Katsuta   |   18 |
| 9 |   D. Sordo   |   17 |
| 10 |   P.L Loubet   |   14 |