Hyundai Motorsport WRC Report: Round 5 Rally de Portugal.
In a dramatic end to a thrilling event, Hyundai Motorsport has secured a double podium at the fifth round of the 2023 FIA World Rally Championship, Rally de Portugal
Dani Sordo/Cándido Carrera and Esapekka Lappi/Janne Ferm enjoyed a cautious yet determined day to bring their cars home in second and third place
A provisional podium for Thierry Neuville/Martijn Wydaeghe was snatched away on the day's first stage with a turbo issue on their Hyundai i20 N Rally1 Hybrid; they finished in fifth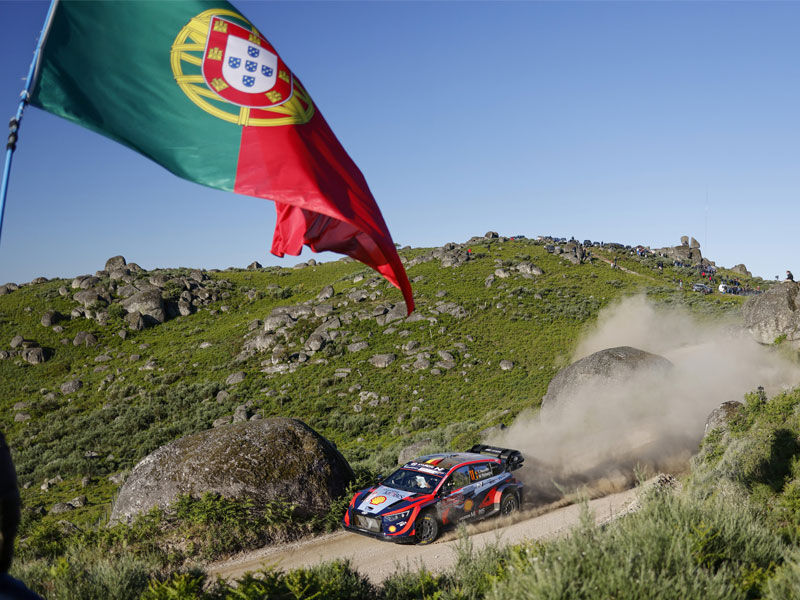 Hyundai Motorsport has secured its second double podium finish of the season in a dramatic final day at Rally de Portugal, round five of the 2023 FIA World Rally Championship (WRC).
Dani Sordo/Cándido Carrera and Esapekka Lappi/Janne Ferm secured second and third for the Hyundai Shell Mobis World Rally Team with a clean run through the final stages, matching the team's best finish of 2023. Unfortunately, disaster struck for Thierry Neuville and Martijn Wydaeghe, whose podium hopes were dashed by a turbo issue on their Hyundai i20 N Rally1 Hybrid.
Sunday featured four stages, opening with Paredes (SS16, 11.05km), followed by the iconic Fafe (SS17/19, 11.18km) and Cabeceiras de Basto (SS18, 22.01km). Both Sordo and Lappi elected to take conservative runs through the first three stages to save their tyres for Power Stage in a bid to score important points for the manufacturers' championship.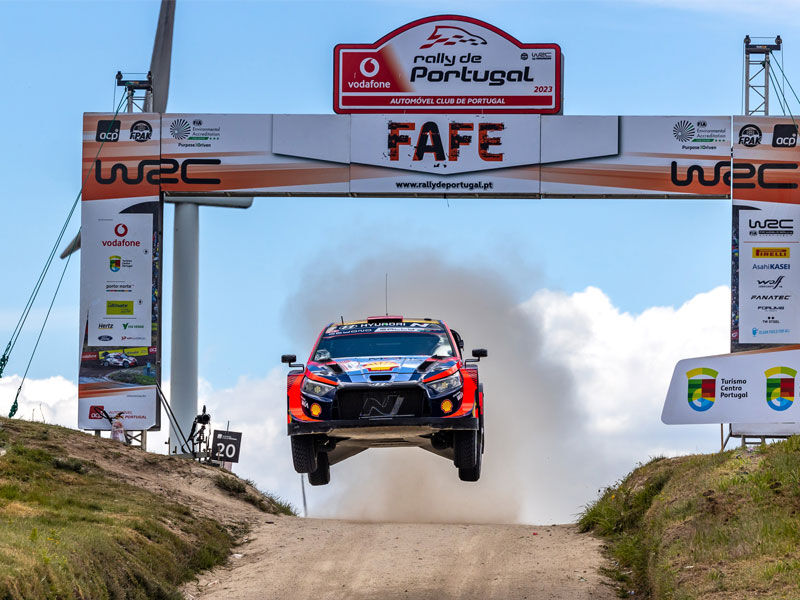 Sordo has competed in Rally de Portugal with a special helmet honouring his team-mate Craig Breen, which was adorned with the colours of the Irish and Spanish flags. Moments after completing the final stage, Sordo dedicated his podium to Craig and his family in an emotional end to a fantastic weekend for the Spaniard.
Rally de Portugal was another strong outing from Lappi and Ferm, who showed great pace on the gravel roads. In addition to their stage wins on Friday, the Finns were particularly quick on the famous Fafe, where they were second and third fastest on the respective two loops.
The problem on Neuville and Wydaeghe's car quickly became apparent on the opening stage. Down on power, the Belgian crew lost a minute to their team-mates Lappi/Ferm, and fell down the order. With the crew unable to fix the issue themselves and no service for the team to resolve it, they limped through the remaining stages to bring the car home in fifth. It was a bittersweet conclusion to the rally, where Hyundai Motorsport experienced minimal issues in the first two days of the gruelling event compared to its competitors.
Despite the late issue for Neuville, all three crews showed a competitive performance during Rally de Portugal; an encouraging sign of the team's potential as WRC embarks on six further consecutive gravel events.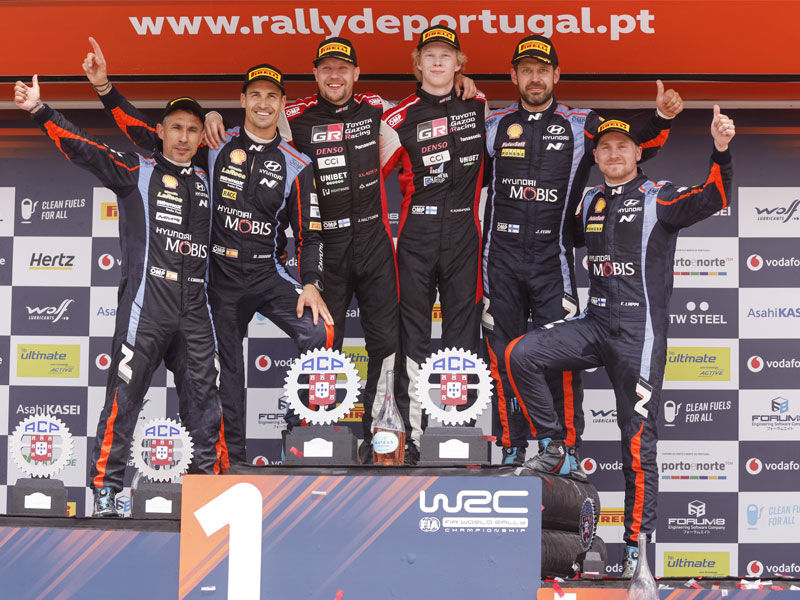 Crew Notes: Dani Sordo/Cándido Carrera (#6 Hyundai i20 N Rally1 Hybrid)
Spaniards takes emotional second place finish, which was dedicated to Craig Breen
Podium marks Sordo's seventh individual podium in Portugal
Sordo said: "I'm really happy to get the podium but in particular our performance yesterday was really satisfying for us. In the morning we weren't really on it but in the afternoon we found our pace, and it was the best feeling. This is for you, Craig. I think we drove very well, so I have to say thanks to him. He was with me all rally long and he was pushing me to the limits. I want to give this podium to his mum and dad, because I promised them I would wear this helmet for him. Thank you very much to them. The fans have been amazing as always here in Portugal, you can absolutely feel their support in the car. I remember called Craig after Sweden and told him he was so fast, and he said 'hell, now you have the pressure!'. Well Craig, I am back."
Crew Notes: Esapekka Lappi/Janne Ferm (#4 Hyundai i20 N Rally1 Hybrid)
Finns take second consecutive podium finish with third place
Crew collected two stage wins with strong performance in tricky conditions
Lappi said: "A little too much action on the final day for our team in terms of technical issues, both for Thierry and then myself right at the end. Two kilometres from the end of the last stage, we picked up a problem with our turbo as well. Overall we had a good weekend. It was a strong consistent drive with no other problems, and it is a good result for the team to be second and third. We've scored important manufacturers' points today. I'm sure the team will carefully investigate the issues so they don't happen again and we can be better in the next rounds."
Crew Notes: Thierry Neuville/Martijn Wydaeghe (#11 Hyundai i20 N Rally1 Hybrid)
Belgians podium push ends in heartbreak after close battle for third with Lappi/Ferm
Vowing to come back stronger in Rally Italia Sardegna
Neuville said: "In short, this is what rallying is all about – full of ups and downs. It is one of the most cruel motorsports, if not sports, in the world. We have to face situations like this sometimes, but it is never easy. Martijn and I put a lot of energy and effort in but we go home with very little points and not the result we were looking for, so we're very disappointed about that. Rallying is never over until it's over, and we paid the price today. I want to give a round of applause to the organisers, they have done an incredible job, and to the spectators as well. They were just perfect, so at the very least we enjoyed that. A weekend to forget; let's see what we can do in Sardinia."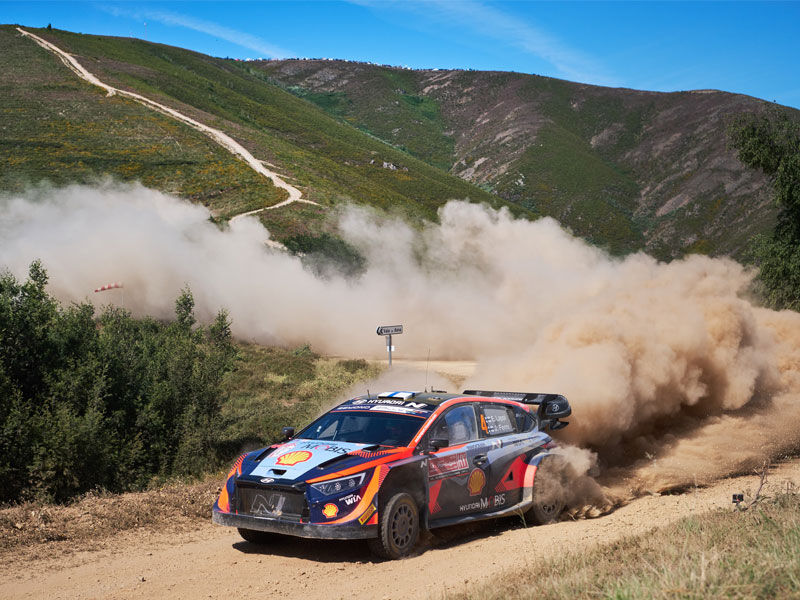 Hyundai Motorsport Team Principal Cyril Abiteboul said: "We are glad to finally make it to the end of this rally, which was certainly a tough one. Portugal has once again delivered a lot of drama and various challenges. For a large part of the weekend, we had three cars competing in the top five, which was good as we know something can always happen here. Unfortunately this morning, it did with Thierry who lost precious points due to reliability issues, and that needs to be investigated further. On the other hand, it was an opportunity for Dani and Esapekka to shine and they did not disappoint. I'm really happy that Dani has taken second position in a rally that he likes, in front of fans that love him as much as we do. It was another demonstration from Esapekka on his ability on gravel; he is slowly but surely cementing his position in the Hyundai Motorsport family."
Next rally
The FIA World Rally Championship moves to the island roads of Sardinia for the sixth round of the season, which will take place from June 1-4
Thierry Neuville/Martijn Wydaeghe, Esapekka Lappi/Janne Ferm and Dani Sordo/Cándido Carrera will be the four Hyundai i20 N Rally1 Hybrid crews competing in Rally Italia Sardegna.
| | | | | |
| --- | --- | --- | --- | --- |
| 1 |   K. Rovanperä   |   J. Halttunen   |   Toyota GR Yaris Rally1   |   3:35:11.7 |
| 2 |   D. Sordo   |   C. Carrera   |   Hyundai i20 N Rally1 Hybrid   |   +54.7 |
| 3 |   E. Lappi   |   J. Ferm   |   Hyundai i20 N Rally1 Hybrid   |   +1:20.3 |
| 4 |   O. Tänak   |   M. Järveoja   |   Ford Puma Rally1 Hybrid   |   +2:04.1 |
| 5 |   T. Neuville   |   M. Wydaeghe   |   Hyundai i20 N Rally1 Hybrid   |   +8:22.5 |
| 6 |   G. Greensmith   |   J. Andersson   |   Škoda Fabia RS  |   +9:43.4 |
| 7 |   O. Solberg   |   E. Edmondson   |   Škoda Fabia RS   |   +9:44.6 |
| 8 |   A. Mikkelsen   |   T. Eriksen   |   Škoda Fabia RS   |   +10:26.4 |
| 9 |   Y. Rossell   |   A. Dunand   |   Citroën C3   |   +11:33.2 |
| 10 |   T. Suninen   |   M. Markkula   |   Hyundai i20 N Rally2   |   +12:16.3 |
| | | |
| --- | --- | --- |
| 1 |   Toyota Gazoo Racing World Rally Team   |   201 |
| 2 |   Hyundai Shell Mobis World Rally Team   |   169 |
| 3 |   M-Sport Ford World Rally Team   |   134 |
| | | |
| --- | --- | --- |
| 1 |   K. Rovanperä   |   98 |
| 2 |   O. Tänak   |   81 |
| 3 |   S. Ogier   |   69 |
| 4 |   E. Evans   |   69 |
| 5 |   T. Neuville   |   68 |
| 6 |   E. Lappi   |   49 |
| 7 |   D. Sordo   |   36 |
| 8 |   T. Katsuta   |   20 |