Hyundai Motorsport WRC Report: Round 7 Rally Estonia.
Hyundai Motorsport has claimed its seventh podium result of the 2022 FIA World Rally Championship (WRC) with a third-place finish in Rally Estonia
Local stars Ott Tänak and Martin Järveoja secured their third top-three of the season with a consistent performance, ahead of Thierry Neuville and Martijn Wydaeghe in fourth
Oliver Solberg and Elliott Edmondson added another top-two stage time on the final day of the rally as they continued their learning curve in the Hyundai i20 N Rally1.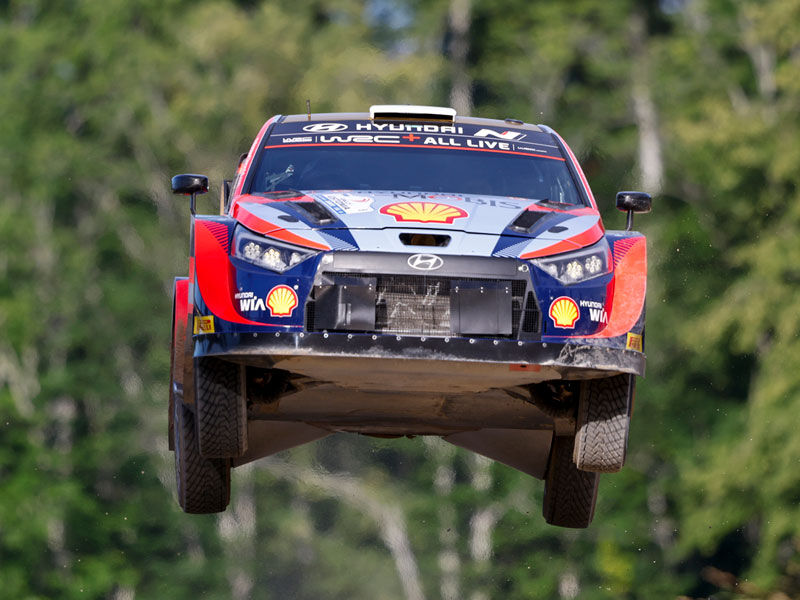 Hyundai Motorsport departs Rally Estonia with a consolatory podium after a character-building weekend for the team and its three crews in the seventh round of the season.
Home heroes Ott Tänak and Martin Järveoja picked up their third top-three result of the 2022 FIA World Rally Championship (WRC) campaign with a consistent run to third place, one place ahead of their Belgian team-mates Thierry Neuville and Martijn Wydaeghe.
A complicated final day featured more of the intermittent rain showers that have characterised the tricky rally. Crews tackled a repeat loop of three stages: Tartu Vald (SS19/SS22, 6.56km), Kanepi (SS20/SS23, 16.48km) and Kambja (SS21/SS24, 15.95km), the latter of which acted as the rally-ending Power Stage.
Tänak and Järveoja claimed a joint stage win in the first pass of Kanepi, while Oliver Solberg and Elliott Edmondson scored the second fastest time in the repeat run of that stage, adding to their competitive times from Saturday afternoon. Treacherous conditions in the Power Stage prevented any of the team's crews from pushing for extra points, with all three pairings experiencing a nerve-wracking end to the event.
While the outright pace of the Hyundai i20 N Rally1 cars wasn't enough to fight for victory, the team has drawn positives from its improved reliability. There have been no major technical issues with the cars across 24 fast and demanding stages. That said, the team also recognises the need for further development to improve its competitiveness with the second half of the season now underway.
In the championship standings, Hyundai Motorsport remains in second place in the manufacturers' classification on 211 points, while Thierry Neuville retains the runner-up spot in the drivers' table on 92.
Crew Notes: Ott Tänak/Martin Järveoja (#8 Hyundai i20 N Rally1)
Estonian crew secured their third podium of the 2022 season after Croatia and Sardinia
Joint stage win in SS20 added to 15 top-three stage times this weekend
Tänak said: "For the first time in my life, I have not been competitive in Estonia, so that's a bit frustrating. It's unfortunately the situation we are in, we did everything we could, but third place feels disappointing. The real positive is the number of kilometres we have been able to complete across all three cars. We now need to evaluate our next steps in terms of development. The Estonian fans have shown that they are passionate and full of support, so I am thankful to them for that; it's just a shame we weren't competitive."
Crew Notes: Thierry Neuville/Martijn Wydaeghe (#11 Hyundai i20 N Rally1)
Fourth place for the Belgian crew with a measured performance
Objective was to keep out of trouble and secure points
Neuville said: "It has been a tough and challenging weekend for us. I haven't felt comfortable in the car, and it just didn't work out. Lots of things came together, and even the Power Stage today didn't go well, with zero visibility – I couldn't see anything right from the start. Somehow, we were able to come away with fourth position, which is really the best we could have expected in this event. Our competitors were very strong, and Ott was driving really well. To finish behind our team-mate in this rally was all that we could do. We stay positive, continue fighting and there's always hope for improvements."
Crew Notes: Oliver Solberg/Elliott Edmondson (#2 Hyundai i20 N Rally1)
Signs of encouraging pace from the crew including four top-four stage times
Second fastest time in SS23 (Kanepi 2)
Solberg said: "The conditions in the Power Stage were absolutely crazy, so much rain and standing water! It was a mission to stay on the road, but we made it to the end of what has been a very long and tough weekend. It has been difficult to build the confidence in the car needed for these stages and conditions. The team has done all it could to help me, and we have tried a lot of things. The mechanics have worked hard to prepare the car and it's been a challenging event for them as well. We showed some signs of promise on Saturday afternoon but have a lot of work to do to get to the proper level."
"Our target today has been to secure third and fourth positions; with the wet weather we have seen it was too risky to fight for the Power Stage. If you look at the level of performance, we have shown this weekend, we can't be happy. We have been down on pace compared to the cars in front, which has been frustrating. Looking at the number of stage wins we have taken, just one, gives us a good picture of where we are. We need more development on some of the fundamental parts of the car, so we have a long job ahead of us. On the positive side, at least we have seen no major reliability issues, with all three cars making the finish. From where we were in Kenya, that is an achievement in itself." - Deputy Team Director Julien Moncet
Next rally
The 2022 WRC season moves onto the fast and furious roads of Rally Finland, which takes place from August 4-7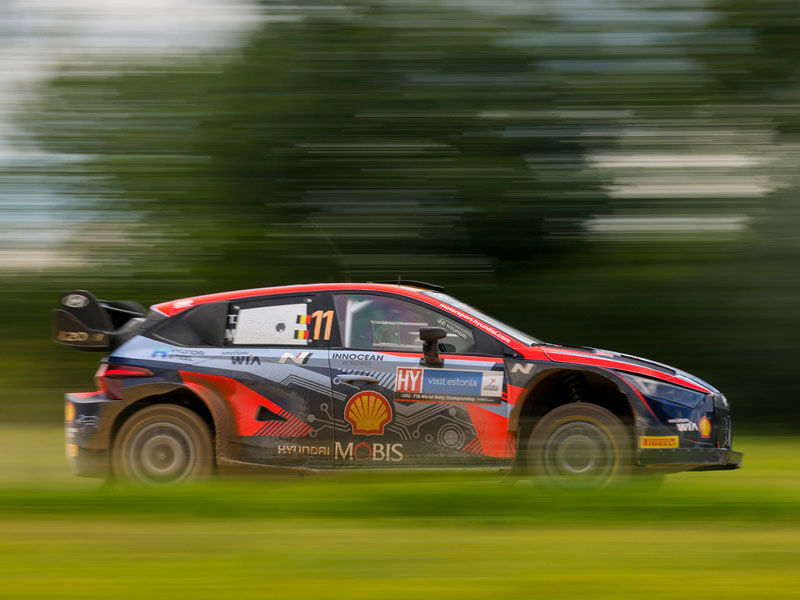 | | | | | |
| --- | --- | --- | --- | --- |
| 1 |   K. Rovanperä   |   J. Halttunen   |   Toyota GR Yaris Rally1   |   2:54:29.0 |
| 2 |   E. Evans   |   S. Martin   |   Toyota GR Yaris Rally1   |   +1:00.9 |
| 3 |   O. Tänak   |   M. Järveoja   |   Hyundai i20 N Rally1   |   +1:55.7 |
| 4 |   T. Neuville   |   M. Wydaeghe   |   Hyundai i20 N Rally1   |   +3:53.3 |
| 5 |   T. Katsuta   |   A. Johnston   |   Toyota GR Yaris Rally1   |   +4:13.4 |
| 6 |   E. Lappi   |   J. Ferm   |   Toyota GR Yaris Rally1   |   +4:49.1 |
| 7 |   A. Fourmaux   |   A. Coria   |   Ford Puma Rally1   |   +5:09.2 |
| 8 |   A. Mikkelsen   |   T. Eriksen   |   Škoda Fabia Evo   |   +11:01.8 |
| 9 |   T. Suninen   |   M. Markkula   |   Hyundai i20 N Rally2   |   +11:27.1 |
| 10 |   E. Lindholm   |   R. Hämäläinen   |   Škoda Fabia Evo   |   +13:04.8 |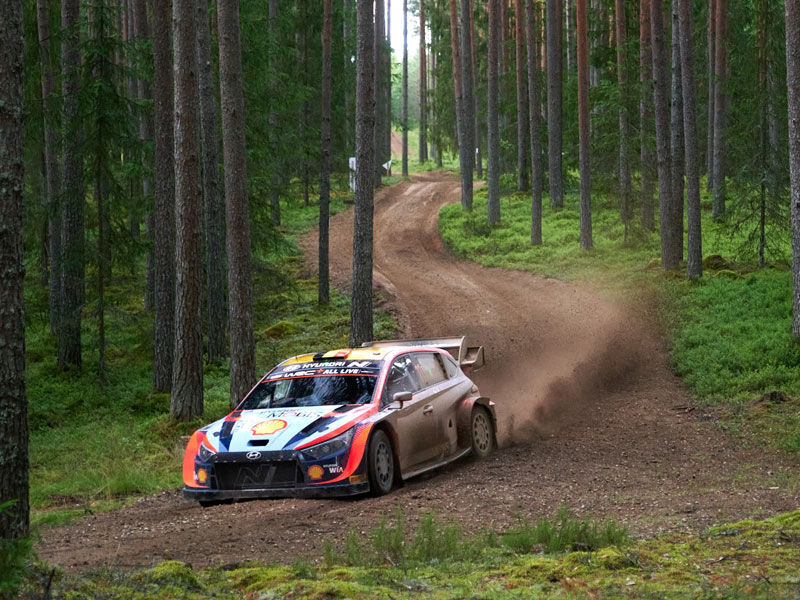 | | | |
| --- | --- | --- |
| 1 |   Toyota Gazoo Racing World Rally Team   |   298 |
| 2 |   Hyundai Shell Mobis World Rally Team   |   211 |
| 3 |   M-Sport Ford World Rally Team   |   157 |
| 4 |   Toyota Gazoo Racing World Rally Team NG   |   80 |
| | | |
| --- | --- | --- |
| 1 |   K. Rovanperä   |   175 |
| 2 |   T. Neuville   |   92 |
| 3 |   E. Evans   |   79 |
| 4 |   O. Tänak   |   62 |
| 5 |   T. Katsuta   |   73 |
| 6 |   C. Breen   |   60 |
| 7 |   S. Loeb   |   35 |
| 8 |   S. Ogier   |   34 |
| 9 |   D. Sordo   |   34 |
| 10 |   G. Greensmith   |   28 |
| 11 |   E. Lappi   |   27 |
| 12 |   A. Mikkelsen   |   19 |
| 13 |   P. Loubet   |   18 |
| 14 |   O. Solberg   |   9 |