Hyundai Motorsport WRC Report: Round 8 Rally Finland.
Hyundai Motorsport has secured its second victory of the 2022 FIA World Rally Championship (WRC) with Ott Tänak and Martin Järveoja on imperious form in Rally Finland
The Estonians stamped their authority on the event from the start, leading the rally from SS2 on Friday and never relinquishing control
Thierry Neuville and Martijn Wydaeghe cemented their fifth place with another trouble-free day, adding a point in the Power Stage.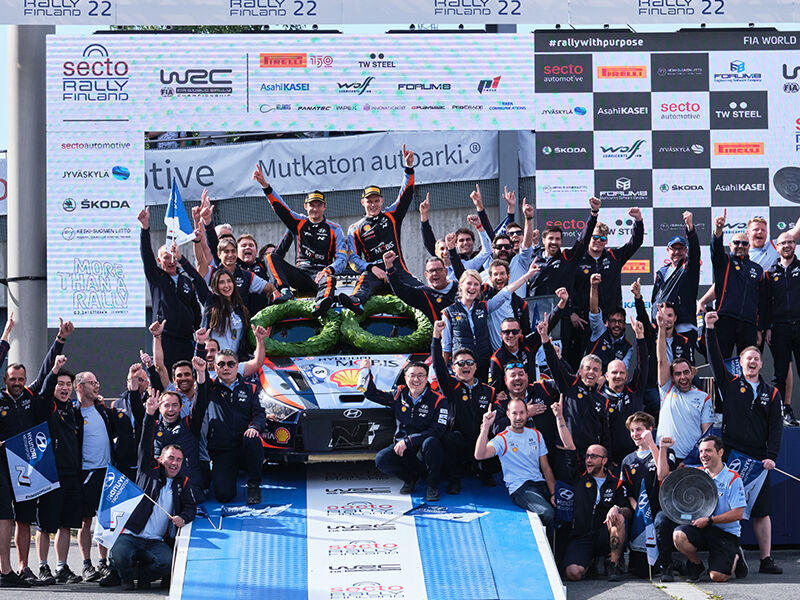 Hyundai Motorsport has claimed a stunning victory in Rally Finland after a commanding performance from Ott Tänak and Martin Järveoja in the Hyundai i20 N Rally1.
The Estonians were in masterful control of the rally from the opening stage on Friday morning (SS2) and managed their advantage throughout the entire event. Not only did the crew maintain their overnight lead, but they even extended it during Sunday's loops. Ultimately, they won by a margin of 6.8 seconds.
On a captivating final day, Tänak made his intentions clear from the opening Oittila (SS19/SS21 10.84km) test, taking a further 1.9 seconds out of his chasing rival, Kalle Rovaperä. Setting the joint fastest time on the subsequent stage, Ruuhimäki (SS20/SS22, 11.12km), Tänak added a seventh stage win of the weekend, and set things up nicely for the repeat loop – with the second pass of Ruuhimäki acting as the Power Stage.
Thierry Neuville and Martijn Wydaeghe secured a solid fifth place finish, after an encouraging and trouble-free weekend. The Belgians won the first stage of the rally on Thursday evening to ensure Hyundai Motorsport led the event from start to finish.
Tänak's triumph represents the second victory of the season for the Hyundai i20 N Rally1 and Hyundai Motorsport's first-ever in Rally Finland. The performance of both Tänak/Järveoja and Neuville/Wydaeghe this weekend reflects the determination and hard work of the entire team – on site and back at the Alzenau factory. Demonstrating a never-give-up attitude and pushing the boundaries to improve the pace of the car, the team has taken an impressive win at an event that has previously proved elusive.
Consolidating a successful weekend for the Hyundai Motorsport organisation, Finns Teemu Suninen and Mikko Markkula also claimed victory in the Hyundai i20 Rally2 car in WRC2.
Crew Notes: Ott Tänak/Martin Järveoja (#8 Hyundai i20 N Rally1)
Second victory of the season for the Estonians secured in impressive fashion
Tänak moves up to second in the 2022 drivers' championship
Tänak said: "This is a special victory, no question. There have been quite a few wins in my career, but this is definitely up there with the best. We started the rally at the front and that's when we were able to take the advantage. From there, it was a case of managing things. I can't say I am completely happy with the performance of the car, but we were still able to set good pace. This result shows that with some hard work there are chances to perform well, so we need to continue making improvements. It gives us hope."
Crew Notes: Thierry Neuville/Martijn Wydaeghe (#11 Hyundai i20 N Rally1)
Committed performance from the Belgian crew in Finland
Stage win on Thursday and a focused drive to fifth place overall
Neuville said: "It was a tough weekend for us, but we knew that would be the case coming here, like in Estonia. We have had two rallies in a row with a similar profile, and these are conditions where I have always struggled a bit. It would be nice to have some tarmac rallies in a row, but now we head to Ypres – my home event – and will try our best to do a good job. Ott has put in a good performance this weekend; he was on the pace from the start and once you're in the game you can keep the rhythm. We could see on his face that he's had to work hard; it's a great result for him and the entire team."
"This is a fantastic achievement for everyone at Hyundai Motorsport, taking our first-ever victory in Rally Finland. We have finally made it! Ott and Martin put in an incredible performance all weekend, showing their pace and the winning performance of our Hyundai i20 N Rally1 car. We have had no reliability issues throughout the event and can take a lot of positives from the rally as a whole. This team has never given up since the start of the season, pushing hard despite some difficulties. This is a special result, made even sweeter by the win for Teemu Suninen in WRC2. We will celebrate this moment, but we keep on pushing for more results like this in the remaining events of the season." - Deputy Team Director Julien Moncet
Next rally
The ninth round of the 2022 FIA World Rally Championship (WRC) season will be Ypres Rally Belgium, taking place August 18-21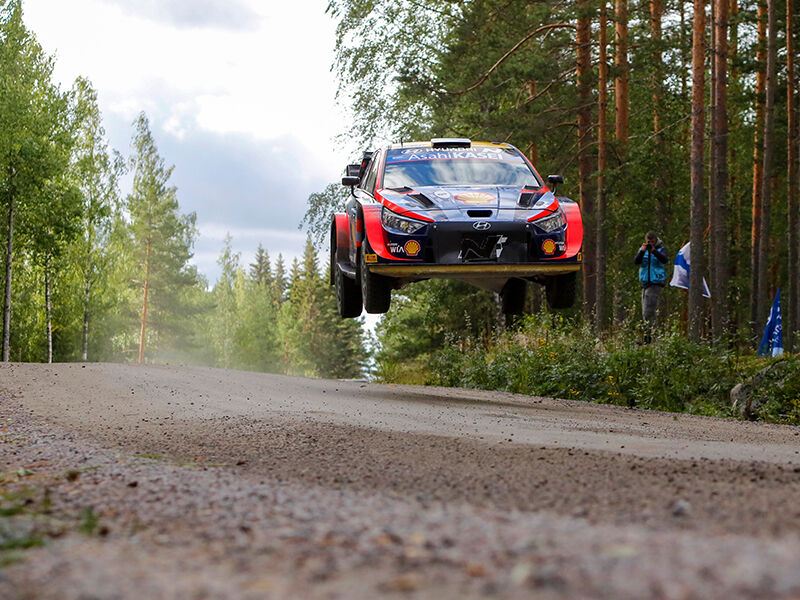 | | | | | |
| --- | --- | --- | --- | --- |
| 1 |   O. Tänak   |   M. Järveoja   |   THyundai i20 N Rally1   |   2:24:04.6 |
| 2 |   K. Rovanperä   |   J. Halttunen   |   Toyota GR Yaris Rally1   |   +6.8 |
| 3 |   E. Lappi   |   J. Ferm   |   Toyota GR Yaris Rally1   |   +1:20.7 |
| 4 |   E. Evans   |   S. Martin   |   Toyota GR Yaris Rally1   |   +1:37.6 |
| 5 |   T. Neuville   |   M. Wydaeghe   |   Hyundai i20 N Rally1   |   +2:18.0 |
| 6 |   T. Katsuta   |   A. Johnston   |   Toyota GR Yaris Rally1   |   +3:09.0 |
| 7 |   G. Greensmith   |   J. Andersson   |   Ford Puma Rally1   |   +3:57.0 |
| 8 |   T. Suninen   |   M. Markkula   |   Hyundai i20 N Rally2   |   +9:31.3 |
| 9 |   E. Lindholm   |   R. Hämäläinen   |   Škoda Fabia Evo   |   +9:39.0 |
| 10 |   J. Huttunen   |   M. Lukka   |   Ford Puma Rally1   |   +10:31.6 |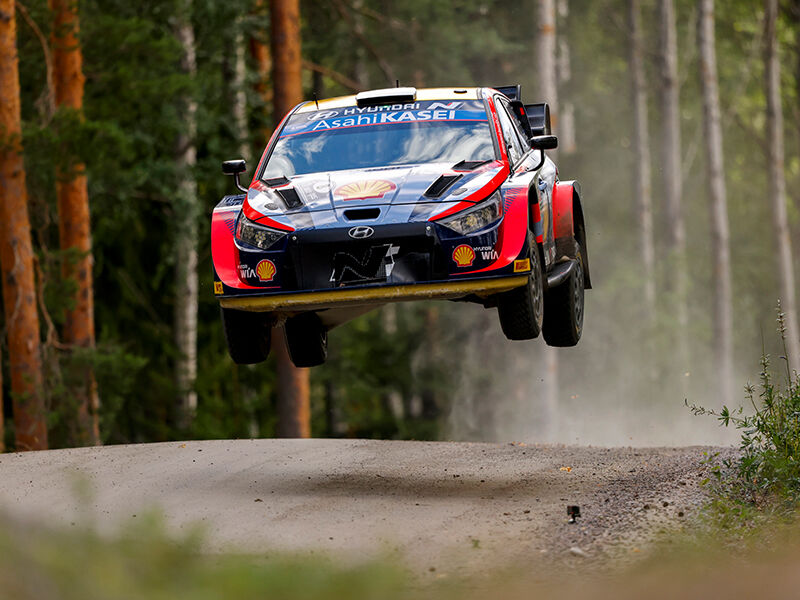 | | | |
| --- | --- | --- |
| 1 |   K. Rovanperä   |   198 |
| 2 |   O. Tänak   |   104 |
| 3 |   T. Neuville   |   103 |
| 4 |   E. Evans   |   94 |
| 5 |   T. Katsuta   |   81 |
| 6 |   C. Breen   |   64 |
| 7 |   E. Lappi   |   42 |
| 8 |   S. Loeb   |   35 |
| 9 |   S. Ogier   |   34 |
| 10 |   D. Sordo   |   34 |
| 11 |   G. Greensmith   |   34 |
| 12 |   A. Mikkelsen   |   19 |
| 13 |   P. Loubet   |   18 |
| 14 |   O. Solberg   |   9 |
| | | |
| --- | --- | --- |
| 1 |   Toyota Gazoo Racing World Rally Team   |   339 |
| 2 |   Hyundai Shell Mobis World Rally Team   |   251 |
| 3 |   M-Sport Ford World Rally Team   |   174 |
| 4 |   Toyota Gazoo Racing World Rally Team NG   |   89 |