Hyundai Motorsport WRC Report: Round 7 - Safari Rally Kenya.
Hyundai Motorsport has ended a difficult round seven of the 2023 FIA World Rally Championship season, Safari Rally Kenya, with Dani Sordo/Cándido Carrera in fifth place
Thierry Neuville/Martijn Wydaeghe and Esapekka Lappi/Janne Ferm returned from retirements on Friday and Saturday respectively to score points in the rally's Power Stage
Although disappointed not to continue its podium streak, the team remains second in both the drivers' and manufacturers' standings after a tough and challenging weekend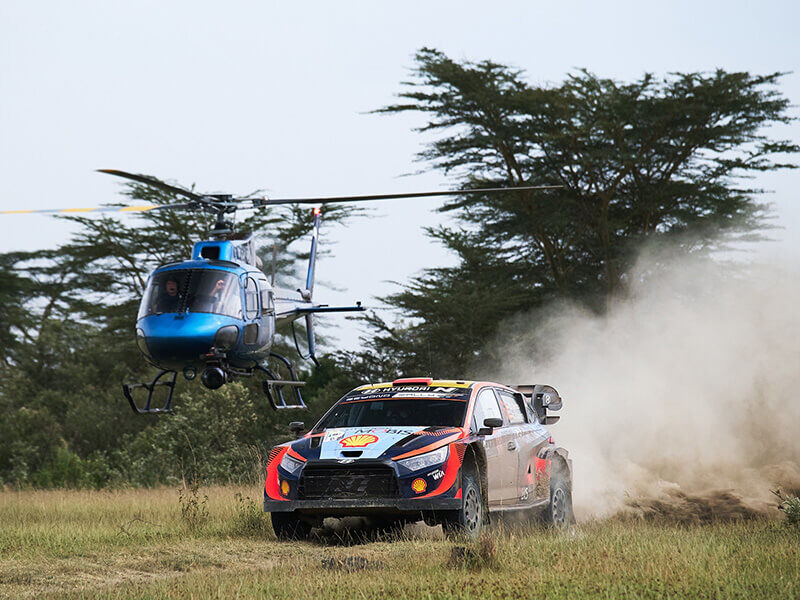 Hyundai Motorsport has finished in fifth place at Safari Rally Kenya, round seven of the FIA World Rally Championship, in what has been a truly testing weekend for the entire team.
Six final stages concluded Safari Rally Kenya; Malewa (SS14/17, 8.33km), Oserian (SS15/18, 18.33km) and Hell's Gate (SS16/19, 10.53km). In a bid to extract the maximum from the final day, all three crews carefully navigated the itinerary to ensure their cars made it safely to the Power Stage for one final push.
Dani Sordo and Cándido Carrera were the highest placed Hyundai Motorsport crew on Sunday and successfully consolidated their position with a clean and consistent run. Their fifth-place finish scored important points for Hyundai Shell Mobis World Rally Team in the manufacturers' battle.
Thierry Neuville/Martijn Wydaeghe secured maximum points on offer in the Power Stage with an aggressive run to claim the stage win. The Belgians also overhauled the deficit to the competitor ahead to climb to eighth place overall by the penultimate stage – a significant recovery at an event of such unforgiving nature. Despite a trying outing in Kenya, Neuville remains second in the drivers' standings.
Finnish team-mates Esapekka Lappi/Janne Ferm ran into trouble on the opening stage, Malewa 1, losing a minute of time due to a technical issue. They were able to get their Hyundai i20 N Rally1 Hybrid back to service to rectify the problem for the afternoon loop and finish fifth in the Power Stage. It was a disappointing end to a promising event for the crew, who had been running in a podium-finishing position before their dramas on Saturday.
With a four-week gap to the next gravel test, the fast and flowing Rally Estonia, the team will focus on regrouping to come back stronger and reinvigorate its championship challenge in the second half of the season.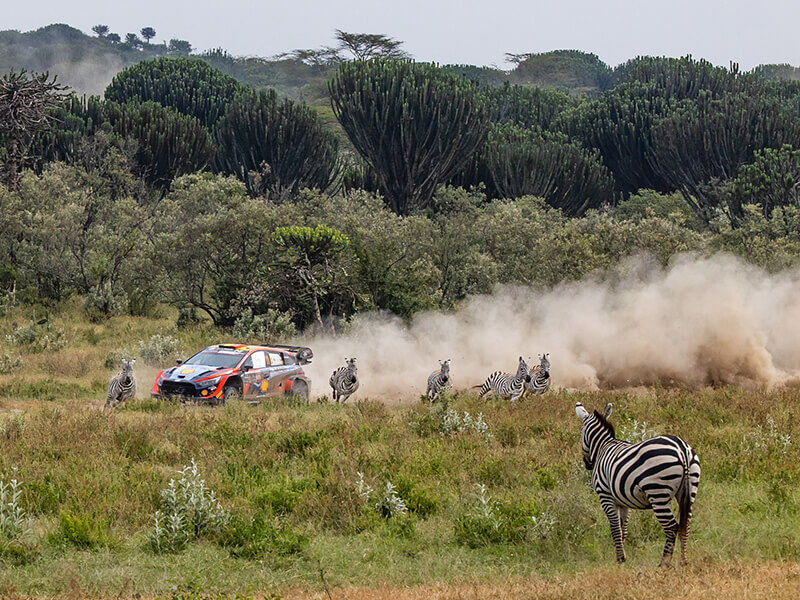 Crew Notes: Dani Sordo/Cándido Carrera (#6 Hyundai i20 N Rally1 Hybrid)
Conservative final day secured fifth place
Matched best stage finish of fourth on SS18 Oserian 2
Sordo said: "Safari Rally Kenya was a really tough event, but at least we took home some points. In the end it was not as bad as it could have been, but we did expect a little bit more. Today was quite ok, quite rough in some places but the car was really strong - it is amazing how much you can put these cars through. We were running well and trying not to make any mistakes to bring car the home in fifth, which we achieved."
Crew Notes: Thierry Neuville/Martijn Wydaeghe (#11 Hyundai i20 N Rally1 Hybrid)
Stage win on SS19 Hell's Gate 2 secured maximum Power Stage points
Belgians overturned four-minute gap to finish in eighth place
Neuville said: "A tough and challenging weekend. Obviously we tried what we could but unfortunately, another time in Kenya where it didn't work out for us. There's a lot of frustration to be honest, because it is not good for our championship aspirations but it is what it is. We did our best in the car, took the five points in the Power Stage and fought back to eighth place, which was the maximum we could do today."
Crew Notes: Esapekka Lappi/Janne Ferm (#4 Hyundai i20 N Rally1 Hybrid)
Finns were podium contenders before heart-breaking retirement on Saturday
Fifth place finish in Power Stage secured consolatory point
Lappi said: "It was an interesting week in many perspectives. The result is not what we all wanted but that's a different story; I need to be pleased with the pace that we had and that we were really fighting for the podium positions until our technical problem yesterday. At least in the Power Stage I could try to drive more normally, but overall I have to say it has been a good experience."
"We are extremely disappointed and the whole team is downhearted. This is an event that the world of rally loves, but it is one where we have never been strong and once again, we weren't this weekend. Unfortunately it has unearthed a number of weaknesses for us that we thought had been addressed, particularly the issues Esapekka had with his prop shaft. We are very sorry for him as he had been working very hard and his great pace put him in a position to fight for the podium. Suspension-related issues stopped Thierry on his way to recover from a low-key start, which is a disappointment for all of us for his drivers' title battle. Dani delivered what was expected of him and helped to mitigate the cost in the championship fight. Overall, a poor weekend for us but one that needs to be a useful platform to address our technical issues before the next rally." - Hyundai Motorsport Team Principal Cyril Abiteboul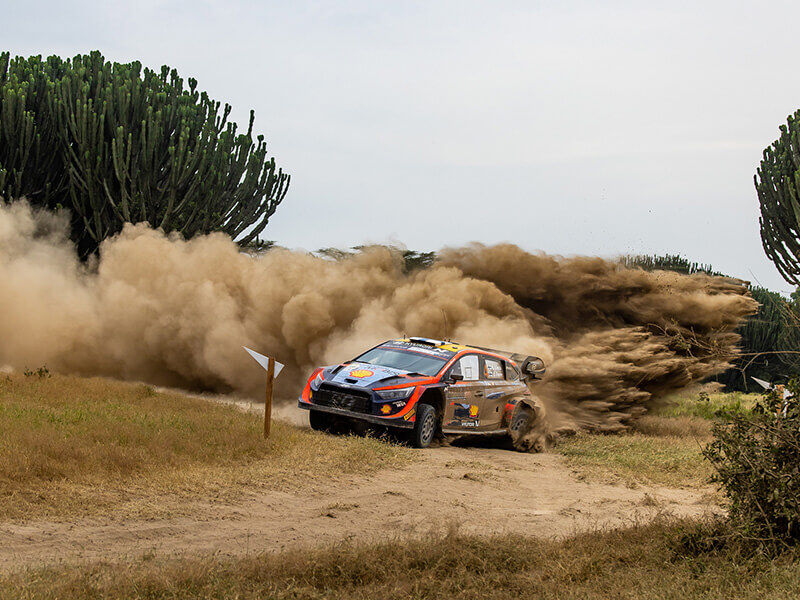 Next rally
The eighth round of the 2023 FIA World Rally Championship will be Rally Estonia, which will take place on July 20-23.
| | | | | |
| --- | --- | --- | --- | --- |
| 1 |   S. Ogier   |   V. Landais   |   Toyota GR Yaris Rally1 Hybrid   |   3:30:42.5 |
| 2 |   K. Rovanperä   |   J. Halttunen   |   Toyota GR Yaris Rally1  | <  +6.7 |
| 3 |   E. Evans   |   S. Martin   |   Toyota GR Yaris Rally1 Hybrid   |   +27.9 |
| 4 |   T. Katsuta   |   A. Johnston   |   Toyota GR Yaris Rally1   |   +3:23.8 |
| 5 |   D. Sordo   |   C. Carrera   |   Hyundai i20 N Rally1 Hybrid   |   +5:05.4 |
| 6 |   O. Tänak   |   M. Järveoja   |   Ford Puma Rally1 Hybrid   |   +9:14.4 |
| 7 |   P. L. Loubet   |   N. Gilsoul   |   Ford Puma Rally1 Hybrid   |   +16:15.7 |
| 8 |   T. Neuville   |   M. Wydaeghe   |   Hyundai i20 N Rally1a RS  |   +24:47.0 |
| 9 |   K. Kajetanowicz   |   M. Szczepaniak   |   Škoda Fabia Evo   |   + 26:33.4 |
| 10 |   O. Solberg   |   E. Edmondson   |   Škoda Fabia Evo   |   + 27:04.0 |
| | | |
| --- | --- | --- |
| 1 |   Toyota Gazoo Racing World Rally Team   |   283 |
| 2 |   2 Hyundai Shell Mobis World Rally Team   |   241 |
| 3 |   M-Sport Ford World Rally Team   |   174 |
| | | |
| --- | --- | --- |
| 1 |   K. Rovanperä   |   139 |
| 2 |   T. Neuville   |   102 |
| 3 |   E. Evans   |   98 |
| 4 |   O. Tänak   |   97 |
| 5 |   S. Ogier   |   97 |
| 6 |   E. Lappi   |   68 |
| 7 |   D. Sordo   |   46 |
| 8 |   T. Katsuta   |   35 |
| 9 |   P.L Loubet   |   20 |