Hyundai Motorsport WRC Review: Round 11 Rally New Zealand.
Hyundai Motorsport has registered its 13th podium of the 2022 FIA World Rally Championship (WRC) with a third-place result in Rally New Zealand
Ott Tänak and Martin Järveoja secured their fifth consecutive top-three result of the season, and added four extra points with a strong run in the Power Stage
Thierry Neuville and Martijn Wydaeghe finished in fourth, one place ahead of Oliver Solberg and Elliott Edmondson, who claimed their second top-five result in a row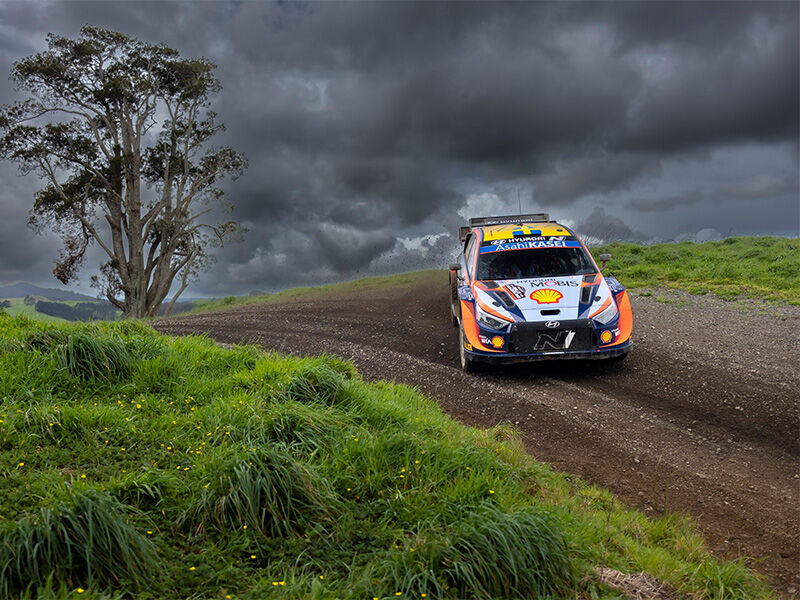 Hyundai Motorsport has claimed a podium finish in its first-ever participation in Rally New Zealand, round 11 of the 2022 FIA World Rally Championship (WRC).
Ott Tänak and Martin Järveoja extended their run of consecutive podiums to five with a third-place finish, their seventh top-three performance of the season so far. The result marks their 15th podium for Hyundai Motorsport in total.
The Estonian crew headed a trio of Hyundai i20 N Rally1 crews with Thierry Neuville/Martijn Wydaeghe and Oliver Solberg/Elliott Edmondson in fourth and fifth positions respectively after the 17-stage rally.
The itinerary for the final day of Rally New Zealand covered just 31.18km, a repeated loop of Whitford Forest-Te Maraunga Waiho (SS14/SS16, 8.82km) and Jacks Ridge Haunui (SS15/SS17, 6.77km).
Wet, slippery, and challenging conditions have offered teams and crews a stern test with the picturesque and exhilarating New Zealand roads providing plenty of drama. For Hyundai Motorsport, the rally has been a complicated one with several issues preventing the team from performing at the same level as its rally-winning displays in Finland, Ypres, and Greece.
Tänak had initially looked in contention for a victory push on the opening days, claiming three stage wins, and completing Friday on top of the overall classification. However, a tough Saturday put any chance of the team's fourth consecutive win out of reach. The crew returned to stage-winning ways on the final morning, claiming the fastest time on SS15, and then adding four bonus points in the Power Stage. All three Hyundai i20 N Rally1 crews took Power Stage points with Solberg in fourth and Neuville fifth.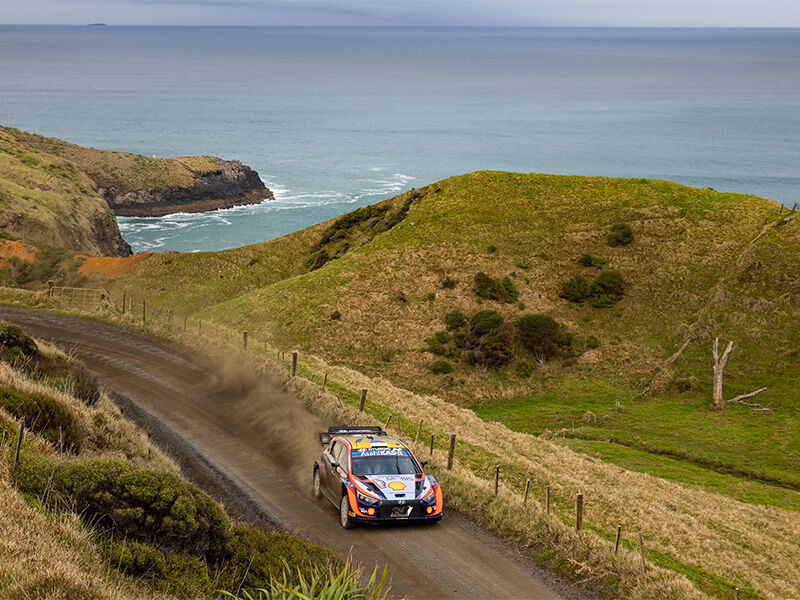 Crew Notes: Ott Tänak/Martin Järveoja (#8 Hyundai i20 N Rally1)
Stage win on SS15 took the crew's total number of fastest times this weekend to four
Four additional points for second quickest in the Power Stage
Tänak said: "Altogether, Rally New Zealand has been a difficult weekend for us, but it's been a great place to be, on amazing roads and fun to drive. We have not been up to the pace to fight for the win but we're still on the podium with a good finish to add points onto the board. Since the beginning of the year, we've not been in the drivers' championship fight, even if something was coming back in the middle of the season. Fair play to Toyota, and especially to Kalle, who has beaten everyone fair and square. Congratulations to them."
Crew Notes: Thierry Neuville/Martijn Wydaeghe (#11 Hyundai i20 N Rally1)
Crew secured fourth place after a difficult weekend
Solitary consolation point taken in the Power Stage
Neuville said: "Fourth place was about the maximum we could do this weekend with all the time penalties and the two spins we had on Friday. It was a bit of a harsh start to the event, so we really couldn't do much more. We were just in a waiting position today, with our only chance to gain positions dependent on those in front of us. We need to work on the car in these conditions; I just don't feel comfortable, and it's been a bit of a struggle for me to drive and go fast. We're getting there slowly but we're going to carry on working on it. It has been nice to come back to this rally, which is a very special event, far from home, even if it didn't go as we wanted."
Crew Notes: Oliver Solberg/Elliott Edmondson (#2 Hyundai i20 N Rally1)
Second consecutive top-five result for the crew after fourth in Finland
Another valuable weekend of learning with signs of encouraging pace
Sordo said: "It has not been a perfect weekend for sure, so to come away with a fifth-place finish is a real positive. We've had a lot of small things occurring that prevented us from getting into a good rhythm. I tried to push a bit in the Power Stage but, again, it wasn't great. At least we gave it a go. We have gained a whole lot of experience and learnings, for both us and for the car in the future. Thanks to the team for all their preparations for this long-haul event, and to the mechanics for sorting the car after all our issues this weekend."
"A quite frustrating rally for us and definitely not the result we came here for. We had too many issues and a general lack of pace to anything better. We will have to deeply analyse everything that went wrong and find solutions for the next events. Still, we haven't given up and all three cars made it to the finish. Ott showed again how competitive he is, keeping pressure on the drivers in front and fighting until the end to secure another podium. For Thierry, there was nothing to gain today and despite a big moment in SS16, he ended this rally in fourth scoring valuable points for Hyundai. Oliver did another strong rally finishing fifth overall, avoiding mistakes and showing promising times despite the tricky conditions and issues we have faced all weekend.Hyundai would like to extend its sincerest congratulations to Kalle Rovanperä and Toyota Gazoo Racing on securing the 2022 FIA World Rally Championship drivers' title. We are committed to fighting at the very highest level of this championship. The results demonstrated by Kalle and Toyota act as motivation and inspiration for all of us. Their performances this season offer an impressive benchmark. We will not stop pushing to improve our own competitiveness and look forward to close fights in the remaining rallies of this season. Well done also to Hayden Paddon who has scored a brilliant win in WRC2, showing again the competitiveness of our Hyundai i20 N Rally2 car. The next rally is Spain which we hope will suit our car better. The manufacturers' championship is still mathematically achievable, and we will fight until the end. Winning is our only aim." - Deputy Team Director Julien Moncet
Next rally
The 12th and penultimate round of the 2022 FIA World Rally Championship, Rally de España, takes place from October 20-23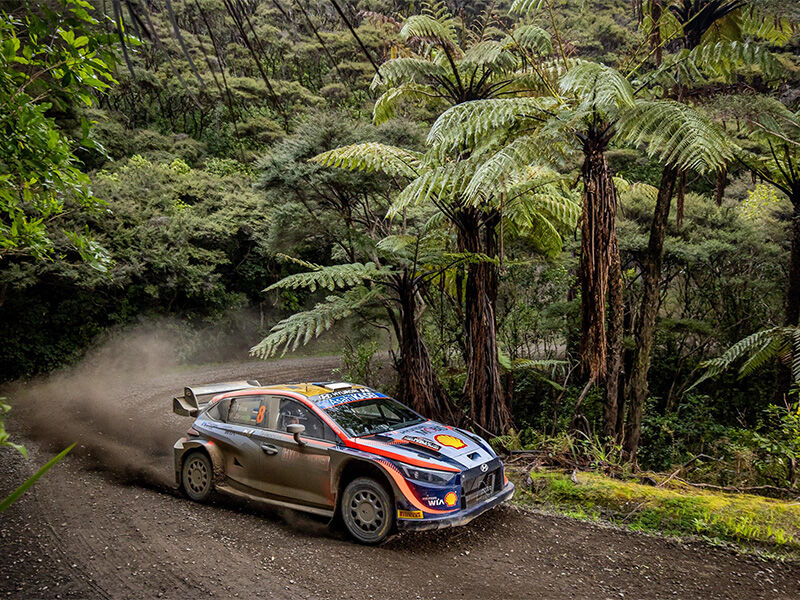 | | | | | |
| --- | --- | --- | --- | --- |
| 1 |   K. Rovanperä   |   J. Halttunen   |   Toyota GR Yaris Rally1   |   2:48:01.4 |
| 2 |   S. Ogier   |   B. Veillas   |   Toyota GR Yaris Rally1   |   +34.6 |
| 3 |   O. Tänak   |   M. Järveoja   |   Hyundai i20 N Rally1   |   +48.5 |
| 4 |   T. Neuville   |   M. Wydaeghe   |   Hyundai i20 N Rally1   |   +1:58.8 |
| 5 |   O. Solberg   |   E. Edmondson   |   Hyundai i20 N Rally1   |   +3:55.3 |
| 6 |   H. Paddon   |   J. Kennard   |   Hyundai i20 N Rally2   |   +10:03.7 |
| 7 |   L. Bertelli   |   L. Granai   |   Ford Puma Rally1   |   +10:39.0 |
| 8 |   K. Kajetanowicz   |   M. Szczepaniak   |   Škoda Fabia Evo   |   +12:36.8 |
| 9 |   S. Van Gisbergen   |   G. Weston   |   Škoda Fabia Evo   |   +13:28.8 |
| 10 |   H. Bates   |   J. McCarthy   |   Škoda Fabia Evo   |   +16:51.6 |
| | | |
| --- | --- | --- |
| 1 |   Toyota Gazoo Racing World Rally Team   |   455 |
| 2 |   Hyundai Shell Mobis World Rally Team   |   374 |
| 3 |   M-Sport Ford World Rally Team   |   224 |
| 4 |   Toyota Gazoo Racing World Rally Team NG   |   112 |
| | | |
| --- | --- | --- |
| 1 |   K. Rovanperä   |   237 |
| 2 |   O. Tänak   |   173 |
| 3 |   T. Neuville   |   144 |
| 4 |   E. Evans   |   116 |
| 5 |   T. Katsuta   |   100 |
| 6 |   C. Breen   |   77 |
| 7 |   E. Lappi   |   58 |
| 8 |   S. Ogier   |   55 |
| 9 |   D. Sordo   |   49 |
| 10 |   G. Greensmith   |   36 |
| 11 |   S. Loeb   |   35 |
| 12 |   O. Solberg   |   33 |