Hyundai Motorsport WRC Preview: Round 9 - Rally Finland.
Hyundai Motorsport heads to Rally Finland (August 3-6), round nine of the FIA World Rally Championship (WRC) in high spirits following a positive performance at Rally Estonia
Both Thierry Neuville/Martijn Wydaeghe and Esapekka Lappi/Janne Ferm are aiming to continue their podium streak at the WRC's fastest event on the calendar
Teemu Suninen/Mikko Markkula return for a second consecutive event looking to build upon a solid first event in the Hyundai i20 N Rally1 Hybrid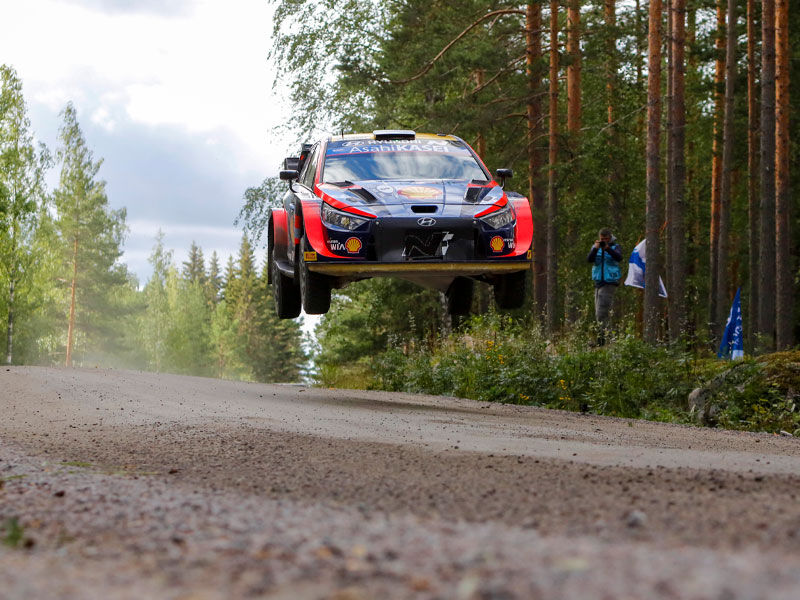 Hyundai Motorsport is aiming to replicate its success in Estonia at Rally Finland, the ninth round of the 2023 FIA World Rally Championship (WRC), which is due to take place this week (August 3-6).
Hyundai Shell Mobis World Rally Team demonstrated a competitive improvement on high-speed gravel at Rally Estonia, where both Thierry Neuville/Martijn Wydaeghe and Esapekka Lappi/Janne Ferm secured podium finishes. With Rally Finland featuring many similarities in profile, the team is confident of a seamless transition from the Baltic rally to the Scandinavian forests.
Rally Finland is one of the most exciting rallies on the WRC calendar. A country with a rich rallying heritage, Finland's mix of wide, fast roads and technical sections combined with flat-out speeds guarantee an exhilarating event. The Jyväskylä-based rally is also famous for its long daylight hours; the sun rises before five in the morning and does not set until after ten at night.
Hyundai Motorsport's two Finnish crews know exactly what it takes to win on home soil. Lappi/Ferm emerged victorious in the 2017 edition of the event and have finished on the podium on another two occasions. Suninen/Markkula finished first in the WRC2 category in 2021, and competed in the same class last year in the Hyundai i20 N Rally2. Both will be looking to leverage their local advantage to add to Hyundai Motorsport's podium tally.
Musings from Mikko
Rally Finland demands precision from both driver and co-driver alike, as explained by local expert Markkula.
Markkula said: "The most challenging aspect of Rally Finland is making the pace notes and getting into the right rhythm when you read them. The roads are high speed with a lot of crests and jumps, which also make the next corners blind. Both the drivers and us co-drivers need to anticipate those conditions really well. To ensure the pace notes are perfect, the drivers need to have a precise view of the optimal racing line. Then we need to place the crests and jumps correctly in relation to the previous, current or next corner. When you succeed in that, the driving rhythm is so much better." He continued: "This year, we have new stages and sections in the itinerary compared to last year. Of course it means more work in terms of our preparation, but with the speed of these current Rally1 cars it also brings extra excitement to tackle new ground. This year we have stages that none of the current drivers have done before; they will be a complete unknown for everyone, and it will be interesting to see who was best prepared. Everything in Rally Finland needs to be spot on."
Finnish Facts
The 2023 edition of Rally Finland is comprised of 22 stages with a total competitive distance of 320.56km.
The event was notoriously one of the most challenging for Hyundai Motorsport. The team claimed its first podiums at the event in 2021, when Ott Tänäk and the late Craig Breen secured second and third, and in 2022 Tänäk emerged victorious behind the wheel of the Hyundai i20 N Rally1 Hybrid. These results, combined with recent success on gravel, has the team confident it can once again challenge for the podium.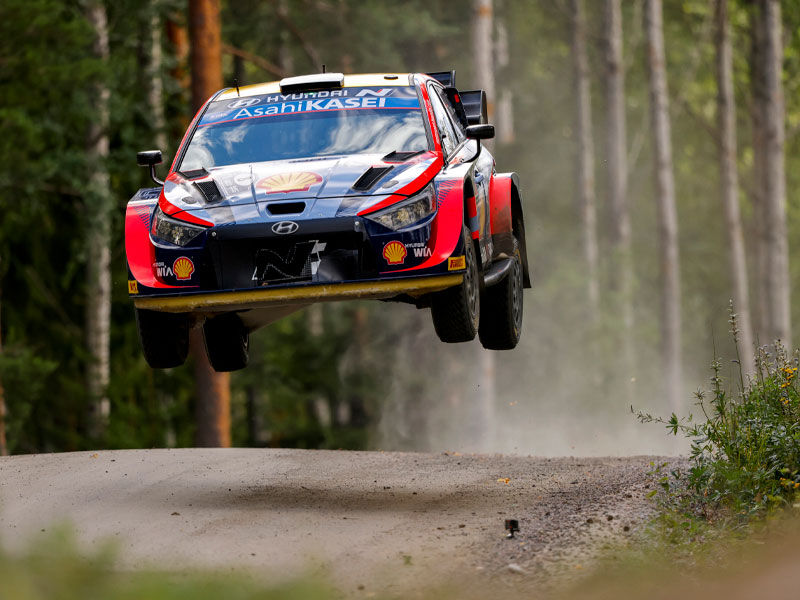 "We're feeling positive as we head to Rally Finland. We saw in Estonia how far we have come on these high-speed profiles compared to last year, but we also measure the work to be done to close the gap to Toyota. The small gap between events means that we may not be able to make huge strides, but it does make it easier for us to carry our positive momentum forward. The Hyundai i20 N Rally1 Hybrid was the winning car last year and our focus is on defending that victory to the best of our ability next week. Thierry and Esapekka did a strong job in Estonia, as did Teemu as he quickly got up to speed with the car; our mission is to repeat the performance as a minimum and have all three cars in the top five, but if possible one step higher." - Hyundai Motorsport Team Principal Cyril Abiteboul
Crew Notes: Thierry Neuville/Martijn Wydaeghe (#11 Hyundai i20 N Rally1 Hybrid)
Belgians target a second consecutive podium finish
Neuville currently holds third place in the driver's standings
Neuville said: "Fighting for the podium in Finland will be important in terms of the championship, but it's going to be tough. Finland is always difficult to predict; during the recce, you never really know what the actual speed will be when you arrive at certain points in your rally car, but my experience over the past years will help. Tyre choice here is very easy: only the soft tyre works, even when the temperatures are higher, because the wear isn't that high here. You need lots of precision and protection in the car for all of the landings. The competition will be fierce. Most of them are Scandinavian drivers, so they will be hard to beat, but we are feeling confident in ourselves and the car following our podium in Estonia."
Crew Notes: Esapekka Lappi/Janne Ferm (#4 Hyundai i20 N Rally1 Hybrid)
Finns looking to take to the top step at their home rally
Podium finish would mark crews' fifth with Hyundai Motorsport
Lappi said: "I would love to win this weekend in Finland. Regardless of the result, the atmosphere is exactly what you want to have in front of your home crowd - it's very special. Rally Finland is an event with a lot of crests and jumps and normally quite high grip, and it is famous for the incredible speed. To prepare for the rally we have to do some endurance training, but we also need some muscle to keep our spines alive because the landings are really hard on some jumps! We had some good fights in Estonia with our competitors, and I hope we can be in the mix again - hopefully in front of them - in Finland next weekend."
Crew Notes: Teemu Suninen/Mikko Markkula (#2 Hyundai i20 N Rally1 Hybrid)
Finns aiming to continue progression on home soil
Previously finished fourth overall in 2017
Suninen said: "Rally Finland is probably my favourite rally and this year it's going to be really interesting for us. I will take the good experience from Estonia to help prepare for Rally Finland. Almost all of the corners are over crests at least, if not jumps, and it's an amazing feeling when the car feels like it is flying every second corner. Maintaining focus will be a bit challenging because there is always something happening, so we basically have double pace notes. It's a lot of information coming from the co-driver as we have to be really focused and precise. I was really happy with what we achieved in Estonia, which has given me confidence we can continue to progress in Finland and make a step towards my team mates."
WRC2 Overview
Hyundai Motorsport's WRC2 crews will return for a consecutive event in Finland.
A strong weekend for the Finnish pairing of Emil Lindholm and Reeta Hämäläinen in Estonia saw the crew claim a fantastic WRC2 podium in their first experience of the Hyundai i20 N Rally2. With an impressive history in national rallies, Lindholm's familiarity with the high speeds and blind crests of Finland's stages should give him an advantage for the weekend.
Fabrizio Zaldivar and Marcelo Der Ohannesian finished 14th in WRC2 in Rally Estonia and now turn their attentions to improving on their position at Rally Finland. The Hyundai i20 N Rally2 crew secured seventh in the WRC2 category and fourth in the WRC2 Junior class in 2022.
Emil Lindholm said: "Rally Finland is one of the most demanding rallies of the year. In some ways it is similar to Estonia but the roads are a bit wider and faster; you need to be super committed. If you start lifting or left-foot braking you will immediately lose time. The mentality you need to have here is different to others – it is like a sprint race from beginning to end. To gain an advantage you need to be on point in every corner, because everyone is pushing to the limit, so you need to be a perfectionist with every turn. The competition in Finland is incredibly fast and we expect the fight will be just as tough as Estonia. I would love to win but a realistic target would be another podium. We aim to continue improving; we saw on Saturday in Estonia that our pace was closing in on the frontrunners, so I hope we will be able to carry on that path and get even better."
Fabrizio Zaldivar said: "We had a positive experience at Rally Finland last year, which is a foundation I would like to build on next week. WRC2 has been incredibly competitive this season and we know our rivals can be very strong on the fast Finnish routes. Luckily our team-mates know these roads just as well as anyone and we will work closely with them to maximise the outcome for Hyundai Motorsport N. We are still chasing a podium finish and it would be nice to mount a challenge for the top three."
Weekend at a Glance
After shakedown on Thursday morning, Rally Finland begins with the fan-favourite 3.48km Harju 1 Super Special Stage
Friday's nine-stage itinerary opens with the 11.78km Laukaa stage and closes with the second attempt of the Harju super special stage
Saturday features fewer stages yet the longest competitive distance, totalling 160.68km across two loops of Västilä, Päijälä, Rapsula and Vekkula
Sunday will round up the rally with 54.61km and four stages, with the second run of Himos-Jämsä acting as the event's Power Stage
Hyundai Motorsport: Rally Finland - Stat Attack