Hyundai Motorsport WRC round 6: Rally Italia Sardegna.
Hyundai Motorsport has taken its third victory of the 2020 FIA World Rally Championship with its third consecutive Rally Italia Sardegna win
Dani Sordo scored a repeat of his 2019 result in only his second WRC event of the season to help Hyundai Motorsport regain the lead of the manufacturers' championship
Thierry Neuville picked up his third podium of the year with a second-placed finish on an exciting final day in Sardinia, in which Ott Tänak took maximum Power Stage points
Hyundai Motorsport has reclaimed the lead of the 2020 FIA World Rally Championship (WRC) manufacturers' standings following a stunning 1-2 result for the team in Rally Italia Sardegna, the sixth round of the revised eight-event season.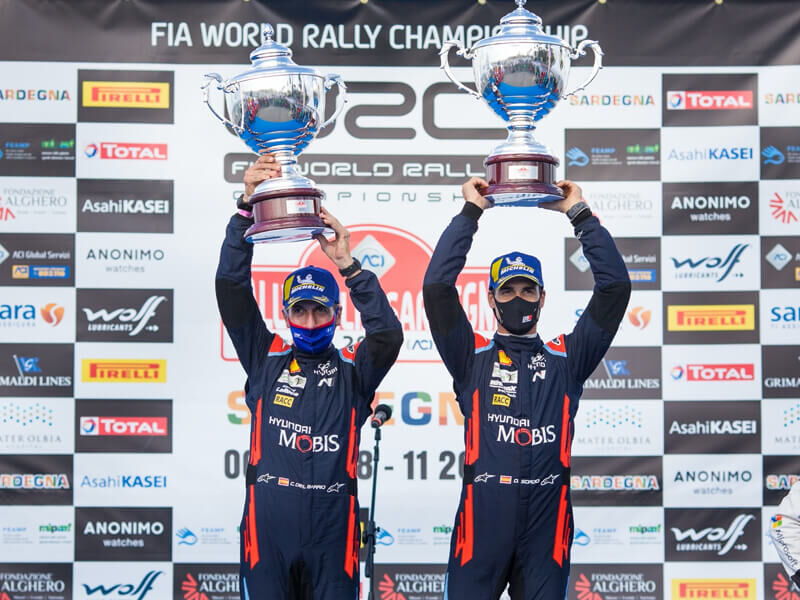 Dani Sordo and Carlos del Barrio celebrated a sensational repeat of their result from 2019, securing their second-ever victory for Hyundai Motorsport after an impressive performance in the Hyundai i20 Coupe WRC.
Thierry Neuville and Nicolas Gilsoul made it a 1-2 for Hyundai Motorsport as they ended the 16-stage rally in second place overall, securing the position with a hard push on the Power Stage. It marks their third top-three result of the season and moves Neuville up to third in the drivers' standings.
Ott Tänak and Martin Järveoja, having lost time and positions due to a suspension issue on Friday morning, finished in sixth place overall, but took some consolation from setting the fastest time in the Power Stage.
The result marks Hyundai Motorsport's fourth win on the Sardinian gravel rally - and third in a row - while Sordo and Del Barrio become the third different crew to triumph for the team in 2020. The performance underscores the improvements made to the Hyundai i20 Coupe WRC car this season and the strength in depth of the team's driver line-up.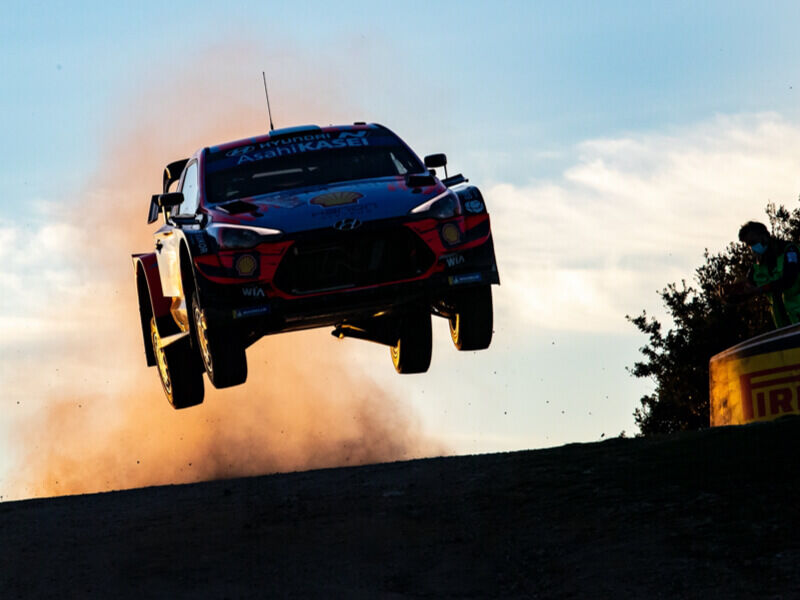 Sunday's itinerary covered familiar but challenging roads, a repeated loop of the 14.06km Cala Flumini and 6.89km Sassari-Argentiera stages. In only their second WRC event of the season, the Spanish crew had scored five stage wins on the opening days to establish a healthy 27-second lead heading into the final morning. However, losing time on both runs through Cala Flumini, the crew saw their advantage diminish to less than ten seconds ahead of the Power Stage.
Meanwhile, Neuville was giving his maximum to overhaul a 1.5-second deficit to second-placed Sébastien Ogier on the final stages of the rally. The Belgian added a second stage win of the rally in SS14, the first run through Sassari-Argentiera, and completed the job on the repeat of that stage to finish the rally just one second ahead of Ogier and 5.1-seconds behind their Spanish team-mates.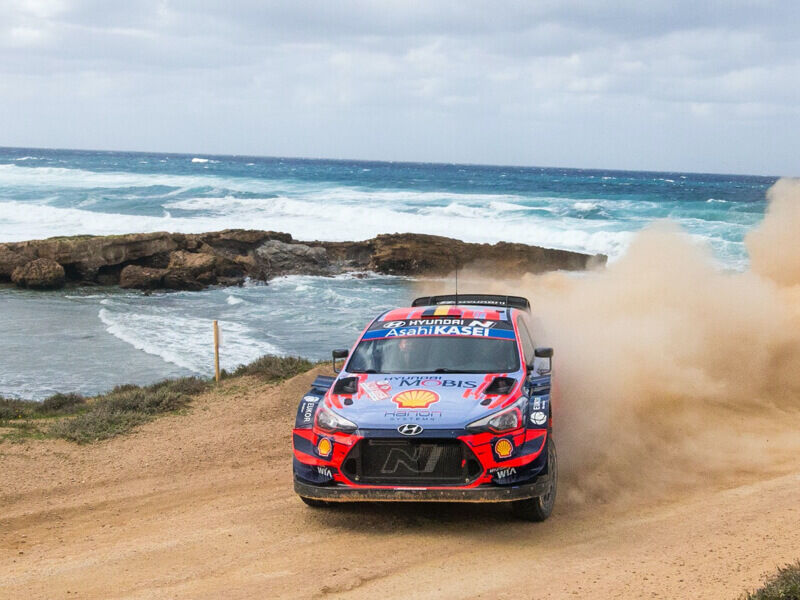 All three drivers added points to their championship totals in the Power Stage with Tänak taking the team's eighth stage win of the rally. The 1-2 result, the team's second of the season, has moved Hyundai Motorsport back to the top of the manufacturers' championship on 208 points, holding a seven-point lead with two events remaining.
Crew Notes: Dani Sordo / Carlos del Barrio (#6 Hyundai i20 Coupe WRC)
Second victory for Hyundai Motorsport, repeating the crew's result from 2019
Five stage wins over the weekend
Sordo said: "This is an amazing result and I am really happy to have taken my second victory for Hyundai Motorsport, at the scene of my first one last year. This place is really special, and we have seen a strong performance across the whole team. I am not particularly pleased with my pace today; we had a big lead coming into Sunday morning, but I wasn't able to set the same times as Thierry and Ogier, so things were a bit too close by the end of the Power Stage. Still, we were able to get the job done and to help the team move into the lead of the manufacturers' standings. Mission accomplished. Finally, I would like to take this opportunity to send - on behalf of myself and Carlos - our deepest condolences to the family and friends of Laura Salvo. We will always remember her."
Crew Notes: Thierry Neuville/Nicolas Gilsoul (#11 Hyundai i20 Coupe WRC)
Maximum attack on the Power Stage secured second place for the Belgian crew
Their third podium of 2020 also secured the team's second 1-2 of the year
Neuville said: "I am so happy to finish in second place and to collect four points from the Power Stage. The result moves us to third in the drivers' standings after a fantastic battle with Sébastien. I really enjoyed it. We did the best we could all weekend after a few issues which lost us some valuable time. Huge congratulations to Dani and Carlos for a beautiful victory, and to the team for this incredible 1-2, which has really helped our position in the manufacturers' championship."
Crew Notes: Ott Tänak/Martin Järveoja (#8 Hyundai i20 Coupe WRC)
Suspension problems on Friday hampered Estonians' rally
Fastest time in the Power Stage added five points to Tänak's championship total
Tänak said: "It has been a difficult and disappointing weekend for us. From the suspension problems on Friday, we knew we wouldn't be able to mount a serious challenge. We still kept pushing and supporting the team as best we could. Aside from the issues on Friday, the car has been OK, but we know we could have done so much more this weekend. We managed to complete the rally on a more positive note with five points in the Power Stage. The team is working really hard, as it has all season long, and they are doing a great job. We haven't had things go our way, but we'll push through and surely improvements will come."
Team Principal Andrea Adamo: "I am very pleased to have taken a 1-2 in Sardinia and to see Hyundai Motorsport back in the lead of the manufacturers' championship. It has been a difficult weekend, which started with some issues. My team - all the engineers, mechanics, drivers and co-drivers - have been completely focused on how to improve. I am amazed at what they have achieved once more, and I am happy to see how they are all working together in pursuit of our goals. I am honestly not sure if I deserve to work with such good people. Thierry and Nicolas did a fantastic job to take second place, while Ott and Martin were quickest in the Power Stage. I am very happy that Dani and Carlos have taken this victory. I know they were very close to Laura Salvo, so my thoughts are with them and with her family. We have five Hyundai Motorsport-built cars in the top-eight of the classification, which is testament to the work of our entire organisation, and my congratulations also go to Jari Huttunen for his WRC 3 success."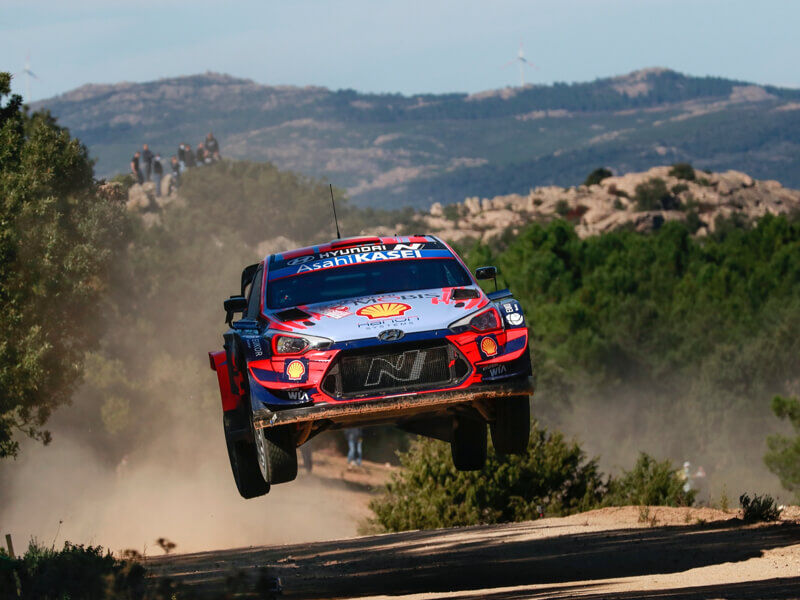 Next rally.
The seventh and penultimate round of the curtailed FIA World Rally Championship, Ypres Rally Belgium, will take place over the weekend of November 19-22
Following an announcement this week, the conclusion of the 2020 championship will be held in Italy, as Rally Monza takes place 4-6 December.
Final Overall Classification - Rally Italia Sardegna.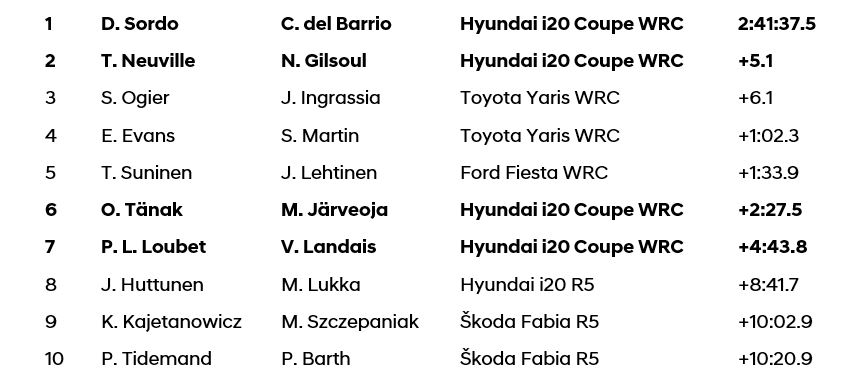 2020 FIA World Rally Championship for Manufacturers' Standings (after round 6)

2020 FIA World Rally Championship for Drivers' Standings (after round 6)