Two i30 N TCR run the six-hour Nürburgring 24 Hours Qualifying Race, tackling the famed Nürburgring Nordschleife
The event gave the Hyundai N team the chance to prepare for next month's Nürburgring 24 Hours, and test the endurance package for the car against the unique challenge of the circuit
The i30 N TCR claimed the fastest TCR class lap times ever around the 25km layout used for the Qualifying Race and the 24 Hours events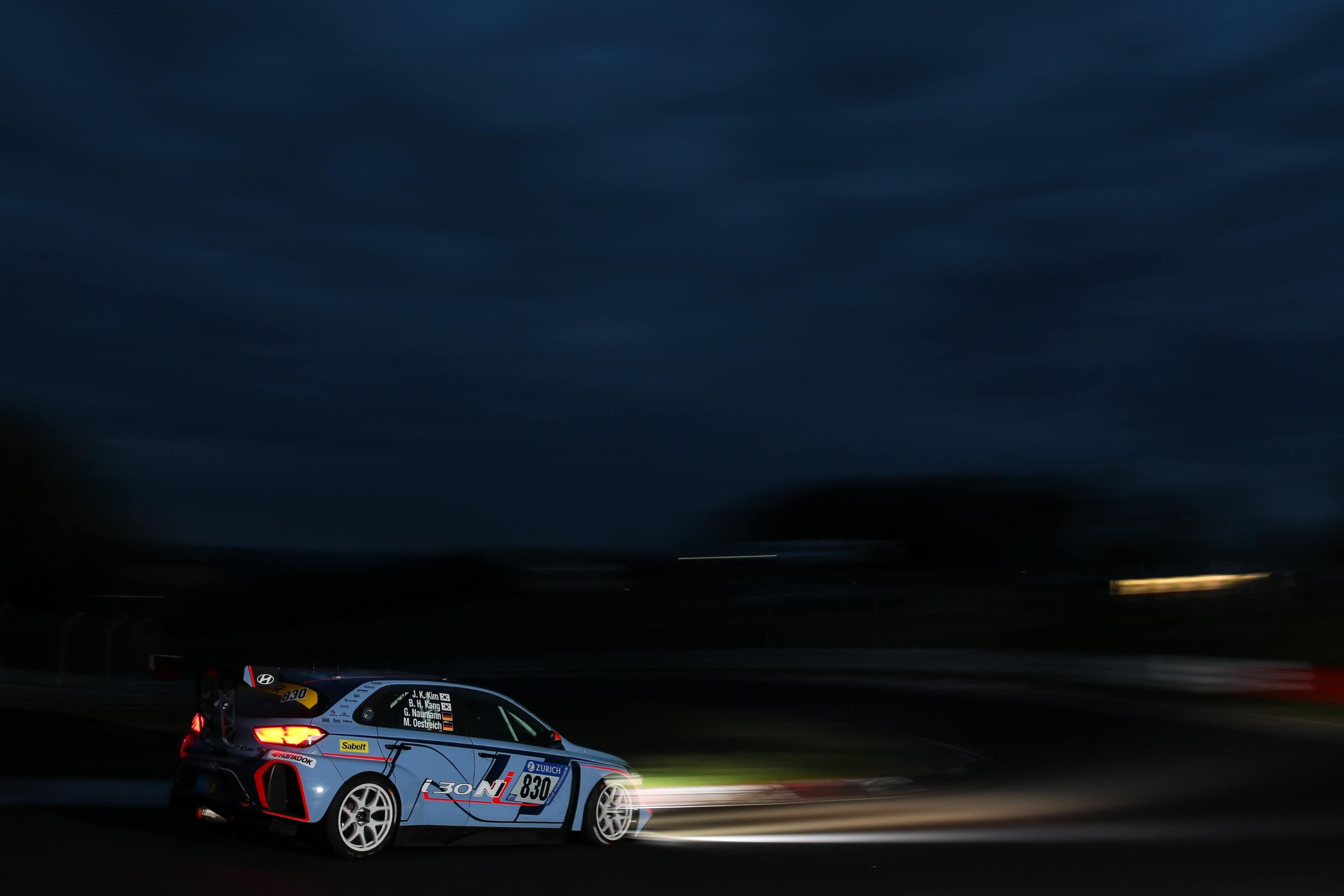 The i30 N TCR continued a successful start to the racing season, claiming a number of lap records with the Hyundai N team at the Nürburgring 24 Hours Qualifying Race. An experienced driving squad took control of two of the Hyundai Motorsport Customer Racing-built design, preparing for next month's ADAC Nürburgring 24 Hours, while putting the car – and a package of options designed specifically for endurance racing – up against the unique challenges of the Nordschleife.
The #830 entry for the weekend would be driven by young TCR Germany race winner Moritz Oestreich, Jae-Kyun Kim and racer/journalists Byung Hui Kang and Guido Naumann. The sister car, numbered #831, was shared between Nicola Larini, Manuel Lauck, Andreas Gülden and Peter Terting.
The i30 N TCR proved to be a formidable package throughout the weekend. In the opening qualifying session that ran into the darkness of Saturday evening the two Performance Blue machines comfortably led the TCR class. Such was the pace and agility of the car that Andreas Gülden was able to claim the fastest ever lap by a TCR-specification design on the 25km circuit. Not only was his lap of 9:03.206 a record for the category, but it also set a new benchmark for front-wheel-drive cars around the combined layout of the Grand Prix track and Nordschleife used the 24 Hours events and narrowly missing out on a surprise slot in the top-30 shootout that formed the finale to the qualifying sessions.
Both i30 N TCR exhibited the same pace in the race. Starting from the front of their group Terting and Oestreich fought against higher-spec GT4 entries throughout their stints, showcasing both the handling of the car, and the top speed crucial on the long Döttinger Höhe straight in the final part of the lap.
Unfortunately, while minor mechanical problems during the six-hour competition prevented the team from taking the overall result that pace deserved they were still able to claim second and third in class. The event also brought another accolade for the car, with the best lap of the #831 entry (9:05.905) eclipsing the previous race best in the TCR class.
Hyundai Motorsport Customer Racing Deputy General Manager Andrea Adamo said: "Of course the performance of the i30 N TCR this weekend was very encouraging, and another show of the potential of the cars after other strong results in the last few weeks. To claim the fastest ever front-wheel-drive lap on the track, let alone the best times for a TCR car shows what an impressive chassis and engine the i30 N TCR has. Unfortunately, we were not able to claim the overall result to match the speed that we showed all weekend. However, we now have to work on the minor issues from the weekend, so not only can we truly show the performance of the i30 N TCR during the 24 Hours, but we can continue to support our customers competing elsewhere."