Hyundai Motorsport has become the first team to take repeat victories in 2017 as Thierry Neuville scored a dramatic win in Rally Argentina 
The Belgian won a thrilling Power Stage battle against Elfyn Evans to triumph by just 0.7-seconds, one of the closest finishes in WRC history
Hayden Paddon finished the rally in sixth position, with Dani Sordo in eighth, as the team strengthens its Championship position after five rounds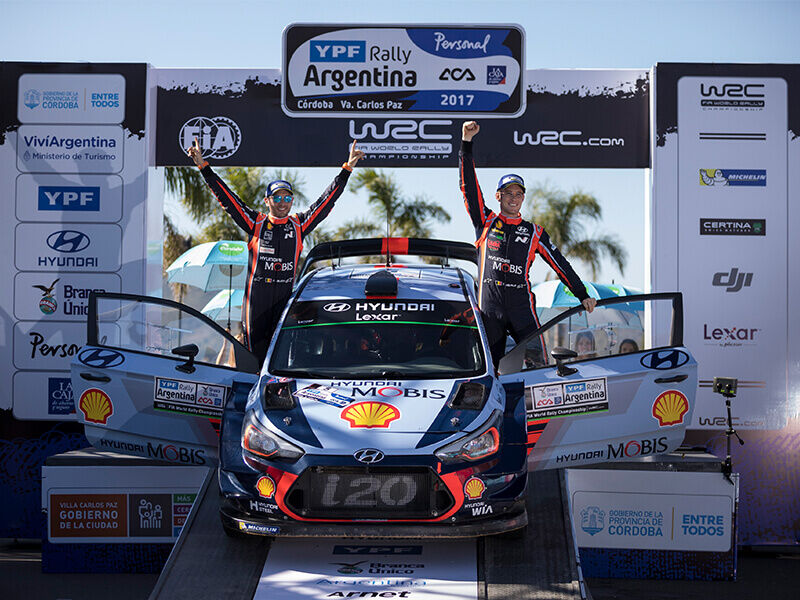 In one of the most electrifying WRC finales in memory, Hyundai Motorsport has claimed a stunning victory in Rally Argentina, the fifth round of the 2017 FIA World Rally Championship (WRC), with Thierry Neuville and Nicolas Gilsoul.

The result marks the team's second win in a row after Tour de Corse, and its fifth WRC victory in total. Not only is it the first time that Hyundai Motorsport has secured back-to-back successes, the Belgian crew also become the first repeat winners of the 2017 season.

It was a less positive final day for the two other Hyundai Shell Mobis World Rally Team crews. Hayden Paddon and co-driver John Kennard took sixth place overall, despite experiencing power steering issues for most of the final stage.

Meanwhile, the troubles continued for Dani Sordo and Marc Martí as they picked up a front-right puncture in the Power Stage. They were able to bring their car home to take eighth overall.

Epic showdown
After a torrid start to the rally on Friday, the #5 crew of Neuville and Gilsoul began an epic fight-back on Saturday to reduce the gap to rally leader Elfyn Evans. From one minute down at the start of the second day, they started Sunday's three stages with just an 11.5-second deficit. With an incredible stage win in SS17 (Mina Clavero – Giulio Cesare), the duo reduced the gap to just 0.6-seconds.

The stage was set for the ultimate showdown with two crews vying head-to-head for victory in the El Condor Power Stage. A quick and clean run by Neuville was enough, as he triumphed by a mere 0.7-seconds. The result enters the history books as the third closest ever finish in WRC after Rally Jordan in 2011 (0.2s) and Rally NZ in 2007 (0.3s).

Taking Power stage spoils as well, Neuville picked up the maximum 30 points on offer in Argentina to advance to third in the increasingly close-fought Drivers' standings.

Crew Notes: Neuville/Gilsoul (#5 Hyundai i20 Coupe WRC)
Neuville and Gilsoul took a total of five stage wins over the Rally Argentina weekend as they put in an impressive comeback. Today's win represents their fourth WRC win as a Hyundai Motorsport crew and the first time they have won twice in a single season. Victory in the final El Condor stage also continued Neuville's unbroken run of Power Stage points this year, which now totals 19.

Neuville commented: "I cannot believe it. I have never had such a nerve-wracking final few minutes of a rally in my career. It's an amazing result and I have to say thanks first of all to the team for everything they've done. Congratulations also to Elfyn, who put up an incredible fight this weekend. I gave it absolutely everything I had in today's final stages. After the difficult start to the rally, I would have been happy to take second but it's a special feeling to win again. It has been an exciting but crazy rally from the start, so to come away with the victory is fantastic. We wanted to build up our momentum after Corsica and this was the perfect way to do just that. To have the Power Stage win is just the icing on the cake and gives us a very important boost in the Drivers' and Manufacturers' Championship. We could not have asked for more." 

Crew Notes: Paddon/Kennard (#4 Hyundai i20 Coupe WRC)
Paddon and Kennard had little in the way of good fortune this weekend, in an event that they impressively won twelve months ago. Today's Power Stage may have been reminiscent of their experiences from 2016, but their own result was a stark contrast. Two stage wins on Friday were a highlight of a tough weekend.

Paddon said: "You could not have written a script more opposite to what we had here last season. We've gone from a career high to a result that is much lower on the scale. I just can't believe our luck. Our issue on Friday was long behind us as we started to show some improved performance. There was not much we could do about our position but we wanted to build a rhythm.  I didn't have the feeling with the car in this morning's stages, and that culminated with a power steering problem in the Power Stage. We struggled to the finish but sixth place is not where we want to be." 

Crew Notes: Sordo/Martí (#6 Hyundai i20 Coupe WRC)
Sordo and co-driver Marc Martí were unable to recover from their huge 11-minute deficit on Friday after breaking a steering arm on SS3 (Amboy / Anta Monica). Starting first on the road on Saturday and the opening stages of Sunday meant the Spanish crew could only focus on bringing the car home. A puncture on the Power Stage only compounded their frustrations.

Sordo said: "It has been a horrible weekend for us. The rally was over almost as soon as it had begun, really. When you lose so much time early on in the event, as we did, it is impossible to regain that. We just had to concentrate on bringing the car to the end but even that was difficult. The puncture on El Condor came at the beginning of the stage, and it typified our luck this weekend. Incredibly unfortunate and it's a shame because I feel that we had the car to do better. I just want to put this behind us and look ahead to Portugal."
One to remember
Hyundai Motorsport is proud to have played a part in one of the WRC's closest finishes of all-time. Argentina becomes the first rally where it has taken repeat victories with a Power Stage finale just as nail-biting as it was in 2016. With this result, the team has strengthened its grip on second place in the Manufacturers' Championship.

Team Principal Michel Nandan said: "What an incredible finale for a thrilling rally. Our congratulations to Thierry and Nicolas for a victory that we'll all remember for a long time, and to Elfyn and M-Sport for putting up such an incredible battle. To win by such a small margin after 360km is remarkable, and it's no surprise that it's one of the closest finishes ever. Argentina is a tough place to come rallying and we knew it would be hard on these new cars in their first event here. We had our fair share of issues and misfortune across all three cars, but it's sometimes a question of fighting through to the finish. Hayden and Dani's Power Stage was full of drama, which really summed up their respective rallies. We have plenty of learning lessons from this event, which will use to improve our Hyundai i20 Coupe WRC for the coming gravel events. For now, though, we can celebrate an important victory. We are very happy to become the first team to win two rallies this season – and we hope we can achieve more."
 
Next Rally
The WRC will now return to Europe for Rally de Portugal, which takes place from 18-21 May, the second of five consecutive gravel events.