Big in SUVs: all-new Hyundai Palisade.
All-new Palisade large SUV takes its place as Hyundai's flagship model
Luxurious Palisade has the perfect blend of comfort, practicality, safety and technology in an ultra-stylish seven- or eight-seater
Convenience comes as standard with seven USB ports and 16 cup holders
Palisade and Highlander variants offered as 2WD petrol V6 or AWD turbo-diesel
Hyundai Palisade on sale now from $60,000 MLP
The all-new Palisade has arrived in Australia, taking its place as the spacious, safe and luxurious flagship of the Hyundai vehicle range.
All-new Palisade delivers modern elegance in a full-size, family SUV that indulges occupants on every level.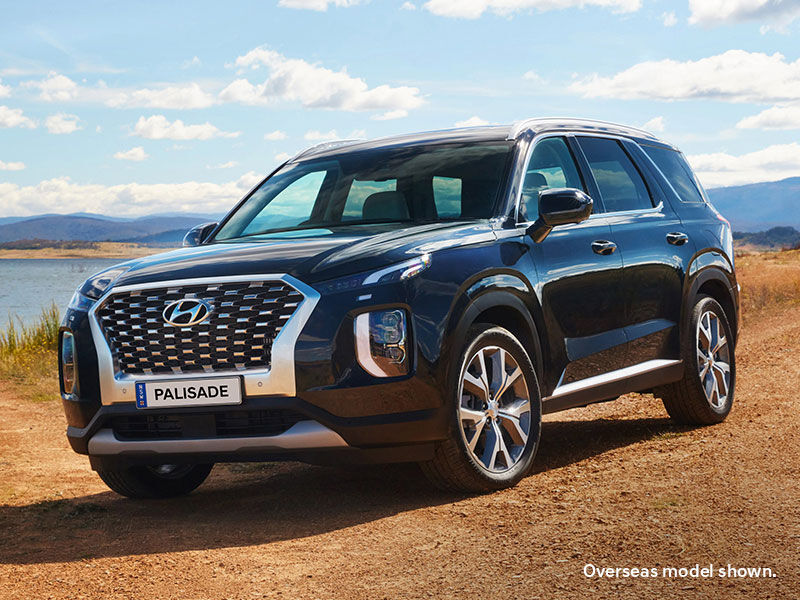 Palisade gives customers the perfect blend of exceptional comfort and practicality, with smart technologies and the uncompromising safety of the latest SmartSenseTM features, in a bold and ultra-stylish seven- or eight-seater.
Along with new 2021 Santa Fe, Palisade leads Hyundai's '18 models in 18 months' product onslaught towards a new and comprehensive line-up, which will include seven SUV models by the end of 2021, encompassing EV, FCEV and hybrid powertrains.
Palisade is engineered to appeal to buyers of large SUVs who want a more car-like driving experience than a body-on-chassis 4WD can provide.
People-mover buyers who require eight seats, but prefer the style, flexibility and driving qualities of an SUV, will also be attracted by Palisade.
Right-hand drive Palisade was developed primarily for Australia, with a focus on delivering superb safety, stability and dynamics for our unique tastes and conditions.
With HTRAC Advanced AWD and a Multi-Terrain Control system, Palisade has the capabilities to tackle the toughest challenges, and comes complete with a full-size spare wheel and 2,200kg tow rating.
"We're pleased to introduce all-new Palisade large SUV as the flagship of the Hyundai range, featuring the perfect blend of smart technologies and luxury features," said Hyundai Motor Company Australia Chief Executive Officer, Mr Jun Heo.
"With seven or eight seats and advanced HTRAC AWD, all-new Palisade delivers a stylish, safe and comfortable SUV experience for the whole family, with superb capabilities on and off the road."
"All-new Palisade gives momentum to our '18 in 18' product onslaught, which will see the Hyundai range refreshed through 2021 and beyond, with an exciting new line-up of SUV and passenger models featuring an array of alternative powertrains," he said.
Hyundai Palisade: Range overview.
A simple two-tiered line-up for all-new Palisade makes it easy for buyers to choose the grade that best matches their lifestyle.

Each grade is offered with a choice of a 3.8-litre V6 GDi engine with front-wheel drive, or a 2.2-litre four-cylinder CRDi engine with all-wheel drive, both teamed with an eight-speed automatic transmission.
The range-opening Palisade variant features as standard a cutting-edge 7-inch full LCD Supervision instrument cluster and a clear and intuitive 10.25-inch satellite navigation unit.
Inside features leather upholstery as standard, as well as a power-adjustable driver's seat, three-zone air-conditioning and Infinity premium audio.
Ensuring the utmost convenience are a futuristic Shift-by-Wire gear selector buttons, keyless entry with push-button start and an electric park brake.
There are six airbags, including side curtain airbag protection for all three rows, as well as a range-standard suite of SmartSense™ technologies.
These include multi-function Forward Collision-Avoidance Assist (FCA), Driver Attention Warning (DAW) and Blind-Spot Collision Avoidance-Assist (BCA) systems.
There are also Lane Following Assist (LFA) and Rear Cross-Traffic Collision-Avoidance Assist (RCCA) systems, and Smart Cruise Control (SCC) with Stop & Go.
The top-of-the-range Palisade Highlander brings, in addition, Nappa leather upholstery with a suede headlining, 12-way power adjustable driver's seat with memory function and 8-way power adjustable passenger seat.
The front seats offer both heating and ventilation, with the comfort of a heated steering wheel. Second row seats also offer heating, with 7-seat variants adding ventilation.
There's a dual-panel wide sunroof with tilt function, wireless (Qi standard) smartphone charger, Head-Up Display (HUD), a powered hands-free tailgate, and 20-inch alloy wheels.
Highlander also adds a Blind Spot View Monitor (BVM) and a Surround View Monitor (SVM).
INTERIOR.
All-new Palisade creates a sense of elegance through a sweeping, horizontal motif, with a luxurious feel through the application of a premium-trimmed crash pad and console with a satin chrome garnish.
A unified instrument cluster and multimedia unit brings a futuristic and clear display of the various vehicle functions and completes a classy image.
An elevated bridge-style centre console design places key controls within easy reach as well as creating the impression of a high-tech command centre.
An optimised cabin layout in all-new Palisade creates maximum space and practicality for occupants as well as cargo.
Highlander variant brings the option of a seven-seater layout, with its pair of heated and ventilated second-row seats.
Palisade looks after its occupants down to every detail, such as the seven USB ports and 16 cup-holders placed conveniently around the cabin.
A boarding step and 220mm foot clearance into the third-row greatly enhance entry and egress.
Electric release buttons in Palisade's cargo area allow users to fold Palisade's second-row seatbacks flat with a simple press.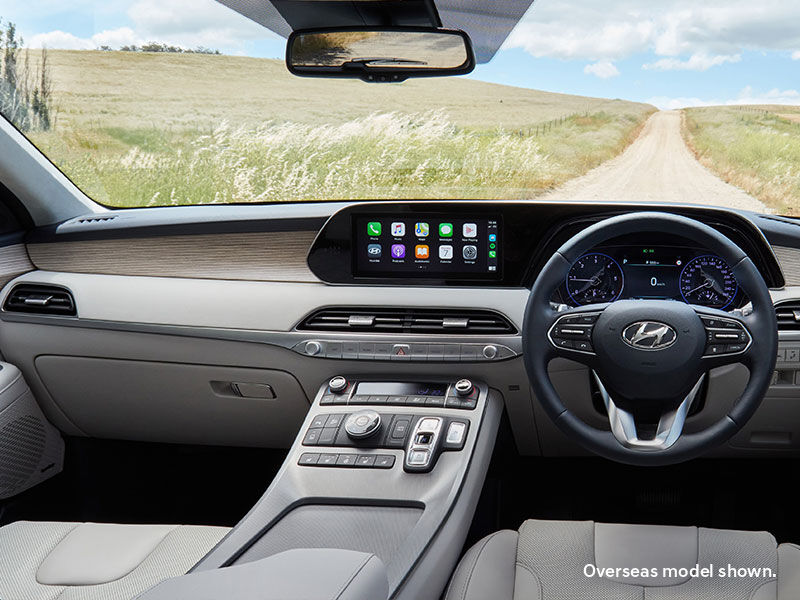 EXTERIOR.
All-new Palisade showcases bold and elegant design befitting of Hyundai's flagship model.
A wide, dominant cascading grille is flanked by high-tech, composite headlights and a vertically-connected forward lighting signature, to create a powerful and distinctive impression.
In profile, a powerful, extended bonnet develops Palisade's strong road presence, while a bold C-pillar design and wide third-row daylight opening convey generous third-row spaciousness.
A crisp character line connects the front and rear lighting elements, while muscular detailing such as robust over-fenders and sill cladding completes an impressive silhouette.
At the rear, Palisade emphasises a wide and stable stance through crisp and confident detailing incorporating a vertical LED tail-light design.
A cutaway roof complements the ample third-row glasshouse, enhancing the generous sense of spaciousness for rear occupants.
Exterior colours & upholstery.
Palisade is available in six mica and metallic paint colours.
Inside, Palisade variant features black leather upholstery with metallic-look interior panels and a knit headlining, and Highlander variant introduces Nappa leather upholstery with a suede headlining.
There is a choice of burgundy Nappa leather or beige Nappa leather with beech wood look interior panels.
Palisade variant paint colours include the standard White Cream Mica, and the premium Timeless Black, Steel Graphite, Sierra Burgundy and Rain Forest.
Highlander with burgundy upholstery is available in White Cream, Timeless Black or Sierra Burgundy.
The Highlander-specific Moonlight Cloud Mica paint is available with beige upholstery, along with Steel Graphite.
POWERTRAINS.
A powerful and refined 3.8-litre petrol engine in Palisade develops 217kW and 355Nm, and is paired with Hyundai's in-house developed eight-speed automatic transmission and front-wheel drive. The Lambda II V6 uses 10.7L/100km on the official combined cycle.
A 147kW, 440Nm 2.2-litre turbo-diesel engine is also available, teamed with Hyundai's eight-speed automatic and all-wheel drive. The R-designated, Euro 5 four-cylinder uses 7.3L/100km on the official combined cycle.
CHASSIS AND SUSPENSION.
All-new Palisade's boldly stylish body provides generous space for up to eight occupants, within a highly rigid monocoque that provides the basis for exceptional safety and superb dynamics.
Structural optimisations include reinforced, hot-stamped door-opening and rear side members, and an underbody structure designed to absorb and disperse collision forces.
In addition, a new design for the sunroof opening incorporating reinforced support members achieves structural rigidity equivalent to a fixed roof.
Palisade's collision-mitigation structure is optimised through the extensive use of ultra-high-tensile steel.
Ultra-rigid construction along with laminated front glass and extensive insulation material in the dash, underfloor, tunnel and body cavity regions ensures a supremely quiet ride in Palisade.
Aerodynamic drag-reduction techniques, including specially shaped A-pillars and a boat-tail rear turret design, and front and centre-floor under-covers, result in an impressively low drag coefficient of 0.33, which contributes to minimising fuel consumption and wind noise.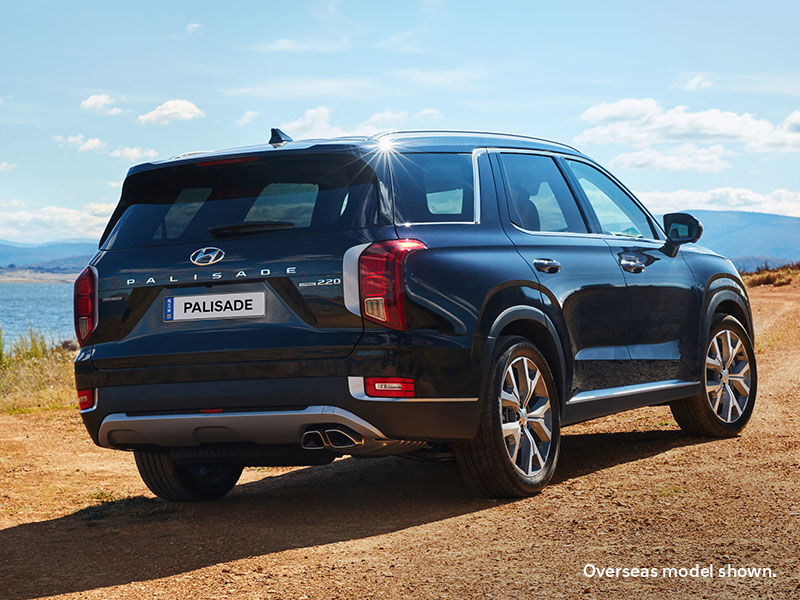 Chassis tuning.
Palisade is among the first Hyundai models to benefit from a new chassis tuning approach, which has evolved as a natural development of the local tuning program deployed by Hyundai Australia's engineering team for the last decade.
The result, showcased in Palisade, is "a testament to the high-quality work being carried out at the Namyang R&D centre now and the close collaboration we have developed with our talented engineering colleagues in Korea," said Hyundai Motor Company Australia Product Planning and Development Specialist Tim Rodgers.
The new approach sees Hyundai Australia involved early in the technical development of any given model, providing Australian input to help achieve the 'flavour' of the tune required for our specific market.
"We have worked closely with Namyang chassis engineers almost a decade now. With a large number of engineers having visited Australia for tuning programmes many times and driven on our roads, they have developed an intimate understanding of what this market requires," said Rodgers.
"This understanding of the dynamic qualities needed in Australia and how to achieve them means we can achieve the same results from the get-go."
"After the HMC team at Namyang finished their initial setup, we drove and evaluated the vehicle on the Namyang proving ground to assess high speed stability and dynamics, and were immediately impressed," Rodgers said.
"Once the car landed locally, we examined every element of its dynamic performance on local roads, from the tyres - checking NVH and grip levels - to roll response, body heave, body control, and all the minutiae of body movement. The process of evaluation and sign-off incorporated every possible road surface and road type, both in the city and country."
"At the end of that process, we were confident in the way this vehicle rides and handles," said Rodgers. "There were no need for any changes, and we think customers will enjoy its combination of agility, comfort and responsiveness."
COMFORT, CONVENIENCE AND CONNECTIVITY.
Head-Up Display (HUD).
Head-Up Display projected onto the windscreen presents vehicle speed, navigation commands, speed limits and traffic sign info, as well as alerts from active safety and driving assistance features.
The HUD allows users to select required information for display, as well as height, rotation and brightness, to ensure excellent visibility across a range of lighting conditions.
Blind Spot View Monitor (BVM).
A Blind-Spot View Monitor provides a video image of Palisade's left and right blind-spot zones in the 7-inch display cluster when the corresponding turn signal is in operation, to support safe lane-change manoeuvres.
Surround View Monitor (SVM) with Parking Guidance.
All-new Palisade features a Surround View Monitor that presents a bird's eye view of the vehicle to enhance vision and confidence when manoeuvring in confined spaces.
A Rear View Monitor (RVM) system allows the rear camera display to remain on during driving as required, so that the driver can monitor the road conditions behind the vehicle.
A Parking Guidance function displays guide lines that swivel automatically as the steering wheel is turned.
Shift by Wire transmission.
All-new Palisade utilises shift-by-wire technology to replace a conventional gear lever with neat gear-selection pushbuttons, bringing a futuristic feel, and freeing console space.
The SBW system is complemented by manual paddle shifters behind the steering wheel.
7.0-inch LCD gauge cluster display.
A 7.0-inch colour LCD supervision cluster features in every Palisade. It presents a digital speedometer, a range of trip computer information, along with system status and visual alerts from SmartSense™ and other safety systems.
10.25-inch satellite navigation system with Infinity premium sound system.
A high-tech 10.25-inch touch-screen is integrated into the top of Palisade's dash, to give front occupants a clear overview of navigation, audio and other information, with a choice of panoramic map view, or split-screen navigation/audio display.
Smartphone connectivity via Apple Carplay™ or Android Auto™ allows users to perform the operations usually carried out on the handset in a safer manner via the in-dash multimedia touchscreen.
An Infinity premium audio system treats occupants to crisp and powerful surround sound from 12 speakers spaced around the cabin.
Wireless (Qi standard) smartphone charging.
A wireless charging pad in the centre console, allows users to charge a compatible Qi-enabled smartphone without the use of untidy cables.
Three-zone climate control air-conditioning.
All-new Palisade's climate control air-conditioning system ensures maximum comfort and convenience for occupants by automatically maintaining the set temperatures.
Three sets of fully automatic controls give the driver, front passenger and rear occupants the superb luxury and comfort of being able to set their own temperature preferences.
If ever there is a large difference between a climate control setting and the cabin temperature, the seat and steering heaters will be switched on automatically.
Palisade's air-conditioning features a new diffuser vent design that provides quieter rear airflow, draft-free operation, and more uniform distribution of air, as well as the capability for a focused stream of air when desired.
Driver Talk.
A Driver Talk feature uses a high-definition microphone and Palisade's audio system to allow the driver to speak to second- and third-row occupants without raising their voice.
The system automatically compensates for road and wind noise as the vehicle's speed rises, so the driver can always be heard clearly through the C-pillar speakers.
Quiet Mode.
Quiet Mode mutes the speakers in the rear, and sets the front speakers to seven or below, to allow rear occupants the hush needed to talk to each other, or to get some sleep.
Remote rear air-conditioning control.
Remote control of the rear air-conditioning lets the driver easily adjust the settings for rear occupants, and brings the ability to disable the rear air-conditioning controls.
Electrically adjusted driver's and passenger's seats.
Palisade features a 10-way electrically adjustable driver's seat with lumbar support, and Highlander variant builds on this with a 12-way electrically adjustable driver's seat, including seat cushion extenders, to ensure a comfortable seating position is possible for a range of drivers.
Front passengers also benefit from eight-way power operated seat adjustment.
Heated and ventilated seats.
Palisade Highlander gives front occupants the year-round comfort of heated and ventilated seats, as well as a heated steering wheel.
Three-stage heating elements warm the seats in cool weather, and three-stage ventilation fans blow a gentle stream of cooling air through the leather perforation during hot weather.
Highlander adds heated second row seats, with seven-seater variants also offering ventilation.
Power sunroof.
A powered, tilt and slide wide glass sunroof brings light and a sense of openness to Palisade's cabin.
The large, dual-panel roof features a motorized rear sunblind.
Front seat back USB port & pocket.
The front seatbacks feature USB ports and storage pockets, so that second-row occupants can plug in and charge their personal electronic devices.
Smart one-touch walk-in & folding.
A second-row walk-in switch brings improved convenience for third-row entry/egress as well as cargo loading.
Third-row seat recline function.
Palisade's third-row seatbacks can be reclined by 10 degrees, to reach a more comfortable position for adults.
Child seat anchor.
Palisade features a total of five top tether child seat anchor points in eight-seat variants (four tether points in seven-seat variants).
Additionally, two ISOFIX anchors in the second row, and one in the third row, make the installation of child seats quick, easy and secure.
SMARTSENSE SAFETY.
In addition to its superb passive safety, all-new Palisade features an extensive standard suite of advanced SmartSense™ technologies.
Blind-Spot Collision-Avoidance Assist (BCA).
The Blind-Spot Collision-Avoidance Assist (BCA) system incorporates two functions – Blind Spot Collision Warning (BCW) and Active BCA.
BCW uses the windscreen-mounted camera to detect Palisade's positioning within the lane, and radar sensors on either side of the rear bumper to detect vehicles next to and diagonally behind Palisade. The system is in operation at speeds of 30 km/h or more.
If a vehicle is present in the Palisade's blind spot, BCW displays an alert in the exterior mirrors. If the driver proceeds to activate the corresponding indicator lights, a flashing warning is provided and an alert is sounded.
The system also scans for vehicles approaching rapidly from the rear, and uses the same warning measures to alert the driver to the presence of rapidly approaching vehicles that may soon enter Palisade's blind spot.
Active BCA can initiate the Electronic Stability Control (ESC) system to help avoid a collision with an approaching vehicle next to or behind Palisade, which it deems as being at a high risk of contact due to its proximity.
As an avoidance measure, the ESC system applies moderate braking force to the wheels on the opposing side of the potential collision, to gently steer the vehicle away from danger, to reduce the likelihood of collision and/or help to mitigate damage.
Active BCA is operational at speeds between 60 km/h and 180 km/h.
High Beam Assist (HBA).
High Beam Assist (HBA) scans the road ahead of Palisade using the windscreen-mounted camera, monitoring for street lights, as well as headlights and taillights of vehicles in front.
Upon detection, the system automatically adjusts headlight range, switching between high and low beam.
HBA is active at speeds of 45km/h or above and is operational when the light switch (on the indicator lever) is placed in the Auto position and the lever pushed away from the driver.
Rear Cross-Traffic Collision-Avoidance Assist (RCCA).
Rear Cross-Traffic Collision-Avoidance Assist (RCCA) monitors for traffic approaching on either side of Palisade when reversing out of perpendicular parking spaces.
Should RCCA detect a vehicle approaching, a chime will sound and an alert displayed on the dash cluster and multimedia screens, and in the corresponding exterior mirror.
In the event the driver does not respond to a warning, the system may activate the Electronic Stability Control (ESC) system to apply braking force and help avoid a collision with the approaching vehicle.
The RCCA system utilises the BCA system's radar sensors, and is in operation when travelling at 10km/h or below. It can detect approaching vehicles travelling at speeds between 8 km/h and 36km/h.
Driver Attention Warning (DAW) with Leading Vehicle Departure Alert.
Driver Attention Warning (DAW) continually monitors the vehicle's position within the lane using the windscreen-mounted camera, while tracking steering inputs, brake pedal inputs, and elapsed time since last break.
Should the system detect careless driving - such as sudden steering/braking inputs and/or inability to keep within a lane - the 'Attention Level' display on the cluster will continually decrease.
Should the level decrease to a certain threshold, the DAW system will recommend that the driver takes a break.
DAW is in operation at speeds between 60km/h and 180km/h.
The system also features Leading Vehicle Departure Alert, which monitors the vehicle ahead when Palisade is stopped in traffic.
If the vehicle ahead drives off, and the Palisade driver fails to accelerate away, the system will sound a chime to alert the potentially inattentive driver.
Lane Keeping Assist (LKA) System.
Lane Keeping Assist (LKA) System consists of two modes - Lane Departure Warning (LDW) mode, and Lane Keeping Assist (LKA) mode.
LDW detects lane markings and monitors the vehicle's position in the lane using the windscreen-mounted camera.
Should the vehicle stray from the intended lane without the indicators being activated, audible and visual warnings will be issued.
LKA can be activated at speeds of 64km/h or above where lane markings on both sides of the vehicle are detected.
LKA helps prevent the vehicle from straying from the lane by providing steering intervention should the driver not react to warnings from the LDW system.
Both LKA and LDW are momentarily deactivated whenever turn signals are active.
Additionally, the driver must maintain control of the vehicle by holding the steering wheel.
Lane Following Assist (LFA).
Lane Following Assist (LFA) detects lane markings on the road using the front windscreen-mounted camera, and provides steering assistance to ensure the vehicle stays in the centre of the lane.
When the system is activated, the indicator on the cluster will illuminate.
The colour of the indicator will change depending on the condition of LFA system. Green indicates that the system is enabled, and white indicates that the system is ready.
Safe Exit Assist (SEA).
In Highlander variants the Safe Exit Assist (SEA) system reduces the likelihood of occupants exiting Palisade when the surroundings make it unsafe to do so.
The system works in conjunction with the radar sensors on either side of the rear bumper to detect vehicles approaching from the rear.
When the vehicle is stopped and SEA is active, the system scans the rear path of the vehicle.
If a door is opened while an approaching vehicle is detected, the system will issue an audible alert and display a warning in the instrument cluster, advising that the exiting occupant should 'watch for traffic'.
The electronic child safety lock system provides and additional layer of protection, by allowing the driver to lock the rear doors via a switch, to prevent children seated in the rear of Palisade from opening the doors.
Additionally, the electronic child safety locking system works with the SEA system to prevent the unlocking of the rear doors when it is not safe to do so, providing an additional SEA message advising that the exiting occupant should 'check surroundings then try again'.
Smart Cruise Control (SCC) with Stop & Go.
Smart Cruise Control (SCC) with Stop & Go detects the speed and distance of vehicles ahead of Palisade.
SCC maintains a safe distance to the vehicle ahead, up to a pre-set speed, between 30km/h and 160km/h.
The Stop & Go function works in stop/start traffic, bringing the vehicle to a stop when appropriate, and then automatically (if within three seconds) accelerating it back to the original set speed.
If the vehicle is stationary for more than three seconds, SCC will prompt the driver to continue cruise conditions using the steering wheel switches.
Forward Collision-Avoidance Assist (FCA-Car/Pedestrian/Cyclist).
Palisade features the City/Urban version of the Forward Collision-Avoidance Assist (FCA) system, which utilises a windscreen-mounted camera combined with a nose-mounted radar system to detect other vehicles in front of the Palisade.
If a potential collision is detected, the system's Forward Collision Warning (FCW) function will sound a warning chime and display a warning in the cluster.
FCW is active at speeds between 10 km/h and 160 km/h.
Additionally, Forward Collision-Avoidance Assist (FCA) - City/Urban works in conjunction with FCW to automatically apply the vehicle's brakes in the case of a potential collision, where no driver intervention is detected after a FCW system warning.
FCA - City/Urban is active above speeds of approximately 10 km/h and, if activated, will attempt to bring the vehicle to a complete stop from speeds up to 80 km/h. Operational speeds are detailed in the chart below.

Rear Occupant Alert (ROA).
The Rear Occupant Alert (ROA) system aims to prevent the unintentional leaving-behind or locking-in of children or pets in Palisade.
The system utilises an ultrasonic sensor in the headlining to detect movement in the cabin.
When active, the system registers the entry of rear occupants via the rear doors opening and closing.
Upon opening the driver's door after parking, ROA issues a warning chime and prompts the driver with a visual warning message to 'check rear seats', displayed in the instrument cluster.
If the user proceeds to close the door and lock the vehicle, the ROA system then becomes operational for a 24-hour period.
During this time if movement is detected inside the cabin the system will activate the horn for a period of 25 seconds to alert the driver and others to the situation.
DRIVING TECHNOLOGY.
HTRAC Advanced AWD System.
Palisade features Hyundai's HTRAC® All-Wheel-Drive (AWD) system.
Developed as a multi-mode system, HTRAC features an electronic, variable-torque-split clutch with active torque control between the front and rear axles.
The system delivers enhanced stability and traction during cornering, and on slippery surfaces, through the optimal apportioning of torque between the front and rear axles, as well as the use of differential braking (the individual braking of a wheel, or wheels on one side of the vehicle).
The system has a broad range of front-rear torque distribution possibilities and is designed to deliver benefits in various conditions, including straight-line acceleration, medium- and high-speed cornering, and hill starts.
Multi-Terrain Control & Drive Modes.
HTRAC's Multi-Terrain Control and Drive Mode systems bring a range of settings that allow Palisade to handle the highway as well as taming the toughest terrain.
Just as in other Hyundai vehicles, Palisade's Drive Mode system allows users to select a powertrain configuration that best suits their driving style (modes: Comfort, Eco, Sport and Smart).
The Sport setting, in particular, gives a more agile, dynamic feel by sending more available torque to the rear wheels.
Additionally, Palisade diesel AWD variants also feature a Multi Terrain Mode system that offers three additional traction control calibrations, to optimise performance on a variety of slippery, low-friction/high-resistance off-road surfaces.
These include a Snow setting designed to limit tyre slip and maximise drive, a Sand setting that apportions torque appropriately for sand-covered surfaces, and a traction-enhancing Mud setting.
Trailer Stability Assist (TSA).
The Trailer Stability Assist (TSA) System promotes safety by preventing shaking when making sharp turns while driving with a trailer attached.
Trailer connecting guidelines.
Steering-linked trailer-connecting guidelines on the rear camera image assist the driver to steer to the exact centre, for easier trailer hitching. This function is available by switching the rear-view monitor to top-view mode when reversing (Highlander variant).
PRICING AND AFTERSALES.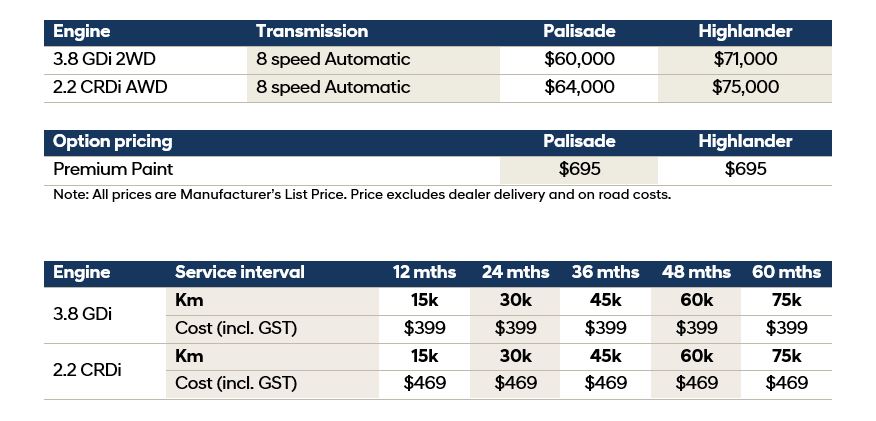 Hyundai iCare®.
With Hyundai iCare®, the joy of buying a Hyundai will stretch well beyond the showroom. This leading customer care program offers a comprehensive suite of owner benefits including; Lifetime Service Plan, 5 Year Unlimited Km Warranty, complimentary Roadside Assist for 12 months on new vehicles, 1,500km complimentary first service, a dedicated Customer Care Centre, and myHyundai - an exclusive owner website. When servicing with Hyundai, customers will also receive a Roadside Support Plan for up to 10 years, a 10 Year Sat Nav Update Plan, and more.

PALISADE SPECIFICATION OVERVIEW.