Introducing the hard-hitting i30 Sedan N, Hyundai's fourth & final new N model for 2021
Standard N DCT eight-speed automatic or optional six-speed manual
Debuts N innovations: Integrated Drive Axle (IDA) & Brake Prefill function
Australian-tuned ECS dampers & 245/35R19 Michelin Pilot Sport 4S tyres
i30 Sedan N on sale now, priced from $49,000 MLP
Introducing the fourth & final new N high performance model for 2021: the hard-hitting i30 Sedan N is here.
Building on the strong market foundations established by i30 N hatch, i30 Sedan N brings a booted compact high-performance model to the Hyundai line-up for the first time.
The i30 Sedan N once again resets the high-performance benchmark by over-delivering on the three N product pillars, with a corner rascal character and racetrack capability off the showroom floor, all in an everyday usable sports car.
i30 Sedan N's high-performance credentials start with a 206kW, 392Nm turbocharged 2.0-litre engine featuring flat power tuning and a sedan-specific, flow-optimised intake airbox.
A motorsport-derived N DCT automatic is standard, with a six-speed manual transmission offered as a no-cost option.
i30 Sedan N's racetrack-honed chassis debuts Hyundai's new light and rigid Integrated Drive Axle (IDA) front-end and features Australian-tuned Electronically Controlled Suspension (ECS).
There are also 19-inch alloys wrapped in wide 245-section Michelin Pilot Sport 4S tyres, and a large N brake package featuring a new response-enhancing Brake Prefill function. A 10.25-inch N Supervision instrument cluster and 10.25-inch sat nav multimedia system headline the in-cabin tech, along with an array of comfort, convenience and driver-focused N features and technologies, including Track Maps.
An extensive SmartSenseTM advanced active safety suite includes Forward Collision-avoidance Assist (FCA), Blind-spot Collision-avoidance Assist - Rear (BCA-R), Rear Cross-traffic Collision-avoidance Assist (RCCA), and Lane Following Assist (LFA).
"We're delighted to introduce i30 Sedan N as the fitting finale for Hyundai's new model offensive over the past 18 months," Hyundai Motor Company Australia Chief Executive Officer, Jun Heo said.
"i30 Sedan N delivers renowned Hyundai N fun-to-drive and racetrack capability in a striking everyday sports sedan, packed with convenience, safety and driver-focused high-performance technologies," he said.
i30 Sedan N: Range Overview
i30 Sedan N Premium is the one and only all-inclusive package crowning the N range with safety, connectivity and driving technology standard. A sunroof is the sole option.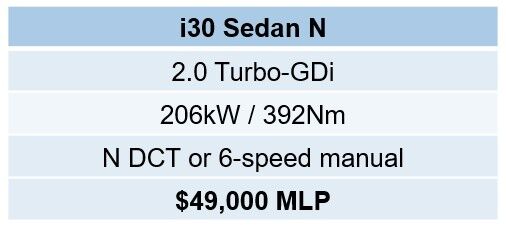 i30 Sedan N is powered by a 206kW, 392Nm Flat Power turbo 2.0-litre four cylinder with a unique high-flow intake airbox and an active variable exhaust, which drives the front wheels through an eight-speed N DCT transmission and an electro-mechanical limited slip differential (e-LSD).
A six-speed manual transmission is available as a no-cost option.
A racetrack-honed chassis features Australian-tuned Electronically Controlled Suspension (ECS) and benefits from 19-inch alloys wrapped in bespoke 245-section Michelin Pilot Sport 4S tyres.
A high-performance brake package features 355mm front discs and debuts Hyundai's response-enhancing Brake Prefill function.
Hyundai IONIQ 5: A new era of electric mobility

An extensive standard suite of SmartSenseTM driver assistance and advanced active safety technologies includes:
Blind-Spot Collision Avoid-assist - Rear (BCA-R)
Forward Collision-avoidance Assist - City/Urban/Pedestrian (FCA)
Driver Attention Warning (DAW)
Lane Keeping Assist (LKA)
Lane Following Assist (LFA)
Rear Cross-Traffic Collision Avoidance-assist (RCCA)
Tyre Pressure Monitoring System (TPMS)
Parking Distance Warning - F & R (PDW)
Rear View Camera (RVC)
An N-exclusive exterior package includes a full body kit incorporating redesigned front and rear bumpers and a boot-mounted rear wing, and eye-catching LED front and rear lighting.
An N-themed interior features leather sports front seats with heating and ventilation, a 10-way powered memory driver's seat, a leather heated steering wheel, dual-zone climate control, alloy sports pedals and ambient lighting.
Headlining the convenience technologies are a 10.25-inch colour digital instrument cluster, a 10.25-inch satellite navigation multimedia system, wireless (Qi standard) charging pad, and Bose Premium Audio with Apple CarPlay and Android Auto, and digital radio.
Driver-focused technologies include an N Grin Control System, N Performance Driving Data System, and Track Maps featuring an automatic lap timer.
EXTERIOR
i30 Sedan N builds on the standard car's four-door athletic cues with motorsport-inspired additions and powerful Parametric Dynamics elements to create an energetic image.
The frontal treatment is dominated by an N-specific bumper and N-logoed radiator grille featuring a large opening to feed air to the engine and brakes, flanked by black bezel headlights.
At each side, bespoke 19-inch wheels with N-branded brake calipers, unique side sills and black mirror caps complement i30 Sedan N's coupe-like silhouette while underlining its high-performance credentials.
As well as imparting aggression and athleticism, i30 Sedan N's front, rear and side aerodynamic elements, including a distinctive wing-type rear spoiler, reduce high-speed lift and drag and direct cool air to the potent powertrain.
Tinted, triangular N taillights, an inverted triangular fog light, and exhausts at each side of the N diffuser complete the look, giving i30 Sedan N a stable and aggressive presence.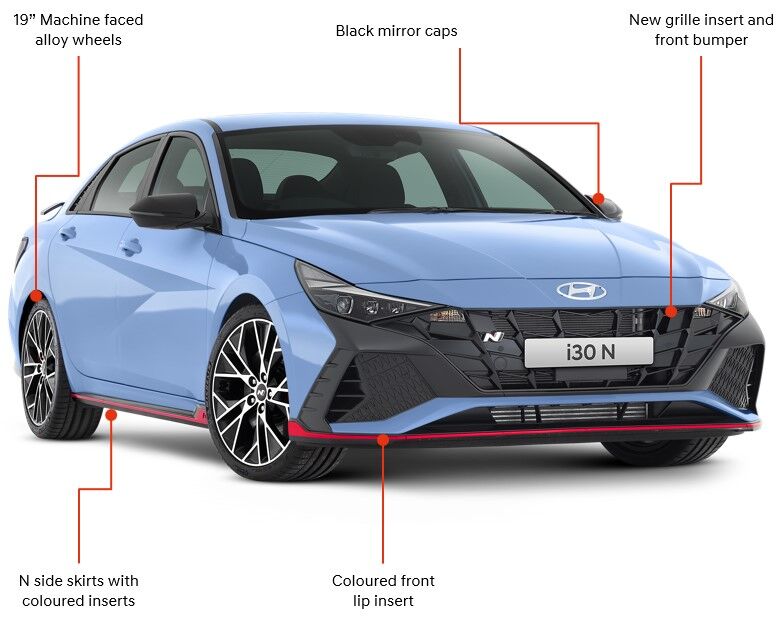 i30 Sedan N is available in seven exterior shades:
Solid Paint: Polar White and signature Performance Blue
Metallic Paint: Cyber Grey, Fluid Metal and Intense Blue
Mica Paint: Phantom Black and Fiery Red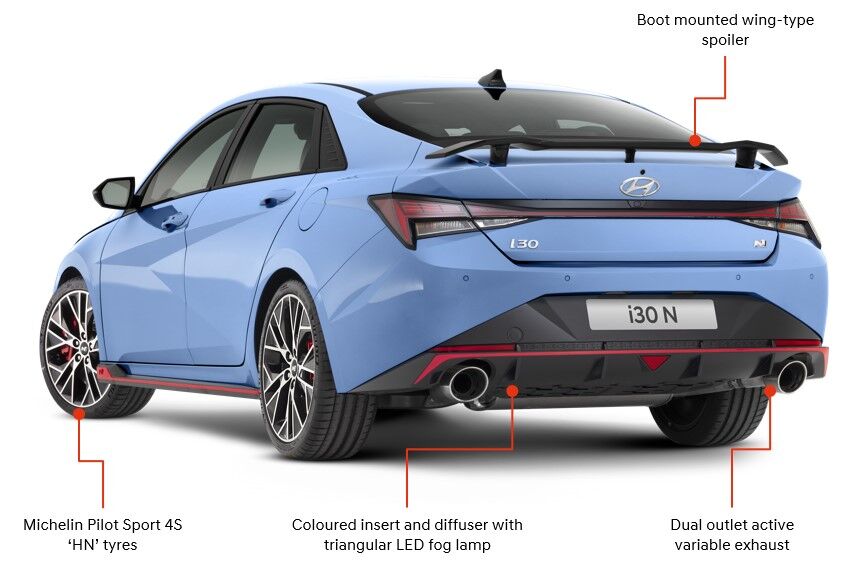 INTERIOR
i30 Sedan N builds on the standard car's ergonomic and intuitive driver-oriented cabin with an injection of N technology, headlined by an N-specific cluster theme and an N Performance Driving Display.
N sports front seats trimmed in black leather and positioned low hold occupants firmly in place and are complemented by an N leather steering wheel and gear knob, and N metal pedals and footrest.
A black headlining above and classy N-logoed metal scuff plates complete a sporty and high-tech premium interior.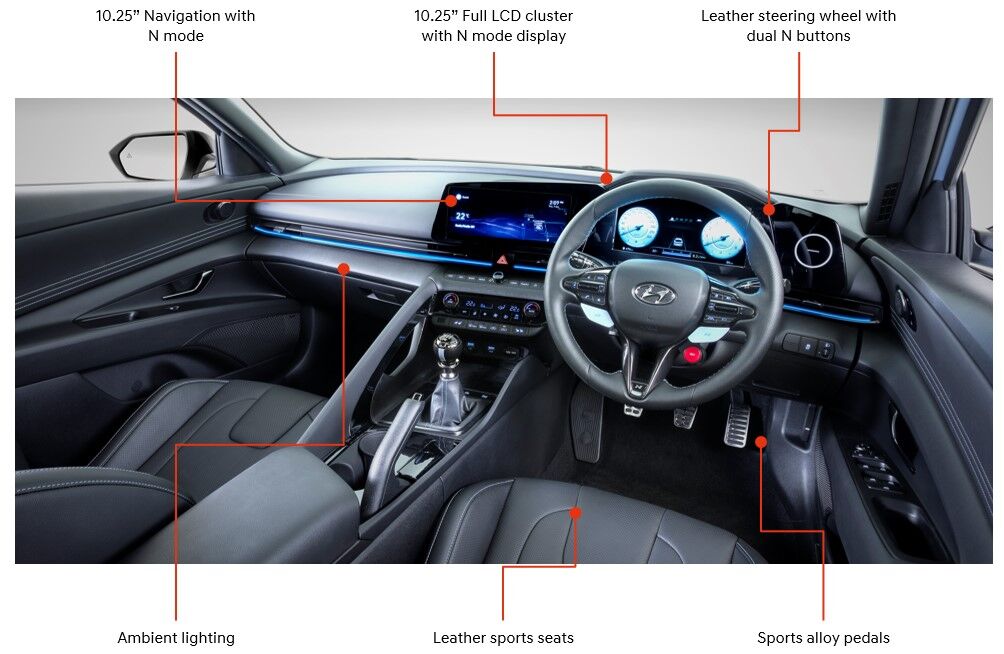 PERFORMANCE
Powertrain
i30 Sedan N features a highly developed turbocharger and intercooler set-up and a flat power ECU tune to produce peaks of 206kW and 392Nm.
The flat power tune delivers greater thrust and flexibility across the whole rev range to make use of more of the engine's potential for everyday driving situations as well as allowing for a more linear torque delivery on the track.
In addition, i30 Sedan N's larger engine bay compared with i30 N hatch allows for a unique airbox design featuring optimised duct diameters and straight airflow paths, to reduce suction pressures and maximise engine response.
i30 Sedan N maintains maximum torque between 2,100 and 4,700rpm and achieves maximum power between and 5,500 and 6,000rpm, to deliver strong mid- and high-speed acceleration and consistently high performance.
i30 Sedan N has a maximum speed of 250km/h and can go from rest to 100km/h in 5.3sec (DCT) and 5.8sec (manual).
N DCT
An eight-speed wet dual-clutch N DCT automatic is the standard transmission for i30 Sedan N. The six-speed manual is a no-cost option.
Offering upshift responsiveness to rival super-sedans as well as motorsport-inspired downshift rev-matching, the N DCT has the capability to deliver the engaging experience of a manual with the convenience of an automatic.
The automatic shift logic is intuitive and seamless, or the driver can engage manual mode and shift gears via either the paddle shifters on the steering wheel or the gear selector. The gear selector adopts the accepted motorsport shifting logic - push forward to downshift and pull back to upshift.
With oil-submerged 'wet' clutches designed to reduce friction and heat, and maximise torque transfer capability, the N DCT can withstand the toughest on-track conditions.
The N DCT features a switchable 'Creep Off' function, which lets the driver turn off the transmission creep via the AVN, so that i30 Sedan N does not automatically apply drive when the brake pedal is released. This feature is designed to enhance comfort and convenience depending on the driver's preferences and can be useful on the track.
The N DCT also enables three new N performance functions for even more driving fun: N Grin Shift, N Power Shift and N Track Sense Shift.
N Grin Shift (NGS) releases maximum power of the engine and transmission for 20 seconds - performance that is sure to bring a grin to the driver's face. To activate it, the driver pushes a steering wheel button, which also starts a countdown timer on the cluster.
N Power Shift (NPS) is engaged when the car accelerates with more than 90 percent accelerator, reducing torque drop-off during shifts to enhance acceleration and bring the involvement of a manual-like shove in the back during upshifts.
Finally, N Track Sense Shift (NTS) recognises when the road conditions are optimal for dynamic driving - on a racetrack, for example - to activate automatically. By selecting the right gear and shift timing, it lets you extract maximum performance, just as a race car driver would.
Six-speed manual transmission
A six-speed manual transmission is also available for i30 Sedan N.
For full engagement the driver can heel-and-toe shift across all three perfectly-placed pedals, or instead use the automatic rev matching function to take over throttle blips and concentrate on two pedals at a time. The system is so precise and consistent it will make every driver feel like a hero when selecting lower gears during braking.
Enhanced for i30 Sedan N, the six-speed 'box brings greater durability and efficiency through redesigned bearings, along with greater torque handling via an improved clutch.
The shifter delivers enhanced feel and clarity with a newly designed control guide, and reinforced synchronisers manufactured from new alloys. In addition, the final drive ratios have been revised to improve acceleration.
Active variable exhaust
i30 Sedan N's active variable exhaust system has three settings linked to the various drive modes, and continuously adjusts an internal valve to modulate exhaust volume and flow based on throttle position and engine rpm.
N Mode brings a WRC-inspired soundtrack while at the other end of the spectrum, during stealth operations, drivers can configure Custom mode to 'all go' with the exhaust toned down to normal levels.
Integrated Drive Axle
Making its debut on a Hyundai N vehicle is i30 Sedan N's Integrated Drive Axle (IDA). A flow-on technology from Hyundai's WRC program, IDA reduces part count of i30 Sedan N's front-end compared with other N models, decreasing unsprung mass by 1.7kg per corner while allowing a 59 percent larger diameter wheel bearing with a smaller joint offset.
The new construction is also 55 percent more rigid, which allows for tighter packaging within the wheel hub assembly to the benefit of ride, steering feel and performance.
N Corner Carving Differential
An electronically controlled limited slip differential (E-LSD) brings complete control over the way i30 Sedan N applies power to the road. The E-LSD manages power transfer to the driven front wheels on acceleration and during cornering to deliver maximum grip and engagement, mitigating understeer and delivering a corner carving feeling that's a signature of Hyundai N models.
The Corner Carving Differential has two operating modes - Normal and Sport - which can be set in N Custom mode.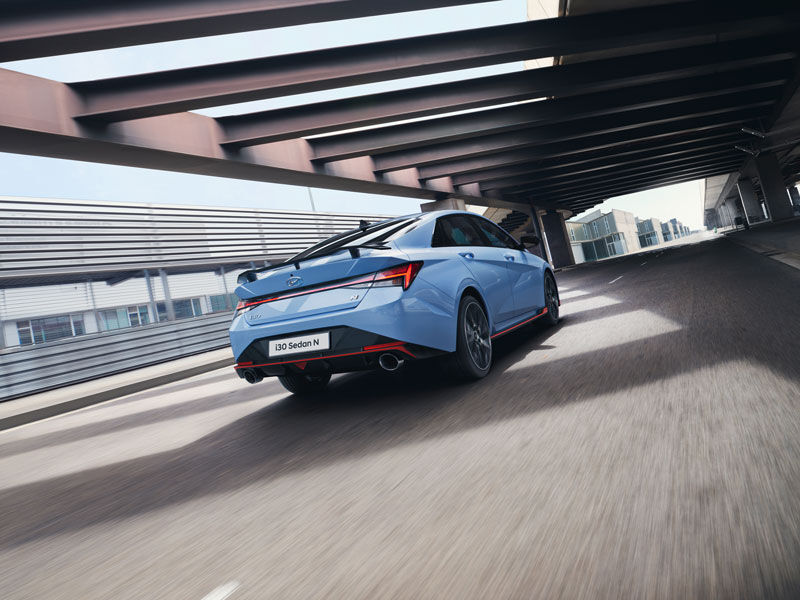 19-inch alloys with Michelin Pilot Sport 4S HN tyres
Aggressively styled alloy wheels are wrapped in ultra-grippy Michelin Pilot Sport 4S tyres developed specifically for i30 Sedan N.
The newly designed wheels have increased stiffness compared with preceding N models, while a 245 section provides a larger contact patch at each corner.
This specially developed wheel and tyre package enhances i30 Sedan N's response, handling, ride comfort and acceleration.
With machine finished spokes over gloss black, the new 19-inch alloys reinforce i30 Sedan N's racing spirit.
High performance brakes
Large, 360mm front disc rotors clamped by signature red N brake calipers are a full 55mm larger than those fitted to i30 Sedan N Line and, with large ventilated rear discs, give i30 Sedan N ample stopping power.
Brake response is also enhanced by incorporating a new Brake Prefill function, which primes the braking system pressure as the accelerator pedal is being released in readiness for brake application.
Air guides on the front lower control arms feed cooling air to the front brakes via vented hubs and dust covers, contributing to i30 Sedan N's ability to withstand hard track driving while maintaining powerful, fade-free braking.
While at the track, skilled drivers can disable the brake override function by turning ESC off in N mode, which makes left foot braking possible by allowing simultaneous brake and accelerator operation.
Like every N model, i30 Sedan N is fitted with a manual hand brake.
Body reinforcement
The four-door body receives additional structural reinforcement for i30 Sedan N to support the increase in power and performance.
Beneath the body, additional floor structures are bolted on to increase chassis rigidity in the tunnel and behind the front subframe.
In addition, new front strut rings connect the suspension into the body with more attachment points, efficiently transferring energy and allowing for precise body control.
A rear stiffness bar increases torsional rigidity by 29 percent compared with the base car, enhancing dynamics and responsiveness.
Electronic Control Suspension
A standard Electronic Control Suspension (ECS) leverages all the benefits designed into i30 Sedan N's rigid body structure and optimised weight distribution, and the N Power Sense Axle up front, to deliver performance and comfort as the driver desires.
G-sensors around the car let the system read the road and i30 Sedan N's reaction to it, and then dynamically adjust individual damping at each corner (up to 200 times a second) to control the body and wheels.
ECS also responds to the driver's inputs, supporting dive motions when heavily braking for example, or controlling body roll actions when swinging through a slalom.
i30 Sedan N features locally tuned ECS profiles honed to deliver the dynamic flavour Australian enthusiasts enjoy. ECS can operate in three distinct modes with character, control, and comfort levels to suit every day or track driving and everything in-between.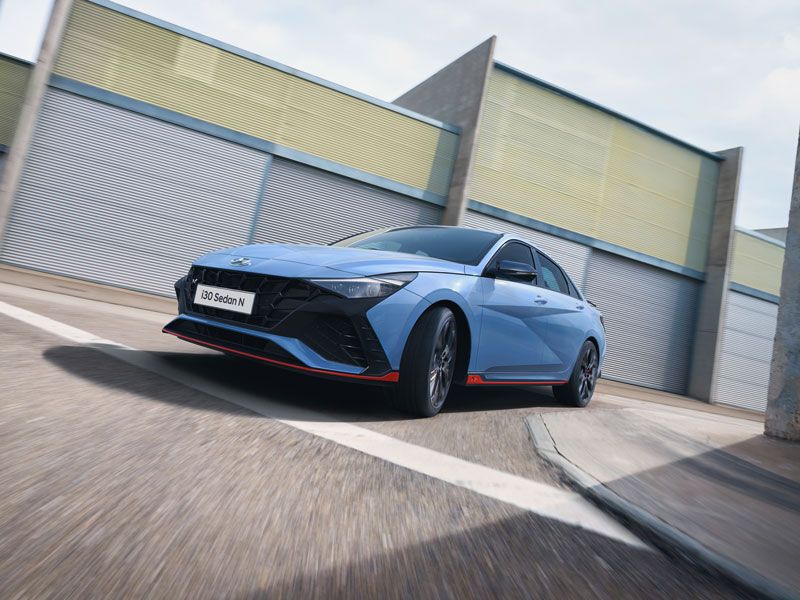 Ride & handling
i30 Sedan N's Electronically Controlled Suspension (ECS) benefits from Australian software tuning across its Normal and Sport modes, to provide settings suited to our challenging urban, highway, and country roads.
"When we received the initial development vehicle, we were immediately impressed by how polished the chassis tune was," Hyundai Motor Company Australia Product Planning and Development Manager Tim Rodgers said.
Mr. Rodgers led the tuning program on this car.
"The Hyundai N chassis engineers really know our Australian road conditions, and they know our tastes,"
he said.
"This is the car we've done the least local tuning for. Out of the box it suited our roads extremely well – it only needed some minor tweaks really to make it sparkle.
"Our tuning was focused on the Sport and Normal modes for the road, rather than the racetrack. In N mode i30 Sedan N uses the global tune across all markets.
"Going into this program we knew i30 Sedan N was going to be the quickest and most capable N we've ever had, with the new chassis platform and wider Michelin tyres.
"The CN7 architecture features the latest generation small car platform with significant differences over the hatch, such as the wheelbase (70mm longer), geometry, and new technology like the Integrated Drive Axle.
"The reduced unsprung mass of the IDA delivers significant advantages via the 1.7 kilograms weight saving at each corner - while being more rigid and more compact – helping to improve the car's ride and handling.
"It was a case of leveraging all the new technology and the maturity of the other tech to create something that lives up to i30 Sedan N's positioning as the ultimate N.
"All the qualities we tune into our other N models are really turned up in i30 Sedan N - grip levels, response levels, bump absorption, mid-corner grip, mid-corner response as well.
"The grip from the new Michelins is excellent: the way you can use the tyre now and the way it communicates into the body is quite different compared with the Pirelli.
"It ticks the same boxes that all our other N products tick but with more breadth of capability; we know it can be extremely aggressive in N mode, but we also aimed for a playful, balanced and chuckable experience in Sport mode, with an ability to be extremely plush and comfortable in Normal.
"We think i30 Sedan N steals all the best attributes from our other N models and combines them into one outstanding package," said Rodgers.
N Grin Control System
The 10.25-inch multimedia system incorporates an N Grin Control user interface featuring a customisable layout and an array of features.
Drivers can select which gauges they want to see on the display, as well as easily access Launch Mode. N Custom mode is simple to set up with all the settings accessible from a single screen.
The N Grin Control System gives the driver a choice of five distinct driving modes: Eco, Normal, Sport, N and N Custom.
The driving modes adjust the following parameters, optimising each to suit the driving conditions:

Engine
Suspension
Electronic Stability Control (ESC)
N Corner Carving Differential (e-LSD)
Active variable exhaust
Steering
Transmission
In N Custom mode, drivers can select from Eco, Normal, Sport and Sport+ settings for individual vehicle systems, to match their preferences and the road conditions.
Track Maps
A circuit widget can be loaded onto the N mode pages, which will then alert you when you near a compatible race circuit. With your track layout selected, i30 Sedan N lets you run an automatic lap timer triggered when you cross the start/finish line.
At launch, i30 Sedan N will feature Wakefield Park Raceway and Sydney Motorsport Park (in numerous layouts supporting the two-separate start/finish lines). A host of major circuits around Australia are planned for roll-out across i30 Sedan N, i20 N and KONA N as part of a mid-2022 map software update, which users will be able to download and install themselves.
For map updates for i30 Sedan N and all other Hyundai models, visit update.hyundai.com to download the free software.
N Sound Equaliser
i30 Sedan N features an Active Sound Design (ASD) system that can complement the engine induction and exhaust notes with additional synthesised sounds played through the audio speakers.
There are preset sound profiles that can be piped into the cabin alongside natural engine noises to enhance the sporty soundtrack or replicate the sound of Hyundai Motorsport greats.
Sound selection and level can be customised using the new N Sound Equaliser (NSE), which lets users create custom mode sound profiles that enable their ideal blend of bass, whine and throat play into the cabin.
SMARTSENSE™ SAFETY TECHNOLOGIES
In addition to its superb passive safety and six airbags, i30 Sedan N brings an extensive suite of standard SmartSenseTM advanced active safety & driver assistance technologies.
Blind-spot Collision-avoidance Assist - Rear
Blind-spot Collision-avoidance Assist (BCA-R) is standard for manual transmission variant. The system alerts the driver to the presence of vehicles in i30 Sedan N's blind spots by illuminating warning lights in the side mirrors. If the driver proceeds to indicate to change lanes a warning will be displayed on the cluster and an audible warning will be issued.
BCA-R can actively mitigate a collision with a vehicle in a blind spot by applying selective braking to steer the vehicle away from a potential collision.
Rear Cross-traffic Collision-avoidance Assist
Rear Cross-traffic Collision-avoidance Assist (RCCA) can warn the driver of vehicles crossing i30 Sedan N's path while reversing. If an object is detected that may present a risk the system will play a chime and display a warning in the cluster. RCCA can apply braking to bring i30 Sedan N to a stop if it detects a collision risk when in reverse.
RCCA functionality is the same in both N DCT and manual variants, which means RCCA will stall the engine of manual variants, if required, to bring the vehicle to a stop.
Driver Attention Warning
Driver Attention Warning (DAW) monitors driver inputs and vehicle swaying motions and will prompt the driver to take a break should driver and vehicle behavior indicate inattentive driving and the onset of driver fatigue. DAW issues an audible alert and displays a message in the cluster to consider taking a break from driving.
In addition, when stopped in traffic, a Lead Vehicle Departure Alert (LVDA) function will prompt the driver if traffic ahead starts moving and no response is detected from the driver.
Forward Collision-Avoidance Assist
Forward Collision-avoidance Assist (FCA) uses the front-mounted camera to detect pedestrians and vehicles ahead of i30 Sedan N and warn the driver or apply braking in situations where the risk of collision is detected.
FCA settings can be found in the Driver Assistance settings menu, along with a setting to switch all driver assistance features off in N mode, for when you are on a track and assistance from the system is not desired.
High Beam Assist
High Beam Assist (HBA) automatically dips the high beam headlights to avoid dazzling the occupants of vehicles ahead. With HBA enabled, i30 Sedan N uses the front-facing camera to monitor ambient lighting and the lights of vehicles ahead, and operates at vehicle speeds above 40km/h.
HBA is enabled with the headlights on in Auto mode, and is activated by pushing the stalk forward, provided the system is enabled in the Driver Assistance menu.
Lane Following Assist
Lane Following Assist (LFA) uses the front-mounted camera to establish the lane centreline, and assists in steering the car to hold that line.
LFA is engaged by pressing the lane assist steering wheel button and can be operated at vehicle speeds up to 200km/h.
Lane Keeping Assist
Lane Keeping Assist (LKA) uses the front-mounted camera to monitor lane markings and road edges to help the i30 Sedan N driver stay in their lane.
The system provides an audible waning when the vehicle is nearing the edge of a lane. If the driver attempts to cross a lane line or road edge without indicating, LKA will actively steer the car safely into the lane.
LFA is enabled by long holding the lane assist button, operates between 60km/h and 200km/h when activated, and can be configured in the Driver Assistance settings menu.
Rear Occupant Alert
Rear Occupant Alert (ROA) alerts the driver when switching off and exiting the vehicle when there may be a child or an animal inadvertently left in the second row.
If the system has registered from the recent opening and closing of a rear door that an occupant may be present in the second row it will prompt the driver to check behind them.
Safe Exit Warning
Safe Exit Warning (SEW) warns occupants exiting i30 Sedan N when the surrounding conditions may make it unsafe to do so.
The system uses blind-spot safety sensors to monitor traffic around the vehicle, operates at vehicle speeds below 3km/h, and can detect approaching vehicles travelling at 6km/h and above.
Technical Specifications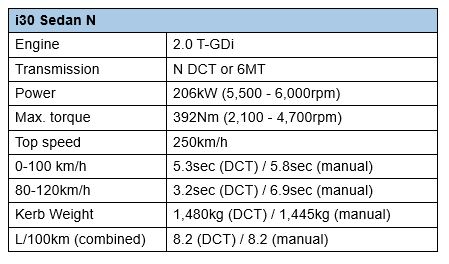 COLOURS AND TRIMS

PRICING AND AFTERSALES
Pricing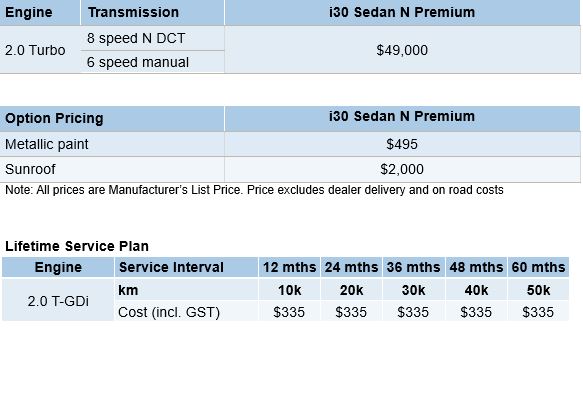 Lifetime Service Plan

Hyundai iCare®
iCare is our commitment to Hyundai owners, making sure their car ownership is as enjoyable, easy and extensive as imaginable. Expert service and support is provided with Hyundai's Lifetime Service Plan so customers can enjoy exclusive service pricing with no hidden fees, Roadside Support Plan and Sat Nav Update Plan, both available up to 10 years. Plus, a suite of other owner benefits like, access to myHyundai, an online portal designed to help Hyundai owners get to know their new car and access to special offers, and the support of our dedicated customer care experts, always on hand to help with any questions or issues that customers may have. All that and the reassurance of Hyundai's 5 Year Unlimited Km vehicle warranty providing customers with the care they need, when they need it.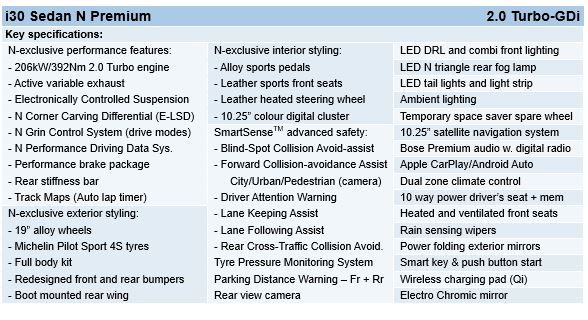 Ready to take the next step?