NEXO: Hyundai's hydrogen fuel-cell first.
The Hyundai NEXO Fuel Cell Electric Vehicle (FCEV) has arrived - the first hydrogen-powered vehicle certified for sale in Australia
NEXO features a 666km (WLTP) long range, zero-emission Hydrogen Fuel Cell powertrain with spirited 120kW, 395Nm electric motor drive
Convenience, comfort and advanced SmartSenseTM safety technologies standard in a single feature-packed NEXO grade (5-star ANCAP rating)
Available now by special order through Hyundai Motor Company Australia with servicing and maintenance as part of an all-inclusive loan package
The Hyundai NEXO Fuel Cell Electric Vehicle (FCEV) has arrived – the first hydrogen-powered vehicle certified for sale in Australia.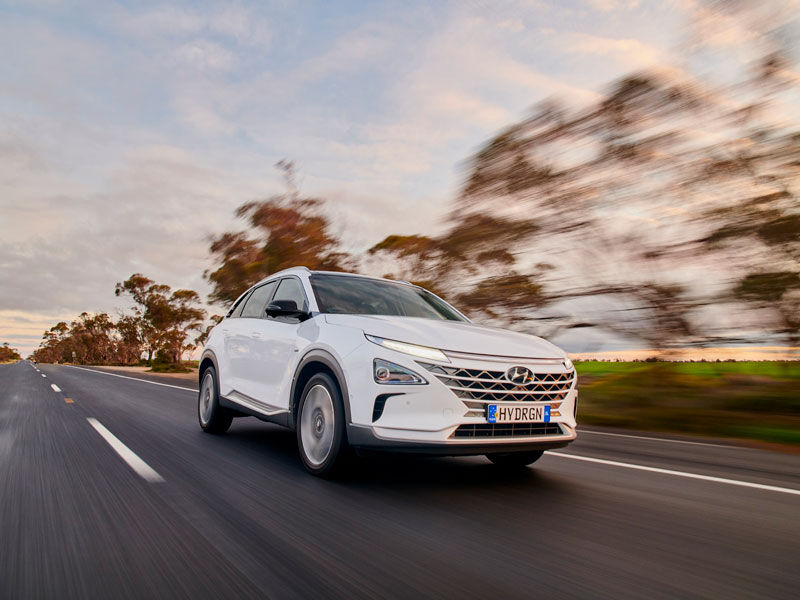 Available now by special order for private customers and fleets, the zero-emission NEXO SUV is packed with comfort, convenience and Hyundai-first green technologies, and crowns the Hyundai eco vehicle portfolio.
NEXO's Fuel Cell Electric Vehicle powertrain is the product of more than 20 years of research and development by Hyundai Motor Group.
Designed from the ground up as a production FCEV, NEXO showcases a series of innovations and refinements from Hyundai's first-generation mass-produced hydrogen fuel-cell vehicle, the ix35 FCEV.
The result in NEXO is a comfortable and enjoyable driving experience familiar from Hyundai's conventional vehicle range, with industry-leading hydrogen powertrain technology seamlessly at work.
The official arrival of NEXO coincides with the opening of Australia's first public hydrogen refueling station, in Canberra, which provides the fuel for the deployment of the first 20 road-registered NEXO FCEVs as government fleet vehicles for the national capital.
NEXO's arrival on Australian roads is a milestone in Hyundai's eco mobility mission, both locally and globally, and provides a window into Hyundai's continuing position as a green vehicle innovator.
"The arrival of NEXO on Australian roads as an ADR-approved production vehicle is a landmark in Hyundai's ongoing commitment to green mobility and to hydrogen fuel cell electric vehicle technology," Hyundai Motor Company CEO, Jun Heo said.
"The hydrogen NEXO SUV is a cornerstone in the Hyundai portfolio, complementing our hybrid, plug-in hybrid and battery electric vehicles the IONIQ and Kona Electric," he said.
"NEXO is also a sign of things to come, as Hyundai continues in its long-term drive towards leadership in eco-friendly vehicles."
NEXO overview.
NEXO is available in one, highly equipped grade that showcases Hyundai's leading edge eco-focused technology and the latest comfort and convenience features.
At the heart of NEXO is a long-range - 666km (WLTP) - zero-emission Hydrogen Fuel Cell powertrain featuring a 120kW, 395Nm electric motor drive and a lithium-ion polymer battery, with Shift by Wire gear selection and paddle shifter control for the regenerative braking system.
Headlining inside are a 12.3-inch satellite navigation multimedia unit with Apple CarPlayTM and Android AutoTM smartphone mirroring, a 7.0-inch colour instrument cluster display, and a wireless (Qi standard) smartphone charger.
NEXO features a leather-appointed interior with a full-width glass sunroof, Krell Premium Audio, 19-inch alloy wheels, and LED headlights and DRLs.
The convenience features include a Surround View Monitor, Remote Engine Start, Remote Smart Parking Assist, and a Smart Power Tailgate.
And comforts include dual-zone climate control, heated and ventilated, power adjustable front seats, a heated steering wheel, and heated rear outboard seats.
An extensive standard SmartSenseTM safety suite in NEXO includes Forward Collision Avoidance Assist (FCA), Driver Attention Warning (DAW) and a radar-based Blind-Spot Collision Avoidance Assist (BCA-R) system.
There are also Lane Keeping Assist (LKA), Rear Cross-Traffic Collision-Avoidance Assist (RCCA) and Smart Cruise Control (SCC) with Stop & Go.
NEXO's sleek, aerodynamic form draws cues from Hyundai's LE Fuel Cell Concept as well as taking inspiration from nature.
A signature full-width LED headlight design creates a futuristic first impression while short front and rear overhangs give NEXO a confident stance and a robust road presence.
NEXO's interior continues the futuristic theme, featuring wide, integrated displays and an ergonomic high-mount bridge-type centre console.
NEXO is available in four exterior colours, with White Cream Mica and Dusk Blue Metallic teamed with a Stone Grey two-tone interior, and Cocoon Silver and Copper Metallic teamed with a Dark Blue interior.
Eco-friendly powertrain overview.
NEXO is the fourth green powertrain in the Australian Hyundai line-up, complementing the petrol/electric and plug-in hybrid IONIQ, and the pure electric Kona Electric and IONIQ EV.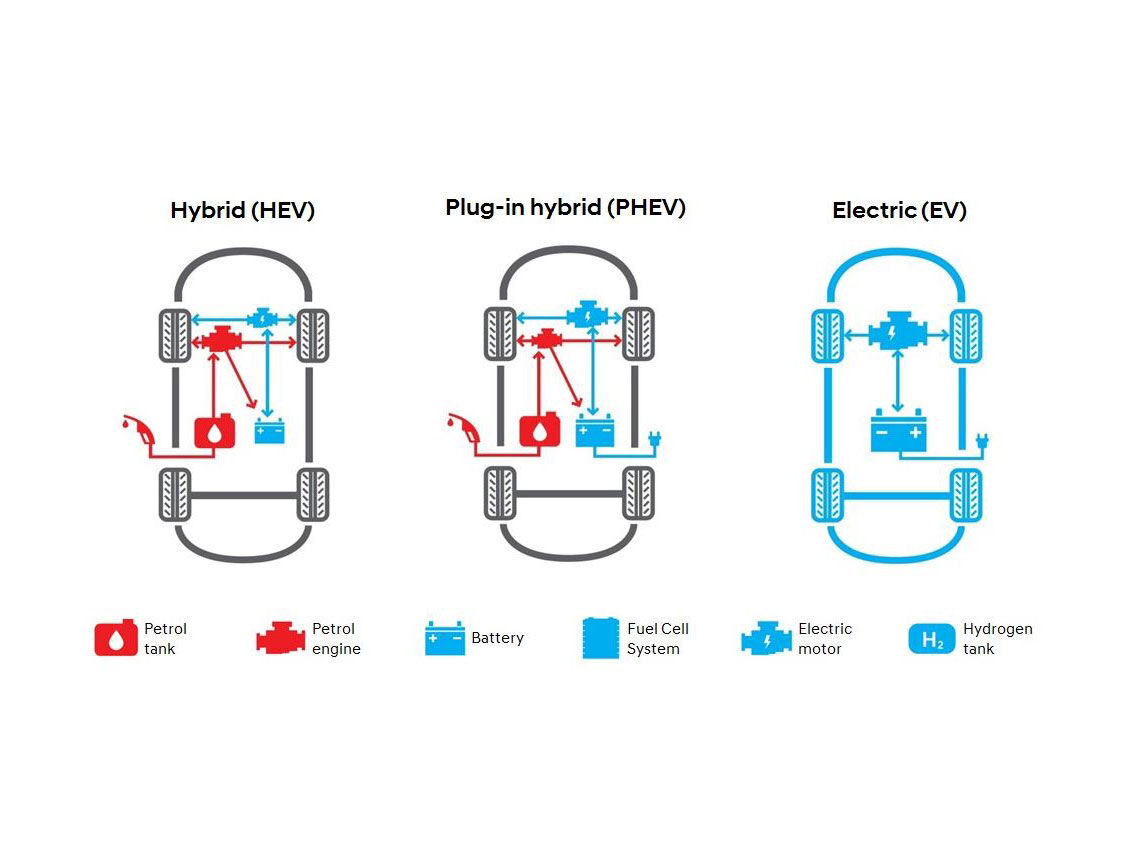 Fuel Cell Electric Vehicles are a type of electric vehicle. FCEVs are driven by an electric motor that is powered by electricity generated by an on board fuel cell, using hydrogen as fuel.
Hydrogen gas from the high-pressure fuel tanks is flowed into the fuel cell stack, where it is met with oxygen from the atmosphere.
The hydrogen and oxygen react across a catalyst membrane, combining to form water and electricity which is harnessed to power the vehicle's motor.
Excess electric energy - and electric energy recuperated during braking - is stored in a high-voltage battery to be deployed when needed.
While conventional battery electric vehicles typically take an extended time to fully recharge, FCEVs can be refilled at a hydrogen refuelling station in a matter of minutes.
Pure water and purified air are the only tailpipe outputs when driving a Hyundai NEXO FCEV.
NEXO powertrain component.
An innovative hydrogen fuel cell system and powertrain defines NEXO, making it the ultimate green vehicle, capable of delivering the longest hydrogen-powered range of any mass produced vehicle while emitting only water and purifying the air as it drives.
Hydrogen fuel tanks.
Three high-pressure fuel tanks are cleverly packaged in the rear of NEXO, with a combined 156-litre capacity and the ability to hold up to 6.33kg of hydrogen at a pressure of 700 bar.
These high-strength, lightweight advanced carbon composite tanks are tested to ensure they maintain structural integrity in the most challenging conditions, such as in collisions.
NEXO can be refilled in minutes at a hydrogen refuelling station allowing users to experience a minimum of down time between drives.
Lithium-ion Polymer battery.
A cleverly integrated battery provides the source of high and low voltage power in NEXO.
The 240V, 1.56kWh lithium-ion Polymer (Li-Po) battery can act as ballast for excess and recuperated energy from the powertrain, and redeploys this energy to power the vehicle including on-board 12V systems.
The battery is packaged flat and low in the rear of the NEXO to allow a flat floor storage area with improved luggage volume compared with the ix35 FCEV, while delivering a 67 percent higher output and a 64 percent greater capacity.
Fuel cell system.
At the heart of NEXO is a 95kW fuel cell system which, with the battery, can deliver a sustained 135kW to the motor.
Numerous design improvements compared with the ix35 FCEV system allow NEXO to achieve a 50 percent increase in power density, at 3.1kW per litre, while also increasing system efficiency by nine percent.
NEXO also boasts class-leading cold-start capability, reaching operational temperature from -29°C within 30 seconds.
Electric motor.
Smooth, near-silent power is provided effortlessly by NEXO's electric motor, which is paired to a single-speed gearbox.
With maximums of 120kW of power and 395Nm of torque available on demand, NEXO feels far more spirited than its eco-friendly credentials might suggest.
The electric motor also brings the ability to decelerate NEXO while generating electricity that is then stored in the high-voltage battery.
High motor efficiency combined with the substantial 6.33kg of fuel tank capacity gives NEXO a range of 666km (WLTP), the longest of any FCEV.
Chassis and platform.
Efficiency and safety were the primary focuses for NEXO's ground up FCEV platform development.
NEXO delivers no compromise design through innovative design and advanced materials and construction.
Lightweight materials.
Lightweight components are used extensively in NEXO. These include an aluminium bumper beam, front knuckles, rear wheel carriers and front lower control arms, which bring improved dynamics and efficiency through reduced vehicle kerb weight.
In addition, the lightweight suspension components bring improved ride and handling characteristics as well as reduced cabin noise.
NEXO also features Hyundai-first plastic front fenders, a design feat that required a series of innovations to realise.
Bio-based materials.
The extensive use of bio-plastics throughout NEXO's cabin contributes to a 12kg reduction in CO2 produced during manufacture.
In total, 34kg of bio-based interior parts are applied in the form of the trims, carpet, headliner, door trims, seats and console.
Vegetable oil-derived bio-paints are also used throughout the cabin along with bio-fibres made using corn and sugarcane waste material.
High-rigidity frame and tank sub-frame.
Advanced high strength steel has been used throughout NEXO to engineer an exceptionally rigid monocoque with high torsional strength.
More than 56 percent of NEXO's bodywork utilises high strength steel, resulting in class-leading crashworthiness and providing the basis for exceptional vehicle dynamics.
The use of high strength steel extends to the hydrogen tank carrier sub-frame, to provide maximum protection for the composite tanks in the event of a rear collision.
Aerodynamic design elements.
The quest to minimise NEXO's air resistance drove the design of countless components.
Underbody air-guides and deflectors have been applied along the full length of NEXO to regulate clean airflow, and numerous air-guides and smooth surfaces have been applied to the body.
Hidden aero wipers are used at the front and rear, a Hyundai first which will flow on to other products.
The drive for efficiency also dictated the alloy wheel and door handle designs.
Combined, these aerodynamic measures give NEXO a slippery co-efficient of drag of 0.32, which represents a 10 percent improvement over ix35 FCEV.
Australian chassis tuning.
NEXO was developed across the full spectrum of challenging Australian city, highway, country and gravel roads.
The local chassis tune developed by the Hyundai Motor Company Australia ride and handling team, leverage NEXO's advanced platform design and lightweight suspension components to deliver Hyundai Australia's signature flavour of supreme comfort with surprising dynamic capability.
In addition to this, reducing noise levels in the cabin was a significant focus as part of the NEXO chassis tuning program.
"The challenge in tuning NEXO was to reduce NVH to a level that matched the almost-silent powertrain," Hyundai Motor Company Australia Product Planning and Development Specialist Tim Rodgers said.
"The platform was designed to address this challenge, with an extensive use of lightweight parts for the strut front and multi-link rear suspensions, such as aluminium knuckles and lower control arms."
"By reducing unsprung mass there is less energy that we have to manage through the damper and the spring, so we can use a slightly different valve characteristic and achieve the results we require."
"We've come out of the R&D process with a refined suspension that matches quite nicely with acoustic levels in the cabin."
"Beyond achieving this, the tuning program targeted the normal ride and handling benchmarks, to give NEXO the same style of body control we tune into all our cars, and the same level of competency Australia's notoriously challenging back roads."
"As part of this we had the Korean engineers embedded with us during the program."
"NEXO is comfort focused, however it also has excellent handling capability."
"We were aware that there was an appetite to put this car into emergency services – at the time there was consideration given to first responders taking on some of these vehicles – so we ensured an excellent level of dynamic ability."
"It made sense to take this approach, because excellent body control and agility are also qualities Australian drivers demand from their cars."
"Even though NEXO has super eco credentials, the amount of power from the motor and the response it has makes it quite sporty and fun," Rodgers said.
Hyundai SmartSense™
NEXO features six airbags and an extensive standard suite of SmartSense™ safety technologies.
Forward Collision-Avoidance Assist (FCA).
The Forward Collision-Avoidance Assist (FCA) system utilises a front mounted radar sensor and windscreen-mounted camera to detect and monitor vehicles, pedestrians and cyclists in front of NEXO.
When a potential collision is detected, the system's Forward Collision Warning (FCW) function will sound a warning chime and display a visual warning in the LCD cluster.
Additionally, FCA works in conjunction with FCW to automatically apply NEXO's brakes if it detects that a collision is imminent, and the driver has not responded to system warnings.
Smart Cruise Control (SCC) with Stop & Go.
Smart Cruise Control (SCC) with Stop & Go SCC maintains a safe distance to the vehicle ahead of NEXO while driving under cruise control conditions.
The Stop & Go function works in stop/start traffic, bringing NEXO to a stop when required, and can automatically accelerate the vehicle back to the set speed.
If NEXO is stationary for more than three seconds, SCC will prompt the driver to continue cruise conditions via the steering wheel switch or accelerator.
NEXO's SCC system also incorporates Lane Following Assist (LFA) and lead vehicle departure warning.
When SCC is in use, the LFA system can provide corrective steering inputs to assist in maintaining a central lane position.
After SCC stops the vehicle, the lead vehicle departure warning will issue a chime to prompt a potentially inattentive driver that the vehicle in front is driving away in traffic.
High Beam Assist (HBA).
NEXO's High Beam Assist (HBA) function automatic turns the high beams off and an as required, by monitoring lighting conditions and the lights of vehicles ahead, using the windscreen-mounted camera.
Lane Keeping Assist System (LKA).
NEXO's Lane Keeping Assist (LKA) system issues audible and visual warnings if the vehicle strays from the intended lane, using the windscreen-mounted camera to monitor the vehicle's position within the lane markings.
Active LKA can detect lane or road edges, and helps prevent NEXO from straying from the lane by providing corrective steering inputs.
Both LDW and Active LKA are momentarily paused when the driver indicates to change lanes.
Blind-Spot Collision-Avoidance Assist (BCA-R).
Blind-Spot Collision-Avoidance Assist (BCA-R) monitors NEXO's lane positioning as well as vehicles in the blind-spot zone to help mitigate collisions.
Radar panels are located at the rear of the car facing the driver's blind-spot zones and further up the road.
Blind-Spot Collision Warning (BCW) will provide alerts if the driver indicates into the path or position of a vehicle in NEXO's blind-spot.
If the driver continues the manoeuvre the BCA-R system will intervene by applying braking along the side of NEXO opposite the potential collision, to turn the vehicle away from it.
Blind-Spot View Monitor (BVM).
NEXO's Blind-Spot View Monitor displays a clear image of the vehicle's blind-spot zone on the instrument cluster. The BVM system is activated when the driver engages the turn signals.
Surround View Monitor (SVM).
NEXO's Surround View Monitor gives the driver a bird's eye view of the vehicle, using clever technology and a series of cameras. The SVM system aids in manoeuvring and parking the vehicle in tight spaces. It is activated using the camera view button on the bridge console.
Rear Cross-Traffic Collision-Avoidance Assist (RCCA).
Rear Cross Traffic Collision-Avoidance Assist (RCCA) uses the rear-mounted radar panels to detect vehicles which might cross the path of NEXO during reversing manoeuvres.
If RCCA detects a vehicle, it sounds a warning and displays a visual alert in the cluster and the side mirror on the corresponding side.
If the driver does not respond and the risk remains, RCCA can activate braking to help mitigate the collision.
Driver Attention Warning (DAW).
Driver Attention Warning (DAW) uses the windscreen-mounted camera to continually monitor the vehicle's position within the lane, while also tracking steering and brake pedal inputs, and time since last break.
If DAW detects driving behaviours associated with fatigue, the 'Attention Level' indicator on the cluster will continually decrease. Should the level decrease to a certain threshold, the DAW system will recommend that the driver takes a break.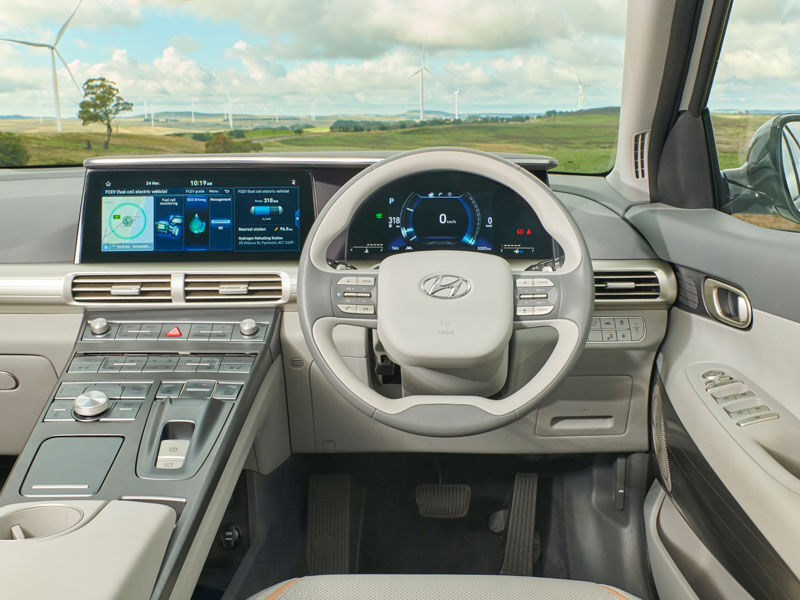 Multimedia.
High-resolution 12.3-inch screen.
A wide 12.3-inch multimedia display in NEXO presents the Surround View Monitor image in crystal clear quality, as well as vehicle functions such as the climate control and Apple CarPlayTM & Android AutoTM smartphone interfaces, all accessed on screen or via the Driver Information System (DIS).
Fuel cell monitoring and H2 refueller navigation
To provide a complete eco mobility experience, NEXO incorporates an eco-driving display into the 12.3-inch multimedia system.
The unit tracks current and historical eco-driving performance as well as total air purification and emissions reduction.
In addition, NEXO's satellite navigation system has hydrogen refuelling stations programmed in, allowing route planning and range calculation as you drive.
The system also incorporates an introductory FCEV video guide to give new users an understanding of the powertrain's workings.
Krell 8-speaker premium audio.
Krell's external amplifier brings the highest clarity audio to the near-silent NEXO cabin. With eight speakers including a subwoofer, the Krell Premium Audio system in NEXO crisply and powerfully reproduces your music.
Pricing and aftersales.
NEXO is available by special order through Hyundai Motor Company Australia's Sales department. For ordering and pricing information, please submit your enquiry to the HMCA Sales team.
NEXO is currently offered as an all-inclusive package covering service and maintenance. For specific information about NEXO aftersales support, please contact the HMCA Aftersales team.
2021 NEXO specification overview.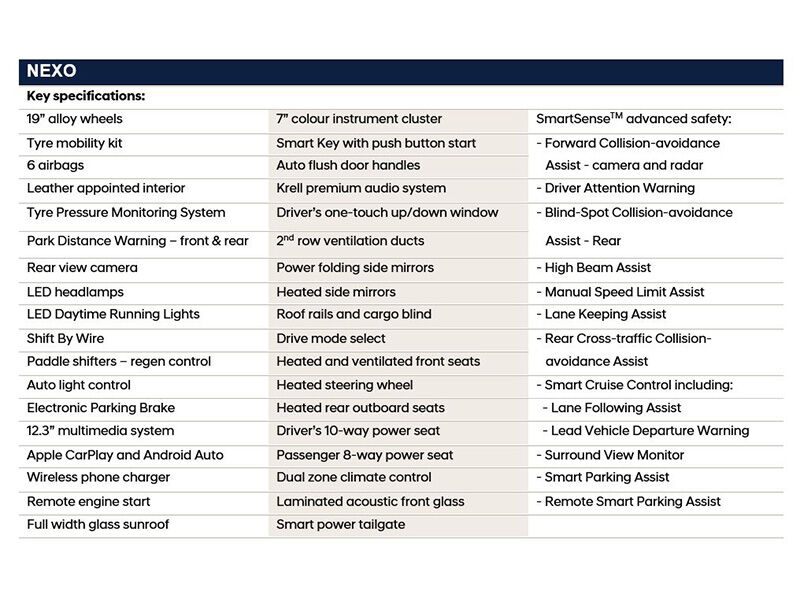 Ready to take the next step?