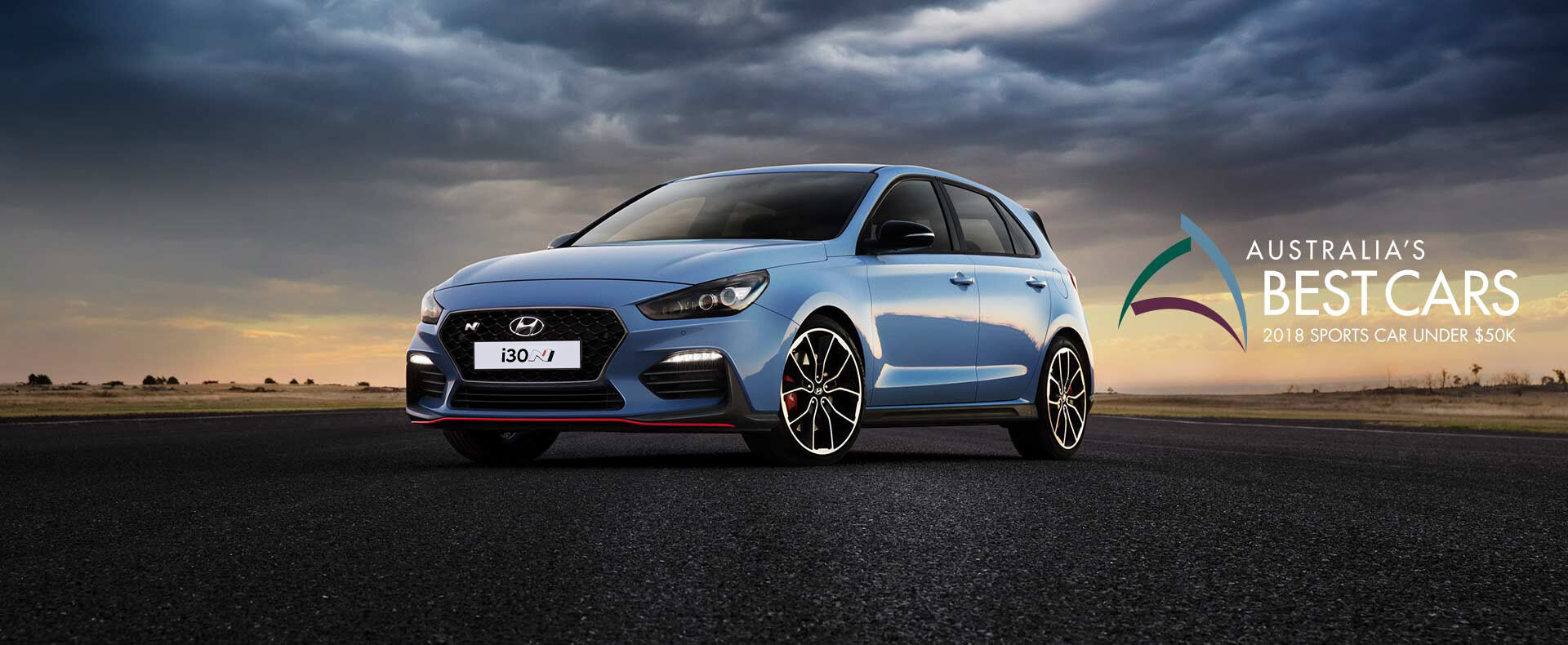 The i30 N: Hyundai's award-winning high-performance car.
Hyundai's first true high-performance car, the i30 N, is redefining how the world views our vehicles.
AUSTRALIA'S BEST CARS AWARD WINNER.
Every new chapter has a beginning. This is ours. The i30 N is Hyundai's first true high-performance car, developed to debut the N division and redefine how the world views our vehicles.
Recently the game-changing i30 N hot hatch was crowned best Sports Car Under $50,000 in the 2018 Australia's Best Cars (ABC) awards, taking Hyundai's total tally to 23 ABC awards.
The i30 N secured the coveted title against established hard-hitting high-performance players, in the nation's largest independent new-car assessment and awards programme, after a gruelling week-long test adjudicated by representatives from Australia's peak motoring organisations.
PERFORMANCE & SAFETY.
The i30 N won the ABC judges' votes with its accessible high-performance, hugely capable and rewarding handling, all-rounder practicality and value for money, against tough competition from shortlisted category rivals.
Australia's Best Cars judges commented: "With a starting price of $39,990 there are few in the category that can match the i30 N price-wise and the value-for-money equation is enhanced with a good level of standard features and high build quality. Impressive as it is, you don't win a sports category with those attributes alone and it's the i30 N's on-road scores that really matter and where it excels."
MORE RAVE REVIEWS FOR HYUNDAI i30 N.
Here's a sample of what leading car reviewers have been saying about the Hyundai i30 N…
"The i30 N is uniquely Hyundai in that it offers not only its own personality, but also more of almost everything when directly compared to its rivals." – Motoring.com.au
"The i30 N is the result of a holistic approach to crafting a performance car, rather than just turning up the wick on an existing grocery-getter's mechanicals. Sure, it's i30 sheetmetal that you're looking at, but there's so much that's been changed underneath the skin that the i30 N may as well belong to a different genus altogether." – Wheels Magazine
"The result is not one punch, but a flurry of body blows bringing strong power, plenty of equipment, a class-leading warranty and sharper price than key opponents. It's much more than good." – Drive
Learn More
CONNECT WITH N PERFORMANCE.
The N Performance community recently organised an Official i30 N technical presentation with Q&A in both Sydney (July 8) and Melbourne (July 22).
These exclusive events offered a unique opportunity to discuss the i30 N, meet with Geoff Fear – Hyundai's official N tech from N Performance.AU, and chat with Brendan Reeves – i30 N independent test driver, driver instructor and rally driver, as well as meet other i30 N owners.
You can keep up with the latest news and updates, including exclusive prizes, track days, behind the scenes footage and more by following us on N Performance!
Facebook: @NPerformance.AU
Instagram: @NPerformance.AU
Twitter: @NPerformance.AU
HYUNDAI i30 N ACCESSORIES.
You can also enhance your new Hyundai i30 N with the following accessories and more:
Rubber Cargo liner
Tinted stylevisors (set of 4)
Roof Racks
Fabric rear bumper protector
Tailored carpet floor mats (set of 4)
Dash mat
Portable cooler (12 volt, 15 litre)
Interior lighting
Chrome Tailgate Strip
Protective film kit
Learn More