Competition for Hyundai's best-performing dealership Australia-wide was neck-and-neck in 2015
Gala Gold Coast awards night reveals final contenders and the Hyundai Platinum Dealer of the Year, Melbourne's Mantello Motors
Hyundai's comprehensive and sophisticated customer satisfaction and dealer assessment program sets a new industry standard
Hyundai owners benefit from high standards set across 167-strong dealer network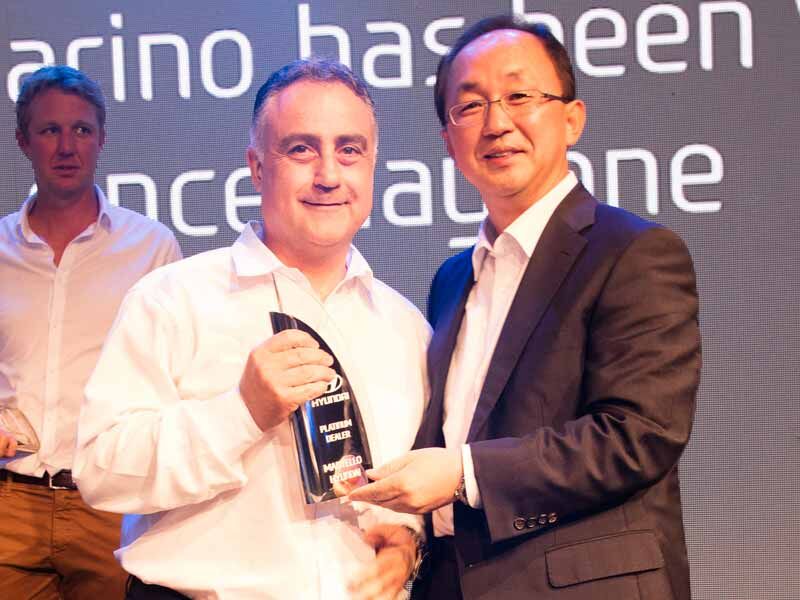 After a Melbourne Cup-like sprint to the finish, Mantello Motors is Hyundai's 2015 Platinum Dealer of the Year.
Rewarding dealership excellence across Hyundai's 167-dealer Australian network, the Platinum Dealers Program also strongly benefits Hyundai owners by encouraging the highest standards of business practice and customer relations.
A long-time family-owned dealership in Melbourne's Roxburgh Park, Mantello Motors eventually won this year's close-fought title race after extensive year-long assessment as part of Hyundai's industry-leading Network Development Program.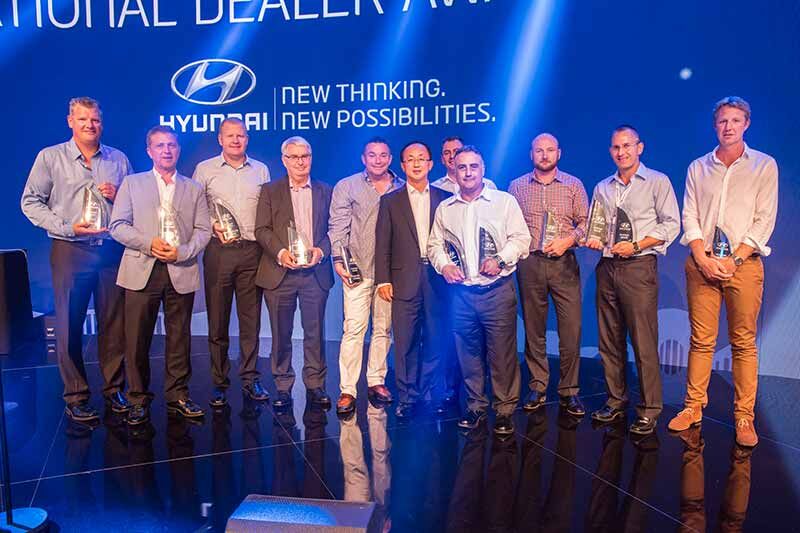 The program awards points to Hyundai dealers who meet or exceed monthly key performance indicators in 17 areas, including Sales, Service, Parts, Customer Satisfaction, Data Quality, profitability, business management and more.
Those points are tallied at the end of each year, deciding Hyundai's 15 Platinum Dealers for the year, one of which officially becomes the 2015 Platinum Dealer of the Year.
This year's awards were presented at a gala function at the Gold Coast Sheraton.
"Our award assesses the overall quality across each dealership, not just performance against sales targets" says HMCA Sales Academy and Training Manager, Glenn Forster. "We also look at things like data quality, sales staff product knowledge, customer satisfaction levels, and the standards of sales and service training, both face-to-face training and via monthly e-learning.
"Everyone in the dealer network can access our website to see their monthly point scores, so it becomes quite competitive."
Now in its fourth year, this year's award culminated in an even bigger grandstand finish than in previous years.
"This year, we had no idea who was going to win," Glenn Forster said. "No single dealership dominated the race for Platinum Dealer of The Year honours during 2015. In fact, we had three different leaders for each of the final months of the year. It was very exciting, a bit like the Melbourne Cup."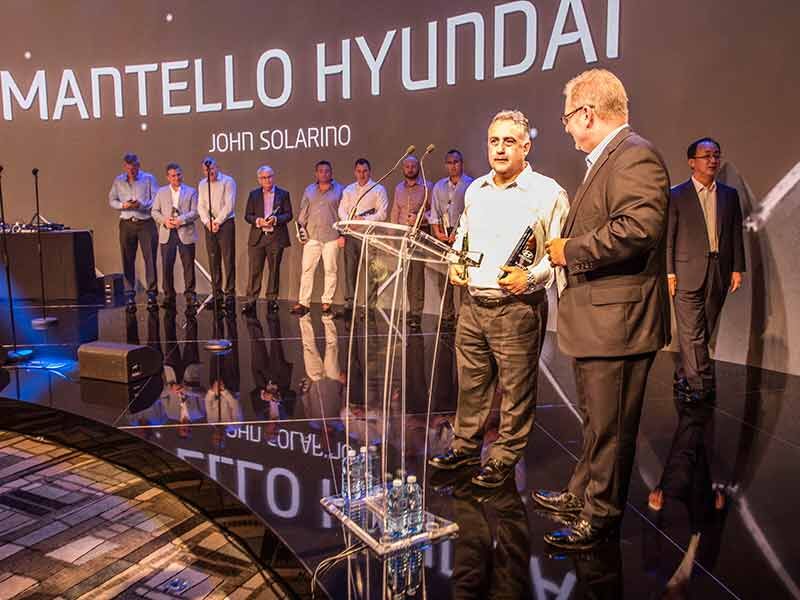 Accepting the overall 2015 Platinum Dealer of the Year Award, Montello Hyundai's dealer principal for the past 10 years, John Solarino praised both Hyundai Motor Company Australia and the cars themselves.
"They're all very good cars," he said. "I'm proud to say that our customer satisfaction levels are high, and we get a lot of repeat business. My staff and I feel very confident whenever a customer orders a Hyundai.
"Vehicle reliability is fantastic, the cars are affordable, safe, packed with features, and the customers love them," John Solarino said. "It's all impressive, from Hyundai's benchmark warranty to the way customers can access their car's service plan on our website. That way, they know exactly what their relevant service costs will be.
"Hyundai Motor Company Australia is right on the ball when it comes to communicating with its dealers, too," he said. "The number of bulletins and other communications they send us is impressive.
"I have to say that, overall, Hyundai Motor globally and Hyundai Motor Company Australia have genuine passion for what they do. And, of course, they do it really well."
Other prestigious 2015 Hyundai Platinum Dealer Award recipients on the night were:
Barton's Hyundai, Wynnum, Queensland (dealer principal, Mark Beitz
Castle Hill Hyundai, Castle Hill, Sydney (dealer principal, Brett Harrison)
Cranbourne Hyundai, Cranbourne, Melbourne (dealer principal, Tom Davis)
Essendon Hyundai, Essendon Fields, Melbourne (dealer principal, Tony di Lorenzo)
Gold Coast Hyundai, Robina, Queensland (dealer principal, James Frizelle)
JH Rosewarne Hyundai, Kadina, South Australia (dealer principal, David Rosewarne)
Paul Wakeling Hyundai, Campbelltown, Australia (dealer principal, Scott Wakeling)
Werribee Hyundai, Hoppers Crossing, Victoria (dealer principal, Paul Hopper)
Special Hyundai Platinum Dealer Awards recipients were:
Harrison Hyundai, Melton, Victoria – Customer Satisfaction Index Award for Sales – Nic Harrison
Mornington Hyundai, Mornington, Victoria – CSI Award for Service – Ivan Cassino
John Hughes Hyundai – Victoria Park, Western Australia – Highest Sales Volume (4234 Hyundai vehicles sold in 2015) – Gary Fitch