2024 i30 Sedan: Daring, dynamic & now in Hybrid
Introducing 2024 i30 Sedan featuring refreshed styling, an updated range and features, and the choice of an efficient Hybrid powertrain for the first time.
Petrol/electric hybrid system marks a first for i30 in Australia and brings a familiar drive experience with an impressive 3.9L/100km (ADR combined cycle)
Convenience, safety & security of Bluelink™ connected car services
2024 i30 Sedan is available now priced from $29,000 (MLP)
Introducing 2024 i30 Sedan featuring refreshed styling, updated features and the choice of an efficient Hybrid powertrain.
2024 i30 Sedan's Hybrid powertrain marks a first for the model in Australia and now gives customers a choice of three engines, alongside 2.0 MPi and 1.6 T-GDi petrol units.
The Hybrid powertrain is available from the entry variant and combines a 1.6 GDi engine and 6-speed DCT with a 32kW electric motor powered by a 1.32kWh battery, to deliver strong performance, a familiar drive experience, and 2.8L/100km ADR urban cycle fuel economy.
2024 i30 Sedan introduces a revised line up and equipment updates to give customers greater choice.
New i30 variant replaces Active to open the range, which then moves to the continuing Elite and new Premium variants, and is topped by the sporty N Line and N Line Premium.
Range overview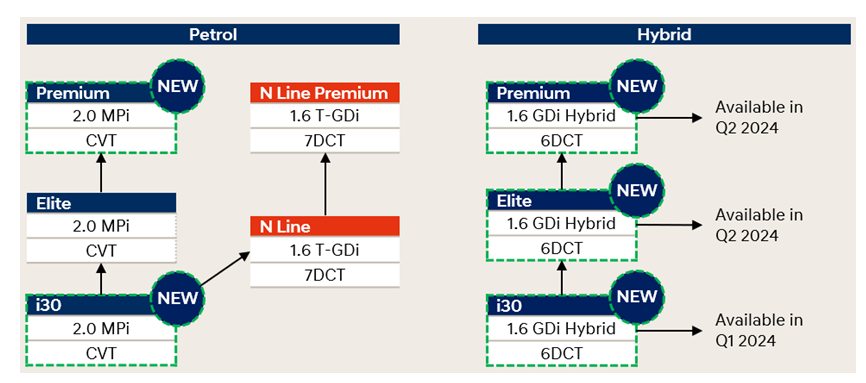 2024 i30 Sedan is available with a greater selection of powertrains than ever before, with a new Hybrid powertrain offered for the first time in Australia.
2024 i30 Sedan brings enhanced standard equipment for the entry i30 trim, to stay ahead of customer expectations in the competitive small passenger car segment.
Standard additions include LED headlights and DRLs, Front & Rear Parking Distance Warning system (previously rear only), more advanced Forward Collision-Avoidance Assist system, and an Intelligent Speed Limit Assist (ISLA) system.
At the same time, the i30 entry trim introduces 16-inch alloy wheels and premium patterned black cloth seats.
2024 i30 Sedan Elite brings the convenience, safety and security of BluelinkTM connected car services. It also gains an electro-chromatic interior mirror and an LED rear positioning light.
New 2024 i30 Sedan Premium brings Parking Collision Warning, Bose premium audio and new-to-the-model tech in the form of a Blind-Spot View Monitor (BVM) and Surround View Monitor (SVM), along with Projection type LED headlights, LED tail-lights and a heated steering wheel.
The dynamic 2024 i30 Sedan N Line and N Line Premium variants are available exclusively with the SmartStream G1.6 T-GDi paired with a 7-speed dual clutch transmission.
The N Line variants continue to feature an aggressive exterior treatment, 18-inch alloy wheels, and black leather seats with red highlights, to create a sporty yet sophisticated look and a driver-focused feel.
"Our sporty i30 Sedan has been a popular small car in the Australian market since replacing the Elantra nameplate in October 2020," said Hyundai Motor Company Australia Chief Executive Officer, Ted Lee.
"2024 i30 Sedan is set to build on the model's momentum with its refreshed style, revised line-up featuring new technology and, in an i30 first, Hybrid powertrain efficiency," he said
POWERTRAINS
2024 i30 Sedan is available with three powertrains catering to a wide range of customers, from those looking for an everyday versatile powertrain, to users with a particular focus on excellent economy, or turbocharged high performance.
SmartStream G2.0 MPi Atkinson
Opening the 2024 i30 Sedan range is an upgraded version of the preceding i30 Sedan's SmartStream G2.0 MPi powertrain, now featuring the following technologies:
Dual-Continuously Variable Valve Timing (D-CVVT)
Two-stage Variable Intake System (VIS)
Efficient Atkinson combustion cycle
This is paired with a new SmartStream Intelligent Variable Transmission (IVT). Tuned to mimic a conventional automatic transmission, with eight virtual gears and a sequential manual mode, the IVT delivers a familiar driving experience. The improvements made to both the engine and transmission bring improved efficiency and a more refined drive.
SmartStream G1.6 T-GDi
The SmartStream G1.6 T-GDi is designed to suit customers seeking a higher performance powertrain, and offers greater power and torque in an exceptionally refined package. It is paired exclusively with a 7-speed Dual Clutch Transmission that provides an engaging and sporty driving experience.
This engine optimises performance and fuel efficiency through the application of Continuously Variable Valve Duration (CVVD) technology, whereby the opening duration of the intake valves is continually adjusted. The result is an engine that combines sharp throttle response and impressive torque and power outputs with excellent fuel economy, to deliver an engaging driving experience in an every-day usable package.
1.6 GDi Hybrid - NEW
2024 i30 Sedan's 1.6 GDi Hybrid powertrain is derived from IONIQ's petrol/electric hybrid system and six-speed Dual Clutch Transmission, and offers a driving experience similar to a conventional internal combustion engine vehicle, while using substantially less fuel.
2024 i30 Sedan Hybrid drives primarily using the petrol engine, with a 1.32kWh battery-powered electric motor providing up to 32kW and 170Nm of assistance when required.
Regenerative braking allows the hybrid system to recover some of the kinetic energy that is lost to heat the friction brakes in a conventional vehicle, and using that energy to recharge the high-voltage battery.
The electric motor, with its instant torque, is the perfect companion to the efficient petrol engine, which produces its peak torque at higher speeds. The result of the engine/motor pairing is a strong, smooth and broad torque curve.
The combination delivers peak torque of 265Nm – equaling that of the 1.6 T-GDi powertrain – while achieving 3.9L/100km ADR combined cycle fuel economy, or 2.8L/100km on the ADR urban cycle.
Moving away from rest, and at low speeds, 2024 i30 Sedan Hybrid operates in EV mode, using battery power alone.
During acceleration the 1.6 GDi engine starts automatically, with the electric motor contributing power as needed, for fuel-efficient operation.
While cruising at higher speeds, only the engine is used, with 2024 i30 Sedan Hybrid capable of switching to EV mode while coasting, to conserve fuel.
When decelerating or driving downhill, the hybrid system shuts off the petrol engine and uses the electric motor to captures kinetic energy, which is converted into electrical energy to recharge the battery.
When 2024 i30 Sedan is stationary, both the electric motor and engine are stopped

EXTERIOR
2024 i30 Sedan introduces a refreshed take on the model's bold, progressive design which continues to be inspired by the concept of 'Parametric Dynamics' which builds on Hyundai's 'Sensuous Sportiness' design language through the celebration of geometric shapes, 3D surfacing and sensuous lines.
2024 i30 Sedan's progressive and sporty treatment creates a wedge-shaped stance that complements the coupe-like body profile. The result is a unique style that sets i30 Sedan apart from conventionally-styled small sedan alternatives, to help it attract younger buyers.
Headlining 2024 i30 Sedan is a wide, split horizontal grille treatment that creates a sleek and sporty visage. Featuring a Neotronic Black parametric pattern, and complemented by a chrome highlight connecting the headlights, the result is an impressive yet integrated horizontal design theme.
LED headlights, which are now standard, provide the finishing touch, blending seamlessly into the wide grille, topped by optional LED indicators integrated within the LED DRLs.
2024 i30 Sedan's fastback-style rear treatment culminates in a sculpted boot lid shaped like a spoiler, with a piano black trim panel directly below the rear windscreen created the effect of an elongated, coupe-like glasshouse.
The restyled lower bumper is deeper and sportier and features a diffuser-like design. Teamed with a standard H-lighting LED signature, the result is a low and wide aesthetic.
The 2024 i30 Sedan will be available in a wide selection of nine exterior colours across the range, including three new colours for even greater choice and personalisation.
Exterior Colours
Atlas White (SAW) - Solid
Cyber Grey (C5G) - Metallic (NEW) - N line exclusive
Fluid Metal (M6T) - Metallic
Ecotronic Grey (PE2) - Mica (NEW) - i30 Sedan (entry variant) exclusive
Amazon Grey (A5G) - Metallic
Abyss Black (A2B) - Mica
Ultimate Red (R2P) - Metallic
Meta Blue (PM2) - Mica (NEW) - Elite & Premium exclusive
Intense Blue (YP5) - Metallic
INTERIOR
2024 i30 Sedan's unique wrap-around dashboard and centre console concept, paired with large digital displays and a full-length horizontal air vent create a cockpit-inspired aesthetic that puts the focus on the driver and provides the ideal complement to the dynamic exterior.
The high-type centre console provides a cocooning effect for the driver and is paired with a unique passenger grip bar that runs along the length of the console, further contributing to the cabin's strong design focus.
Highlights in 2024 i30 Sedan's cabin include a revised wireless charging pad designed to accommodate larger mobile phones, addition of front and rear USB-C outlets, a customisable, multifunction button on the steering wheel and a newly designed, segmented 4.2-inch digital instrument cluster on entry i30 trim for a cleaner, more modern appearance.
These include a contrasting stitching treatment for the coupe-line door trims, which aligns with the dashboard air vents. In combination with lowered interior door handles the result is a further enhancement of the sporty cabin ambience.
2024 i30 Sedan is available with a premium patterned cloth upholstery in an Obsidian Black, while Elite and Premium variants feature a leather-appointed interior in Obsidian Black.
N Line variants feature leather-appointed seats in Obsidian Black with sporty red stitching and highlights throughout the interior.
HYUNDAI BLUELINK™
2024 i30 Sedan's 10.25-inch multimedia touchscreen (Elite, Premium and N Line Premium trims) now features Bluelink™ connected car services, which enables app-based features including calendar sync, remote services, find my car, remote vehicle check and more.
Hyundai Bluelink™ and the accompanying connected car services are commentary for the first 5-years of new vehicle ownership and are transferrable to subsequent owners within this 5-year period.
Key Bluelink® features:
Automatic Collision Notification (ACN)
Emergency Call (SOS) function
Connected Routing – live traffic updates
Alert services including geo-fencing, valet, speed & time alerts
Remote control of climate and vehicle functions
Navigation send to car
Voice recognition for POI lookup, vehicle controls
Live weather information
Vehicle settings management
PRICING AND AFTERSALES
Pricing

Note: All prices are Manufacturer's List Price (MLP) where applicable. Price excludes dealer delivery and on road costs.
Hyundai iCare
With Hyundai iCare, the joy of buying a Hyundai will stretch well beyond the showroom. This leading customer care program offers a comprehensive suite of owner benefits including; Lifetime Service Plan, 5 Year Unlimited Km Warranty, 5 Year Hyundai Bluelink™ subscription, complimentary Roadside Assist for 12 months on new vehicles, 1,500km complimentary first service, a dedicated Customer Care Centre, and myHyundai – an exclusive owner website. When servicing with Hyundai, customers will also receive a Roadside Support Plan for up to 10 years, a 10 Year Sat Nav Update Plan and more.