Hyundai i30 N wins 2018 News Corporation Car of the Year.
•
The Hyundai i30 N has won the 2018 News Corporation Car of the Year award
•
The searing-hot i30 N rose to the top of a field of 10 talented finalists
•
Judges praised the i30 N's startlingly accomplished, giant-killing performance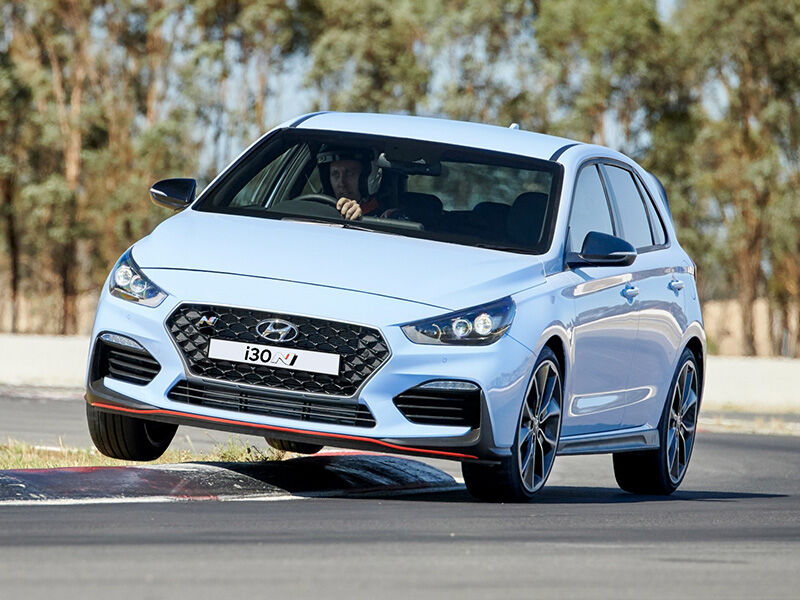 Hyundai's i30 N has secured the coveted 2018 News Corporation Car of the Year award.
From a field of 10 talented finalists, Hyundai's benchmark-raising hot hatch rose to secure a confident victory, relegating capable rivals the Subaru Forester and Mazda 6 to second and third respectively.
The victory comes just weeks after the Australian-tuned, 202kW turbo i30 N triumphed at the 2018 Drive Car of the Year awards, securing the hotly contested Best Performance Car Under $60K crown.
News Corporation motoring editor Richard Blackburn said that the i30N beat nine other finalists in a high-quality field, narrowly edging out the excellent Subaru Forester in the final vote.
"This is the first performance hatch Hyundai has built, so it is a real David v Goliath effort against revered names such as the Volkswagen Golf GTI, Renault Megane RS and Subaru WRX. It's a giant killer," he said.
"It nails the brief of a hot hatch, with a snarling exhaust note, outstanding grip and potent acceleration.
"The i30 N signals a new chapter for the Korean maker, which has proved it can compete on equal terms with the world's finest hot hatches."
Fellow Judge Bill McKinnon said, "If BMW did a front-drive performance hatch, it would be like this."
"It's a car that will still be talked about in 10 years' time," judge Iain Curry said.
"To win the 2018 News Corporation Car of the Year, on the back of our victory in the 2018 Drive COTY Performance Car Under $60K category, brings us great pride, as well as cementing the broad appeal and talent of our first-ever high-performance vehicle," Hyundai Motor Company Australia Chief Executive Officer, JW Lee said.
"The immense driver involvement, sporty image and strong value that makes the i30 N a hit with enthusiast buyers also stood it in good stead to triumph against a field of capable finalists," he said.
The two-day News Corporation Car of the Year program starts with an intensive analysis of the cars' strengths and weaknesses, and how each compares with its competitive set, considering fundamentals such as safety credentials and value for money.
Hyundai iCare®
With Hyundai iCare® the joy of buying a Hyundai will stretch well beyond the showroom. This leading customer care program offers a comprehensive suite of owner benefits including; Lifetime Service Plan, 5 Year Unlimited Km Warranty, complimentary Roadside Assist for 12 months on new vehicles 1,500km complimentary first service, a dedicated Customer Care Centre, myHyundai – exclusive owner website and customer events. When servicing with Hyundai, customers will also receive a 5 Year SatNav Update Plan or 10 Year Sat Nav Update Plan (new i30), a Roadside Support Plan for up to 10 years and more. Visit www.hyundai.com.au/owners for full details.