IONIQ Hybrid sets land speed record at Bonneville Salt Flats.
Hyundai Engineering Team Explores the Limits of new
Hybrid's Eco-performance, Applying Nitrous-oxide and
Special Aerodynamics for Record Federation Internationale
de l'Automobile (FIA) Approved the New Production-based Hybrid Category Record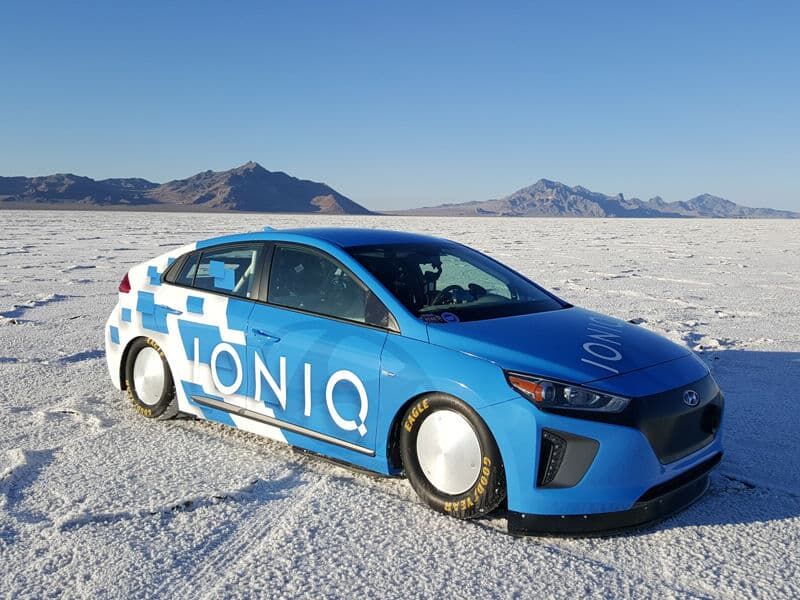 A race-prepared Hyundai IONIQ hybrid prototype, developed by Hyundai Motor America's Engineering and Quality team, set an FIA-approved production-based hybrid vehicle land speed record of 157.825mph (254km/h), with a peak exit speed of 160.7mph (258.6km/h) at Utah's renowned Bonneville Salt Flats.

The eco-focused IONIQ is Hyundai's newest hybrid model, with hybrid, plug-in hybrid and electric powertrains to be available.


We couldn't be more proud in setting the FIA hybrid-category record with our new IONIQ hybrid," said Mike O'Brien, vice president, Corporate and Product Planning, Hyundai Motor America. "Our engineering team really pushed the limits to set this new segment benchmark while demonstrating the impressive durability of the entire IONIQ vehicle platform. We expect this will be the first of many accolades for IONIQ."

Hyundai Motor America's engineering and quality group led the concept development for this grassroots motorsports effort. "A key role of Hyundai's engineering team in the U.S. is to thoroughly test all future vehicle prototypes to ensure they exceed the demanding expectations of our customers", said Mircea Gradu, director, Engineering and Quality, Hyundai Motor America. "As we performed these tests on IONIQ, the engineering and quality staff became so impressed with the results that we began to wonder if we should raise our sights even higher, and the IONIQ land speed record effort was born.

The development team made a number of special modifications to the IONIQ hybrid prototype to break the hybrid record, including:

Powertrain
• Low-restriction intake and exhaust systems with retained catalyst
• Engine, transmission, and hybrid ECU recalibrated and governors removed
• Air conditioning and ancillary accessories removed
• Nitrous Express single-stage direct-port nitrous injection with stand-alone fuel system, cockpit-controlled

Aerodynamics/Lightweighting
• IONIQ Electric model front grille and valance integration
• Underbody and air dam aerodynamic modifications
• Interior components removed or lightened

Suspension
• Progress Competition coil-over suspension with optimized spring, damping and sway bar rates and ride height lowered 100mm
• Lightweight aero wheels and wheel covers with Goodyear® Eagle tires

Safety
• Fully-integrated high-strength safety cage structure (Bisimoto-designed)
• Sparco® 6-point safety harness system, racing seat, and driver safety gear
• On-board fire-suppression system, battery disconnects and parachute
Ready to take the next step?