Important safety notice.
Vehicle safety recall.
Safety recall on Hyundai electric vehicles.
Hyundai Motor Company (HMC) has identified a safety concern and has decided to implement a safety recall in respect of certain models of Hyundai electric vehicle.
Reduce charging limit - interim safety precaution.
As a safety precaution, please reduce the maximum charging limit of your vehicle to 90%. Instructions on how to do this are below.
Instructions.
Press the green 'EV' icon on the main touch screen.
Press the large battery icon within the 'Energy Information' box.
Within 'Energy information' select 'DC Charger'.
Set charging limit to 90 percent then press 'OK'.
Within 'Energy information' select 'AC Charger'.
Set charging limit to 90% then press 'OK'.
Once you have taken the steps above, your vehicle battery will be set up to charge to a maximum of 90%.
Charging limit.
The target battery charge level can be selected when charged with AC charge or DC charger.
The charging level can be changed by 10%.
If the target battery charge level is lower than the high voltage battery charge level, the battery will not be charged.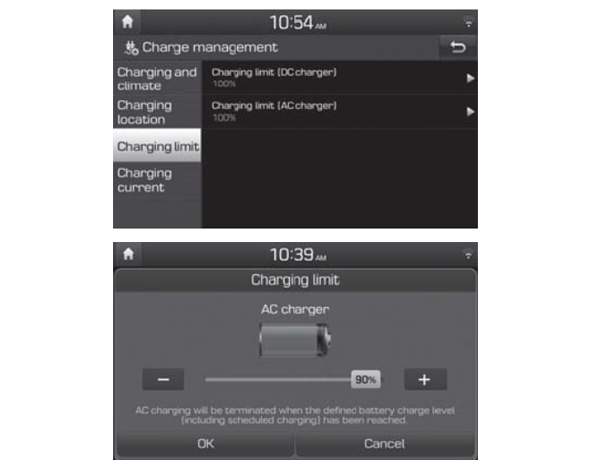 Should you have any questions or require any further assistance at this time, you may also contact the HMCA Customer Care team on 1800 186 306.
We wish to assure you that HMCA is taking all steps necessary to implement the recall and will contact you with further details, including to arrange for replacement of the battery in your vehicle.
Contact Customer Care
Ready to take the next step?