Driven by the senses.
Feel every sense shift into gear with the SONATA N Line. A technologically advanced powerhouse built to turn every drive into a thrill.
Unmatched power.[P6]
Unmatched in its class[P6], for good reason. The SONATA N Line is packed with power, featuring a 2.5 T-GDi powertrain and torque figures of 213kW and 422Nm. With an advanced suspension system and agile steering response, every drive is thrill.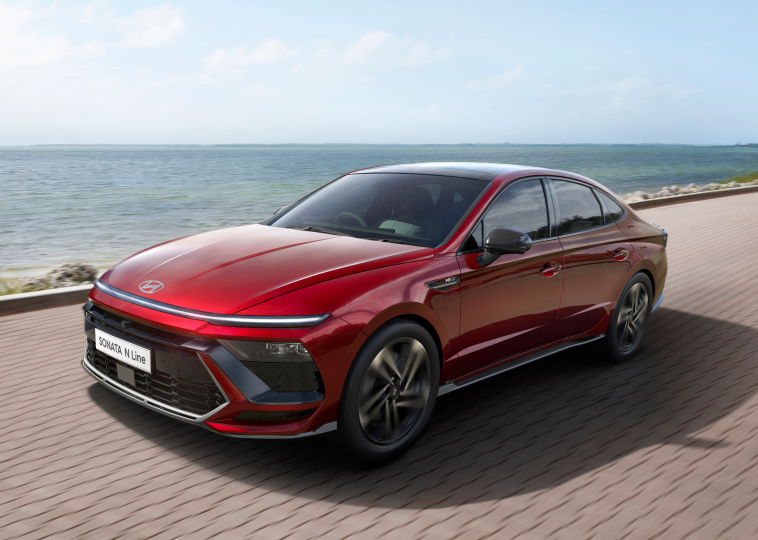 Discover N-spiring design.
This is what progressive automotive design looks like. A horizontal front-end layout integrates the impressive lighting architecture, while the enlarged front bumper grille adds a powerful finish you can feel.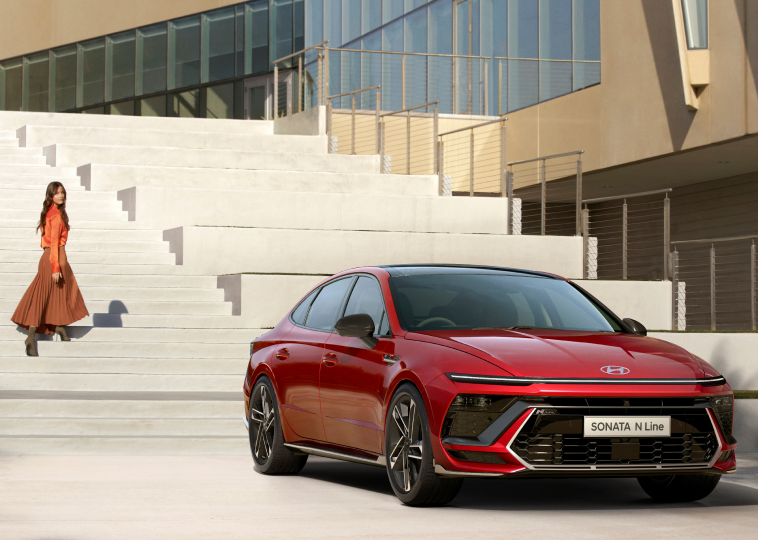 Every acceleration. Amplified.
Feel the power of N at your feet. Launch Control maintains the engine speed and kickstarts the turbocharger, increasing acceleration performance.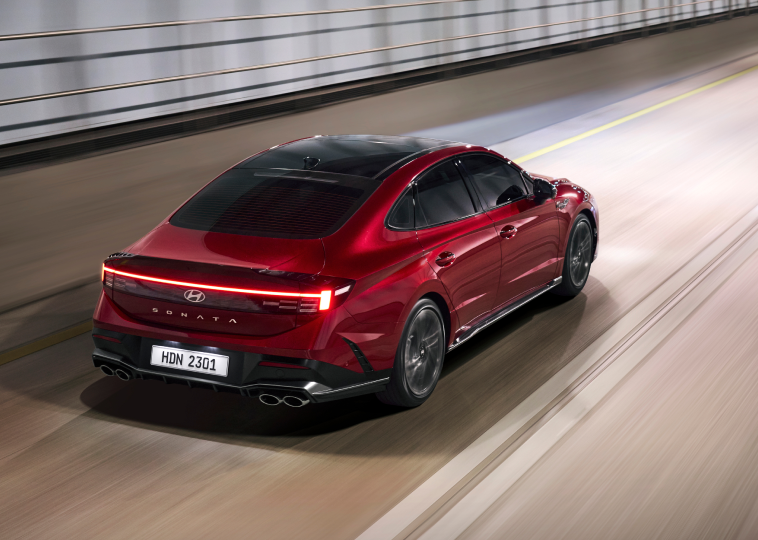 The open road. In full view.
Enjoy the smooth curve of the super-wide dual display, featuring seamless integration of a 12.3" cluster for the ultimate immersive digital experience.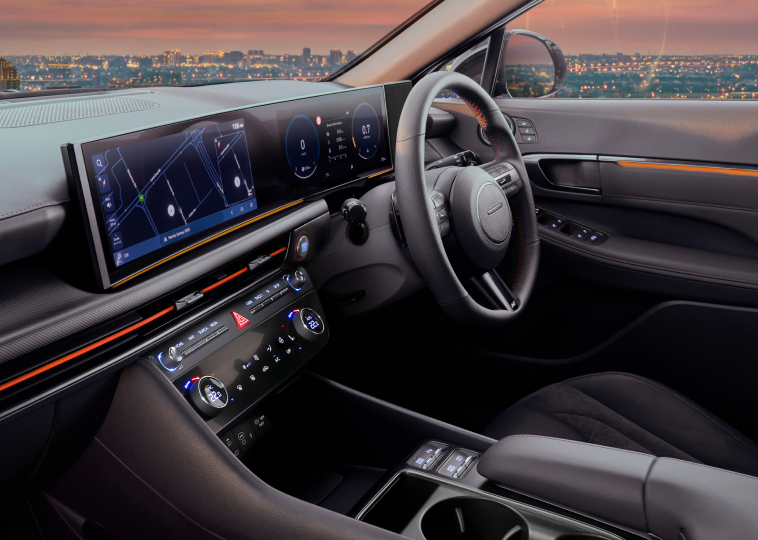 The future at your fingertips.
This tech-leading model is equipped with BluelinkTM[P1] connected car services and Over-The-Air (OTA) Software Updates. With innovative safety features like SOS Automatic Collision Notification[P2] , you can breathe a sigh of relief.
Luxury you can feel.
The SONATA N Line features suede sport seats that ergonomically contour to your body, while premium leather headrests support you on your journey. Red contrast stitching and embossed logos leave you with that signature N thrill.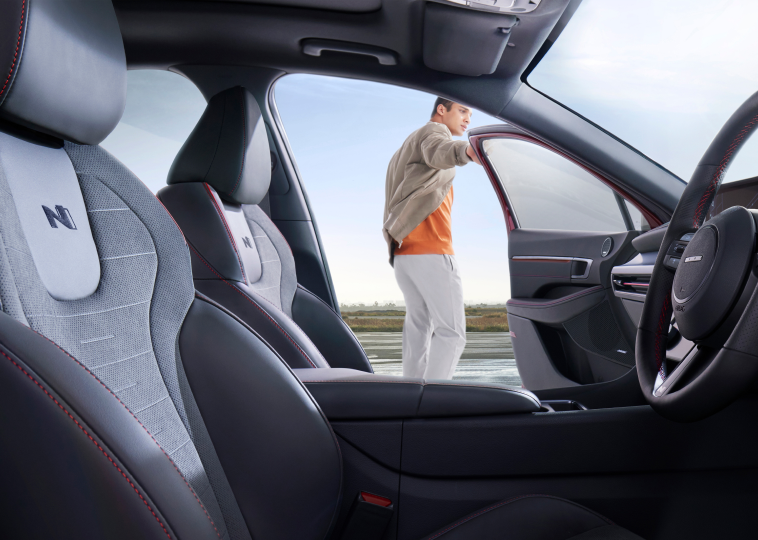 Take control with Drive Mode selector.
Drive Mode selector lets you decide how you want to take on the road that day. Choose between Eco, Normal, Sport or My Drive, where you can set up a custom mode.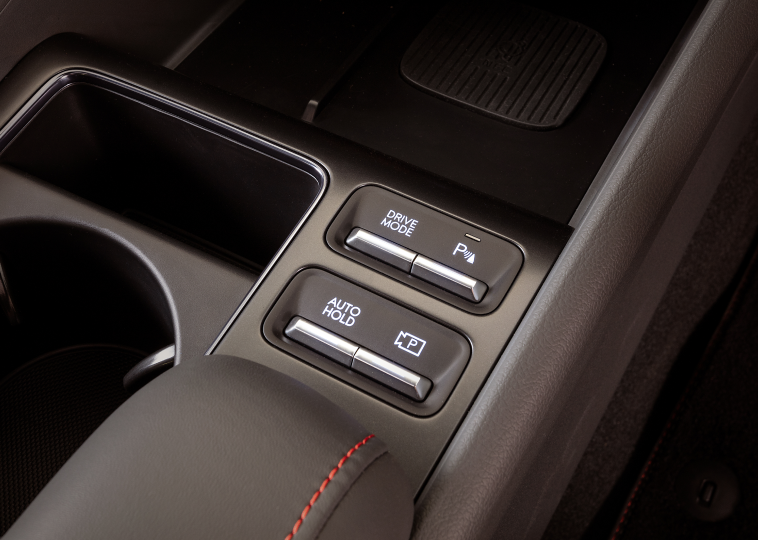 Be N-Spired.
Sitting in the SONATA N Line is a feeling you won't forget. With a driver-centric layout and advanced tech that seamlessly integrates into your lifestyle, this is the future of mobility design.
Make them look.
The SONATA N Line knows how to make an entrance. With a sleek, sporty design that's signature to the powerful N Line, and futuristic touches, it will send your senses into overdrive.
Hyundai SmartSenseTM safety.
At Hyundai, we believe safety should never be an optional extra. That's why we created Hyundai SmartSenseTM[P8] – our advanced system of interconnected cameras, radars, alerts, alarms and ultrasonic sensors that know what's behind and beside you, and can help get your SONATA N Line to react to what's in front of you.[P7]
Blind-Spot Collision-Avoidance Assist (BCA).
Like a second set of eyes, this system uses radar sensors in the rear bumper to look out for the vehicles in the driver's blind spot. When BCA detects a vehicle in those blind spots, it provides visual and audible alerts, and if it detects a potential collision, it initiates active avoidance braking and steering manoeuvre to help keep your SONATA out of harm's way.
Blind-Spot View Monitor (BVM).
Signalling left or right with the SONATA's indicators will activate Blind-Spot View Monitor (BVM). This safety system can see cars travelling in rear blind spots and projects real-time video onto the digital supervision cluster, giving you a more complete driving picture to respond to.
Forward Collision-Avoidance Assist with Junction Turning (FCA-JT).
Forward Collision-Avoidance Assist (CA) is designed to help detect and monitor the vehicle ahead or help detect a pedestrian or cyclist in the roadway and warn the driver that a collision is imminent with a warning message and an audible warning, and if necessary, apply emergency braking. Junction Turning (JT) function will help avoid a collision with an oncoming vehicle in an adjacent lane when turning right at a crossroad with the turn signal on by applying emergency braking.
Lane Keeping Assist - Line/Road-Edge (LKA-L/R).
A steering assist function that detects lane markings to monitor your position in the lane. Should you stray from your intended lane without activating your indicators, an audible and visual warning will be sounded and where required, steering intervention will activate to keep you in your lane.
Smart Cruise Control (SCC) with Stop & Go.
This system utilises the front radar sensor to detect the speed and distance of a vehicle travelling ahead in the same direction from that vehicle, up to a maximum speed preset by you between 10km/h and 180 km/h.
Surround View Monitor (SVM).
The system detects any oncoming vehicles approaching from the rear and alerts the driver that it may be dangerous for passengers to exit the SONATA, with both a sound and a pop-up visual warning appearing on the dashboard.
Intelligent Speed Limit Assist (ISLA)
Why stress about going over the speed limit inadvertently when you can set the vehicle's speed for added safety. Simply long-hold the cruise control button on the steering wheel, then set the desired speed using the speed toggle. Engine power is now limited and if speed is exceeded a warning chime rings. With the addition of Intelligent Speed Limit Assist speed limit road signs can be read and displayed within the cluster for later reference.
Connection you can feel.
Feel your lifestyle seamlessly sync with the SONATA N Line. Loaded with tech innovations and advanced safety features, this is the next gen of high performance connectivity.
Disclaimers.
[P1] BluelinkTM is a registered trademark of Hyundai Motor Company.
[P2] Driver-assist feature only. Only operates if airbag deployment is detected in vehicle. Vehicle must have a working electrical system, including adequate battery power and mobile network coverage to operate. Emergency services at user's cost. Hyundai cannot guarantee responses from emergency providers. Not available if BluelinkTM services are disabled or terminated.
[P3] Apple CarPlayTM functionality requires software update. Apple CarplayTM requires iPhone 5Ⓡ or subsequent model (lightning cable) in order to operate. iPhoneⓇ is a registered trademark of Apple Inc.
[P4] AndroidTM Auto requires a device with Android 5.0 operating system or subsequent version, and USB cable in order to operate. Android is a trademark of Google Inc.
[P5] Wireless charging requires a Qi-enabled smartphone or adapter in order to operate.
[P6] Classing leading in VFACTS Medium < $60K passenger segment, October 2023
[P7] Animations are for illustrative purposes only.
[P8] Hyundai SmartSenseTM is a registered trademark of Hyundai Motor Company. Safety features are not substitute for attentive driving.
[H1] 5-Year Unlimited Km Warranty
Applies if the vehicle has been used for private and domestic purposes and is not and has not been previously used for a commercial application, including but not limited to taxi, hire, rental, courier, security, driving school, tour, bus operator or emergency vehicle. Vehicles used at any time for "commercial application", as defined in the vehicle warranty policy, are excluded. For full terms and conditions, visit hyundai.com/au/en/owning/icare/warranty.
[H2] Lifetime Service Plan
For the benefit of Hyundai owners, Hyundai provides online quotes, which specify the maximum price applicable for a vehicle's next scheduled maintenance service at a participating authorised Hyundai dealer and using Hyundai Genuine Parts (where required). Online quotes are available at hyundai.com/au/en/find-a-dealer#service, apply for a stated effective period only and may change after that effective period without notice. Standard scheduled maintenance services are of limited scope. The benefit of online quotes is available for all Hyundai's, for their lifetime.
[H3] Premium Roadside Support Plan
12 months included Premium Roadside Support when you buy a new Hyundai vehicle from a participating authorised Hyundai Dealer or direct from Hyundai. For purchases of new IONIQ 5 V.3 and IONIQ 6 vehicles, Hyundai offers 24 months Premium Roadside Support. Premium Roadside Support commences from the date of the vehicle's warranty commencement. When you have your Hyundai vehicle's scheduled service at a participating authorised Hyundai dealer, you will receive 12 months of included Premium Roadside Support from the date of service (or 24 months from the date of service for IONIQ 5 V.3 and IONIQ 6 vehicles). This offer is available for all Hyundai vehicles (excluding rental buyers and taxis). For full terms and conditions, visit hyundai.com/au/en/owning/icare/roadside-support.
[H4] Sat Nav Update Plan
Only applies to new vehicles with both 8" and 10.25" factory-fitted satellite navigation. Updates are delivered annually and are included if the vehicle completes a scheduled service at an authorised Hyundai Service Centre. Updates must be undertaken within 10 years of the vehicle's initial purchase, with a maximum number of 9 updates. For full terms and conditions, visit hyundai.com/au/en/owning/icare/sat-nav-plan.