2022 IONIQ 5: Power your world.
Revised and expanded 2022 IONIQ 5 range brings new rear engine (RWD) DYNAMIQ variant & top-spec TECHNIQ (AWD)
Extensive standard equipment now includes Augmented Reality Head-Up-Display (AR HUD) & inside Vehicle-To-Load (V2L), for powering devices in the cabin
Zero-emission performance, ultra-fast 400V/800V charging and increased 481km maximum range (RWD)
2022 IONIQ 5 DYNAMIQ trim available now from $69,900 MLP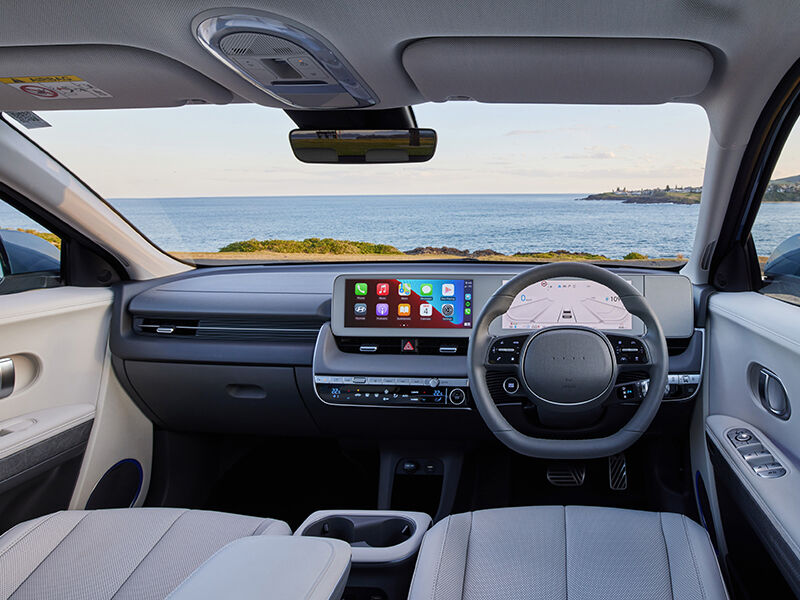 Introducing the revised 2022 IONIQ 5 range: Hyundai's dedicated battery electric model is now available in two variants with additional standard features.
A rear engine (RWD) DYNAMIQ variant brings an extended range of 481km (previously 451km), at an enticing opening price of $69,900..
A twin engine (AWD) TECHNIQ variant is now also offered, with the option of a fixed glass Vision Roof.
Both variants gain new features as standard; an Augmented Reality Head-Up-Display (AR HUD) and Vehicle-to-Load (V2L) inside function that lets occupants charge their devices and appliances in the cabin.
Built on Hyundai's EV-specific, rear-wheel-drive-based electric-Global Modular Platform (E-GMP), 2022 IONIQ 5 continues to deliver pure electric high performance with ultra-fast 400V and 800V charging capability that allows a charge from 10% to 80% in 18 minutes.
A futuristic and spacious cabin packed with comfort, convenience & SmartSenseTM safety technology, wrapped in a striking and aerodynamic retro-inspired exterior completes a compelling package.
"We are proud to introduce the upgraded 2022 IONIQ 5 in highly equipped RWD DYNAMIQ and AWD TECHNIQ grades," - Hyundai Motor Company Australia Chief Executive Officer Ted Lee said.
2022 IONIQ 5: Range overview

Note: DYNAMIQ trim and the optional Vision Roof will not be available to order until later this year
DYNAMIQ : The RWD-only DYNAMIQ offers a more accessible price point and now has an increased maximum range of 481km (previously 451km).
TECHNIQ : TECHNIQ provides AWD performance, high-tech interior amenities and brings an optional Vision Roof.
Both variants feature the Vehicle-To-Load (V2L) Inside function and an Augmented Reality Head-Up Display (AR HUD).
2022 IONIQ 5: Key Details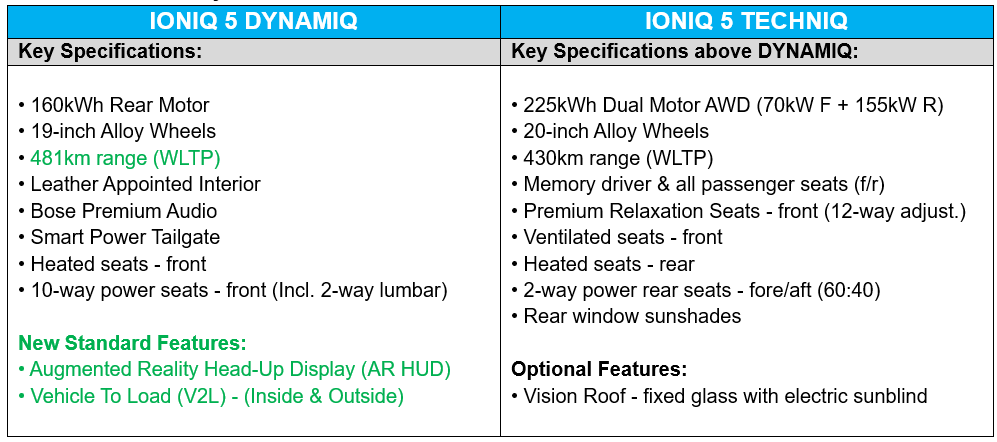 NEW SPECIFICATIONS
19-inch alloy wheels
RWD DYNAMIQ variants feature 19-inch alloys, wrapped in Michelin Primacy 4 tyres, that help bring an increases maximum range of 481km.
As well as ensuring optimal aerodynamic performance, the gloss black and machined finish wheels showcase a striking, geometric parametric jewel design.

Vehicle-To-Load (V2L) Inside
A new Vehicle-To-Load (V2L) inside feature lets occupants plug into the vehicle battery from inside the 2022 IONIQ 5 cabin, via an internal power outlet beneath the rear seats, so they can charge or power any electric device or appliance while on the move.
The V2L function has a maximum output of 250V / 15A, or 3.6 kW.
Vehicle-To-Load (V2L) Outside
2022 IONIQ 5 continues to feature a Vehicle-To-Load (V2L) outside system, which can be used to charge electric devices such as electric bicycles, scooters or camping equipment, making IONIQ 5 a charger on wheels.
The V2L function can also provide Vehicle-To-Vehicle (V2V) charging functionality via the portable emergency charging cable (ICCB), to charge another electric vehicle.
Augmented Reality Head-Up Display (AR HUD).
2022 IONIQ 5 now features an Augmented Reality Head-Up Display (AR HUD) as standard, to make it even easier to follow directions and process information.
The display uses augmented reality to overlay turn-by-turn navigation arrows onto the view of the road ahead, as well as projecting key safety/status information in the driver's line of sight, so they can process information quickly while keeping their attention on the road.
POWERTRAIN OVERVIEW
E-GMP platform
The dedicated electric-Global Modular Platform that underpins 2022 IONIQ 5 incorporates proprietary technologies developed by Hyundai to set a new industry benchmark for EV efficiency, dynamic performance and safety.
E-GMP's exceptionally low centre of gravity and ideal weight distribution are achieved by mounting the drive motors low in the chassis and locating the battery along the floorpan, to the benefit of ride, handling and safety.
Now with up to 481 km electric range
With its real-world all-electric range now boosted to a maximum of 481km for the rear-wheel drive powertrain (430km for AWD powertrain), IONIQ 5 presents a practical, zero-emissions alternative that is capable of long-distance travel.
The improved efficiency is curtesy of the 19-inch alloys wheels.
72.6 kWh Lithium-ion Polymer battery
IONIQ 5 is powered by a 653-volt, 72.6kWh lithium-ion polymer battery mounted beneath a flat floorpan, which enables optimised interior packaging and abundant cabin space.
Ultra-fast DC charging
2022 IONIQ 5's E-GMP architecture can support both 400V and 800V charging infrastructures, to enable segment-leading rapid charging.
The platform offers 800V (i.e. 350kW) charging capability as standard, along with 400V (e.g. 50kW) charging, without the need for additional components or adapters.
The multi-charging system is a world-first patented technology that operates the motor and inverter to boost 400V to 800V for stable charging compatibility.
Connected to a 350kW DC fast charging station IONIQ 5 can be recharged from 10 percent to 80 percent in only 18 minutes - a five-minute charge can provide 100km of range.
When connected to a 50kW fast charging station, IONIQ 5 takes 57min (2WD) or 62min minutes (AWD) to recharge - that's a lunch break on a road trip.
AC charging
2022 IONIQ 5's onboard AC charger can recharge the high-voltage battery in around six hours when connected to a charging station or wall-box of equal or higher capacity.
That means IONIQ 5 can be comfortably recharged overnight, ready with 100 percent battery in the morning.
Electric motor
IONIQ 5's next-generation powertrains deliver best-in-class performance and exceptional energy efficiency.
At the heart of IONIQ 5's powertrain is a high-output 160kW permanent-magnet synchronous motor driving the rear-wheels, which can deliver up to 350Nm instantaneously across the range of motor speeds.
The AWD powertrain teams a 155kW rear electric motor with a 70kW front axle-mounted motor, to deliver a total system output of 225kW and 605Nm.
With a substantially higher torque than a 225kW conventional powertrain, IONIQ 5's standing-start acceleration dramatically exceeds performance expectations, with the AWD achieving 0-100km/h in 5.2 seconds.
PRICING AND AFTERSALES
Pricing


Hyundai iCare®
iCare is our commitment to Hyundai owners, making sure their car ownership is as enjoyable, easy and extensive as imaginable. Expert service and support is provided with Hyundai's Lifetime Service Plan so customers can enjoy exclusive service pricing with no hidden fees, Roadside Support Plan and Sat Nav Update Plan, both available up to 10 years. Plus, a suite of other owner benefits like, access to myHyundai, an online portal designed to help Hyundai owners get to know their new car and access to special offers, and the support of our dedicated customer care experts, always on hand to help with any questions or issues that customers may have. All that and the reassurance of Hyundai's 5 Year Unlimited Km vehicle warranty and 8 Year 160,000km high-voltage battery warranty providing customers with the care they need, when they need it.
KEY SPECIFICATIONS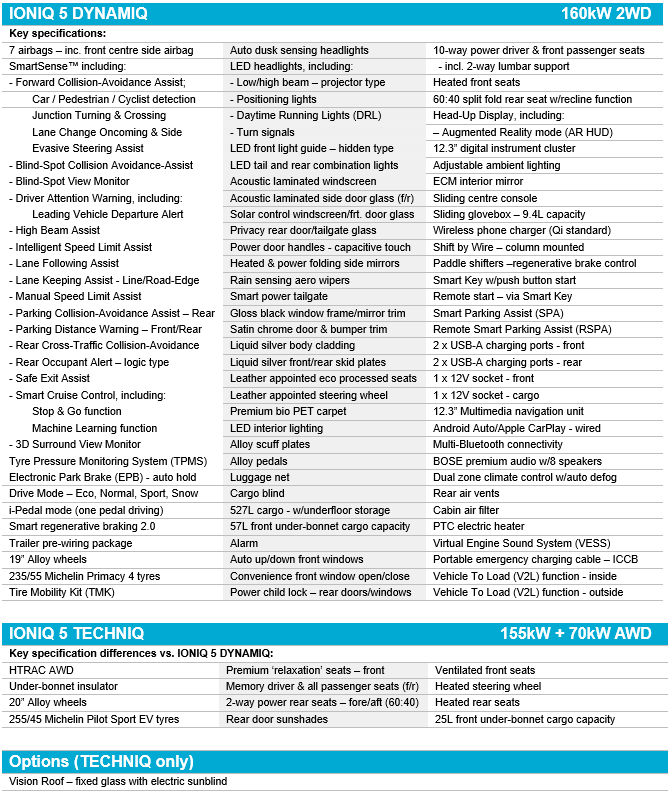 Ready to take the next step?