Hyundai Motor Company Australia previews the MIGHTY Electric Truck at Brisbane Truck Show.
Light-duty 7.3-tonne heavy truck delivers high performance and zero tailpipe emissions
100% electric and on sale from 1st July 2023
Perfect for last mile delivery and urban vocation applications
8-year/400,000km high-voltage battery warranty
MIGHTY Electric indicative retail pricing of $150,000 (plus on road costs)
Hyundai Motor Company Australia today unveils the new MIGHTY Electric Truck, that is 100% electric, at the Brisbane Truck Show.
The MIGHTY Electric Truck is a 4x2 light-duty heavy vehicle that can be used with a tray, tipper or pantech for last mile deliveries.
With a GVM of up to 7.3 tonnes and a payload of around four tonnes (including the tray or body structure), the MIGHTY Electric Truck is the perfect zero tailpipe emissions delivery truck for crowded urban environments.
The MIGHTY Electric Truck has an estimated working AER (All Electric Range) of up to 200km when fully loaded, fully charged and with the air conditioning running. This figure has been validated by more than 5,000km of real-world testing in New South Wales, utilising a pre-production truck with a tray configuration.
When connected to an 800V ultra-rapid (DC) charger, the battery can be replenished from 8% to 100% in just 71 minutes.
The 120kW/320Nm electric motor is powered by a 114.5kWh battery system, driving through a single-speed reduction gear transmission.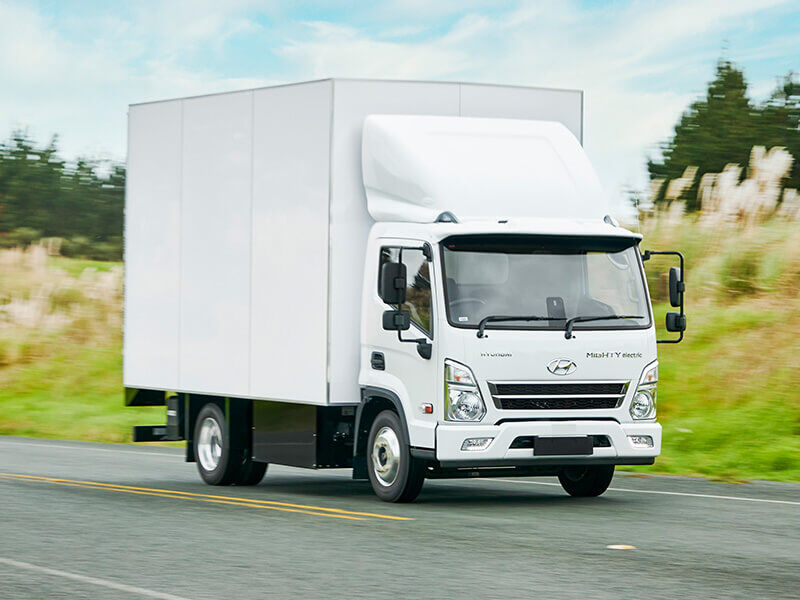 Indicative pricing suggests a retail price of around $150,000 (plus on road costs) as a cab/chassis unit, though this will be confirmed closer to the on-sale date of 1st July 2023.
The MIGHTY Electric will also be offered with a factory-fitted pantech or refrigerated pantech, with pricing to be confirmed.
In addition, Hyundai will offer a Genuine Accessory tray body as a cost option, which can be fitted at the port of entry, for customers looking for a built-to-go solution - a tipper option is also under consideration.
Hyundai Motor Company has been building heavy trucks and buses since 1969, and has a product offering covering most market segments. The truck business has been heavily focused on zero-emission development for many years, leading to today's MIGHTY Electric truck and the forthcoming range of XCIENT Fuel Cell trucks.
By 2030, Hyundai Motor Group will have a total line-up of 31 EV models globally. Based on EV sales, Hyundai Motor Group plans to enter the global top 3 the same year.
The company is on track to achieve carbon neutrality by 2045, by neutralising CO2 emissions at all stages of production and operation.
"Hyundai Motor Company Australia is delighted to welcome the MIGHTY Electric Truck to the Australian market," says Ted Lee, CEO Hyundai Motor Company Australia.
"The zero-emission truck market is gaining momentum in Australia, and as a key driver of EV adoption in the passenger and SUV market, bringing this vehicle to local truck operators is a logical step for us," he says.
Corporate Business Sales Senior Manager at HMCA, Damian Prescott, said: "There has been a lot of interest in the MIGHTY Electric Truck since we announced its impending arrival in Australia earlier this year.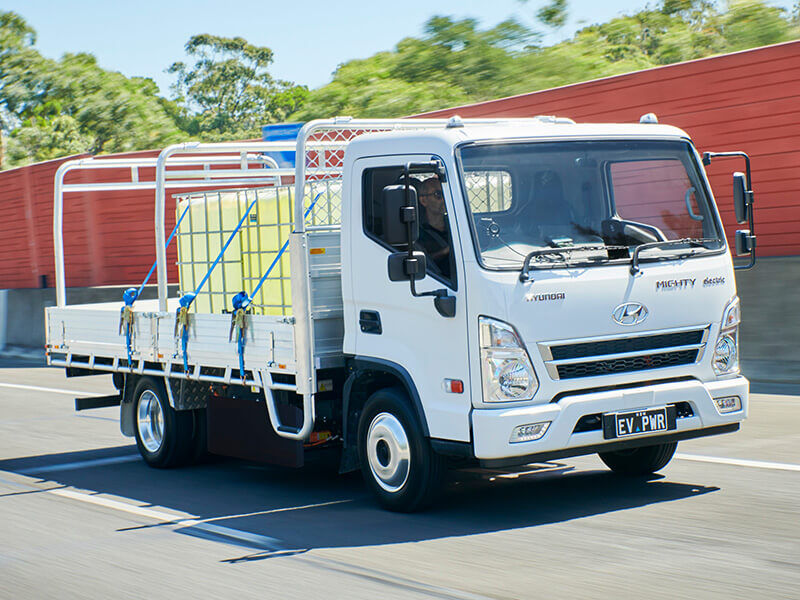 "We have had numerous enquiries from a variety of councils, governments, and retail customers, as well as from fleets looking to begin their zero-emission journey," he says.
"Undoubtedly, the Australian market will increasingly turn to zero-emission solutions such as the MIGHTY Electric Truck over the coming years, driven by community expectation as much as operational requirements.
"We are confident that the MIGHTY Electric Truck will provide a perfect stepping in point for courier fleets, councils, and local retail delivery and vocational truck operators who are keen to show that they are trying to reduce emissions in our urban areas," Prescott says.
"We are backing this truck with a 5-year/200,000km warranty, in line with ICE versions already in the market. The MIGHTY Electric truck is built in a dedicated Hyundai factory, to Hyundai quality standards, and we look forward to seeing it on Australian roads."
"The new Hyundai MIGHTY Electric Truck will commence sales on 1st July, and will be available nationwide through a network of experienced truck sales and service dealers."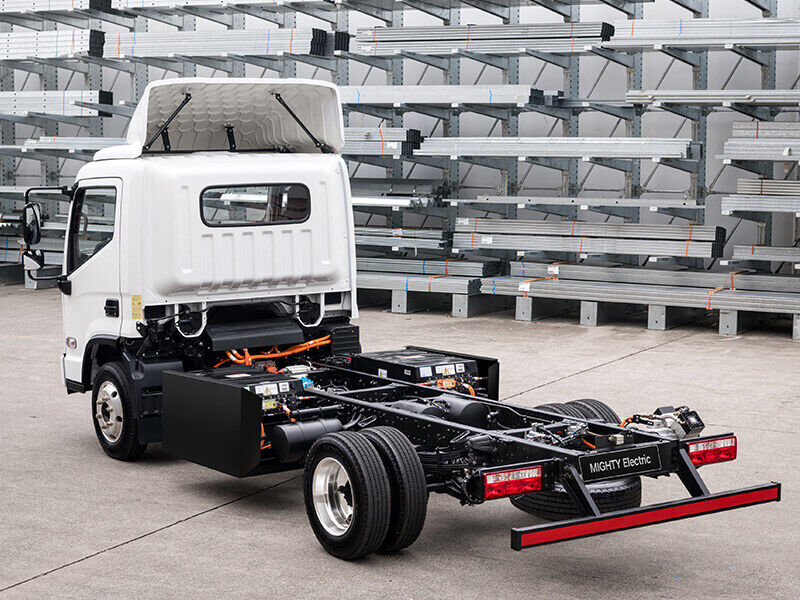 The arrival of the first pre-production MIGHTY Electric Truck to Australia triggered a local evaluation programme, which to date has seen more than 5,000 km of urban, regional and highway driving, including test routes through the Blue Mountains, to verify the vehicle's performance characteristics and capability while fully loaded.
Aside from testing the real-world battery range on a single charge, the engineering programme also focused on calibrated the truck's advanced safety technology for use on Australia roads - for example Lane Departure Warning System (LDW).
In addition, the programme also evaluated the ride and handling suitability for Australian roads, as well as compatibility with the local EV charging infrastructure.
A further test programme will be opened up to customers commencing in June, to gauge feedback on the performance, features and potential applications for the MIGHTY Electric.
Hyundai Motor Group - Global Ambition
Based on EV sales Hyundai Motor Group plans to enter the global top 3 by 2030 based on continuous investment
The Group also announced that it plans to significantly expand annual EV production in Korea to 1.51 million units, and global volume to 3.64 million units by 2030
In 2030, Hyundai Motor Group will have a total line-up of 31 EV models
Hyundai Motor Group plans to launch 44 eco-friendly vehicles by 2025. Of these, 23 will be BEV models
2040: All key markets globally will be fully electric
2045: Hyundai Motor Group achieves carbon neutrality
Hyundai is in progress to achieve carbon neutrality by 2045, by neutralising CO2 emissions at all stages of production and operation
| | |
| --- | --- |
|   Performance   |     |
| Power | 120 kW |
| Torque | 320 Nm |
| Maximum Speed | 100 km/h |
| Estimated range* | 200 km* |
*Range capability will be affected by factors such as driving conditions and vehicle body configuration. Figure derived from local real-world testing and is based on a tray body configuration loaded to 7.3T GVM.
| | |
| --- | --- |
|   Battery & Charging   |     |
| Battery Size | 114.5 kWh |
| DC Charging (8% - 100%) | 71 minutes |
| AC Socket | Type 2 |
| DC Socket | CCS Combo 2# |
#Compatible with 569.4V or above charging infrastructure only (not compatible with 400V charging infrastructure).
| | |
| --- | --- |
|   Weight   |     |
| Chassis Mass | 3,250 kg |
| GVM | 7,300 kg |
| Payload | 4,050 kg |
| Axle Capacity - Front | 2,300 kg |
| Axle Capacity - Rear | 5,000 kg |
| | |
| --- | --- |
|   Dimensions   |     |
| Wheelbase | 3,300 mm |
| Length | 6,140 mm |
| Width | 2,100 mm |
| Height | 2,865 mm (with roof spoiler) |
| Turning Circle | 13.6m |
| | |
| --- | --- |
|   Wheels & Tyres   |     |
| Type | Single Front, Double Rear |
| Tyre Size | 205/75R17.514PR |
| No. of wheels & tyres | 6 (plus 1 spare) |
| Spare Tyre Carrier | Equipped |
| | |
| --- | --- |
|   Suspension   |     |
| Front | Multi leaf springs / tapered leaf springs |
| Rear | Multi leaf springs |
| | |
| --- | --- |
|   Brakes   |     |
| Type | Drum |
| Actuation | Air Brakes |
| Adjuster | Auto |
| Parking Brake | Spring Brake |
  Safety  
Forward Collision-avoidance Assist (FCA)
Lane Departure Warning System (LDW)
Electronic Stability Control (ESC)
Dual Airbags
Rear view camera with guidelines
| | |
| --- | --- |
|   Warranty   |     |
| Vehicle | 5 Years or 200,000km |
| Electric Motor | 5 Years or 200,000km |
| Power Battery | 8 Years or 400,000km |