Two World Records in an hour of power: Strongman pulls cars with his teeth in Car Pull for Kids Fundraiser.
1 Strongman, 32 teeth, 16 Hyundai Vehicles and $60,000 for Kids
GoFundMe appeal for Little Wings, Sydney Children's Hospitals Foundation and Ronald McDonald House Charities Australia
Some things have to be seen to be believed, and others are just so remarkable that they defy belief even when you're looking at them, close up, with your own eyes, like the sight of strongman Troy Conley smashing a World Record by dragging 16 Hyundai Konas using only his burly body as part of Car Pull for Kids.
Or watching the same man, after what seemed like far too brief a rest, lining up again to break another World Record by pulling five Konas using his teeth - an effort that left his mouth looking just as bloodied and sore as you would expect.
Truly, Troy Conley's determination to raise money for sick children in need - inspired by his own experiences when he nearly died, at age four, after rupturing a kidney - is as inspirational as it is incredible.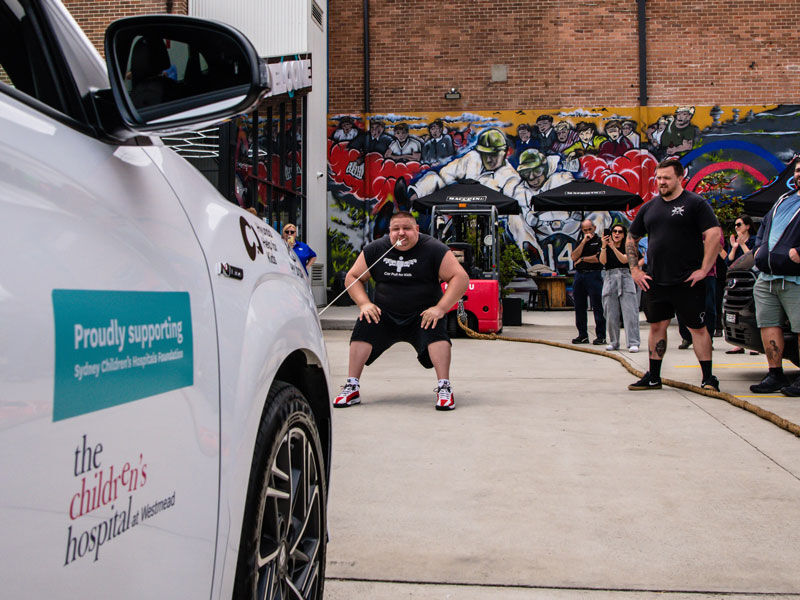 The medical help and kindness he received as a child has inspired him to make superhuman efforts to raise money for charity organisations like Hyundai Help for Kids - the charitable Arm of Hyundai Australia, which recently hit the staggering figure of having raised $10m to help change the lives of children in need.
On November 17th, at Entertainment Park in Bankstown, Conley strapped his body into a harness attached to 16 Hyundai Konas for the Car Pull for Kids and smashed the World Record by painstakingly dragging them forward several metres.
This was no simple feat and Conley fell flat on his face more than once before rising to the task once again, an incredible effort that he explained was inspired by all the people cheering for him on the day, but mostly by one voice - that of 10-year-old Zac Minty.
Zac was just eight when he was diagnosed with rhabdomyosarcoma, a particularly cruel type of cancer that affects muscle tissue and, in his case, the tissue above and behind his eyes. He's had seven operations over the past two years, including one to remove his left eye in 2020, and has travelled constantly between Canberra and Sydney for treatment, a journey aided by the Little Wings charity, which provides free flights for sick children and their families from regional areas to major hospitals, and one of those Conley, and Hyundai Help For Kids, raises money for.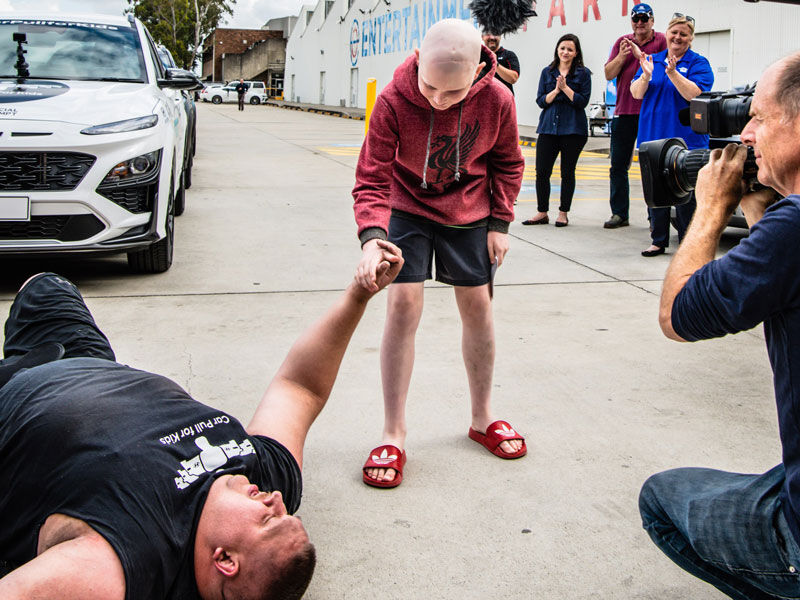 Lying prone on the ground, looking like as exhausted and broken as a man who'd just pulled 16 cars, Conley bellowed:
"Zac, I love you buddy, I wanted to give up so many times, but I couldn't with you here!"
Conley later attempted to explain the experience, saying it was like doing a really heavy bench press that goes on for several minutes, with increasing muscle burn. "The 16 cars was an out of body kind of experience, I know it's happening, but I'm just numb, I'm in the moment," he said.
"I've got my eyes shut, but I can hear Zac on the sidelines, cheering for me, and I think, 'this guy fights through everything and he's shouting my name, so I really just can't stop."
"What I do is far easier than what they go through. I just go home and rest, they have to keep fighting every day, through the exhaustion, the effects of chemo on the body, the trips to hospital and back, it's never easy for a kid like Zac. Hopefully days like today are special for them and something they will remember."
After just a short break and a lot of heavy breathing, Conley was biting down on a rope attached to five Hyundai Konas and going for another World Record, pulling cars with his teeth - "I think it's a world first, I don't think anyone has even tried to pull that many cars before with their teeth", as he explained.
And it's easy to see why. The strain on Conley's face as he somehow got the vehicles rolling was almost too painful to watch, and then he slipped, went down and got straight back up again, with blood visible in his mouth, only to keep going and achieve the record, at considerable personal cost.
"I did have a slip, and there's a very sore, very loose tooth in there that's probably going to require seeing a dentist later today, and will probably require me negotiating with my wife about whether I'm allowed to continue doing the teeth-pulling stuff… and of course, the one I've hurt happens to be smack bang, front and centre of my mouth," Conley confided.
But surely that must have hurt, quite a lot, so how did he keep going - is he possessed of an unnatural ability to deal with pain?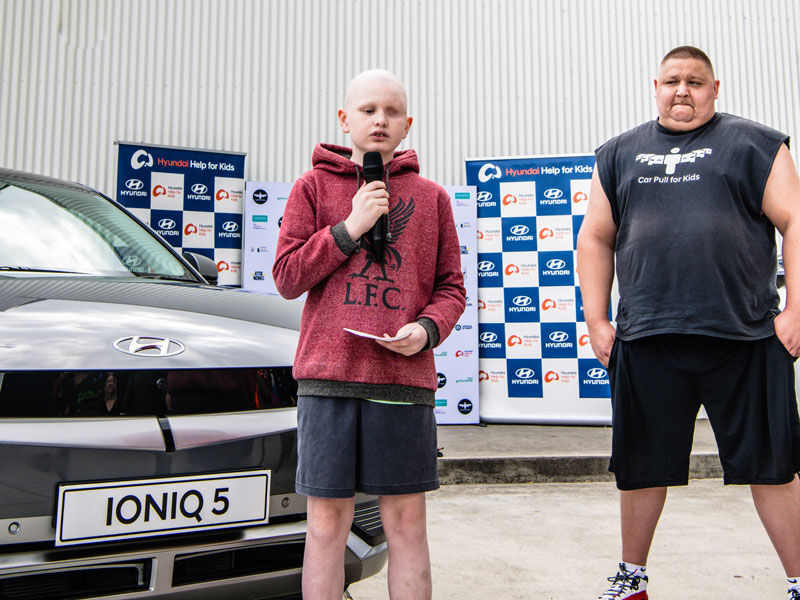 "I don't know if you'd call it a high pain threshold, I think it's just a case of being not quite right in the head," Conley laughs.
"I enjoy it, that's the crazy part. I really wanted to do that for my daughter, who's due in December, just something I could dedicate to her, in my own unique way, so that when she grows up I can say to her, 'look honey you can do anything, you can be anything.' That's what every kid should grow up thinking."
Conley has surpassed his fund-raising goal of $60,000, after returning to Entertainment Park a week later to take up the challenge of pulling 43 go-karts after the owner of the venue said he'd donate $100 per kart if he could do it. A few weeks after that he successfully pulled a Pioneer Plane at Bankstown Airport live on the TODAY show which was a fitting finale to what has been an incredibly crazy 18 months.
Clare Pearson, the CEO of Little Wings - which has experienced a 60 per cent increase in demand for flights during the last two years of Covid-19 lockdowns, which seriously effected its fund-raising activities - was also on hand to watch Conley's efforts.
"We've seen over the last year the training Troy puts into something like this, and it's amazing, but really it's the heart he has that blows me away," Pearson said.
"He's been such an inspiration to the people and the children we transport, but also to our team, because we can see people going out of their way to help raise money and make a difference and keep us in the air.
"We're entirely donation driven, and we rely on people like Hyundai Help for Kids who go out of their way to keep us in the air. We couldn't be more thankful."
You can watch Troy's mammoth effort in the CarpullforKids 2.0 Highlights video here:
Learn more
Ready to take the next step?