Australian federal election signals bright future for electric mobility.
Electric vehicles were a hot topic during Australia's federal election campaign. Policy commitments from both major parties came thick and fast as they set out their plans to encourage cheaper, cleaner driving for all Australians.
While the majors did their best to cater to Australia's growing enthusiasm for EVs, what made things even more interesting was the emergence of independent candidates. Calling for sales targets, purchase subsidies and emission standards, the 'teal independents' in particular also drove an important conversation around EVs.
Combined, it meant an unprecedented level of focus on the EV sector in an election that was overwhelmingly positive for the technology. It demonstrated that zero emissions mobility is where Australia is clearly heading.
To return to the majors, while some differences between them, where both parties aligned was in their support for the rollout of charging infrastructure. The Australian Labor Party (ALP) and the Coalition announced policies backed by significant dollars for investment in battery charging and hydrogen refuelling stations which they equally recognised as placing a serious handbrake on the sector's progress.
A 2021 survey of consumer attitudes backs up this conclusion suggesting that 92% of Australians regard public fast charging as important for encouraging EV purchase (Electric Vehicle Council).
This is also demonstrated by EV sales figures. Australia is a laggard when it comes to the take up of EVs with just 20,665 of around 1,050,000 new cars sold in Australia in 2021 being electric (2%). In total, there are less than 35,000 registered EVs on Australian roads, of more than 15 million light vehicles (0.2%).
It was of course the ALP that won the election on 21 May and subsequently formed government. Based on their election promises, we now anticipate their suite of EV policies to be rolled out over the coming months.
So how will the world change for EVs under an Albanese Government? We take a look at each of their commitments and make some predictions for the future mobility landscape under this new leadership as well as the influence of the new dynamic in the Australian parliament.
Let's start at the very top and consider the ALP's umbrella strategy that will act as a catch all for their EV policy package, that is their National Electric Vehicle Strategy.
The ALP claims that the strategy will be Australia's very first national approach to EVs and will be supported by a $500 million Driving the Nation fund in what they promote as a doubling of the Coalition's $250 million Future Fuels Fund.
Key aspects of the strategy are outlined below.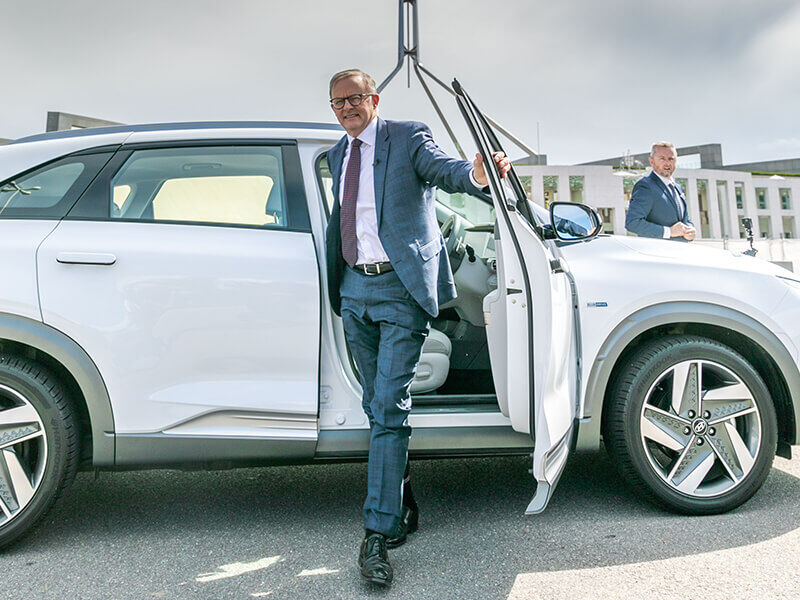 Australian Prime Minister, the Hon Anthony Albanese MP with the Hyundai NEXO at Parliament House, Canberra
Electric car discount
Firstly, the new government will introduce discounts aimed at making EVs cheaper. As part of the discount, the government will exempt EVs from:
Import tariffs – a 5% tax on some imported EVs; and
Fringe benefits tax – a 47% tax on EVs that are provided through work for private use.
These exemptions will begin on 1 July 2022 and be available to all EVs below the luxury car tax threshold for fuel efficient vehicles ($77,565 in 2020-21).
Due to the range of free trade agreements Australia has in place, Europe is one of the only remaining regions from which Australians pay an import tariff on vehicles. This means this benefit will largely be limited to European manufactured EVs..
Regarding fringe benefits tax, for a $50,000 EV provided through employment arrangements, the exemption could save employers up to $9,000 a year. This is obviously a substantial saving with employees to receive the benefit where these costs are passed on.
While the government has opted to not provide direct purchase subsidies, the initiatives above are nevertheless positive and we expect them to drive greater EV up take among Australian businesses and consumers.
A National EV Charging Network
The Albanese Government will invest $39.3 million to deliver 117 fast charging stations on highways across Australia at an average interval of 150km on major roads. This funding will be matched by the NRMA.
With the aim to achieve national network coverage, the ALP stated that: "This will mean that, for first time, people will be able to truly drive around Australia in an EV."
This is obviously a highly welcome initiative particularly to address any lingering concerns around range anxiety among individuals considering purchasing an EV.
Hydrogen Highways
The new government will work with states and territories to roll out hydrogen refuelling stations nationally through an investment of $80 million for up to 16 stations on Australia's busiest freight routes.
Specifically, the ALP will match funding committed by New South Wales and Victoria ($10 million each) and make the same amount available to other jurisdictions on a matching basis (up to $60 million).
Given that industry increasingly acknowledges that hydrogen is key to decarbonising heavy vehicles, this support is much needed to drive investment in refuelling stations and begin the transition of Australia's long-haul fleet to hydrogen.
EV Target for Commonwealth Fleet
The Albanese Government has recognised that the transition of the Federal Government fleet to electric is likely to stimulate uptake of EVs and facilitate the entry of new EV models to Australia.
As part of its commitment for the Australian Public Service to reach net zero emissions by 2030, the government will introduce a low-emissions vehicle target for the Federal Government fleet of 75% of new purchases and leases by 2025.
While several years old, a Department of Finance report shows this fleet consisted of more than 5,000 passenger and 5,000 commercial vehicles in 2018. ALP modelling shows replacing 750 internal combustion engine (ICE) passenger vehicles, and 750 ICE commercial vehicles a year will achieve this target.
An additional 1,500 vehicles would provide a significant sales boost for EVs in Australia creating an uptick in sales of around 20% in its first year.
In aggregate, we expect that EV ownership will accelerate under these new policies and incentives particularly where they give consumers confidence that the government is backing the technology.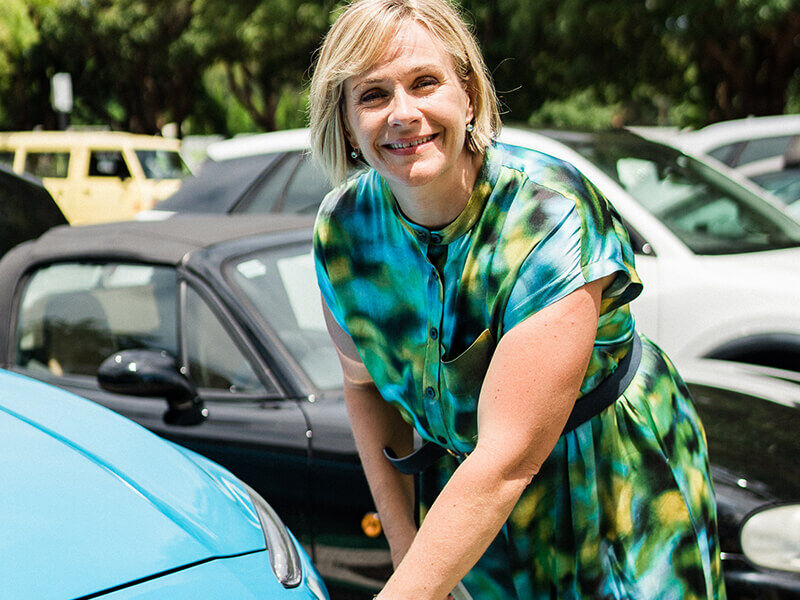 Federal member for Warringah, Zali Steggall OAM MP with her Hyundai KONA EV
Interestingly, the strategy doesn't include a mandated vehicle emissions target – something the automotive industry has been seeking for some time. We continue to believe that a CO2 policy is a much-needed signal of the government's commitment to reducing emissions in the transport sector.
We understand the national strategy is currently being drafted by the Department of Industry, Science, Energy and Resources and we look forward to working with all stakeholders as it's implemented.
At the political level, the record number of independents elected to the House of Representatives will undoubtedly change the dynamics of how the parliament operates. Many of these individuals campaigned on making EVs more accessible and affordable for all Australians, so we equally welcome the opportunity to collaborate with them on making EV ownership a reality for all Australians.
Ready to take the next step?