Australia's Electric Vehicle (EV) transition at the forefront of the local government's annual conference.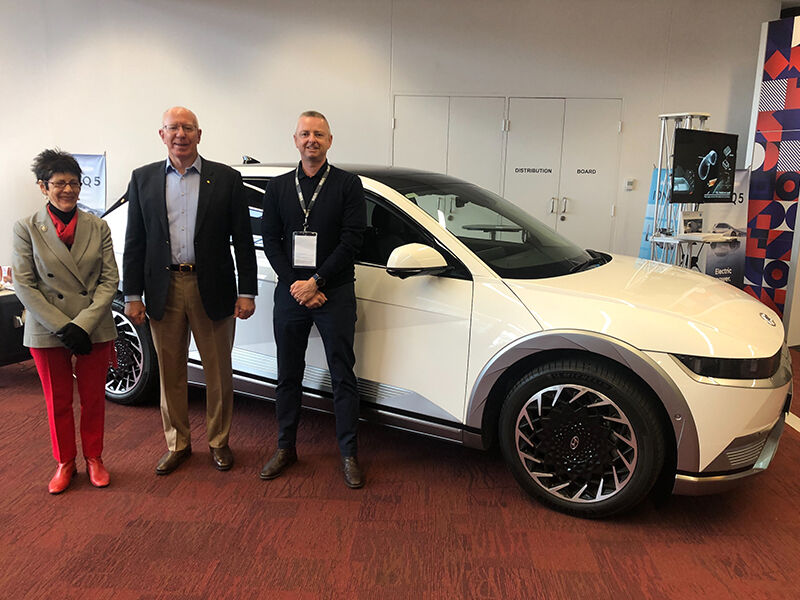 The Governor-General and Mrs Hurley with Scott Nargar, Senior Manager Future Mobility and
Government Relations at Hyundai and the Hyundai IONIQ 5 at the ALGA conference
The ALGA Conference Shaping the Future
Every year, the peak body for local governments, the Australian Local Government Association (ALGA) brings together over 1,000 mayors and councillors from across Australia to develop national policy and influence the future direction of councils and communities.
Convening in Canberra this year, Hyundai was delighted to sponsor the conference and contribute to one of the most prominent conversations at the June event - the transition of local government fleets to electric vehicles.
Councils are leading action on climate change and investment in renewable energy in Australia and so reducing emissions was a key theme at the conference. Transport is the third largest source of greenhouse gas emissions in the country, and it was therefore of high focus as councils grapple with reducing their carbon footprints across their operations and local communities.
Hyundai was delighted to be the only automotive company to display a passenger vehicle at the conference, with our flagship electric midsize SUV, the IONIQ 5 EV on show. The IONIQ 5 is a real head turner with its futuristic design aesthetic. A Car of the Year judging panel recently called it "the coolest Hyundai ever" and we were delighted to attract quite the audience at our stand who thought similarly!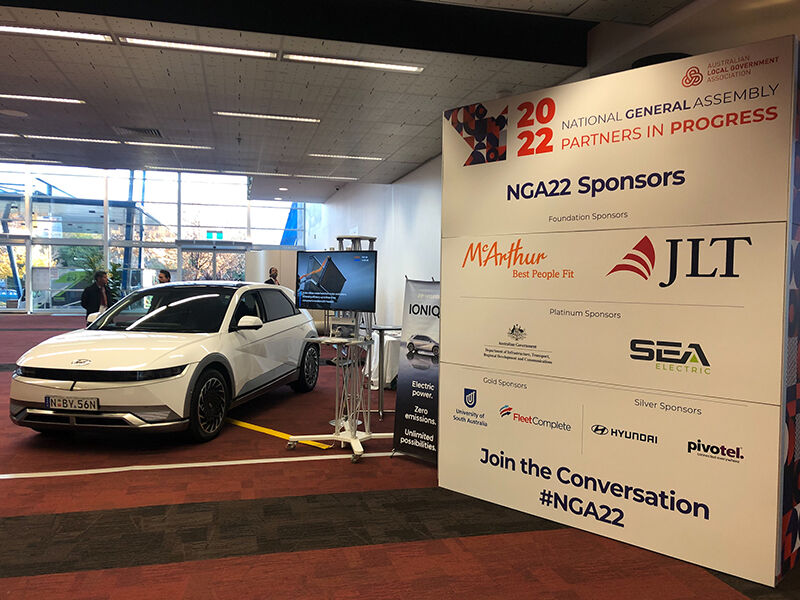 Hyundai's stand at the ALGA 2022 conference featuring the IONIQ 5
Yet while it's known for its looks, the IONIQ 5 is perfectly placed to help councils decarbonise their fleets. In fact, it can power their appliances too!
We activated the IONIQ 5's Vehicle-To-Load (V2L) function and powered up both a fridge and tv at our exhibition stand. Over three days, we used only 0.1kW of power or only 1% of the IONIQ 5's 73kW battery each day. The capability allows you to charge up any electric device like an electric bike, scooter, dryer or camping equipment.
The car and its V2L feature drew in the crowds and we enjoyed plenty of robust discussion at the Hyundai stand with council mayors and CEOs from far and wide as we shared our tips and advice on a smooth EV transition.
What was most apparent is that councils are at very different stages in their EV journey. Some are only dipping their toe in the water with hybrid vehicles whereas others are well on their way with multiple EVs operating within their fleets.
Hyundai's Message on the Transition to EVs
Our own Scott Nargar, Senior Manager Future Mobility and Government Relations spoke at the conference as part of a climate change focussed session. His key message? Councils are in an ideal position to lead the transition to EVs and need to start preparing today.
Scott gave an overview of the EV landscape in Australia making the point that the range of EVs on offer in this market is only set to grow in the coming years. Price points are becoming increasingly attractive and state and federal subsidies to purchase an EV continue to improve meaning making the jump to electric is more affordable than ever.
As the number of EV models on offer in Australia expands, it will also become easier for councils to find a vehicle that meets their fleet needs too. And so, there was great optimism among fleet managers that we spoke to in regards to their ability to no longer simply plan for the EV transition, but to act.
In speaking with local governments based in remote parts of Australia, it became clear however, that for some councils, the switch to EV will take a little more time.
In talking to councils based in the Northern Territory for instance, the remoteness, road conditions and lack of charging infrastructure were all noted as challenges that may inhibit their transition to EVs for now. And so, while it was agreed that the time has never been better to transition local government fleets, there is some more work to be done to ensure our remote councils aren't left behind.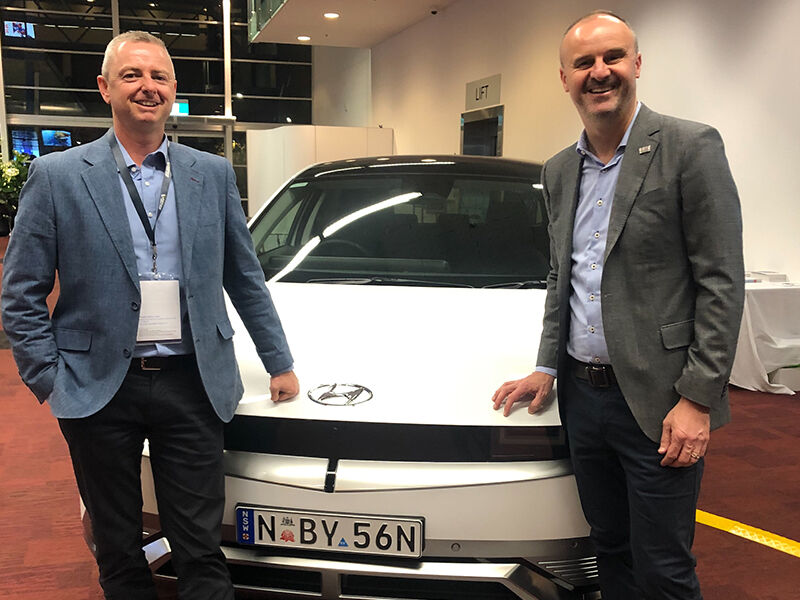 ACT Chief Minister, Andrew Barr MLA and Scott Nargar with the IONIQ 5 at the ALGA conference
On this point, Hyundai's message to the conference was clear – if there is one measure that will stimulate the introduction of new EVs to Australia in higher volumes more than any other, it's a mandatory vehicle emissions standard.
Adopting a Vehicle Emissions Standard
A CO2 standard acts as a motivator for automotive companies to bring new low and zero emission vehicles into the country. In a small market like Australia, it can be difficult for manufacturers to justify introducing new models when potential sale volumes are low. With an emission standard in place, this requires car companies to consider the emissions footprint of their vehicles.
And so we took the opportunity at the conference to call upon the Federal Government to align with other leading nations and adopt a CO2 standard for light vehicles in Australia.
While the new government has not made their position on an emission standard clear at this stage, it was nevertheless evident among conference attendees that there was renewed enthusiasm for the national EV transition post-election.
With councils across Australia currently working through the Federal Government's approach to EV support, it was agreed that additional support for the roll out of infrastructure – both for battery and hydrogen fuel cell electric – was highly welcome. Several council representatives noted that they were looking forward to seeing the contents of the National Electric Vehicle Strategy to better understand the opportunities for their organisations.
Local government are the closest level of government to the community and best placed to respond directly on important social and environmental issues. With many declaring climate emergencies, they are at the frontline of some of the greatest challenges facing the nation. One of these is reducing our transport emissions and we were very much encouraged by the level of proactivity by councils in this space across Australia.
Hyundai very much looks forward to joining future ALGA conferences and being a part of the important discussions taking place at the council level. Many of which, on the transport front, have the potential to shape the future of our communities and the environments they live in.
Ready to take the next step?