Autonomous electric mobility takes centre stage at Australia's leading connected car conference.
Autonomous and connected vehicle technology is advancing in leaps and bounds. Once a thing of sci-fi movies, cars that drive themselves are operating on roads worldwide and are set to totally revolutionise the way we think about transport.
In parallel, cars are increasingly being seen as more than a simple means of transportation with drivers demanding a more seamless, sustainable, accessible and safe experience. This is seeing the rise of mobility-as-a-service (MaaS) with connectivity at the core of making it happen at scale.
In a nutshell, connected cars are designed to provide optimised driving experiences for drivers and their passengers by connecting large amounts of data with externally generated information about real-time traffic conditions, road construction, news, weather and more.
Hyundai has been focused on strengthening our position as a leading player in the connected car sector by deploying more user convenience services for our customers. Our objective is to bring together both autonomous technology with electromobility to change the way the world moves while ensuring we minimise the environmental footprint of the cars we drive.
In August, Hyundai attended Australia's leading connected vehicle event, the ITS Australia Summit in Brisbane to showcase our advancements in connected cars and discuss some of the exciting technologies and services we have on the horizon.
Talking connected cars at the ITS Conference
Hosted by the peak body for advanced transport technology, ITS Australia, the annual conference brings together representatives from across the intelligent transport sector to discuss the latest trends and developments in connected, autonomous, electric and shared vehicles.
Hyundai had the opportunity to display our much-admired IONIQ 5 battery electric vehicle (BEV) and the ground-breaking NEXO fuel cell electric vehicle (FCEV) at the event which were eagerly explored by enthusiastic attendees.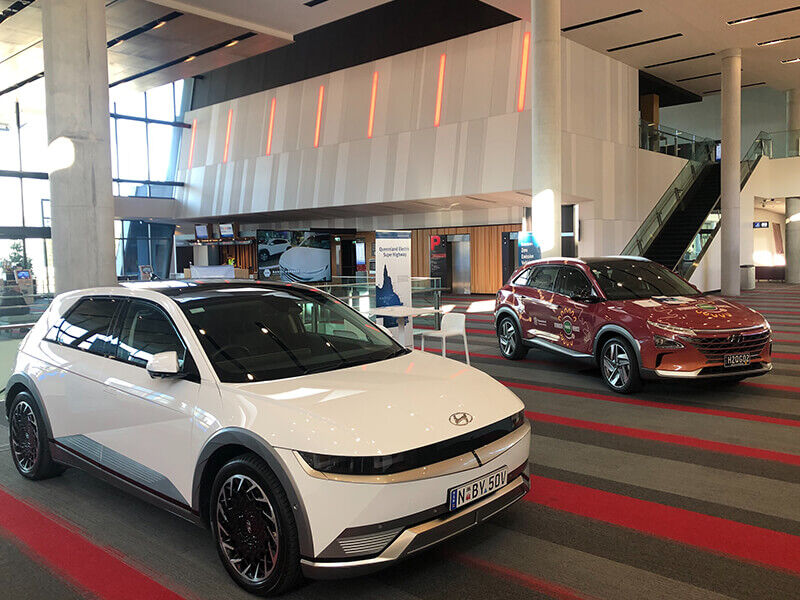 The Hyundai IONIQ 5 BEV and NEXO FCEV on display at the ITS Australia Summit in Brisbane
Our Senior Manager Future Mobility & Government Relations, Scott Nargar also took to the stage speaking about Hyundai's journey developing connected car technology and its interconnection with our electric vehicle line-up.
He touched on a range of Hyundai's initiatives in the autonomous electromobility space, including our recently launched self-driving robotaxi service which is set to open a world of greater freedom of mobility for everyone.
Driverless electric taxis – welcome to the future
As connected vehicle technology progresses at a rapid pace, one of the experiences we can look forward to is riding in self-driving robotaxis in cities around the world.
Hyundai and our joint venture partner Motional, a global leader in driverless technology, unveiled the self-driving IONIQ 5-based robotaxi in 2021. A SAE Level 4 autonomous vehicle, the car can safely operate without a driver while transporting passengers to their destination.
Trained to be aware of its surroundings, it can handle challenging situations just like a careful and considerate human driver such as braking for cyclists in a rush, respecting other motorists and making way for emergency vehicles.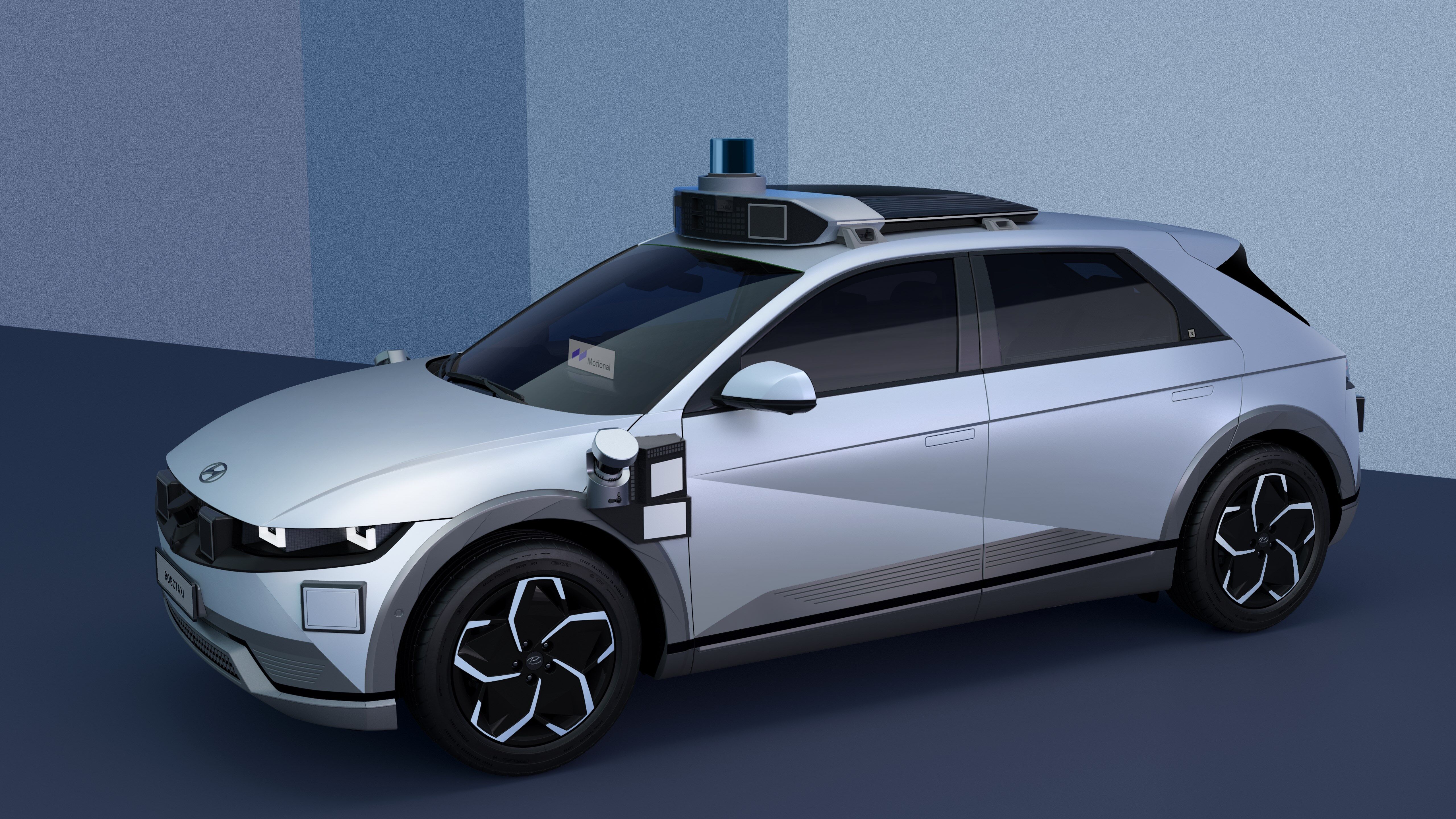 The IONIQ 5-based robotaxi is Motional's first commercial vehicle and is being used in its fully driverless public ride-hail service
In August, the IONIQ 5 robotaxi service was officially launched for public use in Las Vegas. Today, passengers on the Lyft network can catch an IONIQ 5 autonomous vehicle when traveling between popular locations on the Las Vegas strip.
The launch is the next milestone in the lead-up to Motional and Lyft's fully driverless service, planning to begin in 2023 and scaling to multiple U.S. cities.
Hyundai has also launched the service in Seoul, South Korea. The city's mayor and a government minister were among the first passengers to experience the 'RoboRide' autonomous taxi service as they were taken along a route in the bustling Gangnam district in June 2022.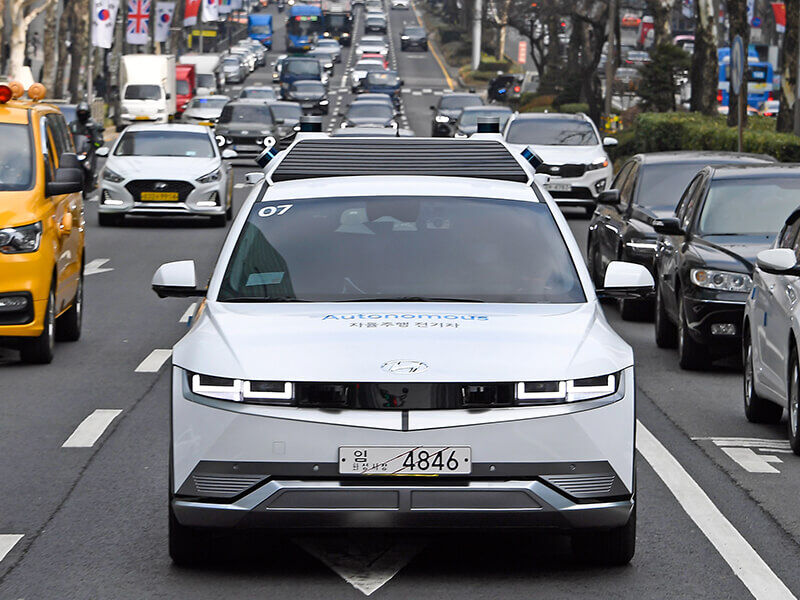 The IONIQ 5 robotaxi on the busy roads of metropolitan Seoul, South Korea
Hyundai has set the commercialisation of robotaxis as a new business goal as part of our objective to enable more people to move freely, anywhere and anytime.
We're building our robotaxis to serve a range of different users worldwide, such as busy families who need extra transport; professionals who can benefit from repurposing their commute time to be more productive; and the elderly and disabled who lack accessible transportation options.
Elevating our lives through connected and sustainable aviation
The ITS conference also saw Hyundai present on other initiatives we are pursuing in the connected and sustainable vehicle space. Among the most ambitious of these is urban air mobility which Hyundai sees as an opportunity to free future cities and people from the constraints of time and distance.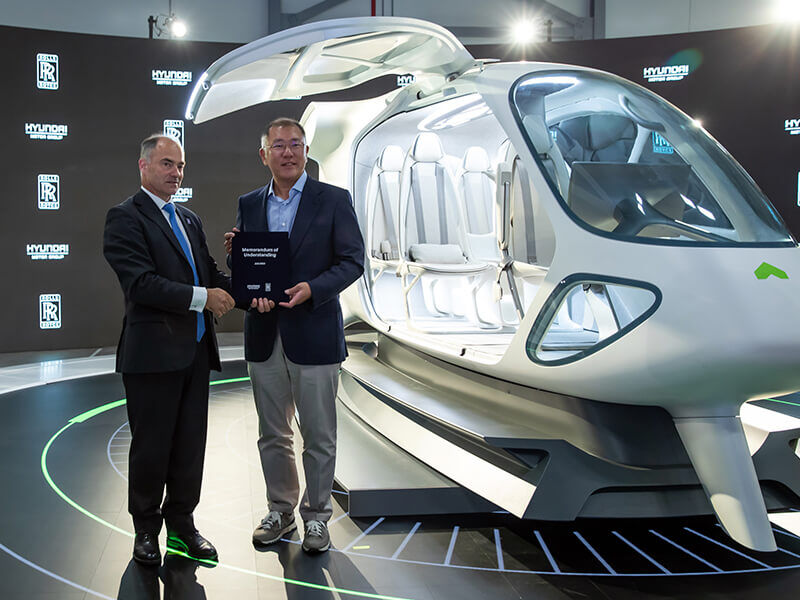 Euisun Chung, Executive Chair of Hyundai Motor Group and Warren East, CEO of Rolls-Royce at a signing ceremony formalising their collaborative agreement on the advanced air mobility
Together with Rolls-Royce, Hyundai plans to address emissions in the aviation sector and lead the way in the Advanced Air Mobility market with connectivity a key part of making sustainable aviation a reality.
The partnership will leverage Rolls-Royce's aviation and certification capabilities and Hyundai Motor Group's hydrogen fuel cell technologies and industrialisation capability.
Through our collaboration we will work towards delivering battery-electric and fuel cell electric solutions to the Urban Air Mobility and Regional Air Mobility markets and advancing ecofriendly aviation.
Enhanced connectivity the key to a sustainable transport future
At Hyundai, we recognise the role of connected cars in creating less crowded cities and less climate change and so at the conference we reiterated that autonomy and electric vehicles must be developed hand in hand.
On the connectivity front, to further enhance the driving experience of our customers and so we are pursuing a number of global goals to improve the connectivity and autonomy of our vehicles for a more, including:
Through these developments, we aim to open up a world of greater freedom of mobility for everyone - regardless of age or income.
In short, the ITS Australia Summit demonstrated that the future of connected cars in this country is a bright one with the country home to some of the world's leading innovators in the space as well as proactive governments actively integrating this technology into their transport networks.
At Hyundai, we're excited about doing our part to shape Australia's transport future and look forward to rolling out more exciting technology over the coming years.
Ready to take the next step?