Driving into the future with Australia's electric highways.
Across Australia, state governments are embracing electric vehicles (EVs) and attempting to outdo one another with their ambitions for the longest and fastest charging network.
Australia is in fact home to the world's longest EV charging network in a single state (Queensland), but with our habit for interstate rivalry, two other states are now nipping at their heels to take this crown.
This competition between the states is ultimately to EV drivers' benefit. State government appetite to surpass their rivals is resulting in an accelerated charging network roll out, and for EV owners, an opportunity to say farewell to range anxiety for good.
While Australia's EV highways for battery electric vehicles (BEV) are well advanced, plans for highways for hydrogen fuel cell electric vehicles are also starting to emerge backed by sizeable government support.
Three states in particular are attempting to outdo one another on the EV 'super highway' front for both BEV and FCEV – New South Wales, Queensland and Western Australia. At this point all are contenders, so who will ultimately take the prize?
Let's look at some of the electric highways taking shape across Australia and the plans by progressive governments to secure top spot in EV charging.
Queensland's longest
The Queensland Electric Super Highway is the world's longest electric super charger highway in a single state.
The highway extends from Coolangatta to Port Douglas with 31 locations in operation. A further 24 sites, predominately in central and western Queensland, are under construction and progressively coming online, due for completion in mid-2023.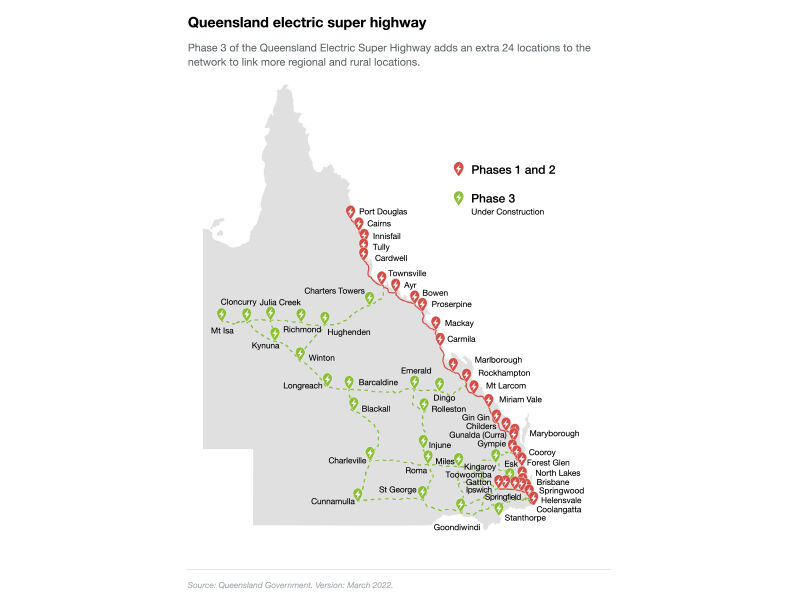 Map of Queensland's electric super highway with both current and future charging stations
(Source: Queensland Government)
It's owned and operated by Yurika Energy, a part of Energy Queensland (a government-owned electricity company). They recently published some interesting insights regarding the use of the network:
the most popular sites are in Hamilton, a suburb in Brisbane and North Lakes in the Moreton Bay region
the average charge duration is 30 minutes
the quantity of charging sessions is highest in the middle of the day
charging sessions are evenly spread across every day of the week – no single day is more popular than any other
Queensland is expecting an EV explosion in the state in the coming years with 800,000 vehicles expected to hit the road over the decade – a massive increase from the 10,000 EVs registered currently.
This increase will require at least 1,600 public charging stations to be built before the 2032 Olympic and Paralympic Games begin so expect the QESH to continue to grow at an exponential rate over the coming years.
WA accelerates towards longest EV fast charging network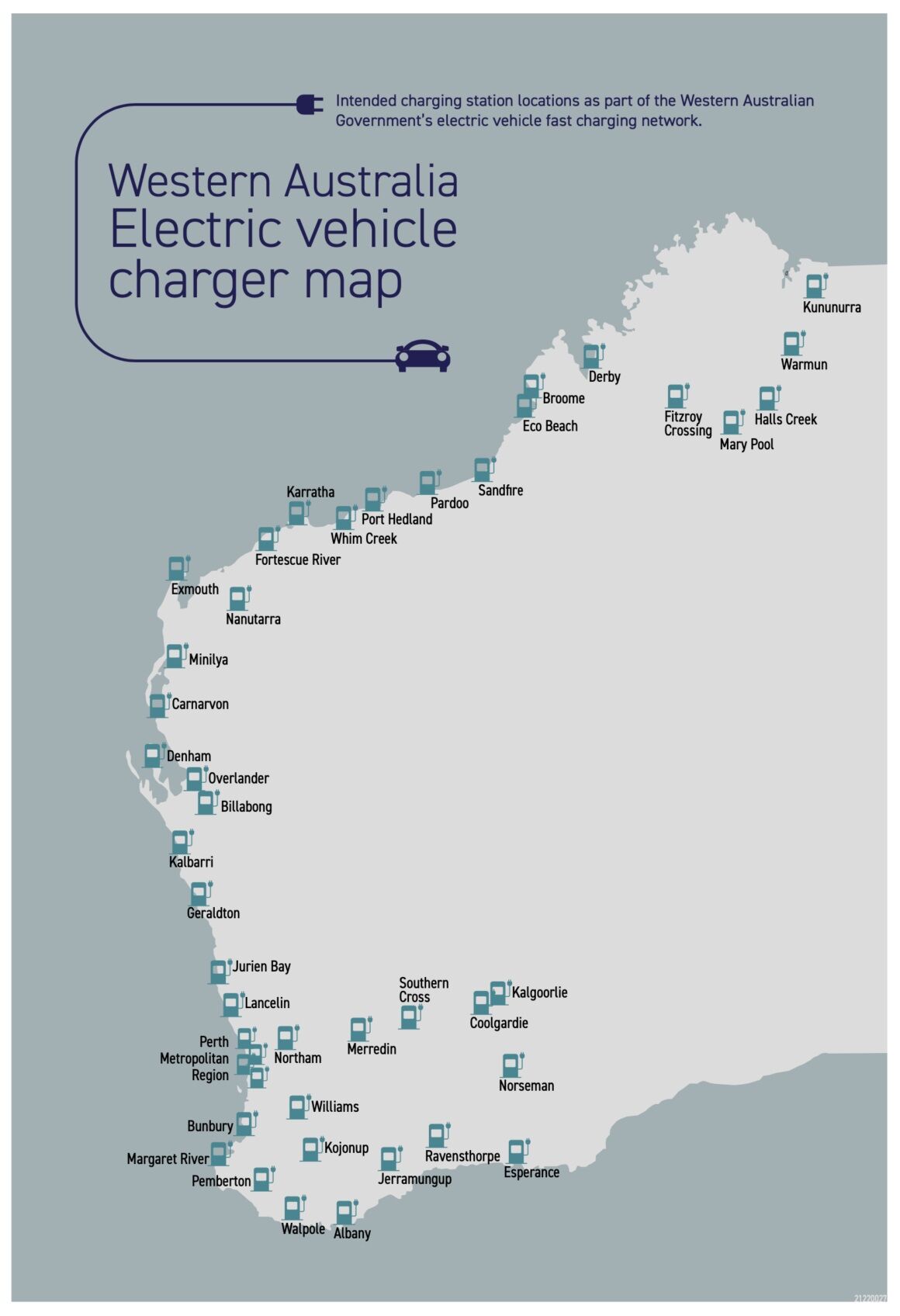 Map of WA's charging locations that will make up their electric fast charging network
(Source: WA Government)
Western Australia is close behind Queensland with plans to snatch the title of world's longest continuous electric highway in a single state.
In 2021, the vast state announced 90 fast charging stations at 45 different spots across the state, stretching 3,000km from Esperance to Kununurra and as far east as Kalgoorlie, in an attempt to make the state more accessible to EVs.
The average distance between charging stations will be approximately 160km, which means range anxiety will be eliminated given most new EVs can drive for more than 400km on a single charge (the Hyundai IONIQ 6 set for launch in early 2023 boasts a 611km range (WLTP) for example).
The WA Government is selecting their charging locations with the aim to encourage tourism from Perth out to regional towns across the state and will build upon its current 42 public fast and ultra-fast charging locations.
The highway is expected to be fully functional by early 2024.
Plans are also afoot in WA for the world's longest hydrogen highway so watch this space.
NSW eyes the prize for largest and fastest network
While Queensland and Western Australia have set their ambitions high, NSW intends to trump them both and offer drivers the largest and fastest network in Australia.
The state's EV charging masterplan highlights its plans to boost the existing charging network by more than 300%. This means NSW will have more EV charging stations than all other Australian states and territories combined.
The government's aim is to make NSW the easiest place to buy and use an EV in Australia, with a $149 million investment to develop a world-class charging network.
NSW is targeting 250 fast and ultra-fast charging stations around the state in coming years. There will be at least four fast or ultra-fast chargers per station every 5km in metropolitan areas and at 100km intervals across all major NSW highways with all powered by 100% renewable electricity,
The state is also planning to build EV "tourist drives" across regional NSW.
With this scale of investment and commitment, NSW could very well solidify its standing as the leading EV state over the coming years and build a network unmatched in size.
Not the largest, but Tasmania's charging coverage takes first spot
While not aiming for the longest or the biggest EV charging network, one Australian state that has in fact achieved state-wide public charging coverage is Tasmania.
In 2021, the Tasmanian Premier officially opened Electric Highway Tasmania, an ultra-fast electric vehicle charging network capable of ensuring EVs can travel almost anywhere across the state.
Electric Highway Tasmania's charging network features twelve 50kW charging stations across the state at Burnie, Devonport, Scottsdale, St Helens, Swansea, Derwent Bridge, Queenstown, Kempton, New Norfolk, Geeveston, Hobart and Launceston.
Two ultra-rapid charging stations at Campbell Town and Kings Meadows are also part of the network, offering charging rates of up to 350kW.
Given Tasmania is 100 per cent self-sufficient in renewable energy, EV drivers can also be assured their electricity is clean and green.
Hume-by-Hydrogen set to become a reality for truckers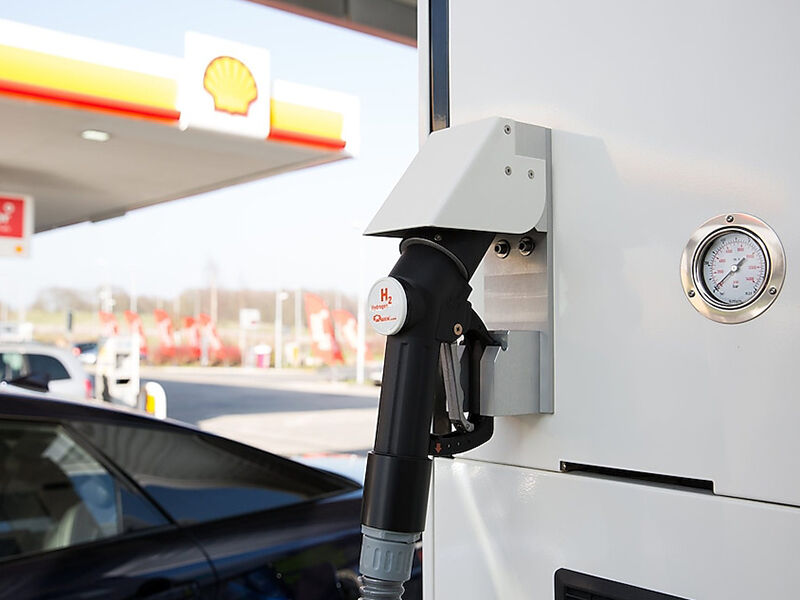 A Shell hydrogen refuelling station in the UK (Source: Shell)
Changing tack to hydrogen now, the Hume Highway will be transformed into a hydrogen highway for zero emission trucks over the coming years.
The NSW and Victorian Governments have joined forces to fund a hydrogen refuelling network along the Hume Highway, connecting Sydney and Melbourne.
The $20 million Hume Hydrogen Highway (HHH) initiative will see at least four refuelling stations and 25 hydrogen-powered trucks in operation by 2025.
A minimum of two stations in both NSW and Victoria will be built and located within Melbourne and Sydney's urban growth boundary or within a 20km radius of the M31 Hume Highway.
The heavy transport sector is one of NSW and Victoria's largest sources of emissions and the Hume Highway is Australia's busiest freight network. Through the HHH, both governments intend to make this transport corridor cleaner while creating a model to be scaled and repeated in future.
In total, these actions by state governments are something for EV owners to be pleased about. They mean a greater number of charging stations that are faster too.
If you are planning a trip in your EV and want to drive one of these EV super highways, visit the PlugShare website and use their built-in trip planning capabilities (use the menu on the left-hand side).
And for some EV drive trip inspiration, check out our article on four of Australia's great EV drives.
Ready to take the next step?