EV road tripping: Four great Australian drives for this summer.
Spring has sprung and with Christmas holidays just around the corner it's time to start planning those summer road trips.
For EV owners, it's a particularly exciting year to venture out and explore our wide brown land as the country's rapidly expanding fast charging network is larger than ever.
According to the Electric Vehicle Council, there were 291 public fast charging locations (≥ 50kW) around Australia at the beginning of 2022, an incredible 85% increase since 2020.
This is in addition to the 1,580 regular charging locations (≤ 50kW) across the country.
Combined, state and federal government funding is expected to co-fund the deployment of around 700 additional fast charging locations over the next 5 years, each with multiple charging bays.
This means Australia could have over 1,000 fast charging locations by 2027 (as well as many more regular charging points anticipated) opening up a whole new world of fully electric driving and a lot of ground to cover for intrepid EV owners! You can read more on Australia's national EV charging station roll-out here.
With range anxiety quickly becoming a thing of the past, we take a look at some of the best regional EV road trips to take in some of Australia's most iconic sights.
Before we jump in however, what should EV owners consider in planning their next road trip?
Planning your EV road trip
Careful planning in advance of your road trip is essential to ensure your all-electric drive doesn't disappoint.
To prevent any charging hiccups out on the open road knowing the range of your car is the first step. As an example, Hyundai's electric vehicle range varies from 305 kilometres (WLTP) for the Kona standard range variant, right up to 610 kilometres (WLTP) in our IONIQ 6, which we're excited to launch in Australia very soon!
Secondly, make sure you know where charging stations are located on your route, the distance between them and how long you will need to charge at each one.
Charging up at an ultra-fast 350kW station as an example takes only 18 minutes from 10% to 80% in Hyundai's IONIQ 5. Comparatively, with a 10.5kW charger, charging the same vehicle takes around 6 hours.
The types of chargers on your route are therefore important to consider in your road trip planning. If necessary, an overnight stay may be the best option.
Using the PlugShare EV charging station map is a great way to plan your route and stay up to date on the latest charging locations.
In advance of your trip make sure to download some public charging apps from charging network operators like ChargeFox, Evie Networks or Ampol. Also consider bringing a cable for socket-based chargers.
So, let's now take a look at a small selection of Australia's most popular EV road trips!
The Great Ocean Road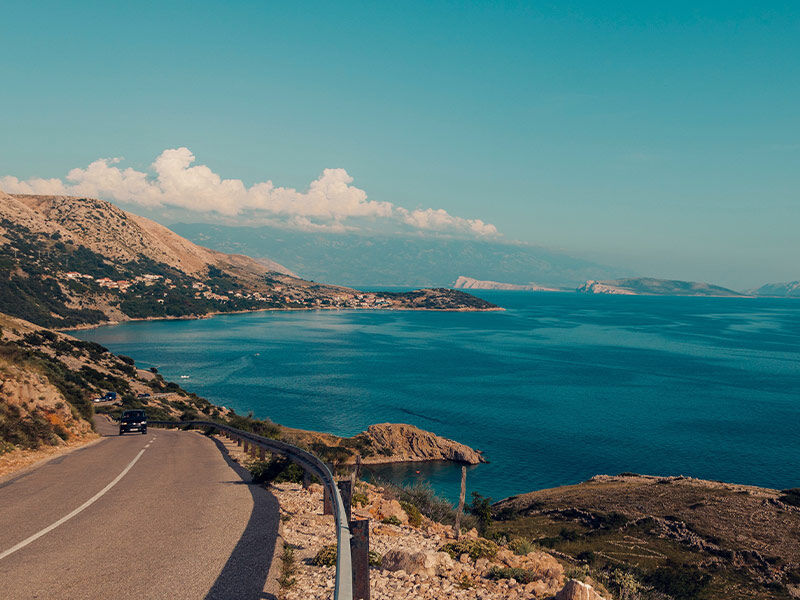 The Great Ocean Road, Victoria
It's one of Australia's most iconic drives and an absolute must for any EV owner who enjoys spectacular vistas and curving roads.
A 240-kilometre stretch of road between the Victorian towns of Torquay and Allansford, the drive will see you hug the seaside cliffs as you take in views of the windswept Southern Ocean and brilliant green countryside.
Start your journey at RACV's Torquay Resort where you will find two 350kW chargers and two 50kW chargers powered by renewable energy. The is the perfect place to top up before starting out on the Great Ocean Road itself.
Stop for lunch in Lorne and charge at the Lorne Visitor Information Centre to ensure you have enough in the tank to make it to the 12 apostles. Users of this particular charging station recommend drivers bring their own cable.
Once you've taken in the magnificence of the twelve apostles, return to Lorne for a further top up as you wander down the main shopping strip and consider staying overnight to explore more of the picturesque region.
Freycinet National Park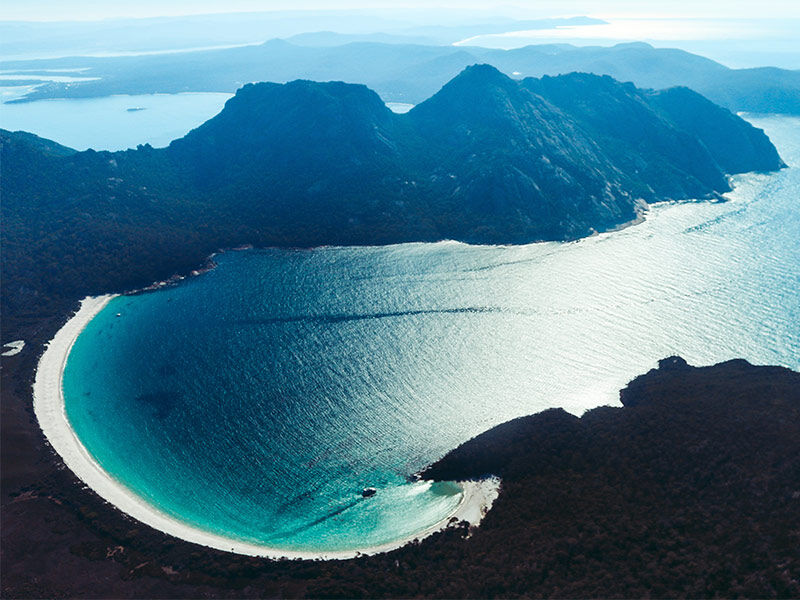 Wineglass Bay, Tasmania
While it's possible to explore all of Tasmania by EV with its excellent charging coverage, Freycinet National Park on the east coast is the jewel of the state's coastline and should be on any tourist's itinerary.
After hopping off the Spirit of Tasmania in Devonport, head towards Launceston where you will find many charging options but ChargeFox's 350kW station at Kings Meadows will get you back on the road the quickest.
Once you're fully charged, it's an onwards journey to Freycinet National Park about 150 kilometres along the National Highway.
Take the Wineglass Bay Lookout Walk and enjoy the views of the pristine powder white beaches and transparent water. For those who want to venture onto the beach, take the approximately 1,000 stairs down to Wineglass Bay Beach. An additional 20-minute stroll along the sand to the southern end of the beach will give you magnificent views back towards the hazards.
Charge up at the Swansea 50kW station installed as part of Tasmania's electric super highway initiative and stay overnight in the beautiful Coles Bay. A trip from Coles Bay to Hobart on a single charge is easily doable (just under 200 kilometres).
Brisbane to Cairns on the Queensland Electric Super Highway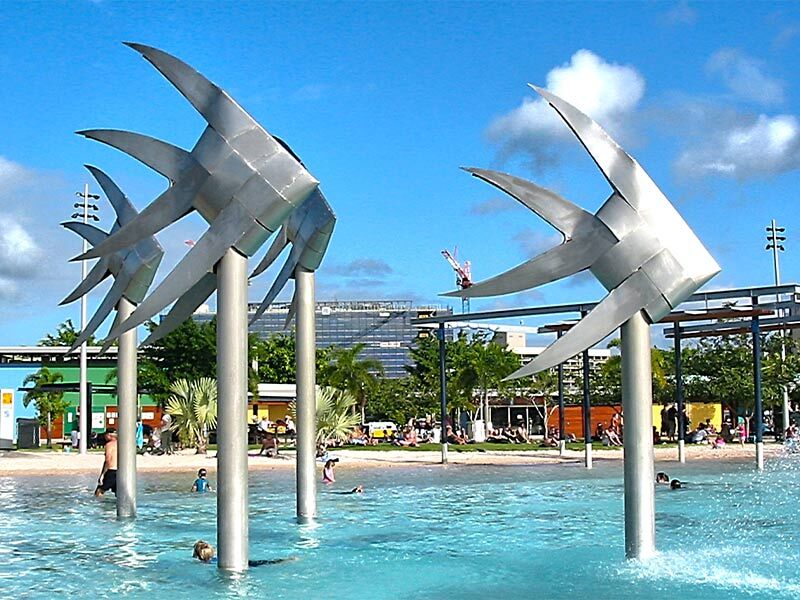 Cairns, Queensland
While the entire journey is a lengthy 1,700 kilometres and about 20 hours of driving with no stops, thanks to the Queensland Government's electric super highway initiative, you can comfortably traverse the entire route without range anxiety.
The route, which is said to the longest EV highway in the world, is fully serviced by DC fast chargers so there are plenty of options for stops along the road in locations like the Sunshine Coast, Rockhampton, Mackay, Airlie Beach and Townsville.
When you reach your final destination and arrive in Cairns, a Chargefox DC station waiting for you is located on Pier Point Road.
Sydney to Coffs Harbour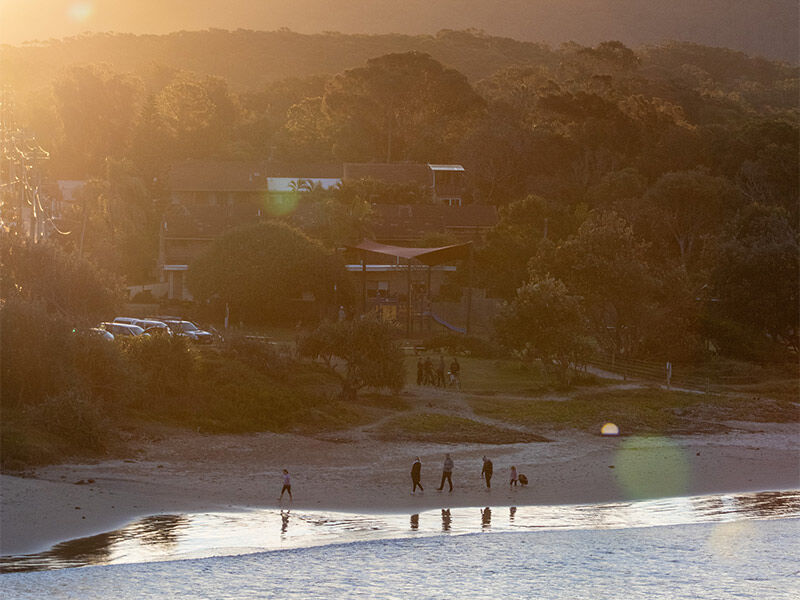 Coffs Harbour, NSW
Sydney based drivers looking to head north on their next road trip have plenty of options to choose from, including up to scenic Coffs Harbour.
A long-range EV like the IONIQ 6 could make the approximately 550-kilometre trip in a single charge, but for peace of mind and to take in some of NSW's most scenic coastal spots, stopping at the DC chargers in Lake Macquarie, Newcastle, Port Macquarie and Macksville is advisable.
Coffs Harbour itself is renowned for its ancient rainforest and a pristine marine park so it's worth spending a few days enjoying the sights. Look for hotel options that have EV charging on site.
These trips are only a small glimpse of what's possible on Australia's growing public charger network.
Most importantly, EV owners can be increasingly confident that charging infrastructure is in place to make their EV road trip a smooth one. Remember however, that planning is still a must.
We hope that if you own an EV you'll be enjoying some fantastic road trips like the one's above this summer, and if you're thinking about making the shift to an EV, now is a great time to make the jump!
Ready to take the next step?