Interview with Scott Nargar – Hyundai Australia's Senior Manager of Future Mobility and Government Relations.
At Hyundai, creating a sustainable future is in our DNA. Whether it be in our products, our facilities or our supply chain, we are always striving to minimise our impact on the planet by advancing the future of eco-friendly mobility.
Leading our future mobility strategy on behalf of Hyundai in Australia is Senior Manager of Future Mobility and Government Relations, Scott Nargar. With over ten years at Hyundai under his belt, Scott has been the driving force behind the company's cleaner driving program from the very early days of our venture into EVs in Australia.
Over this time, Scott has seen the evolution of Australia's transport sector from when EVs were regarded as a niche application to see the technology go mainstream and embraced by many. From his perspective, it's been an exciting ride and a privilege to witness how far both battery electric vehicles (BEV) and fuel cell electric vehicles (FCEV) have come.
We take a look at Scott's journey with Hyundai over the past decade and uncover his thoughts on the big trends, opportunities and challenges for mobility in Australia as the country transitions into what he believes will be a "green energy superpower".
The early days of zero emission mobility
The year was 2014 and Australia's EV journey had only just begun. Hyundai had grand visions for the future however and made the decision to lay the foundation for the advent of FCEVs. In charge of this activity, Scott facilitated the introduction of the first vehicle to Australia, the Hyundai ix35.
There was one big issue, however - where to refuel it? As Scott say, the company had to "take the lead" and get the hydrogen mobility sector up and moving.
"We knew we had to do our bit to kick start the development of a hydrogen refuelling network in Australia and build our own station. It was a memorable experience that saw us import equipment from the US never seen before on Australian shores."
With awareness of the technology low, the next step was getting governments on board the hydrogen train. Hyundai knew they couldn't do this alone and so partnered with Toyota to conceive a new industry association – Hydrogen Mobility Australia.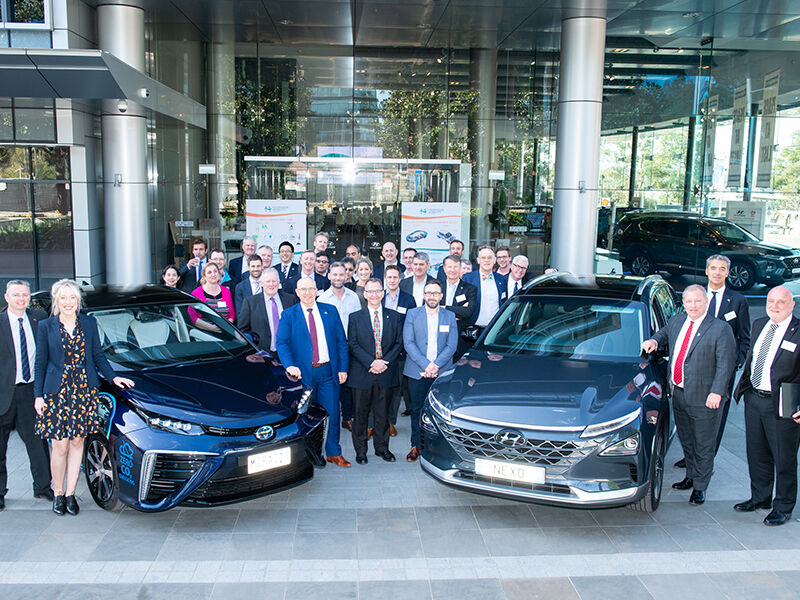 Hydrogen Mobility Australia's first AGM at Hyundai's headquarters in Sydney in 2017
"The inception of the industry association really put the push behind hydrogen mobility into overdrive. I was really proud of our company for taking this step and giving me their blessing to act as the organisation's first chair," Scott said.
Hydrogen Mobility Australia broadened its remit as the membership expanded and became more diverse, and had a name change in 2018 when it became the Australian Hydrogen Council.
Scott served on the board up until this year witnessing its growth to over 100 members today and securing a number of wins for the Australia hydrogen sector, including the development of the national hydrogen strategy in 2019.
Getting active with industry associations
Not only is Hyundai an instrumental player in Australia's hydrogen association but is also highly involved with two other automotive bodies – the Electric Vehicle Council and the Federal Chamber of Automotive Industries.
Scott is similarly Hyundai's representatives on these organisations advocating for our company's position on topics related to future mobility but also providing guidance for how the industry delivers the highest level of consumer safety. Scott's background crash testing cars for ANCAP has come in handy in this regard.
The big topic on the policy agenda right now for each of the industry associations is the national EV strategy and the role of vehicle emissions policy within this. From Scott's perspective, the "time is now" for governments to get the EV sector moving.
"Hyundai wants a front row seat at these important discussions so it's my job to ensure we have a voice. We believe that coordinated EV policy is needed to stimulate demand and deliver benefits to all Australians. Not only do I communicate this message through our membership of industry associations, but also with governments directly."
Getting friendly with governments
In his government relations capacity, Scott is responsible for the company's engagement strategy across local, state and federal government. The aim of this engagement is primarily to encourage greater progress in eco transport.
An interest in the inner workings of government has always been a personal interest for Scott so it made sense when he officially took on this responsibility in 2016.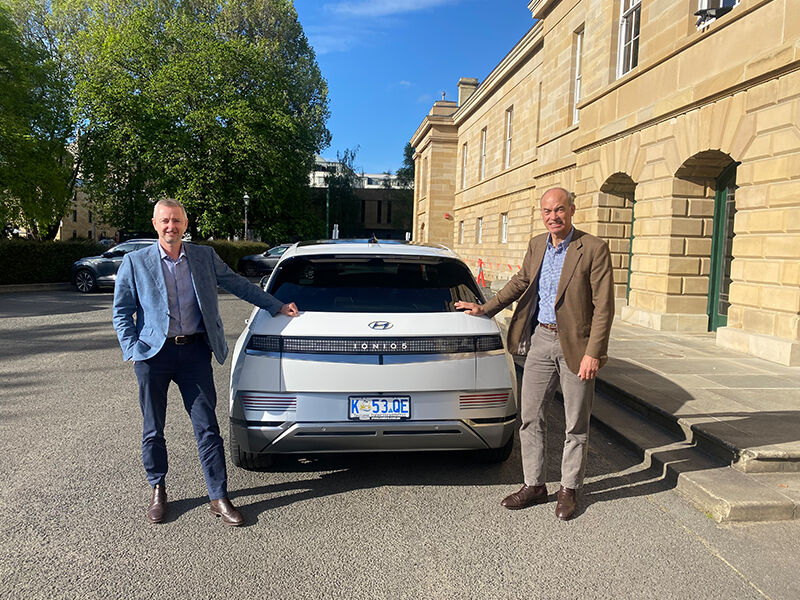 Scott Nargar with the Tasmanian Minister for Energy and Renewables, the Hon Guy Barnett MP in November 2022
"I get a kick out of walking the halls of Parliament House in Canberra and engaging with politicians of all persuasions on topics of relevance to the automotive industry. In the last 12 months in particular, I've found there's been a real shift with politicians increasingly eager to understand more about the tech, and with my long career history around cars, I really enjoy providing some education on the technology wherever I can."
Future of mobility on the media and the conference circuit
Not only is government engagement a priority of the role, Scott also regularly engages with motoring, lifestyle and general news media across TV, radio, digital and print where he discusses the Hyundai model line-up (with his loves of cars always evident), but also what's needed to transition the Australian automotive sector to cleaner cars.
When asked about his favourite interview to date is to date, Scott didn't hesitate to respond with Scott Phillips from the Motley Fool. Scott was delighted to be interviewed by investment guru Scott Phillips on The Good Oil podcast this year.
Another notable mentions include his interview for the Watts Under the Bonnet podcast and the Drive TV 'Getting Australians Ready For Electric Cars' documentary produced by Channel 9.
To complement his media engagement, Scott is also a regular at conferences and events all over the country, waving the flag for EVs amongst industry and members of the general public alike.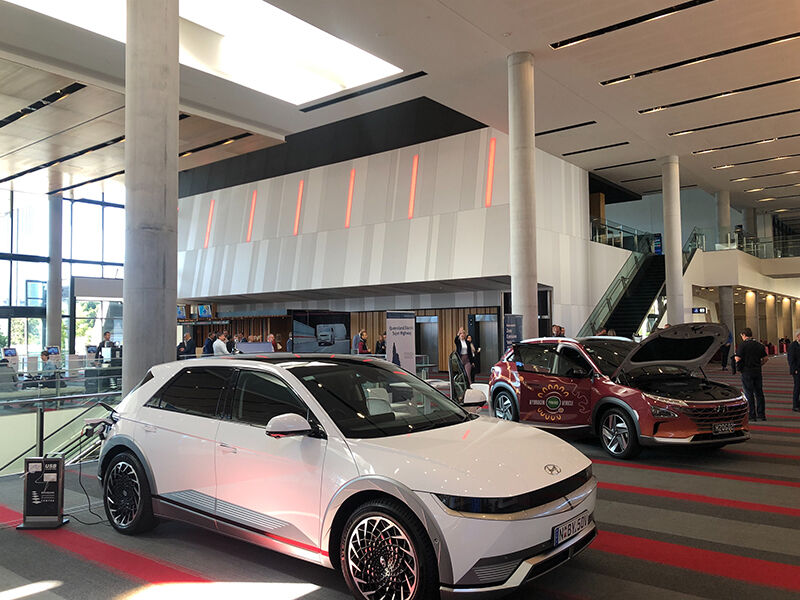 The Hyundai IONIQ 6 and NEXO on display at the ITS conference in Brisbane in 2022
"Conferences present an opportunity to showcase our latest eco vehicles, but I'll often get the chance to speak too which is beneficial for sharing our message. Plus attending conferences allows me to meet with passionate EV advocates you just wouldn't encounter while in the office."
What's next for mobility in Australia?
When we ask Scott his perspective on the future of automotive in Australia, he has no doubts whatsoever we are on the "verge of electrification" and the groundswell behind EVs is building rapidly.
"Australia is at the precipice an EV revolution, and at Hyundai we want to get more Australians behind the wheel of an EV than ever before," he said.
So, what's Scott's priority for the next 12 months to achieve this?
"On my agenda is working with the Federal Government on the national EV strategy, to get more infrastructure on the ground to facilitate greater EV adoption, and finally upgrading to a green hydrogen refuelling station at our head office in Sydney which is set to be operational in early 2023."
While Scott says there are some challenges ahead for eco cars in Australia, the future is very bright, particularly with the country's competitive advantages in EVs – from critical minerals through to potentially manufacturing batteries and even vehicles in the future.
"I work for a brand with an awesome line-up of eco cars. We have some exciting products in the pipeline, including the IONIQ 6 set for release in early 2023," he said.
It's a great time to be working in the automotive industry in Australia, particularly as I believe we are now on the pathway to live up to our potential as a global EV superpower. I look forward to making my contribution to making this happen for our country's benefit."
Ready to take the next step?