Powering up our partnerships to drive the clean energy transition.
The scale of investment and resources to achieve Australia's clean energy transition requires a united effort.
Partnerships and collaboration across industry that bring together skills, knowledge and resources will be critical to drive real change across our economy.
In the transport industry, cross-sector partnerships are vital to drive the uptake of zero emission vehicles – and importantly, the infrastructure that will power the transition.
With more Australians than ever before considering buying an electric vehicle (EV), its incumbent upon industry to build an entirely new ecosystem to support these vehicles, and no one party can do it alone.
That's why Hyundai is collaborating with progressive organisations equally committed to a cleaner transport future for Australia.
We take a look at our valued partners helping us to achieve our ambition to bring one of the widest ranges of zero emission vehicles to market, and ultimately, to get more Australians behind the wheel of an EV!
Tackling emissions with Ampol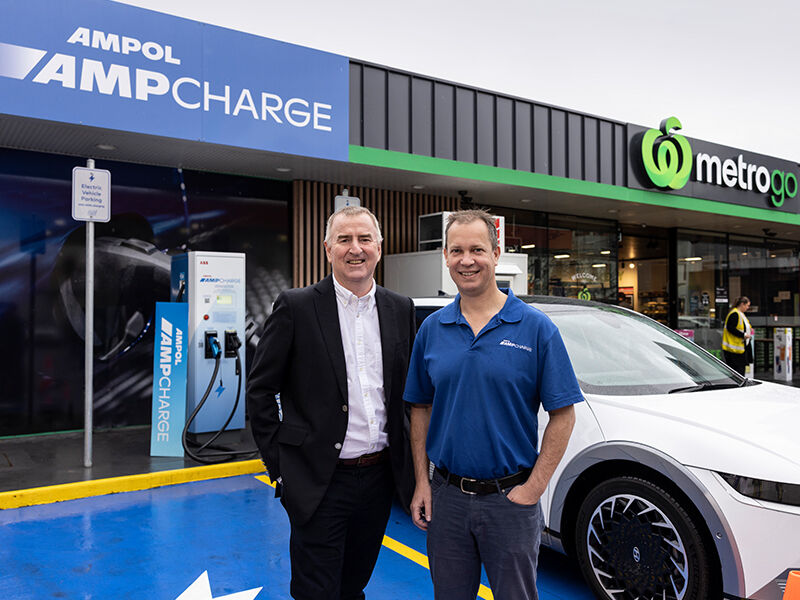 Hyundai Motor Company Australia Chief Operating Officer John Kett (left) with Ampol CEO and Managing Director Matthew Halliday
Hyundai and Ampol are working together to drive the uptake of EVs and progress opportunities for hydrogen refuelling stations across the country.
In October, we announced our partnership focused on accelerating Australia's shift to zero emissions vehicles – both battery electric vehicles (BEV) and fuel cell electric vehicles (FCEV).
Together, we'll work to give Hyundai BEV customers access to charging stations across Ampol's AmpCharge network, along with potential bundled energy offers incorporating home charging and broader energy solutions.
Ampol recently opened its first sites under its AmpCharge banner, the start of an initial roll out of 120 EV fast charging sites at Ampol stores by the end of 2023.
We're excited to jointly focus on hydrogen too, which will see us work collaboratively with fleets looking to operate FCEVs. We believe this is an untapped opportunity with Hyundai's NEXO fully approved for the Australian market and stations now needed to get these cars into the hands of eager customers.
Borrow one of ours or share yours with Car Next Door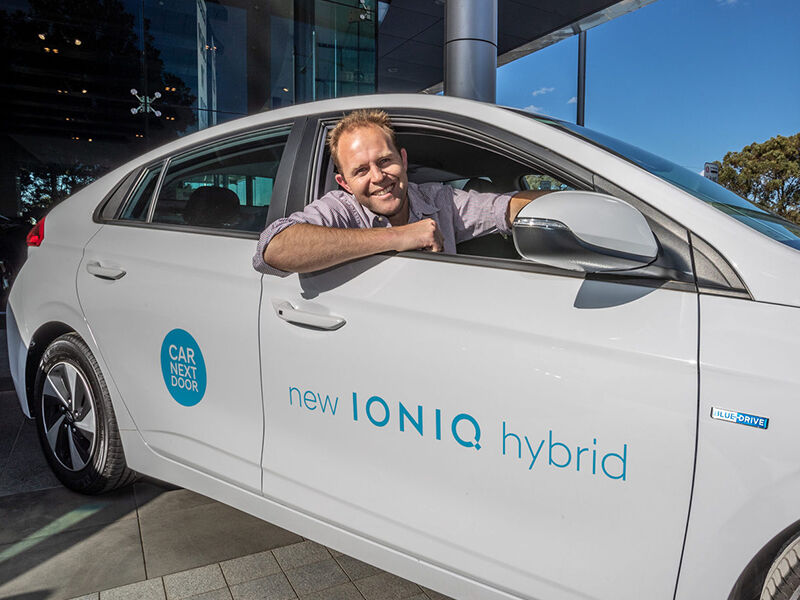 Car Next Door CEO, Will Davies in a Hyundai IONIQ hybrid
Hyundai saw the potential of the car sharing model as one way to reduce emissions and jumped on board as an investor and partner of Australian startup, Car Next Door in 2018.
Since acquired by Uber, Car Next Door is a peer-to-peer car-sharing platform which offers convenient access to cars for renters, whilst providing revenue to car owners, making it easy to turn any car into a shared car.
Hyundai has worked with Car Next Door to increase the number of EVs in their community, to improve the experience for borrowers and make it even easier for Hyundai EV owners to list their cars.
In the first stage of our partnership, 16 new Hyundai IONIQ hybrids were listed on Car Next Door. We except the addition of more hybrid and fully electric cars within the Car Next Door community will make low-emission travel easy and affordable, and help owners of eco-friendly cars offset their car costs.
Charging up with JET Charge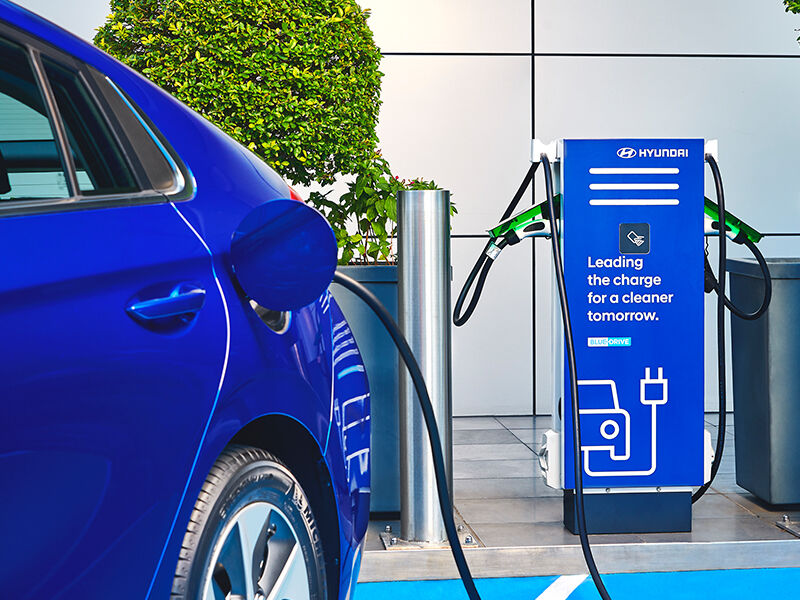 One of Hyundai's EV chargers at our corporate headquarters in Sydney
EV charging specialists, JET Charge have been a long-time partner of Hyundai's helping our EV customers to charge up at home or work.
Teaming up with JET Charge means Hyundai EV owners are supported with the very best charging infrastructure.
JET Charge supply one of the widest ranges of hardware in Australia and utilise in-house electricians. For fleets, their EV solution designers and electrical engineers ensure fleets are set up properly with the future in mind.
JET Charge also installed charging equipment at our head office following the Australian launch of the Hyundai IONIQ electric and hybrid range in 2018 and is now rolling out chargers at all participating Hyundai dealers across the country.
Getting high on hydrogen with PDC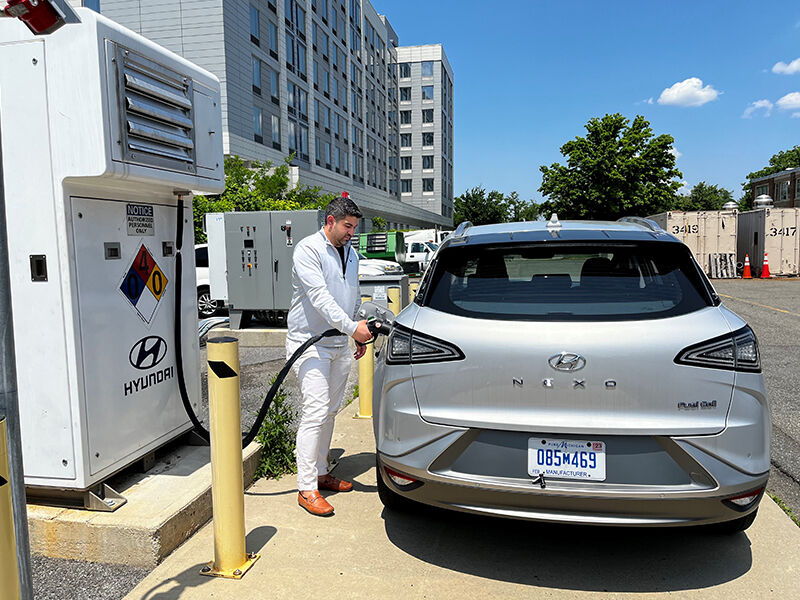 The PDC Machines SimpleFuel filling a Hyundai NEXO in Washington DC
When we decided it was time to upgrade our hydrogen refuelling station at Macquarie Park, PDC Machines was the obvious choice.
PDC is the world's leading hydrogen gas compressor manufacturer with over 1,000 compressors installed worldwide. They also provide hydrogen refuelling solutions including comprehensive small station, the SimpleFuel.
The SimpleFuel incorporates production, compression, storage and dispense. With a small footprint and scalable for evolving demand, its ideal for forklift fleets, dealer refuelling and destination refuelling.
With our limited site footprint in a location that accommodates multiple uses including a corporate office, car park and automotive workshop, the SimpleFuel will allow us to fill up our FCEVs quickly and get moving again.
Together with PDC we see Australia as holding enormous potential for hydrogen mobility and we look forward to working on future projects to get more FCEVs into business and government fleets.
We are delighted to be partnering with world leading companies in their respective fields like Ampol, Car Next Door, Jet Charge and PDC Machines. As the energy and transport communities become increasingly intertwined, its partnerships with like-minded organisations that have the same goals in mind that can make a real difference.
While we hope our collective efforts will make some inroads in Australia's transition to net zero, Rome was not built in a day. To make a lasting impact we have much work to do and so we are excited to work with all stakeholders to exchange ideas, experiences, and expertise to advance the country's energy transition in a responsible and sustainable way.
Ready to take the next step?