Hyundai Motorsport Review: PURE ETCR round 2 - Aragón.
Hyundai Motorsport has enjoyed another successful weekend in PURE ETCR, taking more victories in the second round at MotorLand Aragón
Jean-Karl Vernay, Augusto Farfus, John Filippi and Tom Chilton each topped the classification in one of their Rounds with the Hyundai Veloster N ETCR
After a strong weekend the team has maintained second place in the manufacturers' standings, trailing the lead by just 41 points
Hyundai Motorsport enjoyed more success at the second round of the PURE ETCR season, which took place at MotorLand Aragón this weekend, in which the team significantly increased its points haul.
Each of the team's four drivers topped their classification with the Hyundai Veloster N ETCR during the three-day event. After winning his head-to-head Battle in Round 2, Augusto Farfus went on to set the second fastest time in Pool A's time trial session.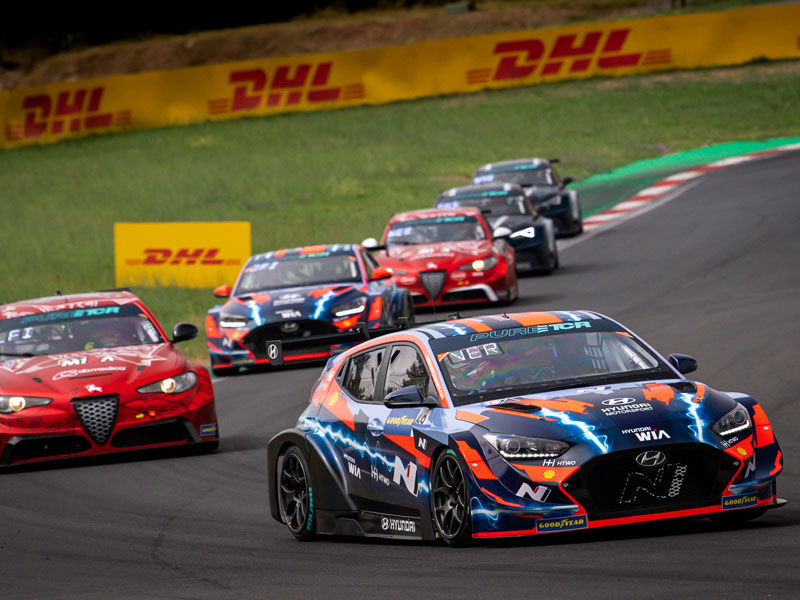 Starting on the front row start for Round 4's Super Final, the Brazilian driver was able to put the leader under pressure for several laps. An expert move enabled him to claim the lead of the race on the run down to the first corner. Competition for the win remained fierce for the rest of the race, but ultimately it was a strong victory for Farfus.
Joining him in Pool A for a second consecutive weekend was teammate Tom Chilton, who also claimed victory in his Round 2 Battle. Brake issues in Round 3 prevented him from putting in a representative lap, which compromised his starting position for the Super Final. The British driver elected to save his Power Up boost until the end of the final race, but narrowly missed out on third place after a drag race across the finish line.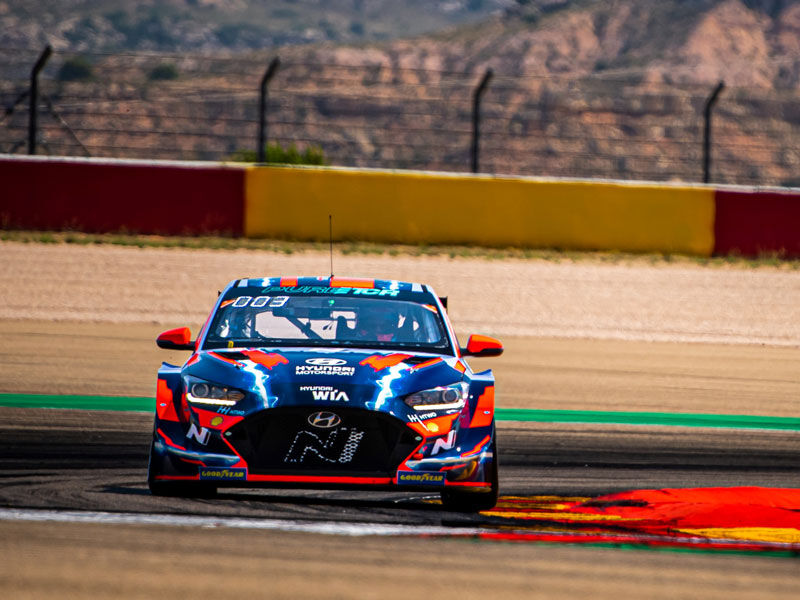 In Pool B, John Filippi took an early victory in his first Battle round, seeing off two incredibly strong drivers in the process. He qualified sixth in Round 3's time trial for Super Final B, but managed to gain two places to move up to fourth on the first lap. A closely-fought race followed, and the French driver lost out on a position while racing door-to-door to finish fifth.
His teammate Jean-Karl Vernay finished second in his Round 1 Battle, but was unable to start the second on Saturday due to a broken driveshaft. The issue was quickly resolved, enabling Vernay to claim pole position with an impressive lap time in his Veloster N ETCR. He initially managed to maintain his position at the start, but fell to second on the next lap.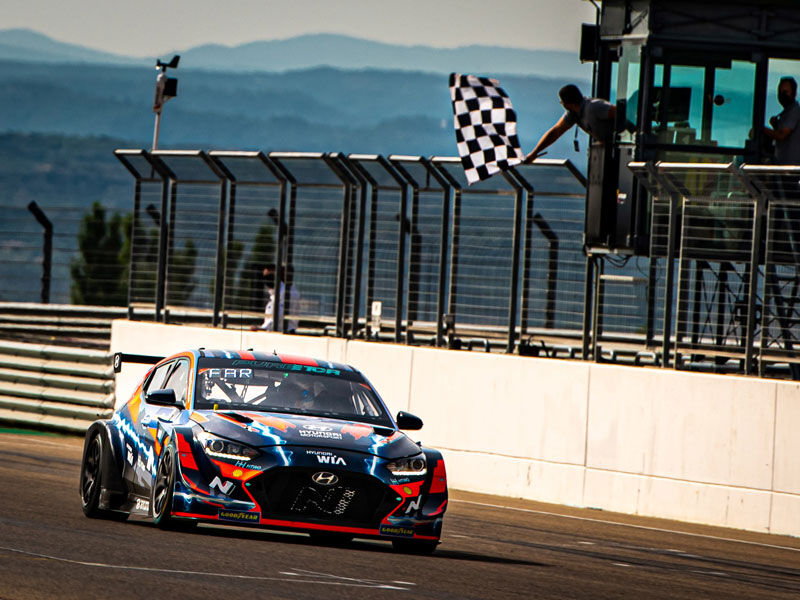 The team has maintained second place in the manufacturers' standings, scoring 124 points at the event in total, while Vernay sits second in the drivers' standings.
Hyundai Motorsport Director of Marketing and PR, Stefan Ph. Henrich said: "Aragón has been a much more successful weekend for our team, with each of our drivers finishing first in one of their Rounds. The Veloster N ETCR once again proved it is a strong competitor, and we very nearly claimed the King of the Weekend title with Augusto. We are still learning a great deal about the format and the best strategy for each of the Rounds, but overall it has been a positive PURE ETCR event for us. The team will continue to work hard between now and Copenhagen to ensure we close the gap to the top of the standings even further at the next event. We want to be in the best position to score more victories in the rest of the season."
Jean-Karl Vernay (#69 Hyundai Veloster N ETCR).
Secured pole position for Sunday's Super Final B with Hyundai Veloster N ETCR
Frenchman maintains second overall in the drivers' championship
Jean-Karl Vernay said: "Overall it was a mixed weekend. We had a mechanical issue in Round 2 which meant I couldn't take part in my Battle. However I took my first PURE ETCR pole position in Round 3, and I was really excited about the nice lap I was able to put together. We are starting to close the gap to the lead of the championship; all in all, it could have been better but we can be satisfied we are going in the right direction."
Augusto Farfus (#8 Hyundai Veloster N ETCR).
Strong weekend for the Brazilian in Aragón culminates with victory in Super Final A
Sixth in the standings after missing out on King of the Weekend crown by two points
Augusto Farfus said: "We came to a circuit that was a bit of a lottery for everybody. We managed to be up to speed from the start, so we started the weekend on the front foot. We made big improvements – we are still not where we want to be, but we have made some good steps and we showed we are among the fastest in PURE ETCR. Of course, there is still work to be done and we are very happy with the victory in the Super Final, but now we are fully focused on Copenhagen."
John Filippi (#27 Hyundai Veloster N ETCR).
French driver held off strong competition to win first Battle Round on Friday
Ninth in the standings after difficult Saturday and Sunday in Aragón
John Filippi said: "My weekend started well, and much better than Vallelunga. I did a lot of work between the two races and we improved a great deal during the day with the team. We tried different things during the weekend and some of them worked, while others didn't. It means our result is not perfect, but not so bad. I'm unhappy with my progress; as a driver, I like it when I am improving my pace and results but we didn't finish this event as we started it. We will learn lessons and I am sure we will do better in Copenhagen."
Tom Chilton (#3 Hyundai Veloster N ETCR).
Missed out on top-three finish in Super Final A by just one tenth of a second
Gained a position in driver's classification to sit 11th
Tom Chilton said: "This weekend was a big improvement, the car felt a lot stronger and so did I. I also got my first win, which was fantastic. I managed to finish Round 4 this time and claimed a lot of points, but sadly I missed out on third place by one tenth of a second. It was extremely close and I am gutted about that because it would have meant eight more points in the championship. All in all, a positive weekend."
2021 PURE ETCR Manufacturers' Standings (after round 2).

Zengo Motorsport X Cupra 274
Hyundai Motorsport N 233
omeo Ferraris - M1RA 213
2021 PURE ETCR Drivers' Standings (after round 2).

M. Ekström 146
J. Vernay 124
J. Gené 109
R. Baptista 106
M. Azcona 104
A. Farfus 93
O. Webb 87