Hyundai Motorsport WRC Report: Round 12 Rally de España.
Hyundai Motorsport has taken its 14th podium finish of the 2022 FIA World Rally Championship (WRC) with second place for Thierry Neuville in Rally de España
The Belgian, alongside co-driver Martijn Wydaeghe, claimed a stage win on the first pass through Riudecanyes to consolidate the position
Ott Tänak and Martin Järveoja secured fourth, ahead of Spaniards Dani Sordo and Cándido Carrera in fifth, who added a stage win on the final day of their home rally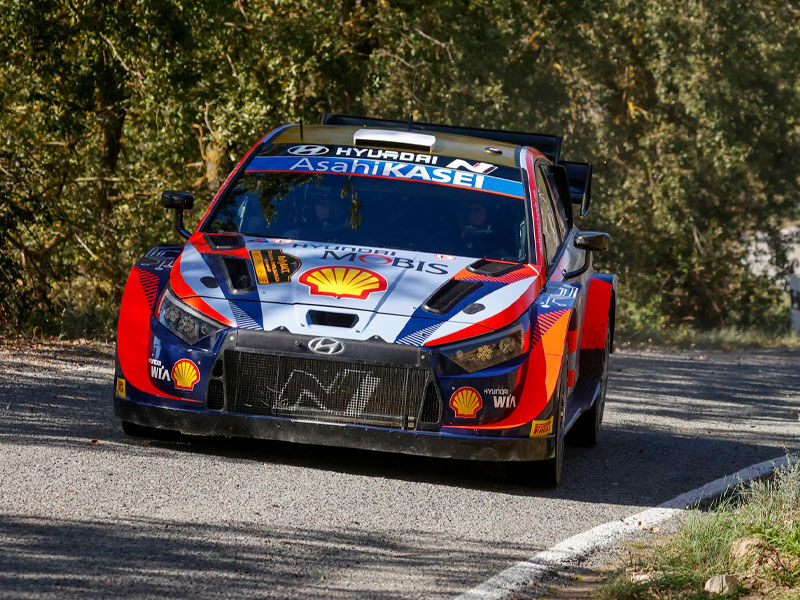 Hyundai Motorsport has claimed a podium finish in Rally de España, the penultimate round of the 2022 FIA World Rally Championship (WRC), with Belgian crew Thierry Neuville and Martijn Wydaeghe securing second place.
The final day of the Spanish tarmac rally got underway in the early morning darkness with the Pratdip stage (SS16/SS18, 12.15km) offering a unique wake-up call. Hyundai Motorsport's crews were fully alert for the challenge with Dani Sordo and Cándido Carrera lighting up the timesheets with the fastest time, their second stage win of their home event. Neuville made it a team 1-2 as he looked to build his advantage over third placed Kalle Rovanperä.
It was the Belgian who stormed to the quickest time in the following test, the first run through Riudecanyes (SS17/SS19, 15.90km), extending his grasp on second place – and closing the gap to the lead to 14.1 seconds. The pendulum swung in the other direction on the repeat of Pratdip with Neuville second ahead of Ott Tänak and Sordo, who continued to hold fourth and fifth spots respectively on the overall classification.
All three crews gave their maximum on the Power Stage, the repeat of Riudecanyes, with Neuville scoring four extra points for second quickest, Tänak taking two and Sordo earning a solitary bonus point for his efforts.
Ultimately, Neuville had to be content with second place on the final classification, his fourth podium of the season after Sweden (second), Croatia (third), and Greece (first). It also represented the team's 14th top-three finish of the year and its 98th podium in total since joining WRC in 2014.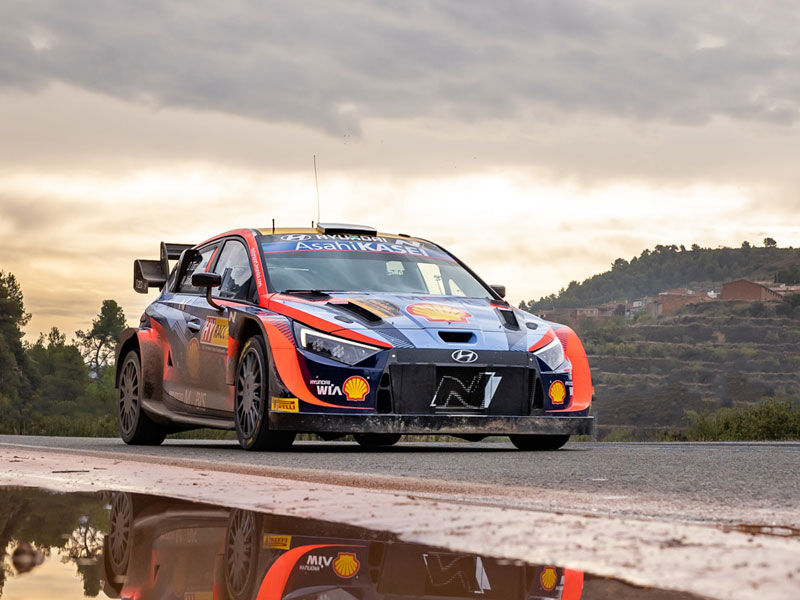 Crew Notes: Thierry Neuville/Martijn Wydaeghe (#11 Hyundai i20 N Rally1)
Fourth podium of the season for the Belgian crew
Four stage wins helped them to push for second, having led the rally briefly on Friday
Neuville said: "Second place is a good result for us this weekend. It has been a challenging event and a huge fight. Somehow, we started to find more speed towards the end and enjoy it more. We missed a bit of performance in the early phase of the rally, in the tricky conditions on Friday. Unfortunately, we lost any chance to fight for victory there at the beginning. I am happy for the team that we have added another podium result, and now we can look forward to Japan. We don't know what to expect there but hopefully we can translate some of our learnings from Spain to be in the fight."
Crew Notes: Ott Tänak/Martin Järveoja (#8 Hyundai i20 N Rally1)
Fourth place for the Estonians after a typically determined effort
Two consolation points for fourth fastest in the Power Stage
Tänak said: "It has definitely been a long weekend. On the first day, we had a couple of hybrid issues but other than that it was quite a smooth run through. Performance-wise, we've been lacking a bit and I've not really been able to find the balance in the car or get it to work for myself. Rally Spain is a challenging rally, almost like a racetrack, where car performance means a lot and it's crucial to have a good balance and feeling; it's fast, smooth, and flowing. Still, we finished the rally in one piece and got some points and collected plenty of useful data. Japan will be new for everyone, so we'll have to wait until we're out there to find out more about it."
Crew Notes: Dani Sordo/Cándido Carrera (#6 Hyundai i20 N Rally1)
Home heroes found impressive pace on Saturday
Added a second stage win on Sunday to secure a fighting fifth
Sordo said: "I have given it everything this weekend. We lost some time to the front-runners on the first day, but I got more confidence as the rally went on. On the Power Stage, I was pushing hard; the car was oversteering towards the end, and it was difficult to keep in the line. But I enjoyed it a lot. Thanks to the team for giving me the opportunity to compete again in my home rally and giving me a car like this. We are always learning about it, making it more comfortable to drive. It has been incredible to see so many fans here and to feel all their support. I am disappointed in one way not to be on the podium, but I am happy in another to have shared this weekend with them."
"Not a bad final result if you look at the second position from Thierry and having all three cars finish in the top five. Our drivers have shown some promising pace again this morning and pushed until the end. We had a strong early start with Dani winning another stage through the Spanish night, followed by another fastest time from Thierry. Ott showed some good times as well, but the gaps were already too big to bridge in normal conditions. There's a bit of disappointment; despite some stage wins, we couldn't really fight for the win and the manufacturers' championship is now over. Still, I would like to thank again the whole team for the incredible job that has been done over the last months that have allowed us to postpone the outcome of the championships as much as possible. Now we need to look forward to Japan where we can still target an excellent result and dream even bigger for the future. Finally, a word of congratulations to Teemu, Mikko and the team for their WRC2 victory today, as well as to our Customer Racing department." - Deputy Team Director Julien Moncet
Next rally
The final round of the 2022 FIA World Rally Championship, Rally Japan, takes place from November 10-13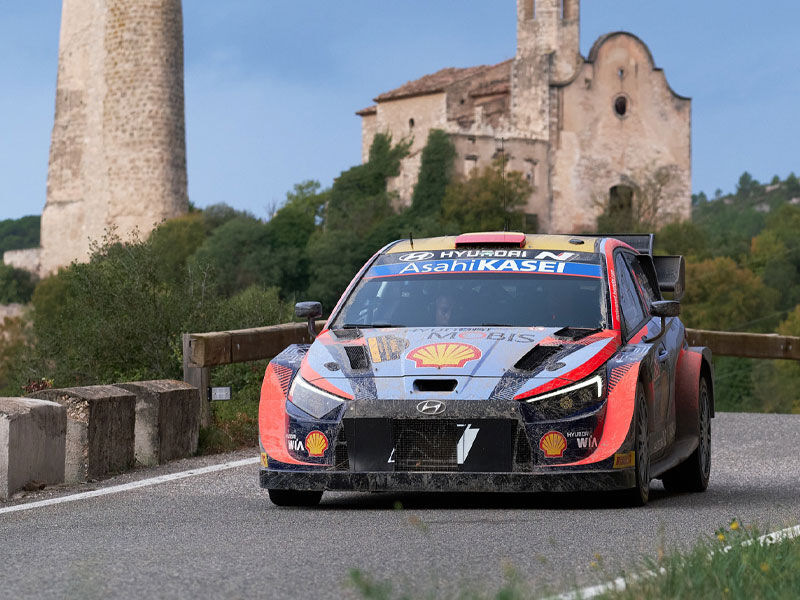 | | | | | |
| --- | --- | --- | --- | --- |
| 1 |   S. Ogier   |   B. Veillas   |   Toyota GR Yaris Rally1   |   2:44:43.9 |
| 2 |   T. Neuville   |   M. Wydaeghe   |   Hyundai i20 N Rally1   |   +16.4 |
| 3 |   K. Rovanperä   |   J. Halttunen   |   Toyota GR Yaris Rally1   |   +34.5 |
| 4 |   O. Tänak   |   M. Järveoja   |   Hyundai i20 N Rally1   |   +44.0 |
| 5 |   D. Sordo   | &nbspC. Carrera   |   Hyundai i20 N Rally1   |   +1:16.5 |
| 6 |   E. Evans   |   S. Martin   |   Toyota GR Yaris Rally1   |   +1:51.1 |
| 7 |   T. Katsuta   |   A. Johnston   |   Toyota GR Yaris Rally1   |   +2:19.1 |
| 8 |   A. Fourmaux   |   A. Coria   |   Ford Puma Rally1   |   +2:38.4 |
| 9 |   C. Breen   |   P. Nagle   |   Ford Puma Rally1   |   +2:43.0 |
| 10 |   P. L. Loubet   |   V. Landais   |   Ford Puma Rally1   |   +3:25.1 |
| | | |
| --- | --- | --- |
| 1 |   Toyota Gazoo Racing World Rally Team   |   503 |
| 2 |   Hyundai Shell Mobis World Rally Team   |   410 |
| 3 |   M-Sport Ford World Rally Team   |   238 |
| 4 |   Toyota Gazoo Racing World Rally Team NG   |   122 |
| | | |
| --- | --- | --- |
| 1 |   K. Rovanperä   |   255 |
| 2 |   O. Tänak   |   187 |
| 3 |   T. Neuville   |   166 |
| 4 |   E. Evans   |   124 |
| 5 |   T. Katsuta   |   106 |
| 6 |   S. Ogier   |   88 |
| 7 |   C. Breen   |   79 |
| 8 |   D. Sordo   |   66 |
| 9 |   E. Lappi   |   58 |
| 10 |   G. Greensmith   |   36 |