Hyundai Motorsport WRC Report: Round 9 Ypres Rally Belgium.
Hyundai Motorsport has claimed its second consecutive victory in Ypres Rally Belgium following a competitive weekend for its crews in the Hyundai i20 N Rally1 car
Estonians Ott Tänak and Martin Järveoja claimed their third win of the 2022 FIA World Rally Championship (WRC), and their second in a row after Rally Finland
Oliver Solberg and Elliott Edmondson earned their best finish of the season in a fine fourth place, with Thierry Neuville and Martin Wydaeghe salvaging three Power Stage points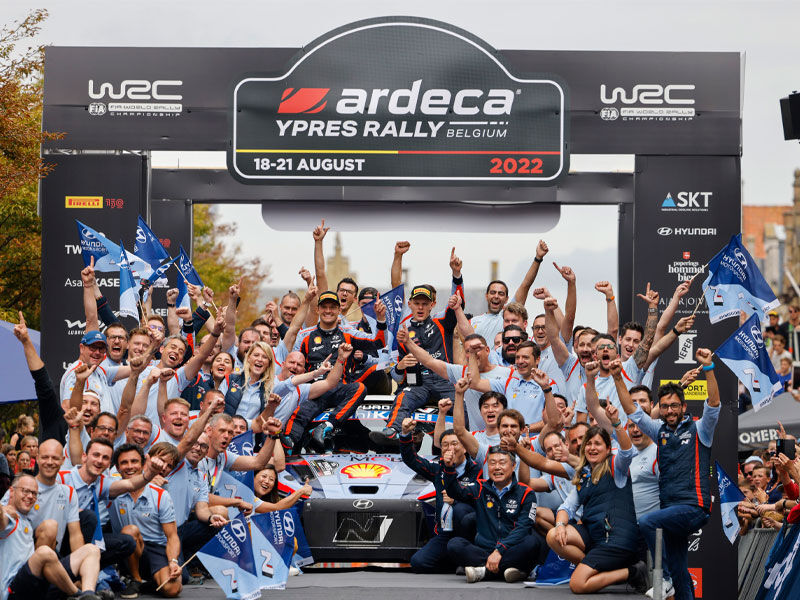 Hyundai Motorsport has registered back-to-back victories in the 2022 FIA World Rally Championship (WRC), securing a confident victory in Ypres Rally Belgium, the ninth round of the season, courtesy of a strong performance by Ott Tänak and Martin Järveoja.
The Estonian crew took over at the head of the timesheets following Thierry Neuville and Martijn Wydaeghe's retirement from the lead on Saturday, and they pushed through Sunday's four stages to claim the win by five seconds over Elfyn Evans.
Crews tackled a repeated loop of Watou (SS17/SS19, 12.36km) and Kemmelberg (SS18/SS20, 13.31km) on the final day, requiring a careful balance of caution and attack in order to consolidate their positions from hard-charging challengers.
Oliver Solberg and Elliott Edmondson secured their best-ever WRC result with a solid run to fourth place, having used the weekend as a valuable learning opportunity in the Hyundai i20 N Rally1. Their considered approach to the 20-stage rally paid dividends with their nearest rival Adrien Fourmaux retiring in the penultimate stage.
Neuville and Wydaeghe, meanwhile, salvaged three points from the Kemmelberg Power Stage having been on impressive pace throughout the weekend. The Belgian crew amassed eight stage wins in Ypres, as well as an allotted fastest time in SS10 on Saturday, underlining their form on home tarmac.
The Hyundai i20 N Rally1 car has now delivered three victories in 2022, on gravel in Sardinia and Finland, and now tarmac in Belgium.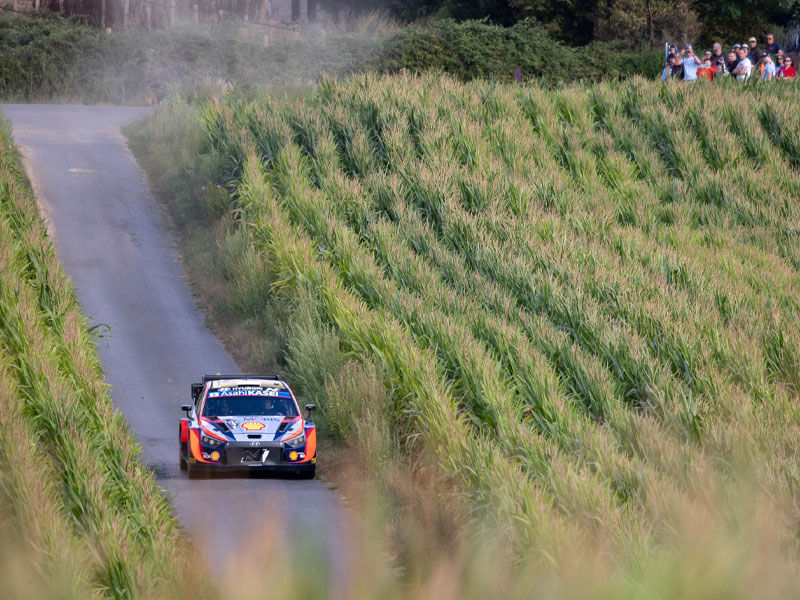 Crew Notes: Ott Tänak/Martin Järveoja (#8 Hyundai i20 N Rally1)
Third win of the season for the Estonians and second in a row
The result strengthens Tänak's second place in the drivers' championship (131 points)
Tänak said: "To win in Ypres is a big surprise for us, just as it was in Finland. We were not expecting to come here and take the victory, but it is great to see such strong results coming. We were somehow able to pull things together during the rally, even if I didn't feel completely comfortable all the time. We know we can still improve even more and be stronger, so we will carry on working hard. The speed was enough to maintain our position today and to keep a good rhythm right to the end; I'm very happy with what we've achieved."
Crew Notes: Oliver Solberg/Elliott Edmondson (#2 Hyundai i20 N Rally1)
Secured best-ever WRC finish of fourth place
Important weekend of learning for the crew in their first Ypres with WRC machinery
Solberg said: "It is fantastic to have such a great result finally. We have come close many times, but it is nice to get the whole package working so strongly together. It has not been easy at all, a challenging rally on difficult roads. I didn't have a good tarmac rally last time in Croatia and coming off the back of a frustrating time in Finland, it has definitely been a hard couple of weeks. The team has been incredibly supportive, we've had great teamwork to get where we are now. It's nice to get to the finish of the rally."
Crew Notes: Thierry Neuville/Martijn Wydaeghe (#11 Hyundai i20 N Rally1)
Salvaged three Power Stage points after disappointing retirement from the lead on Saturday
Eight stage wins over the weekend for the home crew
Neuville said: "A disappointing weekend for us and the fans. Congratulations to Ott for bringing home the victory after we lost our first place on Saturday. The team has done an incredible job, and this result will be a great motivational boost. From my side, the most positive thing to take away from this event is the reliability and performance of the car. We have had three rallies in a row without any major issues. I would also like to express my thanks to the very many spectators who have been cheering us on – it's been amazing support. Unfortunately, we couldn't get the win, but at least we were able to have some fun, and we hope the fans did as well."
"This is a great victory after another fantastic drive from Ott and Martin to get us on top of the podium again. We have taken back-to-back wins, first on gravel in Finland and now on tarmac in Ypres, so we have shown the car is capable of winning everywhere and this is really encouraging. Oliver and Elliott also had an amazing rally. They came here a bit unsure after the difficulties they faced in Finland. We tried to put them in the best position possible to bounce back – and they did just that and more with a good performance and their best result so far. For Thierry and Martijn, of course their retirement yesterday meant they could only focus on the Power Stage. I was very impressed with how Thierry reacted so positively in the face of disappointment, we can learn a lot from his attitude. We had a lot of people from the factory visiting the rally over the weekend, so this is very much a shared result for everyone in the team. We have a very positive dynamic right now, and perhaps the biggest challenge we have in front of us is to maintain this trajectory. For now, we will just enjoy the moment."
- Deputy Team Director Julien Moncet
Next rally
The FIA World Rally Championship (WRC) moves back to gravel for round ten of the 2022 season
The punishing roads of Acropolis Rally Greece will host the action from September 8-11, with the Service Park located in Lamia.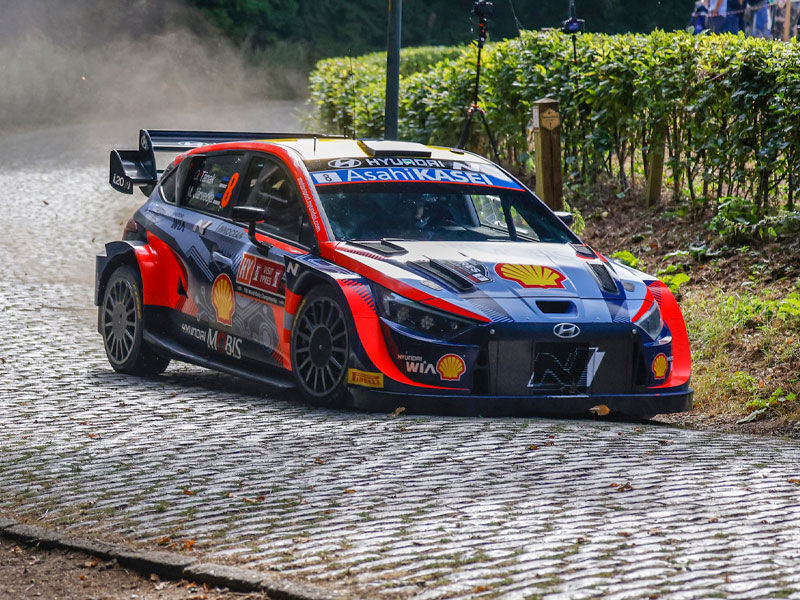 | | | | | |
| --- | --- | --- | --- | --- |
| 1 |   O. Tänak   |   M. Järveoja   |   Hyundai i20 N Rally1   |   2:25:38.9 |
| 2 |   E. Evans   |   S. Martin   |   Toyota GR Yaris Rally1   |   +5.0 |
| 3 |   E. Lappi   |   J. Ferm   |   Toyota GR Yaris Rally1   |   +1:41.6 |
| 4 |   O. Solberg   |   E. Edmondson   |   Hyundai i20 N Rally1   |   +3:28.5 |
| 5 |   T. Katsuta   |   A. Johnston   |   Toyota GR Yaris Rally1   |   +6:06.1 |
| 6 |   S. Lefebvre   |   A. Malfoy   |   Citroën C3 Rally2   |   +9:45.7 |
| 7 |   A. Mikkelsen   |   T. Eriksen   |   Škoda Fabia Evo   |   +10:03.8 |
| 8 |   Y. Rossel   |   V. Sarreaud   |   Citroën C3 Rally2   |   +10:54.8 |
| 9 |   C. Ingram   |   C. Drew   |   Škoda Fabia Evo   |   +11:20.8 |
| 10 |   N. Gryazin   |   K. Aleksandrov   |   Škoda Fabia Evo   |   +11:26.8 |
| | | |
| --- | --- | --- |
| 1 |   Toyota Gazoo Racing World Rally Team   |   381 |
| 2 |   Hyundai Shell Mobis World Rally Team   |   293 |
| 3 |   M-Sport Ford World Rally Team   |   188 |
| 4 |   Toyota Gazoo Racing World Rally Team NG   |   100 |
| | | |
| --- | --- | --- |
| 1 |   K. Rovanperä   |   203 |
| 2 |   O. Tänak   |   131 |
| 3 |   E. Evans   |   116 |
| 4 |   T. Neuville   |   106 |
| 5 |   T. Katsuta   |   92 |
| 6 |   C. Breen   |   64 |
| 7 |   E. Lappi   |   57 |
| 8 |   S. Loeb   |   35 |
| 9 |   S. Ogier   |   34 |
| 10 |   D. Sordo   |   34 |
| 11 |   G. Greensmith   |   34 |
| 12 |   A. Mikkelsen   |   25 |
| 13 |   O. Solberg   |   21 |
| 14 |   O. Solberg   |   9 |