Hyundai Motorsport WRC Review: Round 8 - Rally Estonia.
Hyundai Motorsport has claimed its fourth double podium of the season with a strong performance at Rally Estonia, round eight of the 2023 FIA World Rally Championship season
Thierry Neuville/Martijn Wydaeghe safely brought home second place with team-mates Esapekka Lappi/Janne Ferm seeing off a challenge for third on the final day
Teemu Suninen/Mikko Markkula ensured all three crews finished in the top five with an assured and consistent run through Sunday's four stages.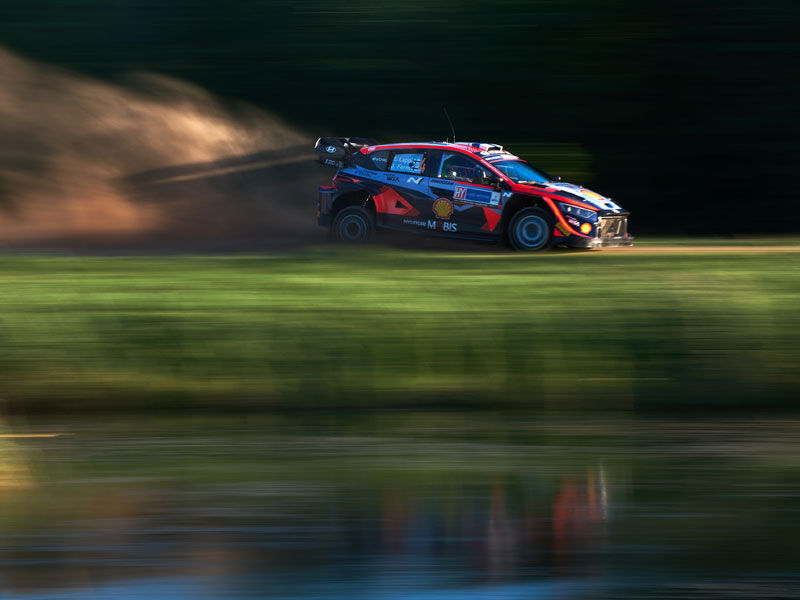 Hyundai Motorsport has scored a fantastic double podium at Rally Estonia, the eighth round of the 2023 FIA World Rally Championship (WRC) season, with Thierry Neuville/Martijn Wydaeghe and Esapekka Lappi/Janne Ferm finishing second and third respectively.
The Hyundai Shell Mobis World Rally Team crews all had clean runs through Sunday's four remaining stages. The unfamiliar challenge of new stage Karaski (SS18/20, 12.04km) added an extra element of suspense to the final day, while Kambja (SS19/21, 18.50km) opened with a new section to keep competitors on their toes.
There was late drama for Neuville/Wydaeghe as the crew lost their hybrid boost on the Power Stage, but the Belgians kept their cool to bring home an extra point and confirm second place. Their podium finish marked a brilliant return to form as well as a step forward in the Hyundai i20 N Rally1 Hybrid's performance on high-speed gravel events.
The entertaining battle between Lappi/Ferm and Elfyn Evans for third place continued into Sunday. The Finns extended the gap to nine seconds with a great run through SS18 Karaski 1. Although Evans gained some time back on the following stage, the #4 Hyundai i20 N Rally1 Hybrid crew grew a comfortable gap on the penultimate stage to see off the challenge for position. Lappi's third place marks his fourth podium with Hyundai Motorsport.
Newcomers Teemu Suninen/Mikko Markkula continued to impress on their first outing in the Rally1 category with a calm and collected final day. The Finnish crew delivered exactly what was needed to bring home all three Hyundai Motorsport cars in the top five. Suninen/Markkula are now looking to continue their momentum onto home soil at Rally Finland in ten days' time.
Rally Estonia was a strong showing from Hyundai Shell Mobis World Rally Team, which achieved its goals with a clean and consistent event that featured no reliability issues. With an unchanged line-up for the next round, the team is confident of what lies in store at the WRC's fastest event on the calendar.
Crew Notes: Thierry Neuville/Martijn Wydaeghe (#11 Hyundai i20 N Rally1 Hybrid)
Second place in Estonia is Belgians' fifth podium of the season
Claimed 12 top-three stage times and an extra Power Stage point on Sunday
Neuville said: "I am very happy to finish on the podium; this is a good boost of motivation for both the team and myself. I have never been so fast at rallies like this. Looking forward to Finland, this is a great sign as we can clearly see we have improved our car on high-speed gravel. Of course we had hoped that we could finish in front of Kalle, who had another incredible weekend and there was nothing we could do to fight him. On our side it was a very strong performance and I am very satisfied. We made no mistakes and we were able to push, as well as keep cars behind us. Hopefully we can do a little bit more for Rally Finland and be fighting again for podium positions."
Crew Notes: Esapekka Lappi/Janne Ferm (#4 Hyundai i20 N Rally1 Hybrid)
Fantastic fourth podium in 2023 for Finnish crew
Third place in Power Stage confirmed three additional championship points
Lappi said: "It has been a strong weekend for our team. I think we were closer to Toyota than we all expected to be, but still a bit too far behind, which we need to keep working on. This is the first time I have been flat out for three days in a row fighting with someone – Elfyn was really fast here last year so it was fantastic to win this battle. Thank you to the team; we didn't have any problems this weekend except from the hybrid, which was my fault. We have done a good job on the testing and development of the car, so we just need to continue that. There is still work to do but as we can see from these results, we are heading in the right direction."
Crew Notes: Teemu Suninen/Mikko Markkula (#3 Hyundai i20 N Rally1 Hybrid)
Finnish crew finished fifth in debut WRC event with Hyundai Motorsport
Suninen pays tribute to Craig Breen after emotional first Rally1 outing
Suninen said: "It is a really special feeling to finish fifth. I'm sure Craig has been following my weekend. It would have been nice to have finished on the podium for him, but we didn't manage it here. I have done all I can to try and work as he had been working, and it's been an emotional rally for me. I would like to say a big thanks to Hyundai Motorsport and everyone in the team; it is a super environment to work in. We were able to make good progress with our driving and experience of the car, and we were improving our times stage by stage. I enjoyed every one of them and I am grateful for the support of the team to help me become an even better driver."
Hyundai Motorsport Team Principal Cyril Abiteboul said: "It was important to have a clean weekend here in Estonia and that is exactly what we have achieved. We built on the good work that was done in preparation for the specifics of this event, which has not always shown the strength of our car. It has certainly paid off with another strong result and two podiums finishes. Congratulations to Thierry and Martijn and Esapekka and Janne on their incredible performance. Teemu and Mikko have also done a very good job; there was lots for Teemu to learn, particularly the hybrid system, and he didn't put a foot wrong. We now look forward to seeing what they can accomplish in Finland. Finally, we should not forget that once again Toyota has been dominant here this weekend, and even though we have made progress it is only as good as what the competition is capable of doing. We need to take that as inspiration for the steps forward that remain to be taken for the next events."
Next rally
The 2023 FIA World Rally Championship continues with Rally Finland, the ninth round of the season, which will take place from August 3-6.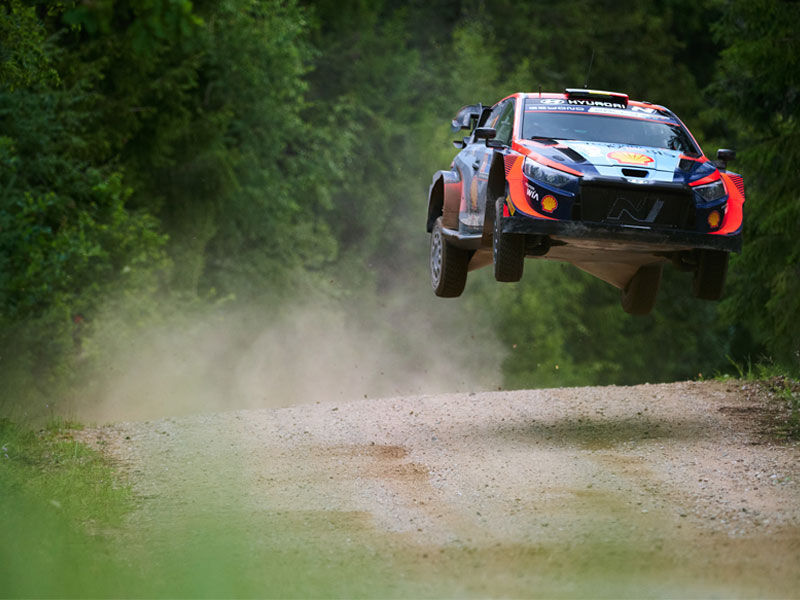 | | | | | |
| --- | --- | --- | --- | --- |
| 1 |   K. Rovanperä   |   J. Halttunen   |   Toyota GR Yaris Rally1 Hybrid   |   2:36:03.1 |
| 2 |   T. Neuville   |   M. Wydaeghe   |   Hyundai i20 N Rally1 Hybrid   |   +52.7 |
| 3 |   E. Lappi   |   J. Ferm   |   Hyundai i20 N Rally1 Hybrid  |   +59.5 |
| 4 |   E. Evans   |   S. Martin   |   Toyota GR Yaris Rally1   |   +1:06.8 |
| 5 |   T. Suninen   |   M. Marrkula   |   Hyundai i20 N Rally1 Hybrid   |   +2:21.1 |
| 6 |   P. L. Loubet   |   N. Gilsoul   |   Ford Puma Rally1 Hybrid   |   +3:09.9 |
| 7 |   T. Katsuta   |   A. Johnston  |   Toyota GR Yaris Rally1 Hybrid   |   +3:10.2 |
| 8 |   O. Tänak   |   M. Järveoja   |   Ford Puma Rally1 Hybrid   |   +6:25.6 |
| 9 |   A. Mikkelsen   |   T. Eriksen   |   Škoda Fabia RS   |   +9:54.1 |
| 10 |   S. Pajari   |   E. Mälkönen   |   Škoda Fabia RS   |   +10:03.8 |
| | | |
| --- | --- | --- |
| 1 |   Toyota Gazoo Racing World Rally Team   |   331 |
| 2 |   Hyundai Shell Mobis World Rally Team   |   274 |
| 3 |   M-Sport Ford World Rally Team   |   195 |
| | | |
| --- | --- | --- |
| 1 |   K. Rovanperä   |   170 |
| 2 |   E. Evans   |   115 |
| 3 |   T. Neuville   |   112 |
| 4 |   O. Tänak   |   104 |
| 5 |   S. Ogier   |   98 |
| 6 |   E. Lappi   |   87 |
| 7 |   D. Sordo   |   46 |
| 8 |   T. Katsuta   |   41 |
| 9 |   P.L Loubet   |   28 |
| 10 |   PC. Breen   |   19 |
| 11 |   T. Suninen   |   19</td> |